Turks And Caicos Vs. Puerto Rico
Can't decide between Turks and Caicos or Puerto Rico for your tropical escape?
The main difference between Turks and Caicos and Puerto Rico lies in their geographical location and political status. Turks and Caicos is a British Overseas Territory, boasting pristine beaches and a tranquil atmosphere, ideal for those seeking a serene tropical getaway. Puerto Rico is an unincorporated territory of the United States, offering a diverse cultural experience, vibrant cities, and a mix of historical and modern attractions.
Travelers looking for a relaxing retreat might prefer Turks and Caicos, while those seeking a blend of culture and adventure may find Puerto Rico more enticing.
| Aspect | Turks and Caicos | Puerto Rico |
| --- | --- | --- |
| Cost Range for 1 Week | $992 – $4,556 (source) | $692 – $3,174 (source) |
| Location | British Overseas Territory | Unincorporated U.S. territory |
| Geography | Archipelago of islands | Island with smaller surrounding islands |
| Language | English | Spanish, English |
| Government | British Overseas Territory | Unincorporated U.S. territory |
| Currency | United States Dollar (USD) | United States Dollar (USD) |
| Tourism | Major tourist destination | Major tourist destination |
| Economy | Reliant on tourism and finance | Diverse economy with tourism, manufacturing, services, etc. |
Whether you seek tranquil beaches or lively atmospheres, these islands guarantee an unforgettable experience. So, which paradise will you pick?
A Journey Through Geography and History
Hey there! I heard you're in a bit of a quandary, planning that picture-perfect Caribbean holiday but can't choose between Turks and Caicos and Puerto Rico? No worries at all! I'm here to assist you in making a decision. Both of these heavenly spots are renowned for their stunning landscapes, rich cultural tapestry, and varied activities to fit any travel style.
Let's take a fun tour to discover the special beauty and history of these places to select your ideal getaway, whether it's for a luxury adventure, a family vacation, a romantic getaway, or an action-packed voyage.
Think of Turks and Caicos: this lovely British Overseas Territory is a charming gathering of 40 islands and cays, hosting some of the most beautiful beaches you can imagine. Just picture it—leisurely walking on soft, white sands, with the shimmering turquoise water softly touching your feet. Families should visit since it offers a tranquil and safe environment.
Couples, on the other hand, can bask in the enchanting seclusion offered by private resorts and cozy beachfront dinners. Diverse water sports like snorkeling and diving are available for people with a sense of adventure. The islands' diverse history, enriched by the influences of indigenous peoples, European explorers, and African heritage, adds a captivating cultural dimension to your trip.
Let's now travel to Puerto Rico, a thriving U.S. territory that offers a rich tapestry of experiences. It's a fascinating blend of lush rainforests, dramatic mountains, and lively urban landscapes. Families will have a blast exploring the magical El Yunque National Forest, teeming with unique plant and animal life.
Couples will be swept off their feet by the quaint charm of Old San Juan's colonial architecture and cobblestone streets. And for the thrill-seekers, there's everything from jungle hikes to surfing in Rincón. The island's history is a mesmerizing fusion of Taíno, Spanish, and African influences. Prepare to be mesmerized by the historic forts and museums, and sample this fusion of cultures in the delicious local cuisine.
Talking about budgets, both these dreamy locations have got you covered. While Turks and Caicos often conjure images of high-end resorts and plush experiences, it also offers affordable accommodations and activities, especially if you dare to explore beyond the main tourist haunts.
Contrarily, Puerto Rico offers accommodations for all price ranges and is a fantastic choice for families and vacationers looking to maximize their enjoyment without going over budget. You'll find cozy guesthouses and inns, local eateries that are easy on the pocket, and plenty of economical sightseeing options.
In the end, the choice between the serene beauty of Turks and Caicos and the lively charisma of Puerto Rico is sure to reward you with lifelong memories. Whether you're a family, couple, adrenaline junkie, budget-conscious, or luxury traveler, you'll find your little corner of paradise in either of these Caribbean gems. So be ready for the trip of a lifetime to the Caribbean by packing your bags!
Beach Showdown in the Caribbean
Two Caribbean treasures, Turks and Caicos and Puerto Rico, are waiting to whisk you off to an unparalleled seaside escape. Ready to explore their distinct allure? Let's embark on a virtual tour to help you pinpoint your dream destination.
Longing for a piece of paradise for the whole family? Turks and Caicos should shoot to the top of your list. Imagine your kids squealing with delight as they build towering sandcastles on the powdery shores of Grace Bay Beach, with the crystal-clear turquoise waters lapping gently at their feet. If it's romance you're after, the secluded sands of Taylor Bay offer the perfect backdrop for serene sunset strolls, hand in hand with your loved one.
And for the adventurers out there, Providenciales Island is your go-to. A snorkeling expedition through the vivid underwater wonderland of Coral Gardens Reef will leave you with indelible memories.
Switching gears to Puerto Rico, it's a treasure trove of culture, history, and jaw-dropping beaches. Those keeping an eye on their wallets will find plenty to love about Luquillo Beach and its perfect mix of fun and affordability. For love-struck couples, Flamenco Beach on Culebra Island – often celebrated as one of the most stunning beaches on the planet – offers a tranquil sanctuary, its pristine surroundings fostering intimate moments.
And thrill-seekers, get ready to surf the "Caribbean Pipeline" at Rincon Beach for the ultimate adrenaline rush.
Now, for those with a penchant for luxury, Turks and Caicos' private islands offer nothing short of heaven, with opulent resorts nestled along the shore, offering the best in indulgence and privacy. But don't count Puerto Rico out! Luxury seekers will also find their heart's desire in the posh beachfront resorts of Condado Beach, where five-star treatment and breath-taking ocean views are the order of the day.
Finest Accommodation Picks Revealed
I'm here to guide you through a little daydreaming, pitting two dreamy locales – Turks and Caicos and Puerto Rico – against each other. No matter if you're traveling with your family, seeking a romantic retreat, hunting for an adventure, keeping an eye on the budget, or luxuriating in opulence, we've got the best spot just for you.
Think Puerto Rico, think passionate salsa rhythms and lip-smacking cuisine, all nestled within one of the Caribbean's most loved islands. For families ready to dive into the fun, the Wyndham Grand Rio Mar is the perfect mini-universe with a bounty of kid-friendly activities that guarantee grins all around.
Couples, how about luxuriating in the sumptuous surroundings of the Hyatt Regency Grand Reserve? Think breathtaking vistas, indulgent spa treatments, and enough memories to fill a lifetime. And for the adrenaline junkies among us, the Dorado Beach is your launchpad into the heart of Puerto Rico's verdant rainforests and electrifying water sports. All this, while you call home a luxury beachfront villa.
Now, let's sail to Turks and Caicos, an idyllic hideaway with pristine white sands kissing crystal-clear turquoise waters. The Shore Club Turks & Caicos beckons families with its spacious suites and villas, fun-filled kids' clubs, and a myriad of activities to keep all ages enthralled.
Couples, immerse yourselves in the serene Windsong Resort, where intimate beachfronts and charming ocean-view suites craft the perfect love story. Budget-conscious explorers, rejoice with Hotel La Vista Azul, a pocket-friendly yet dreamy spot with stunning vistas and easy access to the island's sizzling attractions.
Puerto Rico's cultural pulse or Turks and Caicos' untouched splendor – whatever captures your heart, you're in for an unforgettable treat. So, start making your packing list, and prepare for a whirlwind of memories that'll last a lifetime. No matter your travel style or budget, both these sun-kissed havens are eager to welcome you into their warm Caribbean embrace.
Unforgettable Activities and Attractions
The enchanting Turks and Caicos and the vibrant Puerto Rico. Both of these sparkling jewels of the Caribbean have oodles of fun to offer to everyone—family vacationers, lovebirds, adrenaline chasers, penny-wise explorers, and those seeking opulence. Let's set sail and discover why these two are simply irresistible!
Imagine yourself in Turks and Caicos, strolling down those stunning sandy beaches, and basking in the crystal-clear azure waters. This sun-kissed utopia is truly a haven for beach aficionados and couples yearning for a cozy retreat. You won't want to miss out on the thrilling snorkeling and diving escapades, where you can explore the rainbow hues of the underwater world, brimming with fascinating marine life.
For those who love a good dose of adrenaline, how about giving kiteboarding or windsurfing a shot? And of course, remember to reward yourself with a lavish spa day, enjoying the tropical breeze with a fresh coconut drink in hand, as the young ones have a whale of a time with beach games.
Now let's switch gears to the vibrant and culturally rich Puerto Rico, an adventurer's paradise and a haven for history enthusiasts. Meander through the charming, cobbled lanes of Old San Juan, immersing yourself in the colonial allure and dynamic street art. For the brave at heart, the exhilarating trails of El Yunque National Forest, with its stunning waterfalls and lush greenery, await.
And a trip to the bewitching Bioluminescent Bay in Vieques, with its twinkling natural light show, is a must-have experience that will create lasting memories for both families and couples.
For those who are travel-savvy and conscious about the budget, Turks and Caicos can seem a tad expensive. But worry not! You can still have an amazing time with wallet-friendly activities like packing a delicious picnic and heading to the breathtaking Chalk Sound National Park. Over in Puerto Rico, you'll find a host of quaint guesthouses and delightful local food joints that allow you to experience the island's beauty without burning a hole in your pocket.
For the luxury seekers among you, both Turks and Caicos and Puerto Rico pull out all the stops to cater to your exquisite tastes. Picture yourself in Turks and Caicos, lounging in an opulent private villa or high-end resort, with world-class amenities and your own slice of the beach.
And in Puerto Rico, the luxury stays often come with spectacular ocean views and unparalleled service, making it a dreamy escape for couples looking for a romantic getaway or families craving a one-of-a-kind holiday experience.
Whether your heart is set on the tranquil Turks and Caicos or the lively Puerto Rico, you're in for a joyous journey filled with thrilling adventures, serene relaxation, and memory-making moments. So dust off those suitcases, call your loved ones, and get ready to dive into an unforgettable island adventure. Safe and happy travels to you!
Exploring the Top Travel Tours
Let's start with Puerto Rico, an enchanting mix of vibrant culture and awe-inspiring landscapes. Families will find nothing but joy with Great Tours Puerto Rico, which promises memorable trips designed for all age groups.
Adventurous spirits, get ready to be captivated by El Yunque Tours Inc., where you'll uncover the magic of lush rainforests and secluded waterfalls. For couples in love, Paradise Tours Puerto Rico offers romantic escapades under the moonlight and cherished moments on secluded beaches.
Now, let's sail to Turks and Caicos, a hidden treasure in the Caribbean sea. Families, prepare to be wowed by Island Vibes Tours. Here, you'll dive into snorkeling escapades and come face to face with mesmerizing marine life. If luxury is what you're after, Turks Ventures By Drex will treat you like royalty with exclusive yacht journeys and secluded beach retreats.
And for those globetrotters traveling on a shoestring, Grace Bay Adventures offers a plethora of wallet-friendly tours, so you can enjoy this tropical paradise without stretching your budget.
Puerto Rico will sweep you off your feet with its rich history, varied terrain, and heartwarming hospitality. Turks and Caicos, on the other hand, will captivate you with its untouched beaches, clear turquoise waters, and easy-going atmosphere. So, what are you waiting for? Grab your suitcase, call your loved ones, and prepare to create memories you'll hold dear in these paradises of the Caribbean!
Where Food Meets Tropical Bliss
How about we embark on a flavor-packed journey that'll have your taste buds doing a little dance and leave you hankering for seconds?
These destinations are a must-visit whether you're a family after a heartwarming meal, lovebirds hunting for a dreamy dinner, a thrill-seeker chasing down exotic tastes, or a wanderer pinching pennies or splurging on lavish meals – there's a delicious corner for every craving.
Imagine yourself in Turks and Caicos, where the beaches are immaculate, and the water is as clear as a day. The fusion of Caribbean and international cuisines is sure to steal your heart. Picture a family meal at a cute beachfront restaurant with delectable seafood platters, perfectly grilled burgers, and tasty kiddie mocktails to keep the little ones entertained.
Envision a romantic candlelit dinner at a fancy resort, with the fresh catch of the day meeting an array of Caribbean spices to cast a spell on your taste buds. If you're feeling adventurous, take a food truck trail to sample local delights like crispy conch fritters and fiery jerk chicken – a treat that's bound to get your senses tingling. And the cherry on top? Even for those traveling on a shoestring, the local eateries promise memorable meals without denting your wallet.
Next, let's teleport to Puerto Rico, a paradise for food lovers with a captivating mix of Spanish, African, and Taino flavors. Picture your family at a bustling "lechonera," feasting on juicy roasted pork and homey rice and beans. For the love-struck, stroll hand-in-hand through the cobblestone streets of Old San Juan, with its charming bistros and chic eateries offering a mesmerizing mix of Caribbean and Spanish treats, the perfect setup for a date to remember.
And for those with an appetite for adventure, jump right into the bustling street food scene with scrumptious empanadillas, addictive alcapurrias, and a refreshing coquito – a traditional coconut drink that's hard to resist. For those inclined towards luxury, get ready for world-class dining experiences where brilliant chefs weave together local ingredients with global inspiration for a one-of-a-kind feast.
In both Turks and Caicos and Puerto Rico, dining is much more than just filling your belly. It's a golden ticket to dive headfirst into the vibrant cultures and age-old traditions of these gorgeous islands. As you bask on the golden beaches, dig into hidden foodie treasures or pamper yourself with a gourmet splurge, each mouthful promises to etch unforgettable memories with your loved ones.
So, grab a chair, let your taste buds take the lead, and let the warm hospitality of these islands sweep you off your feet as you embark on a culinary adventure that's second to none!
Turks And Caicos Vs. Puerto Rico FAQ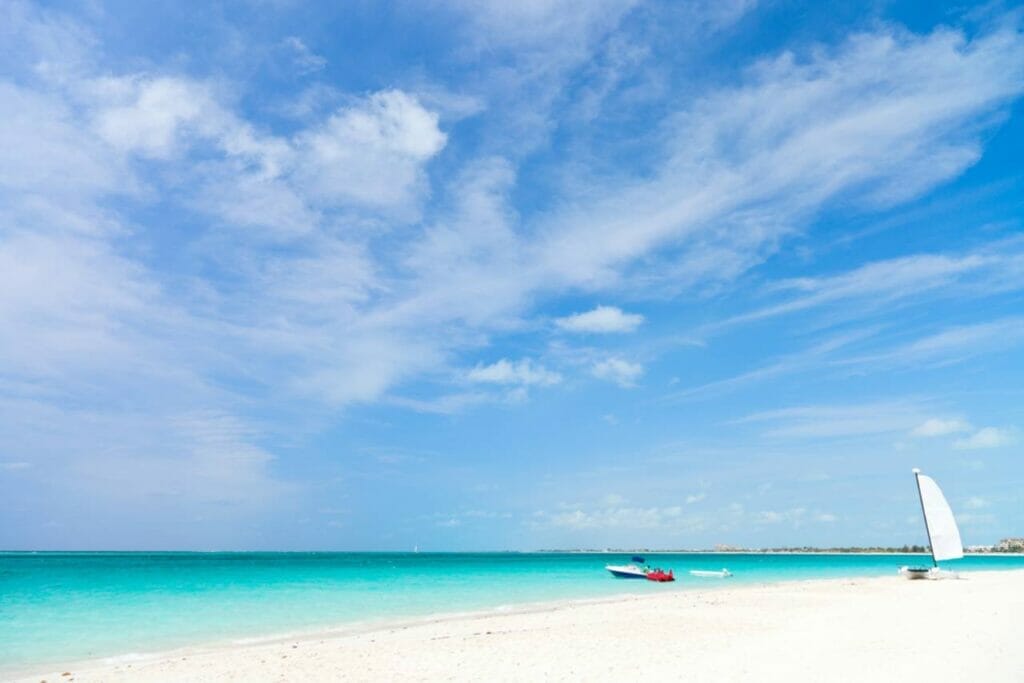 Which is better, Puerto Rico or Turks and Caicos?
While both Puerto Rico and Turks and Caicos offer unique experiences, it ultimately depends on individual preferences. Puerto Rico is a fantastic alternative for individuals looking for a mix of adventure and a lively atmosphere because of its varied landscapes, rich culture, and exciting nightlife. Turks and Caicos, on the other hand, is well known for its gorgeous beaches, bright coral reefs, and peaceful atmosphere, making it an excellent choice for beach lovers and water sport enthusiasts. Ultimately, the "better" choice comes down to personal interests and desired vacation experience.
Why are Turks and Caicos so popular?
Turks and Caicos has gained popularity due to its unparalleled natural beauty. The area is well known for its immaculate white-sand beaches, blue oceans, and bright coral reefs, making it a refuge for beachgoers and divers. The islands' tranquil atmosphere, luxurious resorts, and exclusivity have also contributed to its popularity among those seeking a high-end tropical escape. Visitors to Turks and Caicos may relax and take in the stunning natural surroundings in a tranquil and peaceful atmosphere.
Is Turks and Caicos a luxury destination?
Yes, Turks and Caicos is considered a luxury destination. The islands boast a plethora of upscale resorts, private villas, and high-end amenities that cater to discerning travelers. The destination is known for its exclusivity and pristine natural beauty, attracting affluent visitors seeking a luxurious and secluded vacation.Turks & Caicos offers a sophisticated and sumptuous experience for those wanting a high-end tropical escape, from opulent lodging to top-notch cuisine and luxury shopping.