Turks And Caicos Vs. Maldives
We have options for you if you want to go on a beach vacation but can't decide between Turks & Caicos and the Maldives.
The main difference between Turks and Caicos and the Maldives lies in their geographical locations and overall experience. Turks and Caicos, located in the Caribbean, boasts stunning white-sand beaches and diverse water sports. The Maldives, situated in the Indian Ocean, offers overwater bungalows and unparalleled marine life for snorkeling and diving enthusiasts.
Choose Turks and Caicos for vibrant Caribbean charm, or opt for the Maldives to immerse yourself in a secluded paradise surrounded by crystal-clear waters. Consider your preferences and priorities to make the perfect choice for your dream getaway.
| Aspect | Turks and Caicos | Maldives |
| --- | --- | --- |
| Cost Range for 1 Week | $992 – $4,556 (source) | $852 – $5,013 (source) |
| Location | Caribbean Sea, southeast of the Bahamas | Indian Ocean, southwest of Sri Lanka |
| Geography | Archipelago consisting of 40 islands and cays | Double-chain of 26 atolls and over 1,000 coral islands |
| Language | English | Dhivehi |
| Government | British Overseas Territory | Presidential Republic |
| Currency | United States Dollar (USD) | Maldivian Rufiyaa (MVR) |
| Tourism | Known for luxury resorts and pristine beaches | World-renowned for overwater bungalows and coral reefs |
| Economy | Tourism, offshore financial services | Tourism, fishing, agriculture |
Read on to explore the pristine beaches, luxury resorts, underwater worlds, cultural contrasts, thrilling adventures, and travel logistics that will help you make the perfect choice for your next vacation.
A Tale of Two Island Nations
Hey there, fellow adventure-seekers! Are you daydreaming about a sun-soaked getaway but can't decide between the magical Turks and Caicos and the mesmerizing Maldives? Let me help you take a closer peek at these dazzling gems, with a dash of geography and a sprinkle of history. Whether you're an adventurous clan, lovey-dovey duo, thrill-seeker, or a smart saver, both these splendid spots will charm their way into your heart.
Let's set sail to the beautiful Turks and Caicos Islands first, a string of Caribbean jewels. Picture this: pristine beaches, sparkling turquoise waters, and a vibrant underwater world that's a scuba diver's paradise. Every island here has a unique personality, from the buzzing life in Providenciales to the calming vibes of Salt Cay.
If you're a history buff, you'll love digging into the islands' intriguing British past, visible in the vintage architecture and thought-provoking museums. The daring adventurers among you can explore old plantations, landmarks, and the islands' captivating legacy of shipwrecks.
Next stop, the dazzling Maldives, a little piece of heaven in the Indian Ocean. Imagine lounging in an overwater bungalow, strolling on velvety white beaches, and swimming among colorful coral reefs – sounds dreamy, right? Families, brace yourselves for bucket loads of fun with activities like snorkeling with manta rays and spotting playful dolphins.
Couples, prepare to be smitten by the breathtaking sunsets and the charm of private island escapes. For the thrill-seekers, there's surfing, windsurfing, and jet skiing. History lovers, you can immerse yourselves in the fascinating tale of the Maldives, reflected in its unique architecture and crafts.
Budget-conscious buddies, fret not! Both these stunning spots offer a range of wallet-friendly stays, chances to devour local delicacies, and heaps of attractions that don't come with a hefty price tag. For those with a taste for the finer things, prepare to be dazzled.
Both Turks and Caicos and the Maldives are home to some of the globe's most luxurious resorts where lavishness takes center stage. So, whether you're drawn to the laid-back Caribbean vibe or the exotic appeal of the Indian Ocean, both places promise unforgettable moments that you'll treasure forever.
So, that's the scoop, my friends! The past and geography have morphed both Turks and Caicos and the Maldives into the paradise they are today. Whether you're journeying with your family, your significant other, seeking adrenaline rushes, or wanting to save some cash or splurge, picking between these two marvels will be a delight. But, no matter where you land, a memorable voyage awaits. Here's to happy and enriching travels!
Comparing Coastal Beauty
Let's take a mental trip to the breathtaking beach destinations of Turks and Caicos and the Maldives. It doesn't matter if you're a family looking for a sunny playtime, lovebirds in search of a secluded hideaway, an adrenaline junkie hunting for underwater thrills, or a budget-savvy traveler or luxury seeker, these island havens welcome everyone with open arms.
Nestled in the warm embrace of the Caribbean, Turks and Caicos promises to steal your breath away with some of the most beautiful beaches this world has to offer. Picture yourself on Grace Bay Beach, an inviting stretch of pure white sand and jewel-like waters, where families and couples find their slice of heaven.
Kiddos can make a playful splash in the gentle surf, while romantic pairs can take sunset strolls, hands clasped and hearts full. If you've got a taste for adventure, plunge into the underwater world of nearby coral reefs, or if a pampered getaway is more your style, you'll be spoilt for choice with the luxurious resorts dotting the coast.
On the other side of our planet, you'll find the Maldives, a tropical wonderland tucked away in the Indian Ocean. Overwater bungalows dot the seascape here, offering couples the chance to wake up enveloped in the soothing melody of the waves. But, rest assured, the Maldives is far more than just a romantic retreat.
It's an underwater playground with coral teeming with life and color, and families can bond over an exciting dolphin-watching trip. Even if you're mindful of your wallet, the Maldives doesn't disappoint, with affordable guesthouses on local islands providing ample opportunities to bask in the stunning beaches and sparkling lagoons.
Deciding between Turks and Caicos and the Maldives really boils down to what kind of beach vacation makes your heart skip a beat. If you're craving a Caribbean getaway with a short flight and a wide range of activities, then Turks and Caicos is your ticket to joy. But if you're lured by the siren call of a more exotic journey where luxury, romance, and marine marvels intertwine, then the Maldives will make your dreams a reality.
Regardless of your pick, both promise a beach vacation that will live on in your memories. So, grab your sunblock, flip-flops, and bathing suits, and gear up for the sun-kissed adventure of a lifetime in your own tropical paradise!
Exploring Accommodation Options
Turks and Caicos and the Maldives, they're a candy shop of choices for everyone – families, couples, thrill-chasers, and those on both shoestring and champagne budgets. So, let's dive into what makes each spot special and find your perfect vacation fit.
First, let's take a virtual jaunt to the Maldives, a necklace of beautiful atolls strung across the Indian Ocean. If your dream is to be pampered in the lap of luxury, then places like OZEN Reserve Bolifushi, Diamonds Thudufushi Beach & Water Villas, or Heritance Aarah should be on your radar.
These resorts aren't just accommodations; they're floating palaces that sit atop the ocean's sparkling surface. Families will find themselves spoilt for choice with the array of kid-friendly activities, while lovebirds can share intimate beach dinners under a blanket of stars. And let's not forget the adrenaline junkies – the Maldives' mesmerizing underwater world and world-class diving spots will set your heart racing.
Next, we jet off to the Caribbean, where the alluring Turks and Caicos islands await. If you're yearning for a warm, intimate escape, the Shore Club and Alexandra Resort should be high on your list. These family-friendly sanctuaries serve up comfy accommodations and a smorgasbord of water sports to ensure no one gets bored.
Couples can lose themselves in moonlit walks along the beach or succumb to the blissful allure of soothing spa treatments. On a budget? No worries! Turks and Caicos also boasts quaint, budget-friendly gems that give you bang for your buck.
Hold on, we're not finished yet! For those who equate vacation with ultimate luxury, let's set our sights on Amanyara. Nestled between lush wilderness and blue-as-can-be waters, this super-exclusive resort caters to the discerning traveler seeking solitude and peace. It's a match made in heaven for honeymooners, couples marking milestones, or anyone wanting to recharge in a tranquil hideaway.
So, whether your heart's set on the unique charm of the Maldives' overwater bungalows or the irresistible Caribbean appeal of Turks and Caicos, rest assured that both destinations offer accommodations that will etch into your memory. Families, couples, thrill-seekers, and both budget and luxury travelers – the choice is yours. Allow these earthly Edens to sprinkle a little magic dust over your holiday dreams. Here's to happy, unforgettable journeys!
Renting a Car in Paradise
Buckle up, because we're about to dive into the ins and outs of transportation in these two island getaways!
In the Maldives, transport is an adventure in itself, adding a whole new layer to your island-hopping experience. CabMv Taxi Centre can get you around the main island, Male, but remember, this is an archipelago of 26 coral atolls and over a thousand islands! Traditional dhoni boats, seaplanes, and speedboats are common ways to island hop, providing a unique way to absorb the stunning marine landscapes.
For the independent explorers out there, consider NEXSAR Rentals, offering a fleet of cars to maneuver around the larger islands at your own pace. Remember, these islands are small, and driving around is part of the experience, not just getting from point A to point B.
Meanwhile, over in the Caribbean, Turks and Caicos invites you to explore its beauty both on land and at sea. Renting a car is a popular way to discover the islands at your leisure. Reliable providers like Grace Bay Car Rentals, TCI Car Rental, and Sixt Car Rental are at your service, offering a range of vehicles to suit your needs, be it a family-sized SUV, a budget-friendly compact, or a luxury convertible.
However, Turks and Caicos is more than just a driving adventure. The island chain also boasts an impressive network of ferries and charter boats for exploring the turquoise waters and smaller cays. Whether you're a budget explorer hunting for affordable ferry rides, a thrill-seeking family ready to charter a boat for snorkeling trips, or a couple dreaming of a romantic sunset cruise, Turks and Caicos has options for every traveler.
So, whether you're dreaming of the Maldivian speedboat trips across an endless ocean, or a leisurely self-guided car tour of Turks and Caicos' hidden gems, the journey is as exciting as the destination itself in these two paradises. Families, couples, adventure seekers, and both budget and luxury travelers – the open road (and sea!) awaits you. Bon Voyage, fellow adventurers!
A Dining Experience Face-Off
If you're on the hunt for an unforgettable dining experience in a tropical paradise, let me take you on a culinary journey to two exquisite destinations: Turks and Caicos and the Maldives.
In Turks and Caicos, dining is a feast for all your senses. For families seeking a beachside retreat, the Sea House Café is a must-visit gem. Picture this: the kids building sandcastles while you indulge in fresh seafood dishes, accompanied by the soothing sound of waves crashing on the shore. It's a dream come true!
For couples seeking a romantic atmosphere, Symphony Restaurant offers an enchanting setting under the stars, where delectable dishes are artfully prepared and served with love.
Now, let's whisk you away to the mesmerizing Maldives, where the dining experience is just as captivating. For adventurous souls, The Cloud Restaurant is the place to be. Perched high above the water on stilts, you'll dine amidst breathtaking views of the turquoise lagoon, making every bite taste like pure bliss.
On a budget but still craving gourmet delights? Fear not, because the Bay Bistro in Turks and Caicos will cater to your taste buds and wallet alike. Their diverse menu offers affordable yet scrumptious dishes that even the pickiest eaters will adore.
Luxury travelers, we've got you covered too! In Turks and Caicos, Coco Bistro is the epitome of elegance. Imagine being surrounded by swaying palm trees while savoring a culinary masterpiece made from the freshest local ingredients. Over in the Maldives, Baci Restaurant beckons with its luxurious ambiance and an array of indulgent international cuisines. This is a dining experience you'll cherish forever.
So whether you're seeking a family-friendly beachside retreat, a romantic rendezvous under the stars, thrilling dining with stunning views, or a mix of luxury and affordability, both Turks and Caicos and the Maldives have a dining scene that will leave you craving for more. Bon appétit and happy travels!
Travel Tours In Paradise
Whether you're a family hungry for some cherished moments, a pair of lovebirds seeking a whisper of romance, an adrenaline junkie after an epic thrill, or a traveler juggling a shoestring budget or craving a sprinkle of luxury, both destinations are your oysters!
First up is the mesmerizing Maldives. Imagine sapphire-blue waters so clear they seem unreal, powdered sugar-like beaches, and enchanting overwater bungalows that seem borrowed from a magical realm. Reliable tour operators like Shadowpalm Tours, Lily Tours Maldives, and Capital Travel Maldives are standing by to turn your daydreams into reality.
The Maldives is an all-in-one package offering couples an intimate getaway with sunset cruises, families a bonding platform with fun-filled water activities, and adventure seekers an underwater paradise teeming with vibrant marine life. Even on a budget, you can get your fill of delightful local flavors at welcoming guesthouses and neighborhood eateries, while luxury seekers can bask in the glory of ritzy resorts boasting world-class facilities.
Then we're transported away to the enthralling Turks & Caicos Islands. With breathtaking coral reefs and awe-inspiring landscapes, this Caribbean gem weaves a spell that entraps all types of wanderers. Top-tier tour operators like Caicos Dream Tours, Island Vibes Tours, and Caicos Catalyst Charters & Excursions are ready to unveil the islands' magic to you.
Families can have a ball with beach treasure hunts, snorkeling, and endless seaside frolics, while couples can fall in love all over again with intimate beach dinners and dreamy boat trips at sunset. For the intrepid, there's a banquet of adventures with underwater cave explorations, kiteboarding, and paddleboarding. If you're traveling on a budget, local markets offer a sensory feast of the vibrant Caribbean culture, whereas luxury travelers can bask in the splendor of sumptuous resorts offering their own slice of heaven.
So, whether you're drawn to the Maldives' opulent allure or Turks & Caicos' adventure-infused allure, both locales guarantee a one-of-a-kind experience. It's time to pack your stuff, assemble your closest friends, and set out on an adventure that will live on in your memory for the rest of your life. Here's to unforgettable journeys!
Turks And Caicos Vs. Maldives FAQ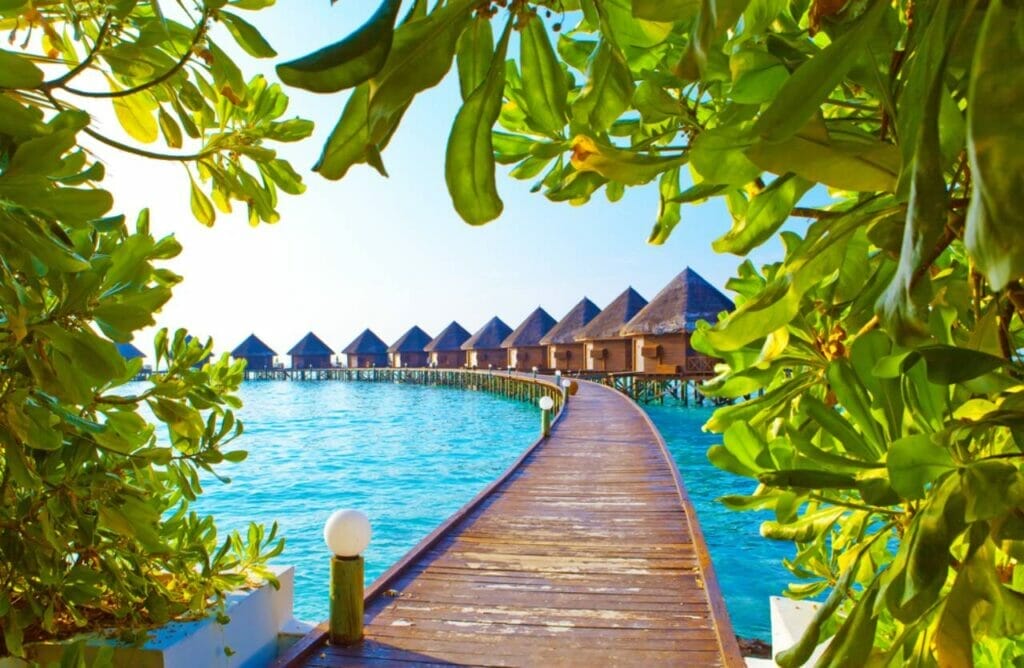 Is Maldives better than Caribbean?
Both the Maldives and the Caribbean offer unique and captivating experiences, so it's subjective to determine which is better. The Maldives is renowned for its pristine beaches, abundant marine life, and exclusive private island resorts. On the other side, the Caribbean offers a variety of island sites to explore along with unique scenery and distinct cultures. The choice depends on individual preferences, whether one prefers a secluded luxury retreat in the Maldives or a more varied and culturally rich experience in the Caribbean.
What Caribbean island is most like the Maldives?
The British Virgin Islands (BVI), which are in the Caribbean, come the closest to simulating the Maldives' unique experience in terms of their natural beauty and tranquil seascapes. The BVI features pristine beaches, crystal-clear turquoise waters, and a selection of luxury resorts and private villas. With its picturesque scenery and tranquil atmosphere, the BVI provides a similar sense of escape and tranquility reminiscent of the Maldives.
Is Turks and Caicos worth seeing?
Absolutely! Turks and Caicos is definitely worth seeing. This Caribbean archipelago offers stunning beaches, diverse ecosystems, and a relaxed atmosphere. Turks and Caicos offers a sanctuary for nature lovers and scuba enthusiasts with its unspoiled natural splendor, which includes nature reserves and the third-largest coral reef system in the world. Additionally, the islands' luxury resorts, delicious cuisine, and friendly locals contribute to a memorable and worthwhile travel experience.