Bermuda Vs. Turks And Caicos
Looking for a tropical escape that's off the beaten path? Let me introduce you to two mesmerizing island destinations: Bermuda and Turks and Caicos.
The main difference between Bermuda and Turks and Caicos lies in their geographical location and overall atmosphere. Bermuda, situated in the North Atlantic, offers a temperate climate, lush green landscapes, and a rich maritime history. Turks and Caicos, located in the Caribbean, boasts stunning tropical beaches, crystal-clear waters, and a more laid-back island vibe.
Travelers seeking a serene, subtropical island experience may find Bermuda appealing, while those yearning for a quintessential Caribbean escape with pristine beaches and warm weather may prefer Turks and Caicos.
| Category | Bermuda | Turks and Caicos |
| --- | --- | --- |
| Cost Range for 1 Week | $929 – $4,227 (source) | $992 – $4,556 (source) |
| Location | North Atlantic Ocean | Caribbean Sea |
| Geography | Consists of one main island | Consists of multiple islands |
| Language | English | English |
| Government | British Overseas Territory | British Overseas Territory |
| Currency | Bermudian Dollar (BMD) | United States Dollar (USD) |
| Tourism | Popular tourist destination | Popular tourist destination |
| Economy | Strong financial services sector, tourism, international business | Tourism, offshore financial services, fishing |
Whether you're an adventurous water enthusiast or a seeker of serene beauty, both islands have you covered. So pack your swimsuit and get ready for an unforgettable island adventure in Bermuda and Turks and Caicos!
Enchanting Past and Scenic Beauty
Prepare yourself for a heartwarming journey to Bermuda and Turks & Caicos, where you'll fall in love with the calming palette of the ocean, the soft caress of sandy beaches, and the rich tapestry of history that weaves through these Caribbean gems. Whether you're a family on the hunt for an unforgettable vacation, a couple seeking the perfect romantic backdrop, an adventure enthusiast ready to conquer new challenges, or a luxury lover craving opulence, these islands will make your dreams come true.
You're in Bermuda, a charming archipelago that's just a hop, skip, and a jump – about 650 miles – off the US east coast. Famous for its blushing pink beaches, Bermuda boasts a lively mix of British colonial heritage and vibrant island spirit. Families, imagine uncovering centuries-old landmarks like the enchanting village of St. George, a UNESCO protected site that lets you walk through the pages of history.
Couples, picture yourselves strolling hand in hand, enjoying a mesmerizing sunset at Horseshoe Bay Beach. For the adventurers among you, the island's sparkling waters hide sunken treasures and a myriad of marine life just waiting for you to dive in. And for those seeking a taste of the high life, Bermuda's opulent resorts will provide all the pampering you desire.
Next, let's sail over to the picture-perfect Turks and Caicos islands, nestled to the southeast of Bermuda. Families, imagine yourselves in Providenciales, or as the locals call it, Provo, where the rhythmic dance of the waves and lively coral reefs create a playground like no other. Lovebirds, envision a tranquil escape at Grace Bay Beach, a serene spot that whispers tales of eternal love.
Adventure enthusiasts, picture yourselves kayaking through the breathtaking beauty of Chalk Sound National Park, a turquoise dreamscape. And for those with a penchant for the finer things, Turks and Caicos will spoil you with plush accommodations, private villas, and gourmet dining that redefine luxury.
In both Bermuda and Turks and Caicos, history isn't just a story, it's an experience. Feel the rush of the olden days when pirates ruled the seas and shipwrecks dotted the waters. Visit places like Bermuda's Royal Naval Dockyard, where maritime history comes alive, or Turks and Caicos' Conch Bar Caves, a mysterious place whispering ancient Lucayan secrets.
So, if you're a family ready to embark on a grand adventure, a couple yearning for romance under the tropical sun, an adrenaline junkie seeking thrills, or a luxury devotee looking for indulgence, Bermuda and Turks and Caicos are ready to welcome you. Their captivating charm, vibrant history, and unforgettable experiences will leave you longing for just one more day in paradise.
A Tale of Two Beach Paradises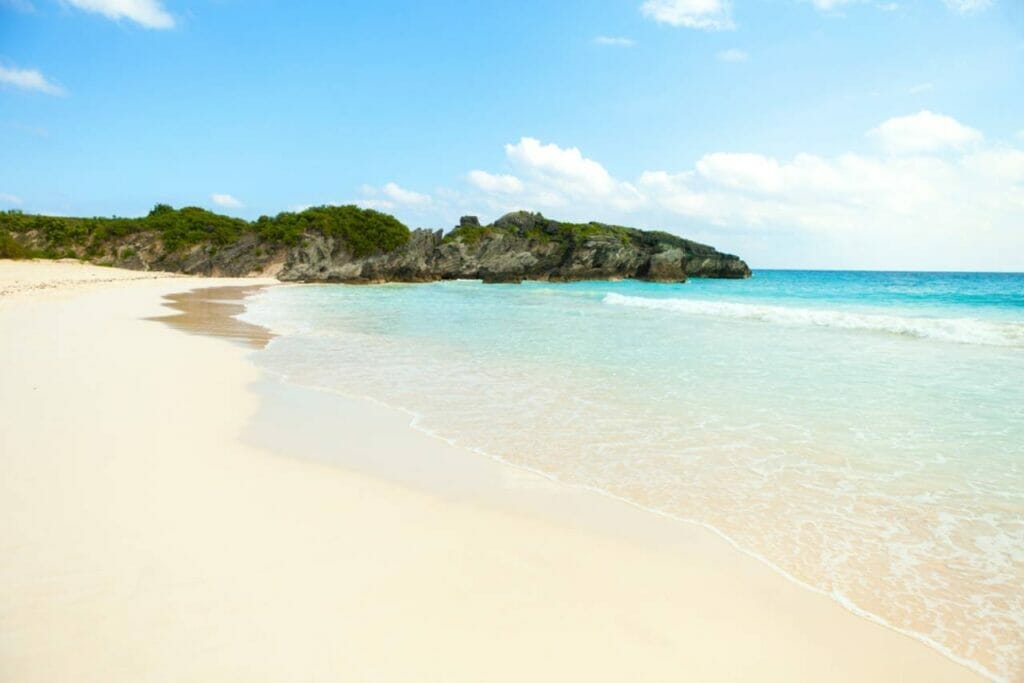 If you've been daydreaming about the perfect sandy escape, it's time to set your sights on the dreamy islands of Bermuda and Turks and Caicos! These Caribbean treasures are home to some of the world's most breathtaking beaches, and they're ready to welcome families, lovebirds, thrill-seekers, and lovers of luxury with open arms. So, let's take a little virtual vacation and discover what makes each of these sunny spots uniquely special.
Bermuda's pink sandy beaches under your toes, the crystal-clear waters reflecting the sun – this is a family paradise! Horseshoe Bay Beach, with its gorgeous cove, is a natural playground for the little ones to create their dream sandcastle while you get to explore a vibrant underwater world of colorful fish.
If you're looking for romance, Bermuda's tranquil vibe and charming beachfront cottages are the perfect backdrop for rekindling sparks. And for the adventure lovers, you're in for a treat – diving into underwater caves and exploring shipwrecks is sure to get your heart racing. Meanwhile, the island's posh resorts and top-tier spas will leave luxury enthusiasts feeling like royalty.
On the flip side, we have Turks and Caicos, where the beaches look like they've been plucked straight from a dream. Picture-perfect Grace Bay Beach, often topping 'world's best' lists, lures families with its gentle waters and soft waves, ideal for those little swimmers in your crew. For those looking for romance, imagine hand-in-hand walks along the silky shoreline as the sun dips below the horizon.
If it's adventure you're after, the islands' barrier reefs are a diver's paradise, brimming with underwater life just waiting to be discovered. And, for the luxury lovers, Turks and Caicos is dotted with extravagant oceanfront resorts that spoil guests with plush comforts and delectable dining experiences.
Whether you're leaning towards Bermuda or Turks and Caicos, both of these gems promise to deliver an unforgettable beach experience. Bermuda's serene beauty and unique pink sands are sure to captivate those yearning for a touch of elegance, while Turks and Caicos' powdery white beaches and exciting water activities are perfect for those seeking a bit of adventure. They're both family-friendly with a whole host of activities that will keep both the kiddos and parents entertained.
And, for those in search of romance, both destinations offer quiet beaches, stunning sunsets, and luxury accommodations, setting the stage for unforgettable moments. So, whether it's relaxation, thrills, or a bit of lavish living you're after, Bermuda and Turks and Caicos are waiting to make your beach vacation dreams a reality!
Exploring Dining Delights
If you're a foodie with a passion for exploring the globe, let me take you on a tantalizing journey through the Caribbean's culinary heavens – Bermuda and Turks and Caicos. Whether you're a family man, a romantic soul, an adventurous spirit, or a lover of luxury, you'll find something to make your taste buds sing a melody of joy in these tropical paradises.
Now, imagine the scene in Bermuda. You're seated by a breathtakingly beautiful harbor, the air salty and the atmosphere alive with the hum of maritime life. There's a plate of delectably fresh seafood in front of you, cooked to perfection with the finest local ingredients and bursting with island flavor. Isn't that a taste of heaven? But don't worry, it's not just seafood heaven here.
You'll find a smorgasbord of options to make everyone happy, from juicy burgers to vibrant veggie delights. And of course, a Bermudian meal isn't complete without a slice of the legendary rum cake, guaranteed to spread grins from ear to ear, regardless of age.
Let's hop over to Turks and Caicos, where the dining experience reaches soaring new heights, especially for those who appreciate the finer things in life. Here, the restaurants aren't just places to eat, they are stages where culinary arts meet natural beauty, boasting mesmerizing ocean views as the backdrop.
Picture yourself celebrating a memorable evening, sipping on champagne, and savoring a succulent Caribbean lobster, perfectly seared to your liking. For the adventurers, don't miss the authentic local flavors at beach shacks, where they dish out amazing conch fritters and mouth-watering grilled fish.
Bermuda and Turks and Caicos, both share a love for outstanding food, each carrying their unique charm. Bermuda loves to tell its story through seafood, while Turks and Caicos don an air of sophisticated elegance in its dining experiences. No matter where you lean, get ready for a culinary odyssey that leaves no one behind.
So, whether you're a family building unforgettable memories over great food, a couple carving out intimate moments, an explorer immersing yourself in local culture, or a luxury connoisseur enjoying the finer things, rest assured, Bermuda and Turks and Caicos will etch their culinary treasures into your heart, long after your sun-tanned vacation fades.
Ultimate Travel Tours Comparison
Dreaming of a vacation you won't ever forget? Allow me to whisk you away, at least in imagination, to two amazing places where the sun always shines and the vibes are forever tropical: the delightful Bermuda and the enchanting Turks and Caicos.
Turks and Caicos awaits you with a blend of thrills and relaxation. With M & J's Charters, you're in for a water-world spectacle, private boat tours that lead you to secret cays and untouched beaches. Here, you can dive into the crystal-clear waters for a snorkeling experience amongst a kaleidoscope of marine life or simply bask in the sun like a carefree seal.
Craving some terrestrial adventure? TCI Safari Tours is your answer. Jump aboard their open-air vehicles and take a ride across the unmarred beauty of the island, from verdant mangroves to intriguing caves. And for those of you whose hearts beat faster on the water, Grace Bay Adventures presents an array of activities including jet ski outings, paddleboarding, and thrilling banana boat rides – guaranteed to get the whole family hollering with joy!
Meanwhile, Bermuda stands with arms wide open, teeming with countless wonders for you to uncover. The Island Tour Centre is your gateway to a plethora of land and sea adventures. Embark on a guided tour to delve into the island's rich history, or plunge into the shimmering waters for a snorkeling journey among radiant coral reefs and enigmatic shipwrecks.
And for the daredevils among you, the Restless Native Catamaran stands ready. Climb aboard a catamaran and witness the awe-inspiring spectacle of humpback whales during their migration season. For a more intimate and customized experience, Captain Kirk's Coral Reef Adventures lets you charter your own course – maybe snorkeling with the fish or having a beach picnic on a deserted shore is your thing.
Whether your heart leans towards Bermuda or Turks and Caicos, one thing's for sure, every traveler's craving finds its match here. From mesmerizing scenery to exhilarating activities, these islands pledge an epic journey for everyone: families, couples, thrill-seekers, and luxury voyagers.
So, get your suitcases ready, don't forget the sunscreen, and gear up for the unforgettable experiences that these tropical wonderlands have to offer. Safe and happy travels to you!
Finding the Perfect Accommodations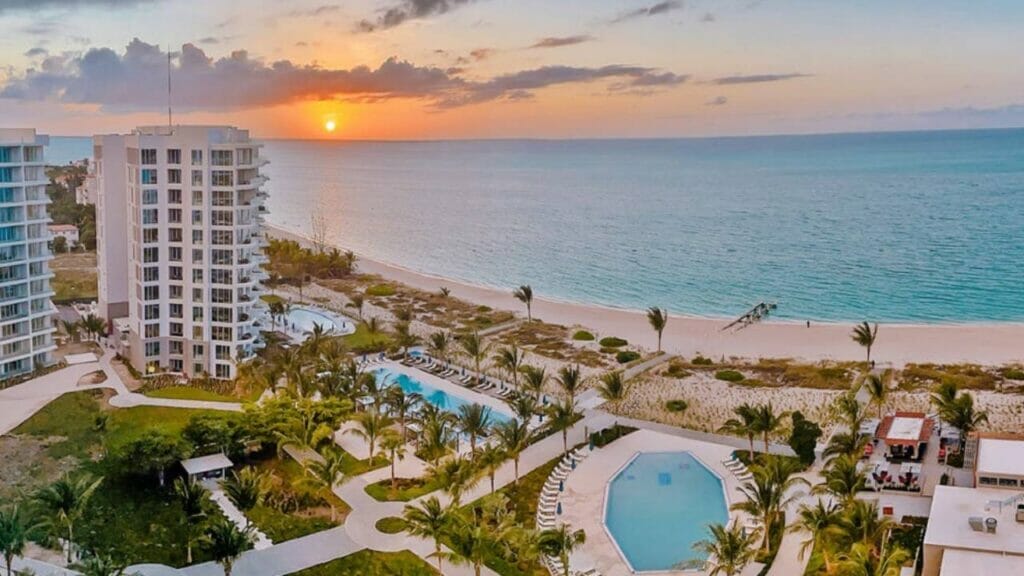 If you're on the hunt for the best accommodations in the Caribbean, look no further than the stunning islands of Bermuda and Turks and Caicos. Whether you're a family looking for fun, couples seeking romance, adventure seekers ready to explore, or luxury enthusiasts craving indulgence, these islands have got you covered!
In Turks and Caicos, get ready to be pampered like never before at The Ritz-Carlton. This world-class resort offers everything you'd expect from a luxury retreat and more. With its breathtaking beachfront location and top-notch amenities, it's an ideal spot for couples looking to unwind in style or families seeking a memorable escape.
For a more intimate experience, Villa Renaissance offers charming suites and a tranquil atmosphere, perfect for lovebirds seeking seclusion or families craving quality time together. And let's not forget The Somerset, a paradise for adventure enthusiasts. Its prime location near stunning coral reefs makes it a snorkeler's dream come true!
Meanwhile, over in Bermuda, families will find their perfect home away from home at Hamilton Princess & Beach Club. The welcoming atmosphere, fantastic kids' activities, and beachfront access ensure smiles all around.
This boutique hotel boasts breathtaking ocean views and a luxurious ambiance, perfect for couples looking to rekindle their spark. And if you want the best of both worlds – relaxation, and adventure – Cambridge Beaches Resort & Spa is your place. With its private beaches, rejuvenating spa, and exciting water sports, it caters to all your desires.
So, whether you're dreaming of a romantic getaway, a thrilling escapade, quality family time, or a luxury retreat, Bermuda and Turks and Caicos have got the accommodations to suit your every need. Pack your bags and prepare for an unforgettable journey of relaxation, adventure, and making memories that will last a lifetime!
Top Car Rental Options
If you're dreaming about the gorgeous islands of Turks and Caicos or Bermuda, let me tell you, you're going to want a dependable and cozy ride to fully enjoy your adventures. And this is true whether you're part of a big family gang, a love-struck couple, an adrenaline junkie, or a luxury traveler basking in the finer things.
Let's start with Turks and Caicos, where three wonderful car rental spots have got your back. First up is Grace Bay Car Rentals, with a buffet of vehicles to match any group size or budget. Want to glide along the iconic Grace Bay Beach or take a detour off the tourist track? Grace Bay will equip you with the perfect wheels.
Then there's Scott's Car Rental & Sales, who really make it personal, so you'll find the perfect match for a memorable, picture-perfect vacation. Craving a more adventurous vibe? Caicos Wheels Car & Scooter Rentals hooks you up with some snazzy scooters and ATVs, giving you the keys to unlock the island's secret treasures and untouched beauty.
Now let's hop over to Bermuda, where style and comfort on the road are just as vital. Three supercar rental choices await you here. If you're an adventure seeker, Rugged Rentals Bermuda offers a fleet of robust vehicles, just perfect for discovering Bermuda's wild side, from towering cliffs to untouched sandy beaches.
More of a traditionalist? Bermuda Rental Car provides a host of trustworthy vehicles, promising smooth rides to the island's historic sights and breathtaking views. Or maybe you're after a local flavor? BERMI – Localmotion Ltd prides itself on delivering an authentic Bermuda experience, with insider advice and a personal touch that'll warm your holiday.
Regardless of which island you pick, Turks and Caicos and Bermuda promise stellar car rental services that cater to a range of tastes and travel styles. Whether you're out for a family escapade, a romantic escapade, a thrill-seeker's spree, or a luxury retreat, these car rentals have your travel needs sorted. So strap in, let the warm tropical breeze caress your face, and kick-start an extraordinary journey of exploring the unique allure and natural grandeur of these truly remarkable island paradises!
Bermuda Vs. Turks And Caicos FAQ
Is Turks and Caicos part of Bermuda?
Turks and Caicos is not part of Bermuda. They are separate island destinations located in the Atlantic Ocean and the Caribbean Sea, respectively. While they may share some similarities in terms of geography and natural beauty, each territory has its own distinct identity and government.
Which is better, Bermuda or Turks and Caicos?
The "better" choice between Bermuda and Turks and Caicos ultimately depends on individual preferences. Both destinations offer unique experiences and attractions. Bermuda showcases a British colonial charm, distinctive pink-sand beaches, and hilly terrains, while Turks and Caicos boasts flat, sandy islands, powdery white beaches, and a fusion of cultural influences. Whether you prefer a British colonial experience or tranquil turquoise waters, both islands have their own allure.
What country does Turks and Caicos belong to?
Turks and Caicos is a British Overseas Territory. It is governed by and protected by the United Kingdom. While the islands have their own local government, the ultimate authority rests with the British government. This status grants Turks and Caicos the benefits and privileges of being affiliated with the United Kingdom while maintaining a unique cultural identity.