Turks And Caicos Vs. Bora Bora
Choosing between Turks and Caicos and Bora Bora for your dream island getaway? These two contrasting paradises offer their own distinct charms that will captivate any traveler.
The main difference between Turks and Caicos and Bora Bora lies in their geographical locations and cultural backgrounds. Turks and Caicos is an archipelago in the Atlantic Ocean known for its stunning beaches and vibrant marine life, offering excellent opportunities for snorkeling and diving. Bora Bora is a picturesque island in French Polynesia, characterized by its mesmerizing turquoise lagoon and lush landscapes, providing a more secluded and luxurious experience.
Travelers seeking Caribbean charm with diverse marine activities may opt for Turks and Caicos, while those desiring an exclusive and exotic getaway may choose Bora Bora.
| Category | Turks and Caicos | Bora Bora |
| --- | --- | --- |
| Cost Range for 1 Week | $992 – $4,556 (source) | $517 – $2,257 (source) |
| Location | Atlantic Ocean | Pacific Ocean |
| Geography | Archipelago | Island |
| Language | English | French, Tahitian |
| Government | British Overseas Territory | French Overseas Collectivity |
| Currency | United States Dollar (USD) | CFP Franc (XPF) |
| Tourism | Luxury resorts, water sports, diving | Luxury resorts, overwater bungalows, scenic beauty |
| Economy | Tourism, offshore financial services, fishing, small-scale agriculture | Tourism, luxury tourism, water-based activities |
Turks & Caicos and Bora Bora both provide unforgettable experiences that will leave you yearning for more, whether you're a beach lover, an underwater adventurer, or a culture enthusiast. So, pack your sunscreen and prepare for the journey of a lifetime!
Historical and Geographical Overview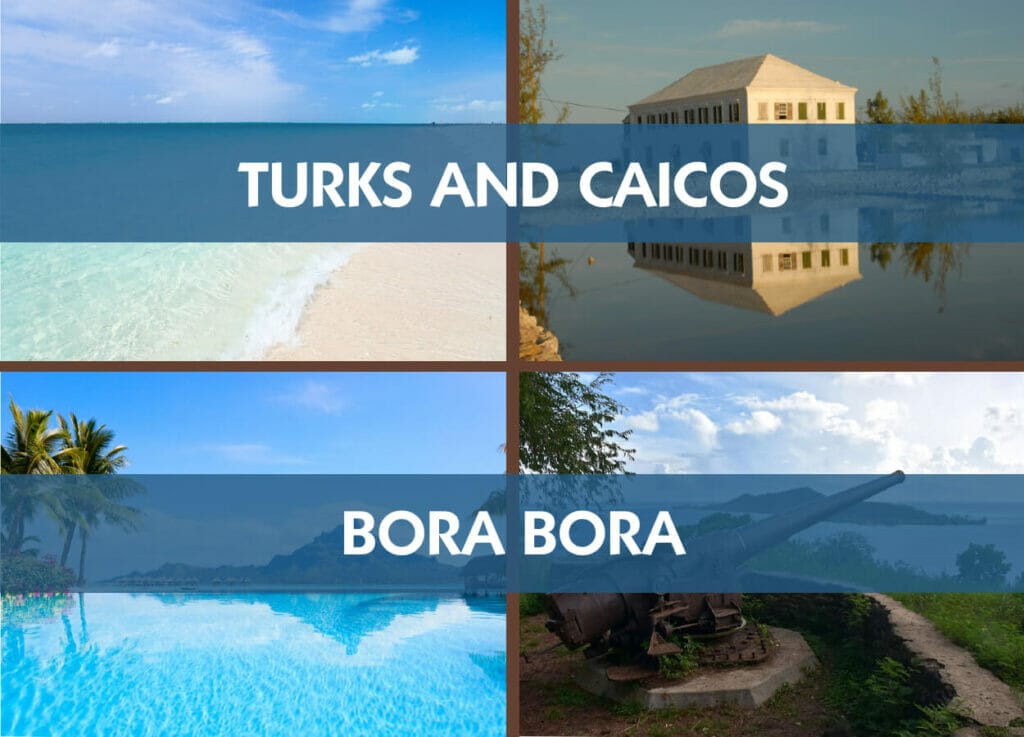 Hey there, dreamer! Got a thirst for the exotic and a yearning for a taste of paradise? Two must-see spots that would absolutely charm your socks off are the enchanting Turks and Caicos, and the spellbinding Bora Bora. So, buckle up and let's whisk ourselves away on a little virtual tour of these mesmerizing locales, each with its own magical blend of scenic beauty and captivating history.
Turks and Caicos, a sparkling gem of the Caribbean and a British Overseas Territory, is nothing short of a sun-kissed dream. Picture soft white sand beaches, warm crystalline waters, and family-friendly adventures. Sounds like a postcard from paradise, right? Perfect for everyone, from casual beach bums to daring snorkel enthusiasts, it's a treasure trove of natural beauty.
And if you're a bit of a history nerd, you can step back in time with a visit to old salt plantations and dive into tales from the pirate era. Oh, and did we mention the accommodations? Whether you're after a wallet-friendly base or a posh beachfront villa, Turks and Caicos has got you covered.
Bora Bora, on the other hand, is a captivating jewel tucked away in French Polynesia. This tranquil island, famous for its overwater bungalows and verdant vistas, is an absolute dream for couples in love. Imagine breathtaking sunsets and tranquil azure lagoons – it's like living inside a romantic painting.
But, fear not, thrill-seekers! Bora Bora has its own share of adrenaline-pumping activities like shark feeding and scuba diving amidst its rich corals. And even if you're on a budget, there's room for you in Bora Bora, with its cozy guesthouses offering a taste of luxury without emptying your pockets.
As for the natural wonders, Turks and Caicos bewitches with its flawless sandy cays, mind-blowing coral reefs, and the world's third-largest barrier reef – an undersea paradise for divers. Meanwhile, Bora Bora, birthed from a volcanic eruption, showcases the awe-inspiring Mount Otemanu, and a lagoon surrounded by petite islets, known as motus, ideal for those secluded picnics and aquatic escapades.
So, whether it's a family trip, a romantic getaway, or an adventure with friends, Turks and Caicos and Bora Bora are bursting with extraordinary experiences to cater to every kind of traveler. With a variety of options to suit all budgets, these paradises promise to craft memories that you'll cherish for a lifetime. So, what are you waiting for? Grab your sunnies, your favorite swimwear, and your sense of adventure – it's time for the journey of a lifetime to these Earthly paradises.
Comparing Year-Round Sunshine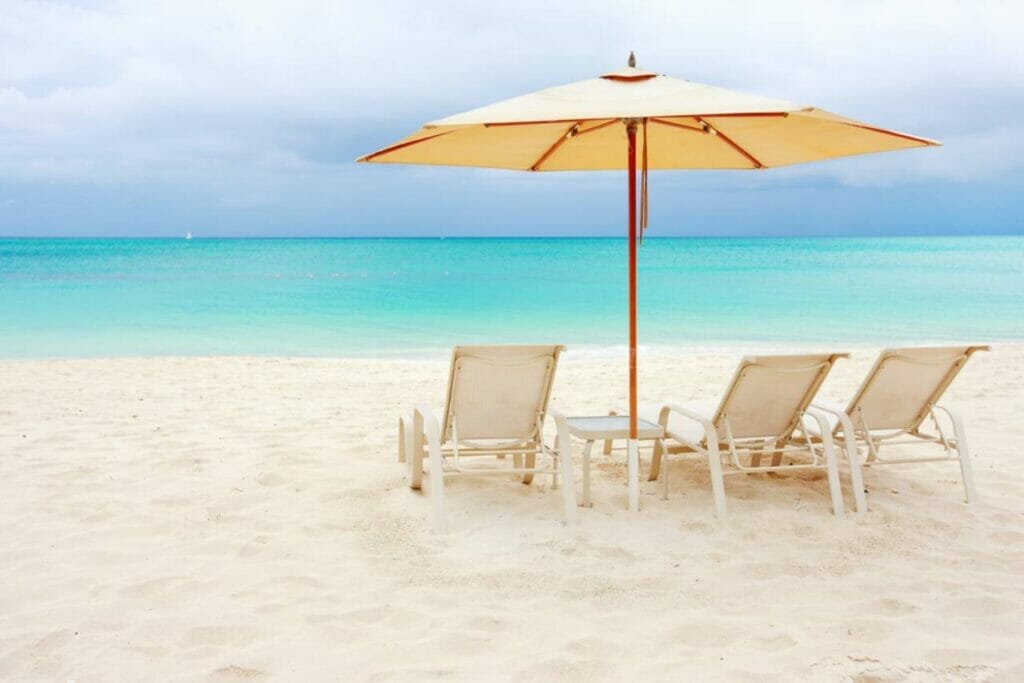 Let's take a journey together and explore two drool-worthy spots that'll make you go "wow": the Turks and Caicos and Bora Bora!
First up, for the families out there hunting for the perfect beach retreat, you won't be disappointed. Turks and Caicos is home to some of the cleanest, most family-friendly beaches in the Caribbean. Its calm, inviting waters are just begging for your kids to make a splash.
Bora Bora, while offering a more cozy feel, isn't short on fun-filled activities and family resorts to keep the kiddos (and you!) endlessly entertained. Just imagine your little ones building epic sandcastles while you're chilling with a refreshing cocktail. Now that's what we call winning!
Now, for the couples in love, brace yourselves. Both Turks and Caicos and Bora Bora are like walking onto a movie set of a romantic film. You can just picture it, can't you? Strolling along the super-soft beaches, hand in hand, as the sun paints the sky with unforgettable hues.
Turks and Caicos' own Grace Bay Beach is consistently named one of the most romantic beaches in the world, while Bora Bora's Matira Beach provides a magical backdrop for any couple wanting a precious private moment. Whichever you pick, be ready to fall head over heels for each other, all over again amidst such stunning island vistas.
Adventurers get excited! If you're the type who can't resist an action-filled beach holiday, you're in for a thrill. Turks and Caicos are a treasure trove of exhilarating water sports, from snorkeling amidst vibrant marine life to the heart-pounding joy of kiteboarding.
Bora Bora's lagoons and coral reefs, on the other hand, are waiting to be explored by snorkelers and scuba divers alike. Both spots offer thrilling adventures set against the backdrop of truly breathtaking beauty.
On a budget? No problem! While Bora Bora might conjure images of luxury, both these heavenly destinations cater to a variety of budgets. Turks and Caicos boast a wide range of accommodations and tasty food that doesn't skimp on quality. Bora Bora, too, has its share of delightful guesthouses and affordable activities to let budget travelers enjoy its legendary beauty. And if luxury's your thing, Bora Bora's iconic overwater bungalows and high-end resorts will have you living the dream.
So there you have it, folks! Whether you're a family, a couple in love, an adventure enthusiast, or a traveler on a budget (or even if you're craving luxury), both Turks and Caicos and Bora Bora have their unique allure.
You'll have a hard time choosing between their stunning beaches and the range of activities that guarantee unforgettable memories. So grab your bathing suit, slap on that sunscreen, pack up your sense of adventure, and get set for the beach vacation you've been dreaming of!
Finding Your Dream Stay
Bora Bora, home to the iconic overwater bungalows, is a dream come true for couples seeking to fan the flames of love. The Four Seasons Resort is a real jewel in the crown, with its heart-stopping vistas of the turquoise lagoon and the majestic Mount Otemanu. For a sprinkle of Polynesian magic, give the Bora-Bora Pearl Beach Resort & Spa a whirl.
It's the ideal place to relax with your significant other because of the tranquil atmosphere. And if you fancy treating yourselves, Conrad Bora Bora Nui offers opulent villas, private plunge pools, and an unparalleled service that will leave you feeling like true royalty.
Switching over to the enticing sands of Turks and Caicos, this is a place where families and adrenaline junkies will feel right at home. Hotel La Vista Azul is an affordable option that doesn't skimp on comfort, making it the perfect base camp for discovering the mesmerizing beaches and diving into exhilarating water sports with your tribe.
For those after a slice of luxury, Amanyara is a secluded haven nestled among lush landscapes, promising tailor-made experiences that will blow you away. And fear not, families – you can indulge in high-end living too at the Seven Stars Resort and Spa, which features spacious suites and a host of kid-friendly amenities.
Turks & Caicos and Bora Bora have it all, whether you're looking for a romantic retreat, a heart-pumping adventure, or a memorable family vacation. From secluded overwater bungalows to extravagant villas, these picture-postcard spots are ready to fulfill every wanderlust dream you have. So let's pack those bags, plunge into the crystal-clear waters, and let these tropical paradises whisk you away!
Car Rental Tips for Your Tropical Escape
Are you still unable to decide between Turks and Caicos' sunny beaches and Bora Bora's picture-perfect lagoons for your upcoming vacation? Let's hash it out together by exploring the unique flavors of island life that each of these tropical paradises can offer you, especially when it comes to getting around.
Imagine yourself in Bora Bora, waking up in an overwater bungalow to the sight of crystal-clear turquoise waters. Taking to the open road is the only way for the intrepid among us to experience the charm of the island.
Car rental options like Avis Bora Bora Rent a Car Vaitape, FH Rental BORA BORA, and Bora Bora K&L Rent-a-Car are at your service. Renting a car grants you the liberty to seek out hidden havens of seclusion, captivating lookouts, and inviting beaches at your leisure. Imagine feeling the ocean breeze tousling your hair as you drive along the island's coastal roads, gazing out at the mesmerizing vistas.
Now picture the pristine beauty of Turks and Caicos, with its fluffy white sands and bewitching turquoise waves. Reliable car rental services such as Grace Bay Car Rentals, TCI Car Rental, and Sixt Car Rental can give you the keys to explore this Caribbean gem. You can explore the local culture at your own leisure while driving from one gorgeous beach to the next, participating in water sports. It's the perfect recipe for a fun-filled family vacation, with the freedom to uncover the island's gems on your own schedule.
If you'd rather unwind, put your feet up, and allow someone else do the driving, both sites can accommodate you. In Bora Bora, you can sit back and soak in the panoramic views during a picturesque boat ride or water taxi journey. It's the perfect setting for a dreamy romantic escapade, with the captivating blues of the lagoon as your backdrop. Plus, there's an added touch of luxury as many overwater bungalows also provide private boat transfers.
Similarly, Turks and Caicos offer an abundance of exciting boat tours and opportunities to hop from one island to the next, allowing you to uncover hidden cays and snorkeling spots that feel like your own little slice of paradise. These boat trips cater to all budgets and offer an idyllic way to witness the Caribbean's mesmerizing beauty and vibrant marine life.
So, there you have it! Both Turks and Caicos and Bora Bora serve up fantastic transportation options to create memories that will last a lifetime, irrespective of your preferences or budget. Adventure-seeking families, starry-eyed couples, or luxury travelers hunting for their slice of paradise, these islands have something for everyone. The only tough decision left? Choosing which island is singing your name the loudest!
After Dark in Paradise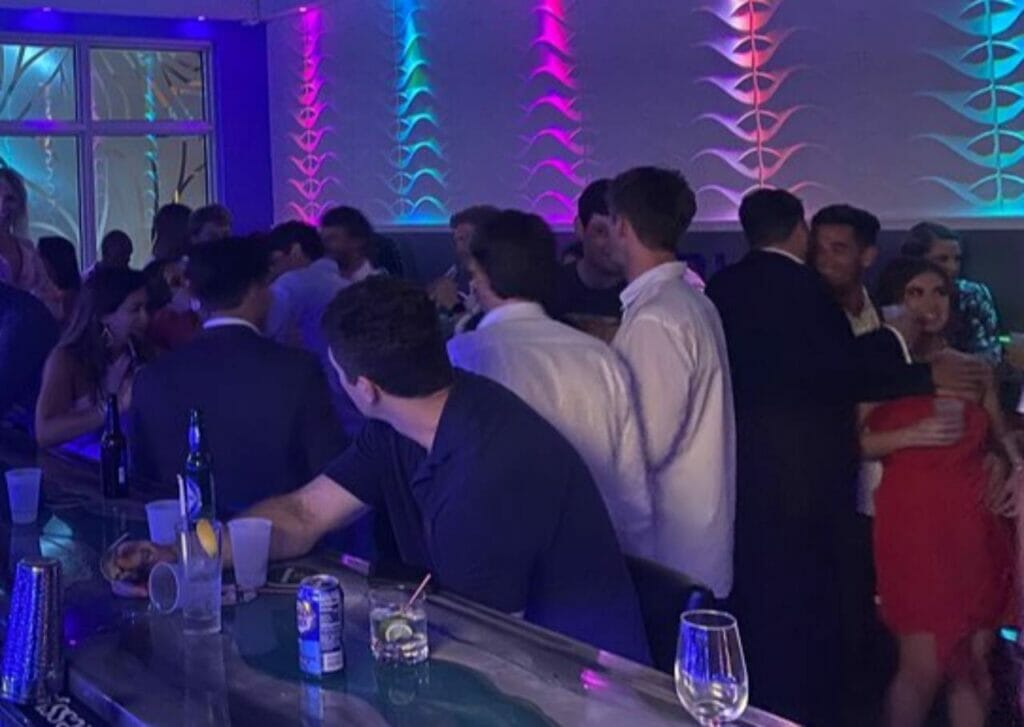 Picture yourself basking in the tropical glow of Bora Bora or the sophisticated sparkle of Turks and Caicos – both magical havens are brimming with unique nightlife experiences tailored for every traveler. Whether you're planning a family trip, a romantic getaway, an adventurous escapade with pals, or even seeking a touch of luxury on a budget, these destinations promise to add a zing to your evenings!
In Bora Bora, the island lights up after sunset, inviting you to an array of enchanting experiences. Swing by the inviting Manuia Bar for a laid-back evening, where you can enjoy divine cocktails under the endless starlit sky. If the sea's song calls to you, don't miss out on the Bora Bora Yacht Club.
Picture yourself savoring a sundowner, the cool sea breeze brushing your face, set against a mesmerizing waterfront backdrop. And for a touch of the exotic, hit the dance floor at Le Récif, swaying to a fusion of Polynesian beats and international rhythms, surrounded by whispering palm trees.
Step into the suave Blu Bar & Lounge, where elegance meets relaxation, accompanied by a selection of tantalizing signature cocktails. For a flavor-packed journey into local culture, dance your way to 809 TERRACE TCI.
Here, live Caribbean music sets the rhythm while you dig into delectable island cuisine. And for a burst of energy that doesn't compromise on health, head to Gymbar, a unique fusion of a bar and a gym, serving fitness-themed cocktails along with a pulsating dance floor to keep your spirits high.
So whether it's a family trip, a romantic retreat, or a friendly escapade you're planning, Bora Bora and Turks and Caicos promise to transform your nights into unforgettable adventures. From cozy beach bars to dynamic lounges, they're ready to match your personal style. So don't hold back – embrace the island spirit, taste the tropical mixtures, and let loose under the enchanting moonlight. Remember, the tropical night is yours to explore – lose yourself in the magic!
A Gastronomic Showdown
Let's dip our toes into the delectable offerings and stunning locales that make these spots a feast for all senses, perfect for all types of travelers.
Picture this: Bora Bora, with its glistening azure waters and iconic overwater bungalows that make for a perfect Instagram shot. Are you and your significant other looking for that romantic getaway? Look no further than La Villa Mahana, a tucked away treasure nestled in the island's heart. With its cozy seating and warm service, you'll be tasting the crème de la crème of French cuisine in a setting that's hard to forget.
For those of you with an adventurous spirit, the Bora Bora Beach Club is your next stop. Imagine indulging in mouth-watering seafood delicacies right on the beach, with the sunset painting the sky as your dinner companion. And for families or those keeping an eye on the budget, a pitstop at Bloody Mary's Bora Bora is a must, with its relaxed vibe and the day's freshest catches grilled to absolute perfection.
Next, let's jet off to the enchanting oasis of Turks and Caicos. Picture tranquil beaches, warm smiles, and a culinary scene to die for. For a family-friendly dining treat, drop by Grace's Cottage Restaurant. It's a charming little spot set in a colonial-style house, serving up an exciting blend of Caribbean cuisine that will delight everyone, from the smallest to the oldest.
If you're on a romantic escapade, a culinary adventure awaits at Coyaba Restaurant, a perfect spot for date night with its elegant setting and flavorful dishes. For those preferring a laid-back atmosphere, Mango Reef Restaurant & Bar serves up an affordable, yet delicious dining experience right on the beach. Kick back and savour local delights while the soft sand playfully caresses your toes.
Whether you're splurging on a luxury vacation or making every penny count on a budget-friendly trip, both Turks and Caicos and Bora Bora promise an enchanting dining experience you won't forget. From secret gourmet hideouts to easy-going beachfront spots serving up a taste of the local cuisine, there's something for everyone. So, gather your tribe, pack your appetite, and let's set sail on this unforgettable flavor-filled voyage in these idyllic tropical havens.
Turks And Caicos Vs. Bora Bora FAQ
Is Turks and Caicos a luxury destination?
Turks and Caicos is widely regarded as a luxury destination. With its array of high-end resorts and private villas, such as Amanyara and COMO Parrot Cay, the islands cater to affluent travelers seeking supreme luxury and privacy. These resorts' immaculate beaches, clean waters, and first-rate amenities add to the overall opulent experience Turks & Caicos provides.
Is Turks and Caicos near Bora Bora?
The distance between Bora-Bora and Turks and Caicos Islands is 9703 km. How long does it take to get from Turks and Caicos Islands to Bora Bora? It takes approximately 29h 57m to get from Bora-Bora to Turks and Caicos Islands, including transfers.
Which country is Bora Bora located in?
Bora Bora is located in French Polynesia, which is an overseas collectivity of France. The South Pacific Ocean is home to the islands and archipelagos that make up French Polynesia. Bora Bora, one of the most popular islands in French Polynesia, is well known for its stunning lagoon and lovely surroundings. Travelers from all over the world flock there.