Turks And Caicos Vs. Fiji
Turks and Caicos or Fiji? Choosing between these two captivating destinations can be a delightful dilemma for any traveler seeking a tropical paradise.
The main difference between Turks and Caicos and Fiji lies in their geographical locations and cultural attributes. Turks and Caicos is an archipelago in the Atlantic Ocean known for its pristine beaches and vibrant coral reefs. Fiji, on the other hand, is a South Pacific island nation celebrated for its lush rainforests, volcanic landscapes, and unique Polynesian culture. Travelers seeking a Caribbean experience with exceptional diving and beaches may prefer Turks and Caicos, while those desiring a Pacific island adventure with diverse cultural encounters may opt for Fiji.
| Aspect | Turks and Caicos | Fiji |
| --- | --- | --- |
| Location | Caribbean | South Pacific |
| Geography | Archipelago consisting of 40 islands | Archipelago consisting of over 300 islands |
| Language | English | English, Fijian, Hindi |
| Government | British Overseas Territory | Republic |
| Currency | United States dollar (USD) | Fijian dollar (FJD) |
| Tourism | Popular tourist destination, known for beaches and diving | Popular tourist destination, known for beaches, coral reefs, and tropical forests |
| Economy | Relies heavily on tourism and offshore finance | Diverse economy with tourism, sugar, textiles, and mining |
So, whether you're dreaming of exploring ancient archaeological sites or diving into the mesmerizing underwater world, join us as we embark on a journey to discover which destination truly suits your travel desires.
History
The fascinating history of the Turks & Caicos Islands is entwined with numerous European invasions. Originally inhabited by the Taino and Lucayan tribes, these islands bear the remnants of their ancient cultures through preserved artifacts and archaeological sites. However, the British took over the islands in the 18th century, creating a lasting impression on their culture and architecture that is still seen today.
The islands' rich historical background has shaped their multifaceted identity, making them an enticing destination for tourists seeking a blend of relaxation and historical exploration. Visitors can become engrossed in the enthralling tales of the past while admiring the lingering effects of several eras.
Fiji, a country in the center of the South Pacific, with a 3,500-year history. The islands were initially settled by the Lapita people, and their cultural legacy remains embedded in Fijian society. Over the centuries, Fiji experienced the impact of British colonization and the arrival of Indian indentured laborers, adding further layers to its history.
This distinctive fusion of native, European, and Indian elements has helped to create a thriving cosmopolitan community. Exploring historical sites such as the old capital of Levuka allows visitors to delve deep into Fiji's fascinating history, offering insights into the nation's journey of cultural fusion and resilience.
Geographical Features
The Turks and Caicos Islands stand out due to their unique geographic characteristics, which are predominantly low-lying coral islands. These picturesque islands boast pristine white sand beaches, dramatic limestone cliffs, and extensive coral reef systems. It is a haven for water sports like scuba diving and snorkeling since the nearby waters are teeming with beautiful marine life.
Visitors can explore enchanting locations such as the breathtaking Chalk Sound National Park, known for its turquoise lagoons, or the remarkable Mudjin Harbour, with its captivating rock formations. The islands' geographical allure provides an ideal backdrop for leisurely beach vacations and unforgettable encounters with the wonders of the underwater world.
In stark contrast, Fiji is a land of rugged volcanic islands that rise majestically from the South Pacific. The towering peaks on these islands reach heights of more than 1,300 meters, providing breathtaking panoramic views of the surroundings. Fiji's geography encompasses a diverse range of natural wonders, including tropical rainforests, mangrove forests, and coastal plains that seamlessly blend with the pristine beaches.
Adventurers and nature enthusiasts are spoiled for choice in Fiji, as they can embark on hiking expeditions to conquer peaks like Mt. Tomanivi or delve into the lush rainforests to discover hidden waterfalls and fascinating flora and fauna. The archipelago's diverse terrain creates endless opportunities for thrilling outdoor activities and unforgettable encounters with nature.
Beaches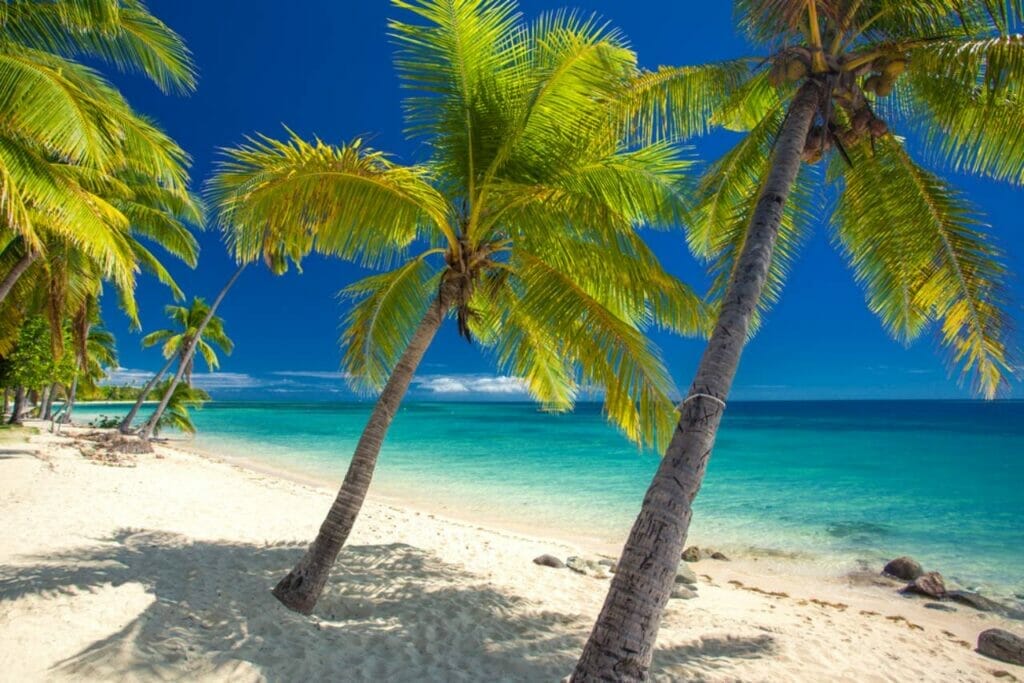 When it comes to beaches, both Turks and Caicos and Fiji deliver spectacularly. Turks and Caicos are well known for their immaculate beaches with white sand. Grace Bay Beach on Providenciales Island consistently ranks among the world's best beaches, famed for its mesmerizing turquoise water and soft, clean sand. Sapodilla Bay and Taylor Bay are other fantastic spots offering shallow, calm waters ideal for families.
In Fiji, beach lovers are in for a treat with the varied coastline offering everything from secluded hideaways to active, resort-lined shores. Natadola Beach on Viti Levu is one of Fiji's most magnificent, boasting miles of pure white sand and clear waters perfect for swimming and snorkeling. If you're after a more secluded experience, the beaches on the Yasawa Islands offer tranquility and unspoiled natural beauty.
Snorkeling/Diving
The third-largest barrier reef system in the world is found in Turks and Caicos, making it a diver's paradise. Vibrant coral, reef sharks, stingrays, sea turtles, and a wide variety of tropical fish abound in its aquatic environment. Dive spots like The Wall in Grand Turk or Northwest Point in Providenciales offer unique underwater adventures for both novice and experienced divers alike.
Fiji, often dubbed the "Soft Coral Capital of the World," also offers exceptional snorkeling and diving experiences. The Rainbow Reef and the Great White Wall in the Somosomo Strait are must-visit locations for their vibrant soft corals and plethora of marine life. Whether you're snorkeling in the clear, shallow waters of the Mamanucas or diving in the deeper waters off Taveuni, you're bound to witness the extraordinary biodiversity of Fiji's underwater world.
Cultural Experience
A trip to Turks and Caicos offers a laid-back Caribbean experience, characterized by friendly locals, Creole cuisine, and rhythmic music genres like ripsaw. Its cultural festivals, such as the Junkanoo Jump Up, showcase local traditions, crafts, and flavors, giving visitors a taste of the islands' vibrant culture. The Turks and Caicos National Museum in Grand Turk also provides a comprehensive insight into the islands' past and cultural heritage.
Fiji offers a deeply rooted indigenous culture that welcomes visitors with open arms. The traditional Fijian lifestyle is centered around the community, and visitors can experience this first-hand during a visit to a local village. Here, you can partake in a traditional kava ceremony or witness the powerful performances of traditional song and dance. Fijian culture is also rich in myths and legends, which you can discover more about at sites like the Sigatoka Sand Dunes.
Water Sports
Water sports enthusiasts will find themselves in paradise when visiting both Turks and Caicos and Fiji. In Turks and Caicos, a wide array of water sports awaits. Paddleboarding in the calm inlets is a peaceful and serene way to explore the coastline while enjoying the tranquil waters.
For those seeking a more thrilling experience, Long Bay Beach offers ideal conditions for kiteboarding, with its consistent trade winds providing the perfect environment for this adrenaline-pumping activity. Additionally, the islands' rich marine life makes deep-sea fishing a popular pursuit, allowing anglers to test their skills and potentially reel in impressive catches.
In Fiji, the renowned surf breaks, such as the legendary Cloudbreak, draw surfers from around the globe. With powerful and consistent waves, Fiji offers an exhilarating surfing experience for both professionals and beginners. Beyond surfing, Fiji provides an abundance of other water sports options.
Kayaking along the pristine waterways allows visitors to explore hidden coves, tranquil lagoons, and stunning mangrove forests, providing a unique perspective of the islands' natural beauty. River rafting is also a thrilling adventure, as the island's rivers offer exciting rapids and breathtaking scenery. Additionally, jet-skiing provides an exciting way to navigate the clear waters and experience the thrill of speed along Fiji's picturesque coastlines.
Accessibility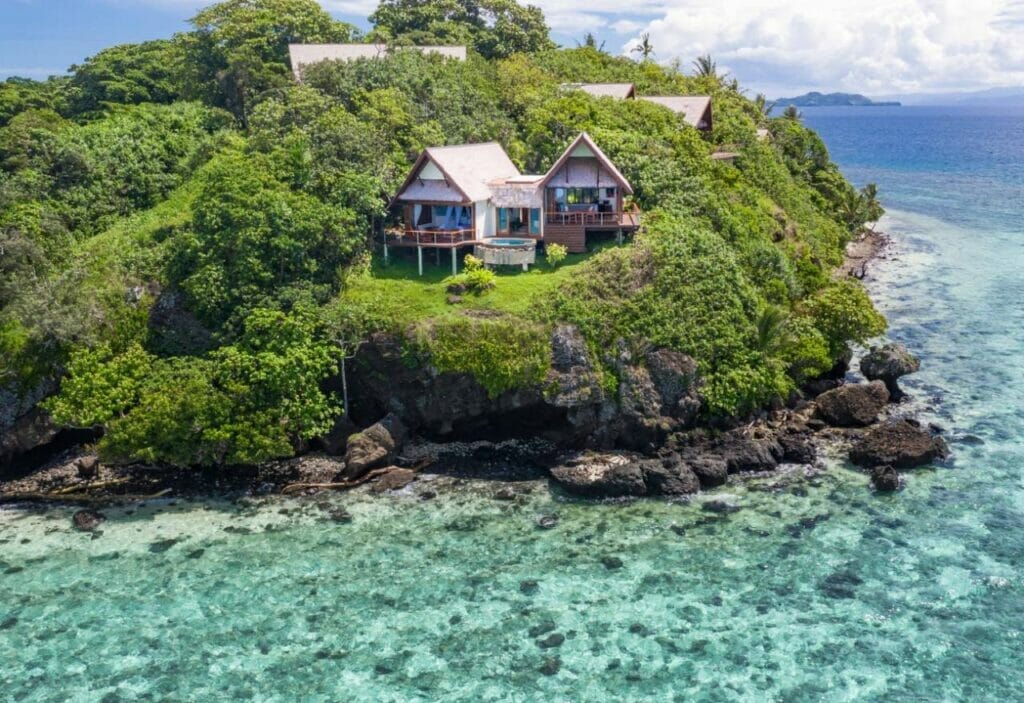 Accessibility is an important consideration when planning a trip, and both Turks and Caicos and Fiji offer unique accessibility advantages depending on the traveler's origin and preferences. Turks and Caicos, being closer to the United States, is easily accessible from many North American cities.
This proximity makes it an attractive option for American tourists who can benefit from direct flights and shorter travel times. However, for travelers coming from Asia or Europe, reaching Turks and Caicos may require longer flights and potentially connecting flights, which can increase travel time. Once on the islands, their small size makes getting around relatively easy, allowing visitors to explore different parts of the archipelago without significant travel constraints.
Fiji, on the other hand, is conveniently reachable from nations like Australia, New Zealand, and a number of Asian locations due to its location as a central Pacific hub. Travelers from these regions can take advantage of direct flights and convenient connections to reach Fiji efficiently. However, for North American tourists, reaching Fiji typically involves a longer journey, often with layovers or connecting flights.
Despite the greater distance, Fiji's accessibility is facilitated by the availability of domestic flights and ferries that connect the different islands within the archipelago. By hopping between islands and immersing themselves in the distinctive experiences each one has to offer, travelers may explore the varied and beautiful landscapes of Fiji at their own leisure.
FAQ
Is Turks and Caicos the best?
Many people consider Turks and Caicos to be one of the top vacation spots for people who enjoy the beach and luxury travel. It provides a unique tropical paradise experience with its immaculate white sand beaches, turquoise oceans, and a variety of aquatic life. The islands' exclusivity, upscale resorts, and top-notch amenities contribute to their reputation as a premier vacation spot in the Caribbean. Whether you're seeking relaxation, water sports, or gourmet dining, Turks and Caicos consistently ranks among the top choices for a memorable getaway.
Why are Turks and Caicos so popular?
Turks and Caicos have gained immense popularity due to their breathtaking natural beauty, serene atmosphere, and luxurious offerings. The islands' beaches, which are known for their white sand, bright coral reefs, and fascinating marine life, are among the most beautiful in the entire world. Additionally, the destination's reputation for exclusivity, upscale resorts, and high-end amenities has attracted discerning travelers seeking a luxurious tropical escape. Turks and Caicos is a popular travel destination for individuals looking for an idyllic and upmarket Caribbean experience because of its gorgeous beaches, blue oceans, and world-class hospitality.
What part of Turks and Caicos is most popular?
The island of Providenciales, sometimes known as Provo, is the most populous and sought-after portion in Turks and Caicos.The island of Providenciales, sometimes known as Provo, is the most populous and sought-after portion in Turks and Caicos. Known for its stunning Grace Bay Beach, consistently ranked among the world's best beaches, Providenciales offers a perfect blend of natural beauty and modern amenities. Visitors can indulge in luxurious resorts, upscale dining options, and a wide range of water sports activities. Accessibility, immaculate beaches, and beautiful coral reefs on the island make it the top pick for tourists looking for an outstanding vacation in Turks and Caicos.