Turks And Caicos Vs. Dominican Republic
When it comes to planning a dream Caribbean getaway, the choice between Turks and Caicos and the Dominican Republic can leave you pondering. This pervasive Spanish influence can be seen in the colonial architecture of Santo Domingo, the capital of the Dominican Republic.
The main difference between Turks and Caicos and the Dominican Republic lies in their overall experience. Turks and Caicos offers a secluded, upscale, and exclusive atmosphere with pristine beaches, ideal for a luxurious and relaxing vacation. The Dominican Republic provides a more diverse experience with a rich blend of culture, adventure, and affordable all-inclusive resorts, appealing to travelers seeking a vibrant and immersive Caribbean experience.
Choose Turks and Caicos for tranquility, or opt for the Dominican Republic for a lively and culturally enriching getaway.
| Category | Turks and Caicos | Dominican Republic |
| --- | --- | --- |
| Cost Range for 1 Week | $992 – $4,556 (source) | $376 – $2,518 (source) |
| Location | Southeast of The Bahamas | East of Haiti |
| Geography | 40 islands and cays, primarily low-lying limestone | Diverse terrain, including mountains, valleys, and coastal plains |
| Language | English (official) | Spanish (official) |
| Government | British Overseas Territory, parliamentary democracy | Democratic republic |
| Currency | United States Dollar (USD) | Dominican Peso (DOP) |
| Tourism | Pristine beaches, coral reefs | Diverse attractions, beaches, historic sites, natural wonders |
| Economy | Relies on tourism, offshore financial services, fishing | Diversified economy: tourism, agriculture, manufacturing, services |
So pack your bags and join us on a journey through these Caribbean gems, as we help you discover which one suits your preferences and budget.
History and Geography of Two Caribbean Paradises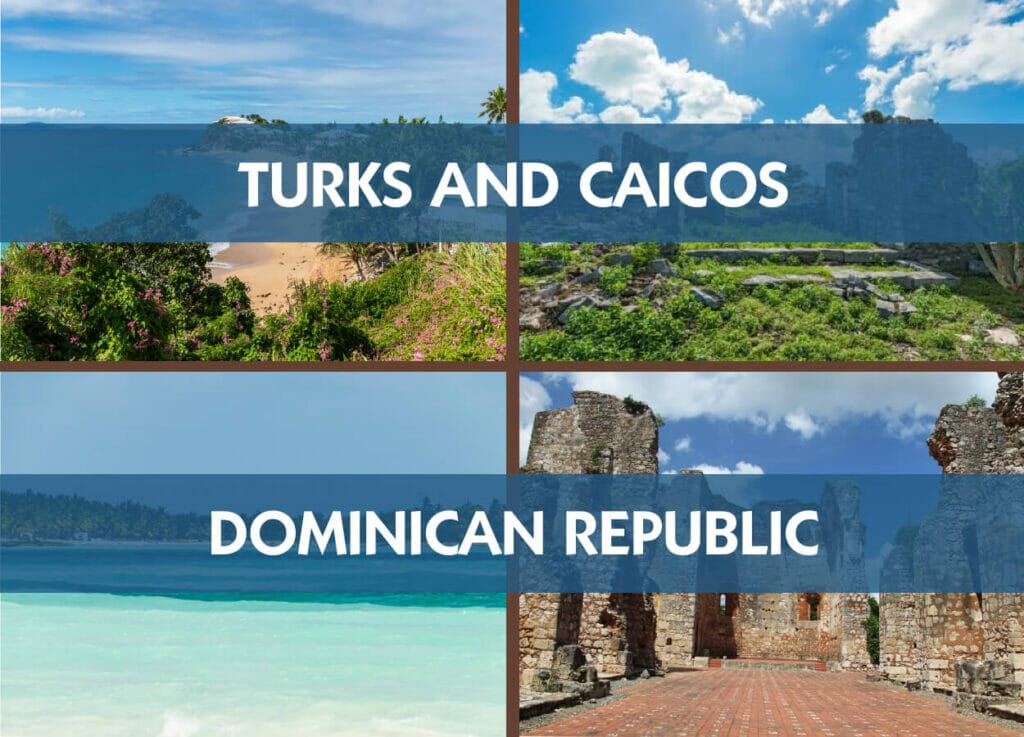 Imagine yourself in Turks and Caicos, a snug little piece of paradise in the Caribbean where pristine white sands cuddle with clear turquoise waters. It's a place that holds whispers of its maritime past, once a playground for famous pirates like Calico Jack and Anne Bonny.
Think of the joy on your kids' faces as they embark on island-hopping adventures, uncover hidden gems in secluded coves and spot vibrant marine life while snorkeling. Imagine the romance of walking hand in hand with your loved one along Grace Bay Beach, often hailed as one of the globe's best, where the blue sky playfully kisses the horizon.
The island challenges you to undertake heart-pounding water sports like kiteboarding and paddleboarding, you adrenaline freaks. And for those seeking a bit of pampering, luxury resorts and spas await, enveloped by lush tropical landscapes, offering a peaceful retreat from the daily grind.
However, don't underestimate the Dominican Republic's allure. This sparkling Caribbean gem, where Christopher Columbus first left his footprint on his journey to the New World, mesmerizes its visitors with a rich tapestry of history and an amazing variety of landscapes.
Families can travel back in time while learning about the interesting history of this charming island by traveling to Santo Domingo, a thriving colonial capital and proud UNESCO World Heritage site. Couples, how about relaxing on the dreamy , basking under the radiant Caribbean sun? Prepare to be fascinated by the Dominican Republic's wild side, where discovering fascinating tunnels, hiking through lush rainforests, and viewing stunning waterfalls are all commonplace activities.
The luxury seekers among you will find plenty of indulgence in upscale resorts that boast world-class amenities and fine dining experiences, all overlooking the mesmerizing Caribbean Sea.
Whether your heart yearns for the Dominican Republic's rich history or the sun-kissed beaches of Turks & Caicos, both of these gorgeous locations promise a delightful retreat for families, couples, adventurers, and anyone who value the better things in life.
Each place tells its own story, filled with unique history and landscapes that are just waiting for you to uncover. So let's grab our things, raise the sails, and get ready for a cruise that will bring back many fond memories.The tropical magic of Turks and Caicos and the Dominican Republic can't wait to welcome you!
Ultimate Beach Destination Duel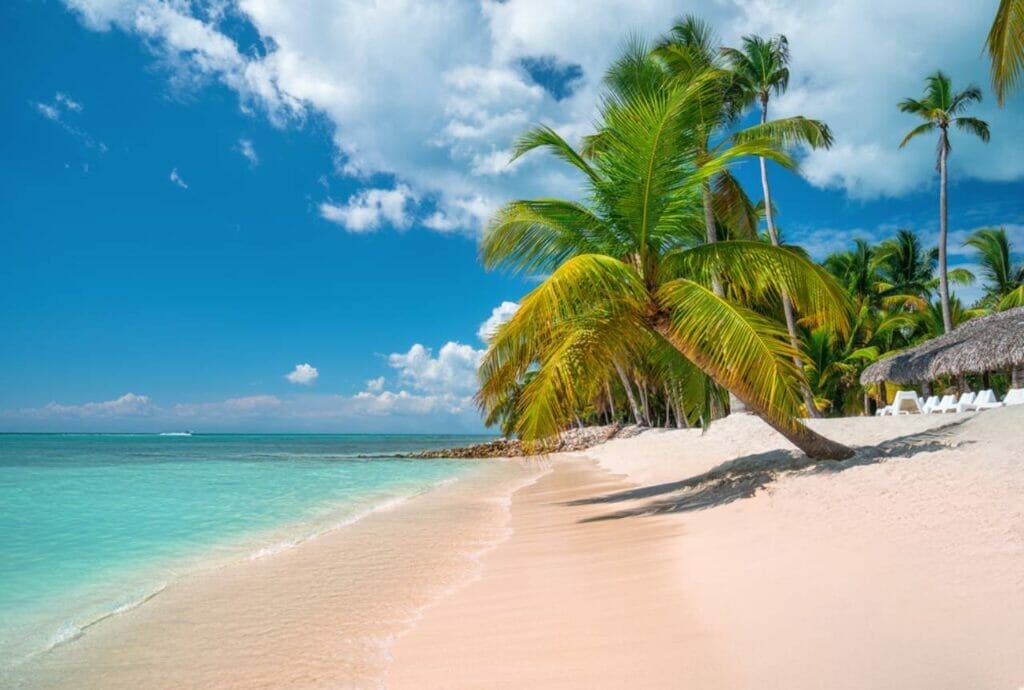 As a fellow beach lover, I'm super excited to guide you on a little exploration of two of my favorite Caribbean hotspots – the enchanting Turks and Caicos, and the vibrant Dominican Republic. These places aren't just idyllic beach destinations, they're the kind of paradise spots that can steal your heart, no matter if you're a family on vacation, a couple seeking romance, an adrenaline junkie, or a luxury traveler.
Picture yourself first in Turks and Caicos, an archipelago that's the stuff of dreams for beach bums. Imagine strolling on beaches so soft and powdery, it's like walking on a cloud. The turquoise waters are so clear they seem to call you in for a cool, refreshing dip.
As a family, you'll absolutely love the peaceful ambience of Grace Bay Beach in Providenciales. And if you've got an adventurous streak, hidden coves and unexplored spots on Grand Turk Island are waiting for you. For those seeking a slice of luxury, well, the resorts here will treat you like royalty, all while you enjoy the stunning coastal views.
Then there's the delightful Dominican Republic, a tropical oasis with a diverse range of landscapes and irresistible beaches. Whether you want to splash around in the Atlantic Ocean or lounge by the Caribbean Sea, this place has got you covered. Families will find Bavaro Beach in Punta Cana just perfect with its mild waves and exciting water sports. Lovebirds, imagine the seclusion you'll find at Playa Rincon in Samana.
And for the thrill-seekers, get ready for an adrenaline rush with kiteboarding and windsurfing at Cabarete Beach. And let's not forget our luxury travelers – the upscale resorts nestled in lush tropical beauty here will leave you awestruck.
When it comes down to picking between Turks and Caicos and the Dominican Republic, it's all about what your heart desires in a beach paradise. If you're all about tranquility and jaw-dropping beauty, Turks and Caicos will be your personal Eden. But if you're after a blend of adventure, cultural richness, and beach bliss, the Dominican Republic is your go-to spot.
But let me tell you, both these places offer sun-kissed fun, soothing ocean breezes, and a warm welcome that'll make you yearn to return. So, get those swimsuits and sunblock ready, and embark on your unforgettable beachside journey!
Comparing Accessibility & Transport
First up, Turks and Caicos! Direct flights from major international airports across the world make it easy to reach this sliver of heaven. Providenciales International Airport (PLS) is the main gateway, welcoming travelers with open arms.
Once you land, you'll find several car rental options like Bolt Rent A Car, Thrifty Car Rental, and Rent a Buggy Ltd. Having your own wheels is a fantastic way to explore the islands at your own pace and reach those secluded beaches for some family fun. The roads are well-kept, and the island's small size makes driving enjoyable.
Let us now turn our attention to the Dominican Republic, a bustling location rich in culture and natural beauty. Flights to the country's principal international airports, including as Punta Cana International Airport (PUJ) and Santo Domingo Las Americas Airport (SDQ), are available from North America, Europe, and beyond.
To get around this diverse nation, renting a car is a top choice. Nelly Rent-A-Car, NENE RENT CAR, and Full Rent A Car are just a few of the reliable options. You may go on off-the-beaten-path excursions, see distant waterfalls, and explore attractive villages with a set of wheels, giving a mix of excitement for couples and families alike.
Both sites have a variety of local transportation choices to accommodate all types of visitors. Taxis and private shuttles are easily accessible in Turks and Caicos and are ideal for individuals seeking comfort and convenience.
Taxis, motoconchos (motorbike taxis), and public buses are available in the Dominican Republic to transport you between cities and attractions. For a touch of luxury, consider pre-arranging private transfers or chauffeur services to make your vacation even more special.
Discovering the Best Places to Stay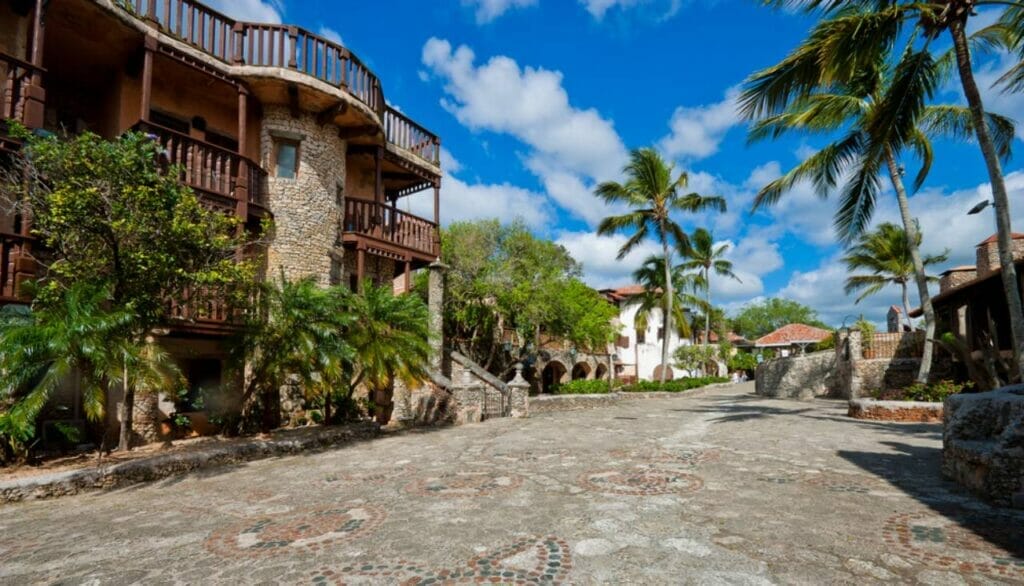 Each of these picturesque destinations is chock-full of inviting accommodations designed to delight every kind of traveler. Whether you're a family making memories, a couple in search of romance, an adventure enthusiast with an insatiable thirst for thrill, or a luxury aficionado craving the high life, these beautiful islands are your ticket to paradise.
On the picturesque islands of Turks and Caicos, you'll find a variety of opulent and serene havens. Craving that touch of exclusivity? Check out Amanyara. Tucked away within a nature preserve, this tranquil resort is a love letter to serenity, enveloped by pristine beaches and vibrant greenery. It's the dream setting for couples wanting a romantic retreat or families in search of an undisturbed getaway.
Meanwhile, The Venetian on Grace Bay offers homey suites ideal for families, placing you directly on the renowned Grace Bay Beach. If it's the unique charm of a private island you seek, Ambergris Cay Private Island Resort has got you covered. Its enthralling blue waters and beautiful white sands are the ideal playground for thrill seekers, with sports ranging from snorkeling to kayaking to bonefishing.
Not to be outdone, the Dominican Republic is a luxurious treasure trove just waiting to be discovered. The chic Amanera offers the perfect blend of opulence and adventure, sitting atop breathtaking cliffs with easy access to the unspoiled Playa Grande Beach. It's an ideal location for couples looking for a discreet, romantic setting, while thrill-seekers may experience world-class golf courses and spectacular hiking routes.
And if it's timeless elegance you're after, the Tortuga Bay Hotel at Puntacana Resort & Club will sweep you off your feet. Here, villas meticulously designed by the legendary Oscar de la Renta guarantee a lavish stay amidst lush gardens and the glittering Caribbean Sea.
Comparing Caribbean Nightlife Gems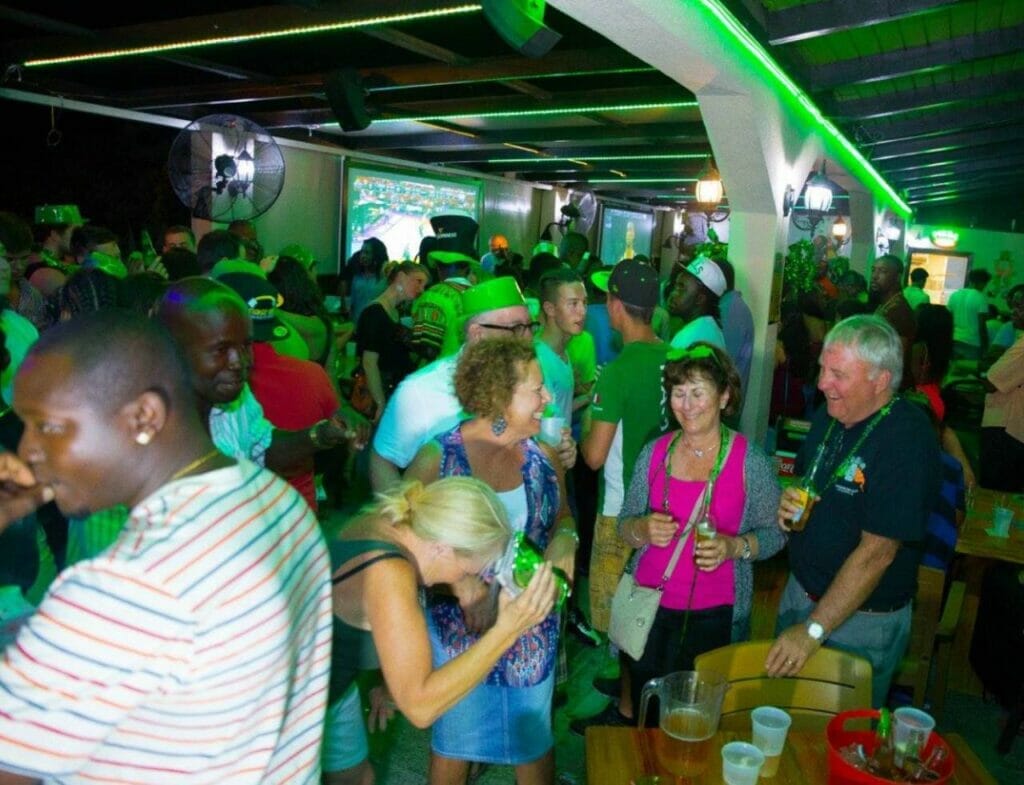 Imagine yourself in Turks and Caicos, sipping on a tropical cocktail at the stylish Blu Bar & Lounge, a spot with a mesmerizing beachfront view and groovy live music. If you're the type who loves staying fit even while vacationing, Gymbar has got you covered! You can enjoy their fun fitness classes during the day, and when the sun dips below the horizon, the place transforms into a lively dance spot.
Meeting new friends while dancing? What a blast! If a touch of elegance is what you're after, La Breeza Night Club is your go-to, featuring a posh ambiance and a broad selection of premium drinks.
Switching gears to the Dominican Republic, the place bubbles with its own unique kind of nightlife magic. If you find yourself in Punta Cana, you can't miss out on Coco Bongo – a dazzling entertainment hub known worldwide for its breathtaking shows, stunning acrobatics, and high-energy dance floor.
If you're craving a more chilled-out night, Drink Point Bavaro offers a relaxing atmosphere with live music and breezy beach vibes, an ideal spot for couples longing for some precious, romantic moments. And if you're looking to dive into the heart of Dominican culture, put on your dancing shoes and head over to Caciba Bar to move with the pulse of local beats.
Whether you're sharing cocktails with loved ones, swaying under the moonlight with your special someone, or looking for a night filled with thrills, Turks and Caicos and the Dominican Republic have something spectacular for you. The former paints the night with class and tranquility, while the latter brings the party with tropical gusto.
So, what if you tried both? Savor the best of both worlds and make your getaway a remarkable one by exploring the lively and diverse nightlife scenes in these incredible places. Let the music guide you on an unforgettable journey, and here's a toast to the nights you'll always remember in these slices of paradise! Cheers!
Unlocking the Best Accommodation Options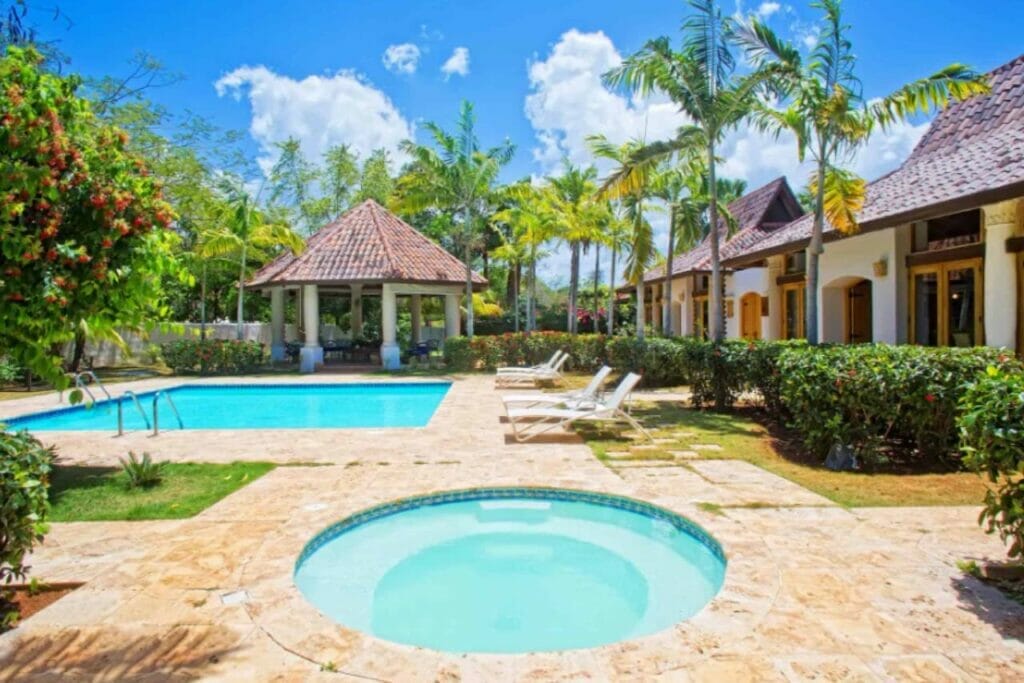 Turks & Caicos and the Dominican Republic both have many possibilities if you're searching for a location to call home, whether you're a family, a couple, an explorer, or someone who prefers luxury. Let's embark on this virtual tour together!
First and foremost, welcome to Turks & Caicos, a true postcard of paradise replete with resorts for every type of traveler. Beach Enclave North Shore, for example, is like your personal paradise, offering luxurious villas that are perfect for families and couples seeking some peace and tranquility. Imagine having your own slice of a beautiful beach, where adventure and relaxation blend into one – now that's a dream for any travel enthusiast, especially those who appreciate the finer things in life.
Next, we have the Villa Del Mar Resort, a versatile jewel offering a balanced blend of family-friendly amenities and a romantic atmosphere for couples. Think about taking your kids snorkeling during the day and eating a candlelit dinner by the water at night. With its range of offerings, this resort truly has a bit of everything. Then there's Wymara Resort Turks & Caicos – the epitome of a luxury escape. Picture this: you're sipping a cocktail in a lavish infinity pool that blends into the ocean view – now that's an unforgettable indulgence.
Now, let's whisk away to the Dominican Republic. Here, you'll find accommodations that weave together luxury and adventure, creating an unforgettable tapestry of experiences. Hyatt Zilara Cap Cana is an excellent choice for couples looking for an exclusive adult retreat. Imagine lounging in lavish suites, savoring exquisite meals, and soaking in the tranquil ambiance – a perfect romantic hideaway.
If you're a family or an adventure seeker, Meliá Punta Cana Beach is your playground. It's alive with a vibrant atmosphere and a host of activities, from watersports to cultural trips, making sure your days are packed with excitement.
Finally, Casa de Campo Resort and Villas is the ideal place to feel like royalty in the Dominican Republic. This opulent resort features villas with private pools and breathtaking views of the Caribbean Sea.The top-notch courses designed by Pete Dye will send your heart racing if you enjoy playing golf.
Turks And Caicos Vs. Dominican Republic FAQ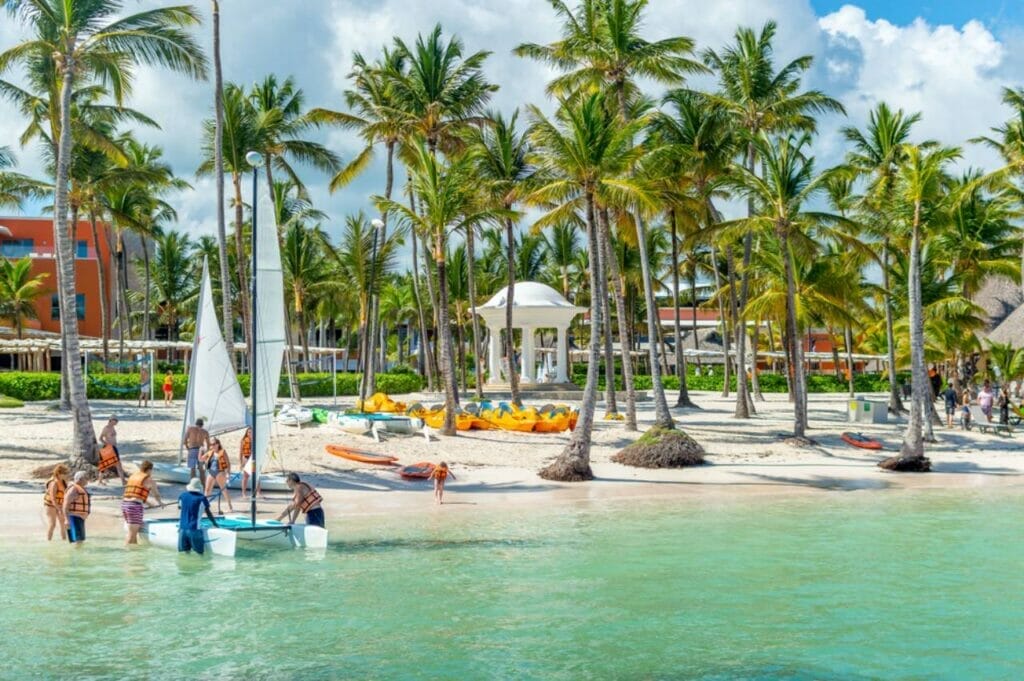 Is Turks and Caicos worth seeing?
Turks and Caicos is definitely worth seeing for its stunning natural beauty, pristine beaches, and vibrant marine life. The archipelago offers a tranquil and picturesque escape, with crystal-clear turquoise waters, powdery white sand beaches, and extensive coral reef systems. Whether you're seeking relaxation, water activities, or simply breathtaking scenery, Turks and Caicos provides a captivating destination that is sure to leave a lasting impression.
Is Turks and Caicos a luxury destination?
Turks and Caicos is renowned as a luxury destination, offering a range of high-end accommodations, upscale resorts, and exclusive amenities. The islands attract discerning travelers who seek a luxurious beach vacation experience. Turks & Caicos offers to visitors looking for extravagance, elegance, and first-rate hospitality in a gorgeous tropical setting with world-class resorts, private villas, gourmet dining options, and relaxing spa treatments.
Is Turks and Caicos part of the Dominican Republic?
Turks and Caicos is not a Dominican Republic territory, no. It is a separate British Overseas Territory located southeast of the Bahamas. The eastern two-thirds of the Caribbean island of Hispaniola are occupied by the Dominican Republic, an independent state. While both destinations offer their own unique charms, they are distinct and separate entities with their own governments, cultures, and attractions.