Turks And Caicos Vs. Cancun
Turks and Caicos and Cancun are both stunning beach destinations, but they offer distinct experiences for travelers.
The main difference between Turks and Caicos and Cancun lies in their respective atmospheres and attractions. Turks and Caicos offers a serene and secluded experience with stunning beaches and luxurious resorts, making it perfect for travelers seeking tranquility and exclusivity. Cancun is a bustling and vibrant destination, renowned for its lively nightlife, diverse entertainment, and a plethora of activities, making it an ideal choice for those seeking a more energetic and dynamic vacation experience.
| Category | Turks and Caicos | Cancun |
| --- | --- | --- |
| Cost Range for 1 Week | $992 – $4,556 (source) | $391 – $2,866 (source) |
| Location | British Overseas Territory in the Caribbean Sea | City on the northeastern coast of the Yucatan Peninsula in Mexico |
| Geography | Consists of 40 islands and cays | Located on the northeastern coast of the Yucatan Peninsula, bordered by the Caribbean Sea |
| Language | Official language is English | Official language is Spanish |
| Government | British Overseas Territory with a governor | Part of the Mexican federal republic with a mayor |
| Currency | United States Dollar (USD) | Mexican Peso (MXN) |
| Tourism | Known for its pristine beaches and luxury resorts | Popular tourist destination with beaches and resorts |
Whether you seek serenity and tranquility or vibrant energy and adventure, both destinations have unique offerings to fulfill your vacation desires.
History Meets Paradise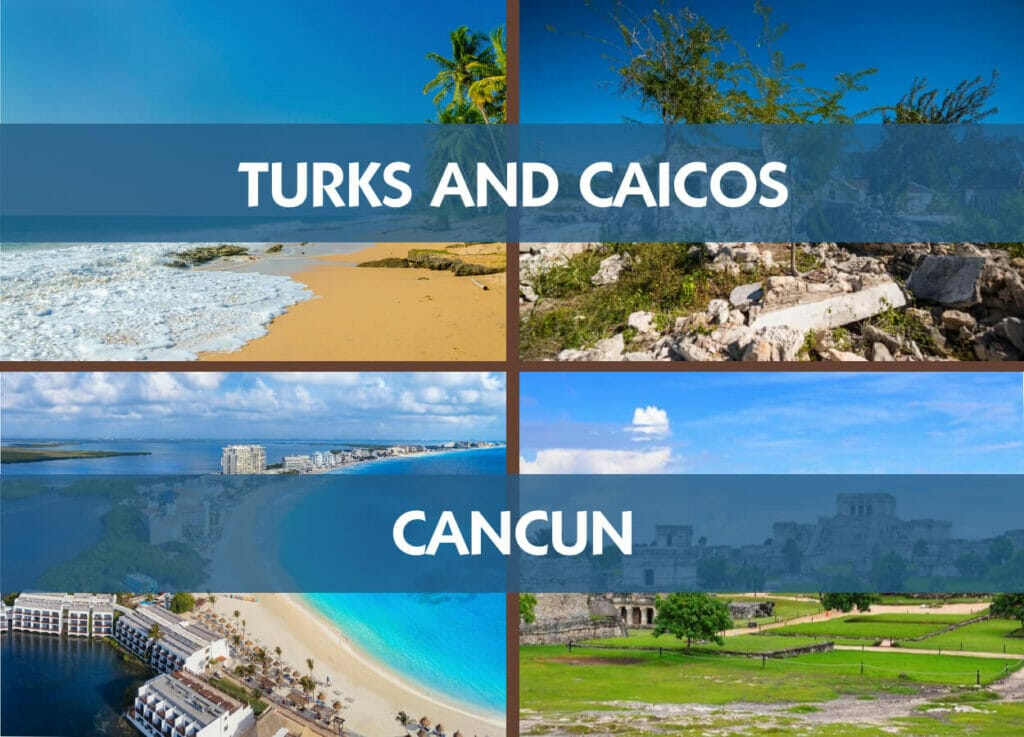 Hey there, trying to decide between the serene beaches of Turks and Caicos and the lively charm of Cancun? Let's embark on a little journey through the landscapes and stories of these two tropical havens to help you find the perfect backdrop for your dream getaway!
Imagine Turks and Caicos, cradled by the shimmering Caribbean Sea, as a breathtaking playground for all sorts of travelers. Picture yourself lounging on the powder-soft white sands, or diving into the clear turquoise waters for a little snorkeling or scuba adventure. This lovely archipelago is a cluster of 40 islands, each one a little gem with its own unique appeal.
For the history enthusiasts among you, traces of the ancient Lucayan civilization and echoes of colonial eras are just waiting to be discovered. If you're looking for a little love under the tropical sun, the archipelago's luxury resorts and charming boutique hotels make Turks and Caicos a romantic paradise.
Cancun, on the other hand, has its own magic to offer along the breathtaking Mexican Caribbean coastline. For families, a world of exciting activities unfolds, from delving into the mysteries of ancient Mayan ruins like Chichen Itza to taking a refreshing swim in cenotes, nature's own swimming pools hidden in the landscape.
For those seeking adrenaline, imagine zip-lining through the lush jungle canopy or exploring underwater caves with snorkel in tow. If you're after a bit of luxury, Cancun's lavish resorts are a treat, but those on a budget aren't left out—plenty of comfy, affordable accommodations are available.
The histories of both these destinations are as rich and colorful as the scenery. Turks and Caicos' unique position has witnessed a myriad of cultures leave their mark—from Spanish explorers to British colonists. Cancun, once the beating heart of the ancient Mayan civilization, still showcases hints of this remarkable past. Can you picture yourself walking in the footsteps of ancient societies, uncovering the mysteries of a time long past?
In the end, picking between Turks and Caicos and Cancun comes down to your own style and tastes. Whether it's tranquil relaxation, exhilarating adventure, a romantic retreat, or a combination of all three you're after, both places are bound to charm you.
Beach Paradise Showdown
How about we take a journey together to two of my most cherished beach getaways – Turks and Caicos and Cancun. As a fellow beach enthusiast, I must say, these two spots capture the quintessential beauty of a postcard-perfect beach vacation like no other.
So whether you're a family yearning for a memorable bonding experience, a couple seeking sparks of romance, an adrenaline junkie craving adventure, or someone balancing a budget against the desire for luxury, these destinations are just the ticket!
Let's kick off our virtual journey in the Caribbean, home to a hidden treasure called Turks and Caicos. The serenity of its secluded beaches is absolutely captivating. I vividly recall my footsteps on the silky soft sands of Grace Bay Beach, a paradise for families with kids, thanks to its tranquil, shallow waters.
For the romantics among us, Half Moon Bay is a sight to behold, where the enchanting sunsets and intimate ambiance kindle the flames of love. And if adventure is what you crave, you'll have plenty of options, including snorkeling, scuba diving, and even whale-watching during certain times of the year.
Now, imagine shifting gears from the tranquillity of Turks and Caicos to the high-energy, effervescent beaches of Cancun. The beaches around the Hotel Zone are excellent family-friendly spots, offering a range of amenities and water sports to keep the little ones entertained.
Couples looking for both relaxation and excitement will find a perfect blend here, with opportunities for beachfront massages and exhilarating water activities. And let's not forget the allure of adventure, with the ancient Mayan ruins like Chichen Itza and the mystic cenotes within easy reach.
On the money front, Cancun does seem to hold a slight edge, particularly for budget travelers. With a variety of affordable lodgings, diverse dining options, and all-inclusive packages, it allows for a fantastic vacation without burning a hole in your pocket.
Conversely, Turks and Caicos may require a bit more of a splurge, but believe me, the breathtaking beauty and exclusivity of its beaches make every cent worth it. Luxuriate in plush resorts, private beachfront villas, and exquisite dining that will leave you feeling like royalty.
In essence, both Turks and Caicos and Cancun offer a beach experience that caters to every kind of traveler. So, whether you dream of quality family time, a romantic hideaway, adrenaline-filled exploits, or a blend of budget and luxury, these destinations are ready to etch unforgettable memories in your heart.
Where to Stay in Paradise
Both destinations are packed with wonderful options that will accommodate families, couples, thrill-seekers, and vacationers on all types of budgets. So, shall we?
Cancun, our sparkling gem on Mexico's Caribbean shoreline, boasts an abundant variety of places to stay. For those traveling with family or friends who crave an adrenaline rush, the Hard Rock Hotel Cancun hits all the right notes! It promises a riot of fun with its myriad activities, kids' clubs, and an endless array of water sports, ensuring there's never a dull moment.
Craving a touch more elegance? The Hyatt Ziva Cancun will envelope you in luxury. With its magnificent beachfront setting, top-notch service, and all-inclusive benefits, it's the epitome of a glamorous retreat for couples seeking to relax in sheer style.
Now, let's virtually hop over to the awe-inspiring allure of Turks and Caicos. The Windsong Resort is a treasure for families and those conscious of their holiday budget. Its generously-sized suites and family-centric amenities, including a kid's club and watersports gear, make it an outstanding choice for a family holiday that'll be remembered for years to come.
If it's a romantic getaway you're dreaming of, Hotel La Vista Azul is your haven. Tucked amidst lush greenery with stunning ocean vistas, this quaint boutique hotel sets the stage for couples to etch indelible memories.
The Somerset in Turks and Caicos is your key to a lavish experience. Its opulent suites, customized service, and serene private beach offer an elite sanctuary for those who relish luxury in its purest form. But hold on, thrill-seekers!
Neither destination will leave you high and dry. Both Turks and Caicos and Cancun offer spine-tingling adventures, from snorkeling in transparent waters to the discovery of ancient Mayan ruins.
So, whether your heart is set on Cancun's dynamic charm or the peaceful splendor of Turks and Caicos, you can be sure that your choice of accommodation will reflect your unique taste and style.
Getting from Here to There
The options for getting about two magnificent tropical havens like Turks & Caicos and Cancun are just as varied as the places themselves! Let's dive into the options tailored for every type of traveler, ensuring you have an amazing experience.
Cancun, the vibrant Mexican paradise, offers a wide array of transportation options that cater to your specific needs. For families and couples, renting a car from "Yes Car Rental Cancun" or "Easy Way Car Rental" is an excellent idea. You'll be free to go at your own pace, find undiscovered treasures, and make priceless memories with your partner.
Adventurers will appreciate the simplicity of these rentals, which enable them to quickly transition between exhilarating pursuits like zip-lining through the forest or snorkeling in the captivating cenotes.
If you're watching your budget, don't worry; "Renta de Autos en Cancun" offers affordable car rental solutions, ensuring you get the most out of your vacation without breaking the bank. Luxury travelers, on the other hand, can savor a more opulent experience, taking use of top-notch vehicles and individualized services that fit the splendor of their location.
Imagine yourself in the Turks and Caicos Islands, where renting a car is just as enjoyable with choices like "First Choice Rent a Car," "TCI Car Rental," and "Sixt Car Rental." Families and couples can enjoy the convenience of having their own transportation to explore the stunning beaches, savor local cuisine, and fully immerse themselves in the vibrant island culture.
Turks and Caicos is an amazing paradise for adventurers. You may pursue adrenaline-pumping activities like kiteboarding, parasailing, and even horseback riding along the coast when you rent a car. And fear not, budget travelers! Turks and Caicos offers affordable car rental alternatives so you may enjoy this magnificent location to the fullest without worrying about your budget.
And if luxury is what you seek, Turks and Caicos will embrace you with exclusivity. Renting a premium car from the available services will elevate your journey to a whole new level. Imagine cruising along Grace Bay, stopping at secluded cays, and savoring the serenity and beauty of this Caribbean gem.
Therefore, Turks and Caicos and Cancun both have the ideal transportation options to make your vacation an unforgettable journey of a lifetime, whether you're a family looking for adventure, a couple looking for a romantic getaway, a budget traveler ready to explore, or a luxury enthusiast craving indulgence. So, fasten your seatbelts and get ready for a unique adventure!
After Dark Delights
In Cancun, you're in for an electrifying experience. For those who love to let loose, Coco Bongo's legendary parties and heart-pumping shows are your ticket to a night of pure fun. If you're more about setting trends and enjoying a variety of tunes, you'll feel right at home in Amma Club Cancún.
It's the stylish decor and eclectic music will keep you vibing all night long. And if you're all about the dance floor and beats that resonate with your heartbeat, you can't miss out on The City Nightclub Cancun. You'll dance your shoes off until sunrise. And don't worry families, Cancun also offers tons of wholesome entertainment, from lively performances to themed events that are fun for everyone.
But if you're more into the chill island life, Turks and Caicos is the place for you. Here, you can kick back and relax at the elegant Infiniti Restaurant & Raw Bar. Perched on the edge of Grace Bay Beach, you can enjoy delicious cocktails and breathtaking ocean views. For a more laid-back, genuine experience, Bob's Bar & Eats has got you covered.
They offer a mix of local flavors and cool drinks, right on the beachfront, perfect for couples hoping for a romantic evening under the stars. If you're an adventure enthusiast, Fairways Bar & Grill is your kind of place. They've got live music, plenty of locals to chat with, and endless stories of island escapades to share.
In Cancun, you'll find great deals on drinks and clubs with free entry at certain times, perfect for those on a budget. But if you're into the VIP life, there are exclusive areas in high-end nightclubs where you can enjoy luxury services.
Turks and Caicos, on the other hand, offers a more low-key, intimate atmosphere, where it's more about spending quality time together than splashing out on pricey drinks. Regardless of where you end up, both Cancun and Turks and Caicos promise to gift you unforgettable nights under the stars that you'll cherish forever.
Feasting in Paradise
In Cancun, prepare your taste buds for an exciting fiesta at Señor Frog's! This lively hotspot caters to families, couples, and adventure seekers, offering a fun-filled atmosphere and delicious Mexican-inspired dishes. From sizzling fajitas to mouthwatering tacos, you'll be dancing in your seat with every bite.
For a touch of romance, head to La Bastille, where couples can indulge in a delightful blend of French and Mexican cuisine. Imagine savoring escargot while gazing into each other's eyes. And if you're a luxury traveler, Casa Rolandi is a must-visit. This upscale gem serves exquisite seafood delicacies, and their signature dish, lobster thermidor, will make you feel like royalty!
Now, let's fly over to Turks and Caicos, where the dining scene is equally inviting. Families will feel right at home at Solana Restaurant, where the kids can enjoy mouthwatering burgers while parents relish fresh seafood delights. Couples seeking a romantic experience will find solace in the charming ambiance of Provence Restaurant & Bar, where Mediterranean and Caribbean flavors entwine in culinary harmony.
Adventure seekers will be thrilled to try Coyaba Restaurant, which offers a blend of Caribbean and international dishes, making it the perfect spot to fuel up after a day of island explorations. Oh, and did we mention their mouthwatering lobster tail? A true treat!
So, whether you're a budget traveler or seeking a luxurious affair, both Cancun and Turks and Caicos have something deliciously special in store for you.
Turks And Caicos Vs. Cancun FAQ
Which is better, Turks and Caicos or Cancun?
Cancun and Turks and Caicos offer different experiences, making it subjective to determine which is better. Cancun appeals to travelers seeking a vibrant nightlife, diverse water activities, and a mix of luxury and budget options. On the other hand, Turks and Caicos captivates with its exclusive, tranquil atmosphere, pristine beaches, and commitment to conservation. The choice depends on individual preferences, whether one desires a lively social scene or a serene escape.
Is Turks and Caicos a luxury destination?
Turks and Caicos is often considered a luxury destination. With its upscale resorts, emphasis on privacy, and impeccable service, the islands cater to travelers seeking a high-end experience. Pristine white-sand beaches, exclusive natural beauty, and a commitment to conservation contribute to the luxurious ambiance of Turks and Caicos. However, it's worth noting that there are also options for various budgets, providing a range of accommodations and dining choices.
Why is Turks and Caicos so popular?
Turks and Caicos has gained popularity due to its remarkable natural beauty and serene atmosphere. The islands are a sanctuary for snorkeling and diving aficionados thanks to their pure white sand beaches, clear waters, and vast coral reef systems. The commitment to conservation and the presence of national parks further enhance its appeal. Turks & Caicos is a well-liked option for tourists seeking a tranquil tropical escape because of its exclusivity, calm, and capacity to detach from daily stress.