Kuala Lumpur vs. Bangkok: Which Is the Better Place to Live In?
In 2016, the US State Department estimated that 9 million of its citizens live abroad, a significant increase since 1999. Many of those citizens live in the expat communities of Kuala Lumpur, Malaysia, and Bangkok, Thailand. While both are beautiful cityscapes with deep histories and plenty to do, aspects of daily life must be considered for those moving abroad.
Kuala Lumpur is the better place to live in if you want to avoid environmental hazards and live under a similar government as the US. If you are more concerned with low COVID-19 numbers and less terrorist threats, Bangkok would be the better option for you. LGBTQ+ people should take extra precautions.
Category
Kuala Lumpur, Malaysia
Bangkok, Thailand
Cost Range for 1 Week
Simple Apartment: $230-$345USD per month
Simple Apt: $300-$450 USD per month
Utilities
Electricity:~$30.23-$78.60USD
Water: Water not suitable for drinking. Filtration system/water delivery is ~ $6.05-$12.09USD
Internet:$48.37USD per month
Phone:<$24.18USD per month
TV: $9.67-$37.48USD

Electricity: $50-$167 USD/1500-5,000 baht per month
Water: $3.00 USD per month (Bottled Water recommended over tap)
Internet: $20 USD
Phone:$16.67-$36.63 USD
TV:$16 USD

Healthcare
Private Overseas Insurance Recommended
Public Option Available
Avg Doctor Appt: $15 USD
Private Overseas Insurance Recommended
Universal Healthcare System
Avg Doctor Appt: $15 USD
Transportation
KLIA Ekspres Train, KL Light Rail Transit, KL Monorail
Skytrain (BTS), Subway (MRT)
Food & Groceries
$115-$230USD per month
$200-$333 USD per month
Recreational Attractions
Eco Park (Jalan Bukit Nanas), Batu Caves, Petronas Towers, Perdana Botanical Gardens, Jalan Alor, Bukit Bintang, Sunway Lagoon Theme Park
Lumpini Park, The Grand Palace, Erawan Shrine, Train Night Market Ratchada, Siam Amazing Park, Calypso Cabaret
Weather
Average Temp: 73-91℉/22.8-32.8℃
Flood Season (November-March)
Average Temp: 71-95℉/21.7-35℃
Occasional Earthquakes
High Air Pollution
Flood Season (June-October)
Crime & Safety
Mostly petty crime

Mostly petty crime
Government
Representative Democracy
Military Dictatorship
Kuala Lumpur is a budding cityscape and the capital of Malaysia, housing some amazing architectural achievements, such as the Petronas Towers, and beautiful historical landmarks, like Batu Caves. Bangkok, while notorious for its red-light district, is the culturally rich capital of Thailand. With a tempo similar to New York City, it houses landmarks such as The Grand Palace and Erawan Shrine.
This article will explore these two Southeast Asian retreats in more detail to help you decide which place you will call home.
Cost of Living
Housing costs in Kuala Lumpur and Bangkok are fairly similar. If you are looking for a simple apartment in Kuala Lumpur, expect to pay around $230-$345 USD per month. The average price seems to be around $100 USD higher at $300-$450 USD per month in Bangkok.
Utilities cost lower in Kuala Lumpur and Bangkok than they do in the US. However, neither city has a reliable source of drinking water. Therefore, bottled or filtered water is recommended.
Food expenses are cheaper in Kuala Lumpur and Bangkok, as well. A food budget for a single person tops out at around $230 USD and $333.33 USD per month, respectively. This includes money for dining out and groceries.
Healthcare
Fortunately, Kuala Lumpur and Bangkok both achieve high marks regarding healthcare. Their hospitals are known for being well-equipped for western medicine. Additionally, Bangkok is known as a hotspot of medical tourism due to its advanced and affordable cosmetic surgery.
English-speaking expats should seek care closer to the city, where there is a better chance to be seen by a bilingual doctor or a doctor with a translator. While both cities offer public healthcare, it is recommended that expats enroll in private overseas health insurance.
Transportation
Public transportation is the best option to get around in Kuala Lumpur and Bangkok. This is partly due to them both being cityscapes. Additionally, drivers exhibit dangerous habits in each city. Luckily, there are plenty of options. Kuala Lumpur has the KLIA Ekspres Train, KL Light Rail Transit, and KL Monorail. Bangkok utilizes the BTS Skytrain and the MRT Subway.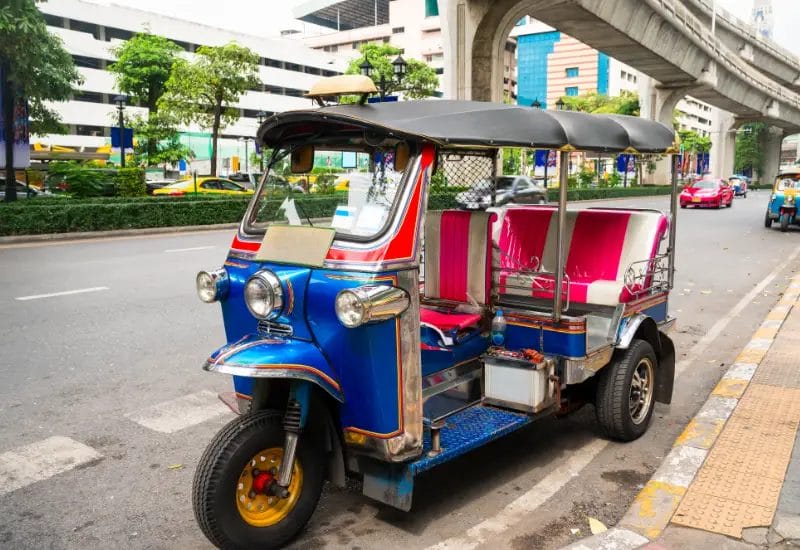 Recreation
Kuala Lumpur and Bangkok offer many recreational activities. If you're into history and beautiful architecture, check out The Grand Palace in Bangkok. Nature nerds will love Kuala Lumpur's Eco Park, which houses a beautiful rainforest. Fan of drag? Check out the famous Calypso Cabaret ladyboy show in Bangkok. There is something for everyone.
Both cities host an abundance of markets and shopping districts, like Bukit Bintang in Kuala Lumpur and the Train Night Market Ratchada in Bangkok. You can find anything from local wares to name brand imports.
Additionally, the culinary options in both cities are virtually limitless! Kuala Lumpur and Bangkok are both famous for their street food, including the notoriously sweet and stinky fruit, dorian. Bijan Bar & Restaurant, Kuala Lumpur's lauded hole in the wall, offers spectacular Malay Cuisine. Conversely, Baan Yai Phad Thai in Bangkok has been awarded Michelin's Bib Gourmand.
Eager to learn more? Youtubers, like Aaron Explores and Mark Wiens, offer great virtual tours of each city:
Weather
If you prefer warm weather, the climate in Kuala Lumpur and Bangkok will suit you. Neither city's temperature falls below 70℉ or 21.1℃.
Each city has a flood season, but Bangkok experiences more environmental hazards, including occasional earthquakes and high air pollution caused by agricultural burning.
Crime and Safety
The areas of crime in which Kuala Lumpur and Bangkok overlap are petty thefts aimed at tourists. I recommend exercising caution when traveling at night or under the influence.
Nonetheless, both cities fly their red flags. Bangkok is one of the worst traffic offenders in the world. It has a major methamphetamine problem, and many people drive under the influence. Kuala Lumpur has a higher threat of terrorism toward US interests. It has experienced a couple of targeted attacks by ISIS in the last decade.
Government
The governments in Kuala Lumpur and Bangkok are very different. Malaysia experienced its first democratic transition of government in 61 years in 2018. Conversely, political unrest caused Thailand to embrace authoritarianism and declare martial law in 2014.
LGBTQ+ individuals have additional points to consider. Homosexuality is criminalized in Kuala Lumpur, and police discrimination toward trans people is very high. According to the Overseas Security Advisory Council, Bangkok, while hosting a thriving gay community, does not investigate sexual violence towards queer people well.