Fortaleza vs. Rio de Janeiro: Which Is the Better Vacation Spot?
With their white sand, turquoise water, and stunning natural surroundings, Brazil's Fortaleza and Rio de Janeiro have many wonderful common traits. So, how does a traveler decide which is the better destination?
If you're trying to decide between Fortaleza or Rio de Janeiro, Rio will be the better vacation spot if you're looking for various activities on and off the beach and don't mind crowds. However, if you plan on sticking to the beach with the occasional day-trip and want to spend a little less, Fortaleza will be your better bet.
| Category | Fortaleza | Rio de Janeiro |
| --- | --- | --- |
| Cost Range for 1 Week | $300 per person | $507 per person |
| Transportation | Public buses, taxis, Metrofor (subway), Uber, Moto (motorcycle) taxis, rental cars, and rental bikes | Taxis, special service cars and radio taxis (ask your hotel to call one for you), Uber, public buses, Metro Rio (subway), rental cars, rental bikes, and rental scooters |
| Notable Attractions | Praia de Futuro, Iracema Beach, Meireles Beach, Teatro José de Alencar, Dragão do Mar culture center, and Central Market | Copacabana (neighborhood and beach), Ipanema Beach, Barra de Tijuca (neighborhood and beach), "Christ the Redeemer" statue, and Carnival |
| Weather | Hot all year round with a wet season February-May and a dry season June-January | Tropical all year round with a cooler season May-October and a hotter season December-March |
| Food and Drink | Seafood (with an emphasis on lobster and crab), tropical juices, and many restaurants close to the beaches | International cuisine, seafood, grilled meat, and many restaurants close to the beach with communal tables |
| Activities for Kids | Beach Park, Coco Park, and Jardim Botânico (botanical garden) | Maracana Stadium (where you can catch a soccer/football match) and Aquario aquarium |
| Nature Attractions | Jericoacoara, Cumbuco, Lagoinha, Iguape, and Prainha | Sugarloaf Mountain, Corcovado Mountain, Tijuca National Park, Pedra da Gavea Mountain, Rodrigo de Freitas Lagoon |
Of course, better is a subjective term, so consider your priorities before choosing a getaway. Below, we've broken down the cities by a few vacation-worthy criteria to help you decide.
Cost of Stay: Rio de Janeiro Vs. Fortaleza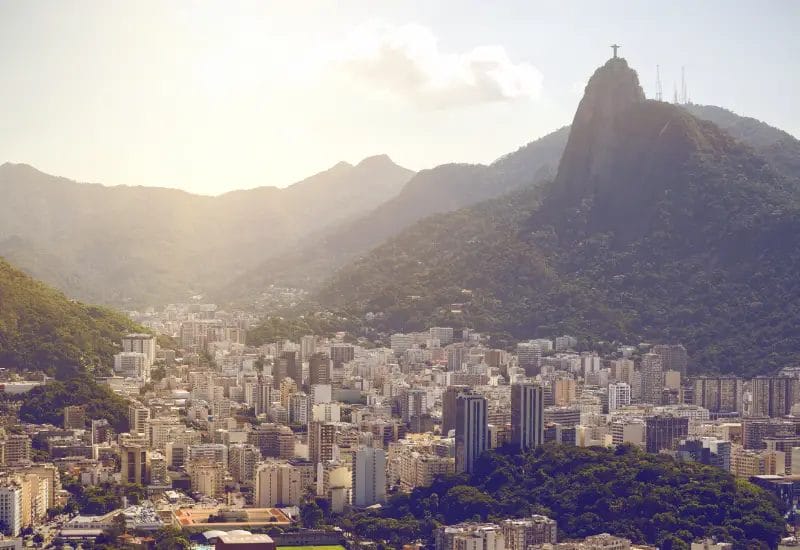 Between the two, Fortaleza is generally the less expensive area for accommodation.
However, while Rio is the Brazilian city best known for Carnival, Fortaleza hosts its local Carnival during the final weekend in July. Although the celebration is not nearly as large as Rio's, it does drive prices up.
Rio's Carnival is considered one of the largest in the world. The festivities occur just before Lent, usually in February or March. Rooms during this time book out far in advance and are more expensive.
In other words, Fortaleza gets pricier at the end of July, while costs in Rio go up just before Lent in late winter.
Best Affordable Hotels
But no matter the time of year, there are always deals to be found in and near Fortaleza.
If you don't mind staying a short distance away from the city, Pousada Point Break may be the spot for you. Situated in the fishing village of Cumbuco, and a quick 2-minute walk from scenic Cumbuco beach, the hotel is only 15 miles (25km) outside of Fortaleza. Its more secluded setting is a favorite among couples.
If you'd rather remain in the thick of things, Hotel Brasil Tropical is a wonderfully affordable option in Fortaleza's entertainment district. Walk the 2 minutes to nearby Beira Mar Avenue, a hub of bars and eateries, or further on to Iracema and Meireles beaches.
"Location, location, location" could also be the tagline for the Ibis Copacabana in Rio. Nestled in one of the city's most popular neighborhoods, the hotel is mere minutes away from the always lively Copacabana Beach and is also close to a metro stop.
We recommend snagging a top-floor room in Rio's affordable Mercure Botafogo for those who enjoy a room with a view. You won't be disappointed by the sight of the famous "Christ the Redeemer" statue on nearby Corcovado Mountain.
Main Attractions
Noted for its waves, Praia do Futuro is Forteleza's most popular beach and a great destination for surfers. Iracema, the "bohemian's beach," also offers gorgeous views, while Meireles Beach is home to a handicraft fair, open seven days a week.
If architecture and history are more your speed, you won't want to miss Forteleza's eclectic Teatro José de Alencar, named after the famous local author. The early 20th-century building is a combination of the art nouveau and neoclassical styles. Culture aficionados might also want to check out the Dragão do Mar culture center as well.
In Rio, you'll find a few more large-scale tourist areas. At the top of the list is one of its most popular neighborhoods: Copacabana. There are stunning views from Copacabana Beach, as well as the numerous bars, street fairs, restaurants, shops, and clubs that have made Copacabana's international reputation.
Rio, however, is not just for partiers. Two mountains are towering testaments to the beauty of its natural surroundings: Sugarloaf and Corcovado.
Sugarloaf Mountain rises from Guanabara Bay's mouth and looks out over the bay, the city of Rio, and the Atlantic Ocean for incomparable views.
Corcovado is home to the soaring "Christ the Redeemer," a soapstone statue of Chris with his arms outstretched.
Of course, no discussion of Rio would be complete without a reference to Carnival. Inside the giant Sambódromo, the best samba schools compete to be named the winner on Ash Wednesday. Every day of the festival is filled with parties as millions of people fill the streets.
Activities for Kids
Kids who need more than sea, sun, and sand to entertain them will flip for Fortaleza's Beach Park. The entertainment complex includes one of South America's largest water parks. Aqua Park has waterfalls and water slides, and even a fake river snaking through it. Plus, there are water shows just for kids.
Families visiting Rio might want to take in a football (soccer) match at Maracaña Stadium, which has previously hosted the FIFA World Cup. Or, kids of a less sporty nature may have more fun viewing the marine life at the large AquaRio aquarium.
Food and Drink
Fortaleza is known for exporting its lobster, so you know the seafood in the city is terrific. Munch on skewered lobster, enjoy any number of the shrimp and crab offerings or try the local peixada, a Brazilian fish stew. Don't forget to pair your meal with one of the many tropical juices.
You will find plenty of seafood in coastal Rio as well, but there is also a large selection of international eateries. They offer everything from French to Japanese to Italian and beyond. For local grub, you'll want to sample some of the Brazilian grilled meat, churrasco, or the traditional black bean stew, feijoada.
Weather
With an average highest temperature of 84.2℉ (29℃) and an average lowest of 73.4℉ (23℃), Fortaleza is warm-to-hot year-round. However, the amount of precipitation does vary by season.
The city is at its best during its dry season or the stretch between June and January. It should be avoided during the rainy season of February-May.
The climate in Rio is more tropical, with November-February being the hottest and most humid period. But April and May are a great time to visit. The days are a little less steamy as the South American winter draws near, but it's still warm enough to enjoy the beach.
Safety
Whether you choose to visit Fortaleza or Rio, you'll want to be smart while enjoying all they have to offer. Try not to carry large bags or wear expensive jewelry, and be on the lookout for pickpockets. Thefts do occur, so keep your valuables close or locked away in a safe place.
United States citizens should also be advised there is currently a Level 4 advisory warning against travel to Brazil at this time, due to the ongoing COVID-19 pandemic. All would-be tourists should continue to monitor the warning levels before making travel plans.
Transportation
Depending on where you stay and how far from the beach you want to venture, there's a chance you won't need transportation in Fortaleza, apart from rides to and from the airport. Otherwise, there are always public buses, the subway (Metrofor), taxis, and Uber to take you where you want to go.
Rio has the MetrôRio, its subway, while also boasting great bikes and even scooter rentals.
Conclusion: Fortaleza vs. Rio de Janeiro
Fortaleza and Rio are both vibrant cities with much to offer any traveler looking for a getaway.
Fortaleza is all-around less expensive while still boasting gorgeous beaches and interesting sights, all with less humidity.
But active travelers who love mountains and beaches thrive in an international, fun-loving crowd and don't mind crowds will likely find that Rio serves them best.
Which is better?
It all depends on which Brazilian city fits your idea of the ideal.