Frankfurt vs. Munich: Which Should I Visit?
Frankfurt's skyscrapers define it as a business-centered city making it more appealing to business travelers. However, there are more pedestrian-only streets for shoppers and diners downtown. In contrast, Munich's skyline is not as popular with visitors as its thrilling festival, Oktoberfest.
You should visit Munich if you enjoy museums, historic buildings, festivals, and the Alps. Frankfurt is a business city with numerous skyscrapers in its famous financial district, and tourists prefer to go away from the city center to explore restaurants, shopping streets, and museums.
| Category | Frankfurt | Munich |
| --- | --- | --- |
| Cost Range for 1 Week | $487 per person | $902 per person |
| Transportation | Public buses, trams, trains, rental bikes, and taxis. | Public buses, trams, trains, rental bikes, and taxis. |
| Notable Attractions | Römerberg, museums like Naturmuseum Senckenberg, pedestrian-only boulevards like Marienplatz. | Olympiapark, Alter Peter tower, palaces like Nymphenburg Palace, and festivals like Oktoberfest. |
| Weather | Warm summer, average rainfall, and cold winter. | Warm summer days, high rainfall, and a very cold winter. |
| Food and Drink | Hessian cuisine and international cuisine. Numerous types of German sausages. A variety of restaurants on Freßgass street. | Bavarian cuisine and international cuisine. Many beer varieties and German sausages. A selection of restaurants, cafés and bars. |
| Activities for Kids | Museums, Lohr Park, botanical gardens and the dining alleys, Christmas market on Römerberg, dining on Freßgass | Ice skating, exploring museums and palaces, attending festivals and visiting the Munich Botanical Garden. |
| Nature Attractions | Palmengarten, Lohr Park and Rebstockpark. | Munich Botanical Garden and Hellabrunn Zoo. |
The rest of this article explains the activities and experiences to expect in these two cities, so you know where to go for the type of adventure you have in mind.
Cost of Stay
Food and transport will be about a quarter of your daily budget in Munich. When traveling on a budget in this city, it is cheaper to eat in a fast-food establishment than in a sit-in restaurant.
Arguably, it is cheaper to stay in Frankfurt than Munich. Further, you will spend more on transport and less on food in Frankfurt.
Best Affordable Hotels
In Munich, budget-friendly places to stay include Hotel Schlicker, situated in the city center, close to the main train station.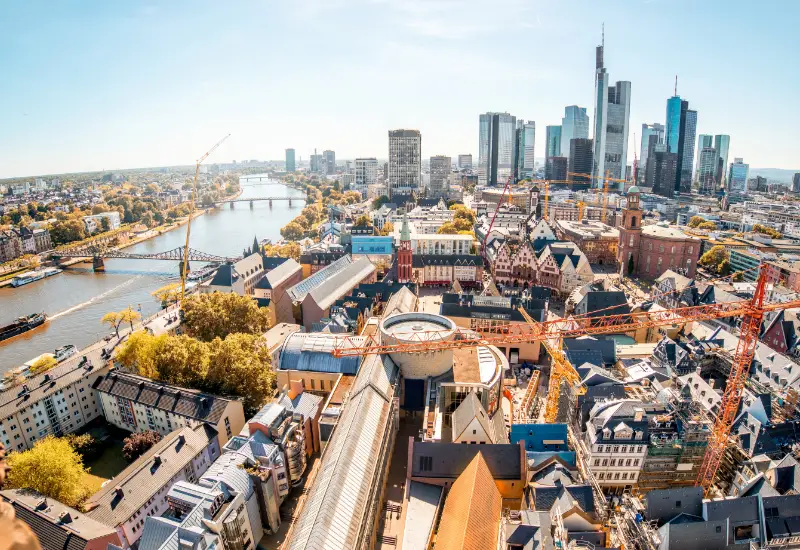 Frankfurt's affordable hotels include the top-rated Hotel Heddernheimer Hof, which is close to numerous restaurants, and guests also use its coffee kitchen to prepare breakfast. The Hotel Europa Style is just 5 minutes away from Frankfurt's main train station.
Main Attractions
Churches and Cathedrals
From the 15th Century Frauenkirche's tower, you can see most of the rooftops in Munich. Alter Peter tower (also called the Old Peter) has an unforgettable panoramic view of this city too. Expect to climb almost 300 steps to see Munich's skyline from Old Peter. Frankfurt has a collection of old churches to explore too. For example, visit the 1789 St. Paul's Church.
Pedestrian-Only Shopping Streets
Frankfurt has several pedestrian-only shopping streets. For example, Zeil has luxurious stores like H&M and Peek & Cloppenburg. This street also hosts a Christmas market. If you'd like some more of Frankfurt's shopping experience, the Goethestrabe has famous brands like Prada, Bulgari, and Versace.
Downtown Munich has the Kaufinger and Neuhauser Straße pedestrian zones, where you'll find souvenir stores, restaurants, and fruit stands. Activities on these streets are not limited to shopping and dining as there are festivals too, such as the Christmas Market.
Festivals
Munich hosts a festival almost every month. Oktoberfest lasts 18 days. Buy a few dirndls – the official wear for the Oktoberfest, such as this Oktoberfest Trachten Dress or this pair of suede leather shorts with suspenders.
Another beer-drinking and merry-making festival in Munich is the Starkbierfest, a celebration held around Easter since the 1700s.
One of Frankfurt's unique festivals is the Wolkenkratzer, when sky-divers and anybody else looking for gravity-related thrill access the city's tallest building. For a quieter festival in Frankfurt, attend the Nacht der Museen. During this festival, the museums are open to visitors until the early hours of the morning.
Art Galleries and Museums
If you love art, museums and art galleries in Munich include Deutsches Museum of Science, Alte Pinakothek (displays the 14th Century – 18th Century collection), and Neue Pinakothek.
Similarly, Frankfurt's museums are as diverse as Munich's:
Natural history – Naturmuseum Senckenberg
Culture – Museum der Weltkulturen
Film – Deutsches Filmmuseum
Sculptures – Liebieghaus
Activities for Kids
The Olympic Park (Olympiapark) has activities for kids throughout the year. There are festivals, markets, and concerts. Enjoy breathtaking views of Munich when you climb 190 meters to the viewing deck.
You can also explore Munich Botanical Gardens, one of the open attractions in summer and winter. This garden has almost 20,000 species of plants and animals, such as bees, butterflies, mushrooms, and birds. Buses 143 and 180, and tram 12, will take you to this attraction, and you can also use an underground train from the central station to catch tram 12.
Kids love exploring Neuschwanstein Castle, which inspired the design of castles in Sleeping Beauty. You'll tour the royal quarters of Ludwig II as well as the castle's kitchen and servant quarters. Another castle to visit is Nymphenburg Palace, which now houses several museums. King Ludwig II was born in this 1664 castle.
Munich's Englischer Garten is the world's largest city park for outdoor fun, offering over 1 square mile of scenic recreational space for cyclists and joggers. Alternatively, visit Flaucher on River Isar, a beach-like section where people bask and enjoy barbecues during summer.
Another interesting experience for kids is a tour of Munich in a Christmas tram while enjoying delicious food.
In Frankfurt, you will probably start at St. Mary's Square, also known as the Marienplatz, to attend a festival or buy Christmas gifts. Römerberg is suitable for families too. It is one of the distinct architectural landmarks in Frankfurt, showcasing half-timbered houses around a public square that hosts fairs and the Frankfurt Christmas Market.
Food and Drink
Frankfurt's Freßgass is the culinary equivalent of the pedestrian-only shopping alleys. It became a pedestrian-only zone around 1976. If you want to buy groceries, there are stores selling vegetables and fruits.
Alternatively, sit in a restaurant or a café along this street and enjoy sumptuous Hessian and international dishes. Try Frankfurter sausages like Würstchen and Rindswurst. Another unique treat in Frankfurt is Apfelwein cider. Remember to try some of Munich's sausages, beers, and pastries too.
C
Munich is near the Alps. Therefore, it receives a higher amount of rainfall than Frankfurt. Nonetheless, summer in Munich is warm. July is the warmest month, while the daily temperature in January can go below −22.2 °C (-8.0 °F).
Frankfurt is warmer in July than Munich. Additionally, January is not as cold as in Frankfurt as it is in Munich.
Safety
Frankfurt ranks among the top cities to live globally, and one of the safest in Germany. Munich is also a safe city. However, as with all growing cities, there are strict security guidelines, such as during festivals like Oktoberfest.
Transportation
Munich has public buses, trams, S-Bahn and U-Bahn trains, and their ticketing system is efficient. There are day and week tickets for both individuals and groups. If you prefer a taxi, hail one as they are easy to spot in the city. Frankfurt's public transport network is as efficient as Munich's. There are trams and buses.
Both cities also have biking lanes and trails. Bike rental services include Deutsche Bahn's Call-A-Bike, which bills you every 30 minutes or per day. You can make temporary stops along the way.
Conclusion: Frankfurt vs. Munich
Munich and Frankfurt have diverse offers for both business and leisure travelers. They are both modern cities with efficient public transport systems. Frankfurt has a modern appeal because of the city center's architecture, but there is more to see when you get away from the skyscrapers to visit museums and botanical gardens.
To see most of a city's attractions, get a travel book, such as this guide to Munich's best destinations, festivals, and castles. Additionally, go for a guided tour. For example, an hour-long guided tour of Frankfurt's Old Town will take you to most of this city's landmarks.