Planning a trip to Hawaii? Get ready to embark on an exciting adventure as we compare two of the most enticing destinations the Aloha State has to offer: Kona and Honolulu.
The main difference between Kona and Honolulu lies in their island locations and atmosphere. Kona, located on the Big Island of Hawaii, offers a more laid-back and authentic experience, with pristine beaches and volcanic landscapes. Honolulu, situated on Oahu, is a bustling city with a vibrant urban scene, iconic landmarks like Waikiki Beach, and a wide range of cultural and entertainment options.
Travelers seeking a tranquil and natural escape might prefer Kona, while those looking for a mix of urban amenities and beach attractions may opt for Honolulu.
| Category | Kona | Honolulu |
| --- | --- | --- |
| Cost Range for 1 Week | $707 – $3,122 (source) | $741 – $5,699 (source) |
| Location | Western coast of the Big Island of Hawaii | Southern coast of the island of Oahu |
| Geography | Surrounded by volcanic landscapes | Situated between mountains and the ocean |
| Language | English, Hawaiian | English, Hawaiian |
| Government | Part of Hawaii County | Capital and largest city of Hawaii |
| Currency | United States Dollar (USD) | United States Dollar (USD) |
| Tourism | Popular tourist destination with resorts | Major tourist hub with diverse attractions |
So, pack your sunscreen and join us as we delve into the unique charms of Kona and Honolulu, and uncover the wonders that await you in these tropical paradises.
Natural Wonders: Geography of Honolulu and Kona
Dreaming of a Hawaiian escape? Let me help you navigate the delightful decision between Honolulu's paradise and Kona's magic. Both are Hawaiian gems, but each offers its own special flavor. Whether you're looking for family fun, a romantic retreat, an adventure, or something lavish or laid-back, let's explore what's in store.
Honolulu, Oahu's heart, is a lively city with picture-perfect beaches and emerald mountains as its backdrop. If you're bringing the kiddos, they'll love the sun-soaked fun at Waikiki Beach – perfect for their first surf lesson or an epic sandcastle. For the lovebirds, imagine watching the sun dip below the horizon from Diamond Head or walking hand-in-hand to the cascading Manoa Falls.
Adventurers, get ready to dive into Hanauma Bay's underwater wonderland or conquer the heights of Diamond Head. Whether you're pinching pennies or ready to splurge, Honolulu offers everything from budget-friendly stays to the lap of luxury.
Kona, on the Big Island, is your tranquil Hawaiian hideaway. Families, prepare to be spellbound by the unique black sands of Punalu'u Beach and the fiery heart of Hawaii Volcanoes National Park. Couples, imagine wandering along the coastline or taking in the sunset aboard a dreamy cruise.
If adventure's your game, then diving alongside manta rays in Kealakekua Bay or stargazing atop Mauna Kea might just be your jam. Whether you're on a shoestring budget or seeking luxury, Kona offers charming rentals to opulent resorts with vistas you'll never forget.
In a nutshell? Both Honolulu and Kona are slices of Hawaiian heaven. Whether it's Honolulu's urban beats and iconic shores or Kona's soul-soothing landscapes that call to you, you're in for a treat.
Honolulu vs Kona: Comparing the Best Beaches
Honolulu and Kona. Both are Hawaiian gems, each with its own unique vibe and charm. Let's journey together and discover which beach paradise is calling your name!
First stop: Honolulu on the island of Oahu. Think of it as the lively heart of Hawaii. The star of the show is the iconic Waikiki Beach. Families, imagine your kiddos laughing as they play in the gentle waves, while couples, picture yourselves taking a romantic beach walk as the sun paints the sky with fiery hues.
And for my fellow thrill-seekers, Waikiki offers not just surfing lessons but a plethora of water activities to get that adrenaline pumping! Whether you're hunting for a cozy budget spot or a lavish beachfront resort, Honolulu promises a slice of paradise for everyone.
Now, let's hop over to Kona on the Big Island. It's where the laid-back island vibes truly come to life. The rugged coastline and pristine waters are the ideal backdrop for those heart-fluttering sunset picnics. Dive into Kona's waters, and you might just find yourself swimming alongside vibrant fish and graceful manta rays.
And families, the smaller, cozier beaches here are just perfect for a fun-filled day of sandcastle building! From quaint vacation rentals to grand beach resorts, Kona welcomes travelers looking for that genuine Hawaiian touch.
So, here's the big question: Are you leaning towards Honolulu's lively buzz, with its mix of urban and beachy delights? Or does Kona's tranquil ambiance and rich Hawaiian culture tug at your heartstrings? Whichever you pick, know that the Aloha spirit is ready to wrap you in its warm embrace.
From Honolulu to Kona: Top Attractions Compared
Honolulu, with its backdrop of the vast blue ocean, offers endless opportunities. Imagine strolling on the famous Waikiki Beach with your kids, feeling the sand between your toes, and building memories (and sandcastles) together. If you're traveling with curious little explorers or just have an adventurous heart, you'll love the Honolulu Zoo and Waikiki Aquarium.
It's a chance to come face-to-face with marine wonders and fascinating creatures. And for those romantic duos out there, the historical depths of Pearl Harbor await, taking you on a journey through time. And for those who love a bit of luxury, Honolulu is your playground – think high-end shopping sprees, gourmet meals, and beachfront resorts where every wish is answered.
Now, if your soul is seeking a quiet retreat, Kona whispers your name. Dive deep into the wonders of Hawaii Volcanoes National Park, where fiery eruptions light up the night, creating a spectacle like no other. Fancy a swim? Dive into the clear waters and snorkel with manta rays, an experience that's as magical for families as it is for couples.
And if you're traveling on a budget, Kona won't disappoint. There are countless trails that lead to mesmerizing waterfalls and secret beaches waiting to be discovered. And when you're in the mood to splurge, relax at one of Kona's plush resorts, where spa days and oceanic views are the norms.
So, if Honolulu's electric vibe or Kona's calm embrace is calling out to you, know that either choice promises memories to cherish. Honolulu has the beats of a city, rich history, and luxe experiences, while Kona offers nature's best, exciting adventures, and pockets of tranquility.
Island Accommodations Showdown: Honolulu vs kona
Let's first set our sights on Honolulu – Oahu's pulsing heartbeat. For those who crave luxurious vibes, The Kahala Hotel & Resort awaits. Nestled right by the ocean, it strikes a beautiful balance between serene relaxation and spirited adventures for families and lovebirds.
Speaking of timeless elegance, the Moana Surfrider, A Westin Resort & Spa at Waikiki Beach, boasts history and charm that sets the scene for an enchanting romantic getaway. And, if it's top-tier luxury you're after, let Prince Waikiki sweep you off your feet with its undeniably spectacular marina and ocean views.
Ready to embrace the relaxed spirit of Kona on the Big Island? Don't let its quaintness deceive you. For the mindful travelers among us, Royal Kona Resort is an amazing pick. Set against mesmerizing sunsets, it's teeming with activities to spark joy.
If a homely feel is what you seek, the Aston Kona by the Sea with its spacious, kitchen-equipped condos feels like a tropical home away from home. And to experience a dash of nostalgia, check into Kona Tiki Hotel – a delightful vintage haven that exudes warmth.
Whether it's the lively allure of Honolulu or the chill, cost-effective Kona vibes you're chasing, Hawaii is ready to welcome you with open arms.
Driving Paradise: Car Rentals in Honolulu and Kona
Hawaii beckons with its alluring charm, and whether you land in vibrant Honolulu or tranquil Kona, there's an abundance of ways to navigate and explore these beautiful islands with your loved ones by your side.
In the heart of Honolulu, Hawaii's lively capital, you'll find a buffet of transportation choices. Families and lovebirds can easily hop into cars from trusted rental spots like SIXT Rent a Car, Cheap Rent A Car, and Honolulu Auto Rentals.
Got a little wanderlust itch? These services allow you to blaze your own trail and seek out Oahu's best-kept secrets. And hey, if you're watching the pennies, no worries! Honolulu offers plenty of value-packed options to dive deep into its rich history and mesmerizing sights.
Swing over to Kona on the Big Island, and you'll sense a different rhythm. Here, families and couples can truly embrace the island vibes with local favorites like Car Rentals of Hawaii and Island Drive Car Rental (Kona & Hilo). They don't just hand you the keys—they welcome you with the warm aloha spirit. For those who fancy familiar names, Enterprise Rent-A-Car awaits, promising that familiar blend of ease and luxury.
Whether your heart is set on Honolulu's bustle or Kona's serenity, there's a ride for everyone. Spacious family cars? Check. Cozy cars for sunset drives? Absolutely. Adventure vans for the bold? You bet. Penny savers or luxe rides, the islands got you covered.
Honolulu and Kona: Exploring the Culinary Delights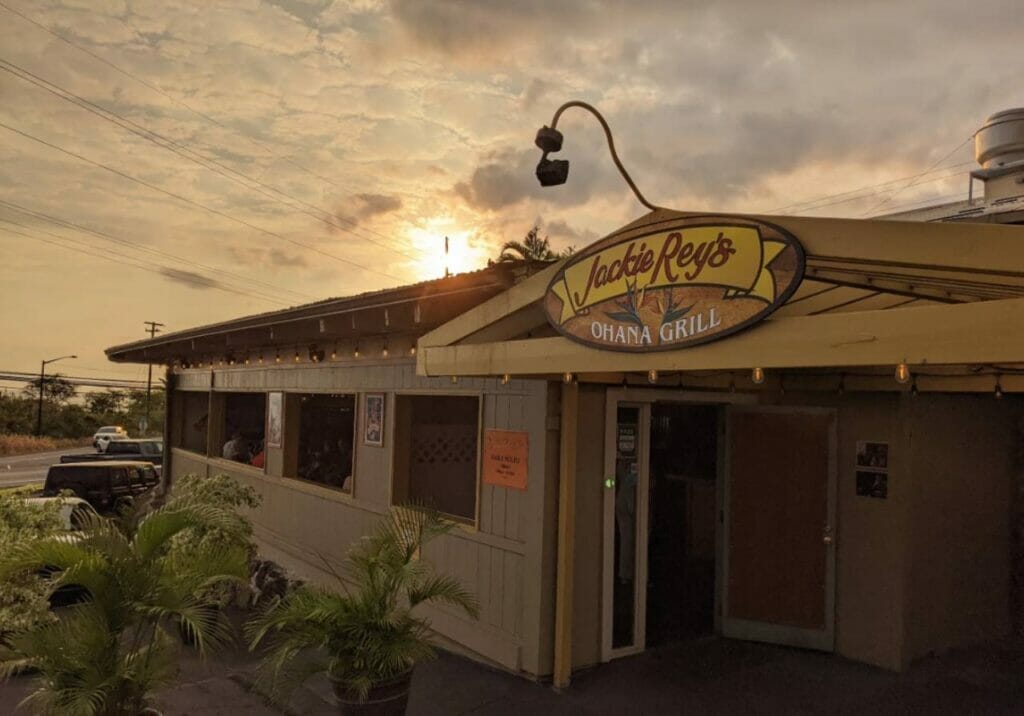 Let's kick off our journey in Honolulu, Hawaii's bustling capital. Here, every dining corner tells a story. Families, if sushi and sashimi make your hearts flutter, Han no Daidokoro is a joyous feast waiting for you!
And for moments that call for a sprinkle of luxury, the Beachhouse at the Moana serves fine dining in an ambiance that feels like a page from history.
Now, for a change of scene, let's surf over to Kona. This laid-back haven is a dream for anyone chasing island vibes and thrilling escapades. Families, gather around at Jackie Rey's Ohana Grill Kona for a heartwarming meal of authentic Hawaiian flavors.
If you're up for a spirited evening with pals, On the Rocks offers sizzling vibes, delightful cocktails, and a plateful of memories. And for a seaside dining experience? Kona Canoe Club steals the show with its mesmerizing waterfront views and oceanic delights that will make your heart sail.
So, to wrap it up – while Honolulu dazzles with its urban charm and gourmet flair, Kona pulls you in with its relaxed spirit and heartwarming bites.
Kona Vs Honolulu FAQ
Which is better to visit: Kona or Honolulu?
Both Kona and Honolulu offer unique experiences, and the choice ultimately depends on individual preferences. Kona, located on the Big Island, provides a laid-back atmosphere, stunning landscapes, and a chance to explore coffee plantations and volcanic wonders. On the other hand, Honolulu, the capital of Oahu, boasts a vibrant city life, historical landmarks, and iconic beaches like Waikiki. Whether you're seeking tranquility or urban excitement, both destinations have their own allure, making it essential to consider your desired vacation experience.
Is Kona, Hawaii worth it?
Kona, Hawaii, is undoubtedly worth a visit for those seeking a relaxing and captivating getaway. This charming destination offers a slower pace of life, breathtaking natural beauty, including volcanic hills, lush rainforests, and unique black sand beaches. With its rich coffee culture, historical sites like Pu'uhonua o Honaunau National Historical Park, and outdoor activities such as snorkeling and hiking, Kona provides a delightful experience for nature enthusiasts and those interested in Hawaiian culture.
Is Honolulu near Kona?
While both Kona and Honolulu are located in the state of Hawaii, they are on different islands and are not geographically close to each other. Kona is situated on the western coast of the Big Island (Hawaii Island), while Honolulu is on the island of Oahu. The distance between the two cities is approximately 165 miles (265 kilometers), requiring a flight or a boat ride to travel between them.