Barbados Vs. Turks And Caicos
Barbados and Turks and Caicos are two captivating Caribbean destinations that offer contrasting experiences for travelers seeking sun, sand, and adventure.
The main difference between Barbados and Turks and Caicos lies in their geographical locations and cultural vibes. Barbados, situated in the eastern Caribbean, offers a vibrant blend of British and Caribbean cultures, boasting lively festivals and historic sites. Turks and Caicos, a British Overseas Territory in the Atlantic, captivates travelers with its serene and unspoiled beaches, making it an ideal destination for relaxation and water activities. Choose Barbados for a cultural immersion, or Turks and Caicos for a tranquil beach retreat.
| Category | Barbados | Turks and Caicos |
| --- | --- | --- |
| Cost Range for 1 Week | $1,056 – $6,463 (source) | $992 – $4,556 (source) |
| Location | Lesser Antilles | Southeast of the Bahamas |
| Geography | Coral island, rolling hills | 40+ islands, low-lying limestone, reefs |
| Language | English (official) | English (official) |
| Government | Parliamentary democracy | British Overseas Territory, dependency |
| Currency | Barbadian dollar (BBD) | United States dollar (USD) |
| Tourism | Beaches, luxury resorts, nightlife | Pristine beaches, scuba diving |
Whether you're captivated by Barbados' vibrant ambiance and cultural heritage or enchanted by Turks and Caicos' serene beaches and natural wonders, each island promises an unforgettable Caribbean escape.
Exploring the Rich Histories and Geographies of Turks and Caicos and Barbados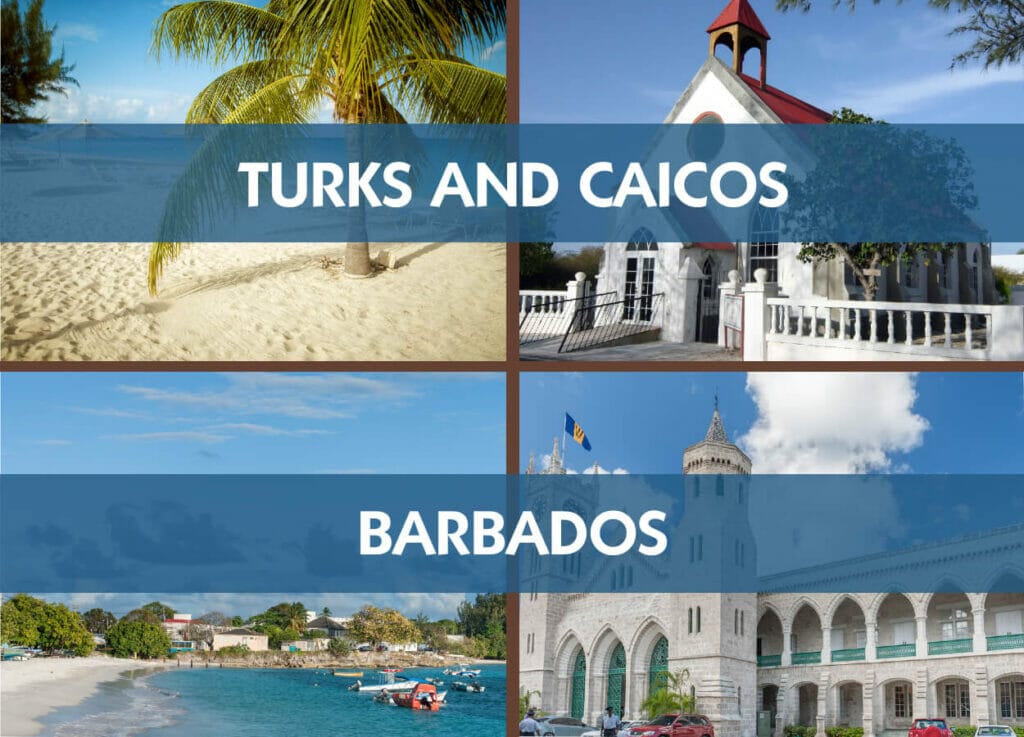 Ready to dip your toes into a sun-kissed Caribbean adventure? Let's embark on a tropical journey, pitting the picturesque tranquility of Turks and Caicos against the vivacious energy of Barbados. From sprawling beaches to historical treasures, these Caribbean delights cater to everyone – families, lovebirds, thrill-seekers, penny pinchers, and luxury-lovers alike.
Think of Turks and Caicos as your tropical haven – an oasis dotted with pristine beaches and sparkling waters that could easily grace a postcard. It's a paradise made for families craving a beachy retreat and couples in pursuit of a peaceful getaway. Out of the 40 island jewels, Providenciales, or as it's fondly known, Provo, stands as the main hub.
It's not just about the world-class resorts, but also the enchanting coral reefs that invite the adventurers amongst you to plunge into mesmerizing snorkeling and diving experiences. And as you take those sunset walks along the beach, stories of shipwrecks, ancient salt trades, and the fascinating Lucayan Indians add a sprinkle of intrigue to your journey.
Switching gears to the energetic beat of Barbados, every day is a festival here! For family explorers, the UNESCO World Heritage Site of Bridgetown is a historical playground waiting to be discovered. Romantic pairs, how about a dreamy sunset cruise along the Platinum Coast? And hey, thrill-seekers, ready to ride the epic Soup Bowl waves at Bathsheba?
Budget-conscious travelers, you're not left out – savor the local flavors with mouthwatering street foods like flying fish and cou-cou. And as you stroll the island, the echoes of sugar cane, rum, and the undying spirit of its people breathe life into the colonial architecture and engrossing museums.
And for those of you with a taste for the finer things in life, Turks and Caicos is a heavyweight contender with its elite private islands, globally celebrated spas, and top-notch golf courses. Can you feel the silky sand of Parrot Cay between your toes or the lavish pampering at Grace Bay Beach? Barbados, though, is no underdog when it comes to luxury. Imagine opulent resorts lining the Platinum Coast and a pulsating nightlife that lets you wine, dine, and dance like you're a part of the island's royal lineage.
So here's the deal. Whether Turks and Caicos or Barbados, they both offer a distinct charm that can win the hearts of travelers, no matter their tastes or budgets.
A Look into Turks and Caicos and Barbados' Best Beach Experiences
Turks and Caicos, it's like stepping into a postcard, the perfect spot for families looking for some peace and couples seeking a romantic escape. It's home to Grace Bay Beach, a slice of heaven on Providenciales, that consistently steals the show on 'world's top beaches' lists. Its turquoise waters are as calm as they are clear, making it a kiddie wonderland and an ideal backdrop for lovers.
And if you've got a touch of the explorer in you, diving into the colorful undersea world of the local coral reefs is a must. Oh, and don't worry if you're watching your pennies – you can find plenty of cozy guesthouses and homely vacation rentals that offer comfort without a hefty price tag.
Then there's Barbados, an island that dances to its own delightful mix of Caribbean rhythm and rich culture, enticing travelers of all sorts. For families, Miami Beach on the south coast is pure magic, with its gentle waters and kids' playgrounds. And for couples, there's nothing quite like the secluded enchantment of Bathsheba Beach, its rugged rock formations making for a truly unique setting.
As for adventure junkies, surfing the Soup Bowl's impressive waves at Bathsheba is an absolute thrill. And let's not forget the luxury travelers. Barbados' west coast, the 'Platinum Coast', is a realm of opulent resorts and culinary excellence, all set against the backdrop of awe-inspiring beach views.
In short, whether it's the tranquillity of Turks and Caicos or the vibrant variety of Barbados that steals your heart, an unforgettable beach vacation is guaranteed. So call up your favorite people, dust off your swim gear, and get ready to dive into the sheer beauty and bliss of these tropical hideaways.
Exploring the Best Accommodation Options in Turks and Caicos and Barbados
Firstly, allow me to introduce you to Barbados, the glittering jewel of the Caribbean. It's here you'll find a range of enticing options. For those families looking for a comfortable space with a luxurious twist, your search ends at Turtle Beach by Elegant Hotels. This slice of heaven, with its powdery white sand and crystal-clear waters, is ideal for building sandcastles with the kids or stealing a romantic moment with your partner.
For those on a quest for an unparalleled luxurious retreat, The Crane Resort awaits. Sitting majestically on a cliff, it offers breathtaking ocean vistas and a dreamy atmosphere, making it a fantastic hideaway for couples seeking solitude.
Next, let's hop over to Turks and Caicos, where an extensive selection of fantastic lodgings awaits you. The Shore Club, perched on Long Bay Beach, will delight adventure enthusiasts with its abundance of water sports and pulse-racing activities. If it's a sheer indulgence you seek, the serene Amanyara, nestled within a private nature reserve, is sure to deliver. This sanctuary of peace attentively caters to every desire, making it a perfect getaway for families and couples alike.
And for those of you who wish to explore paradise on a budget, Barbados has the perfect offering: The All New Grace Bay Suites. These delightful suites offer a comfortable, affordable stay without skimping on the creature comforts or the accessibility to the island's attractions.
So, whether you're a family with kids, a couple on a romantic escapade, an adventure seeker, or a budget-conscious traveler, both Turks and Caicos and Barbados presents an array of accommodations custom-made for your needs
Exploring Turks and Caicos and Barbados through Travel Tours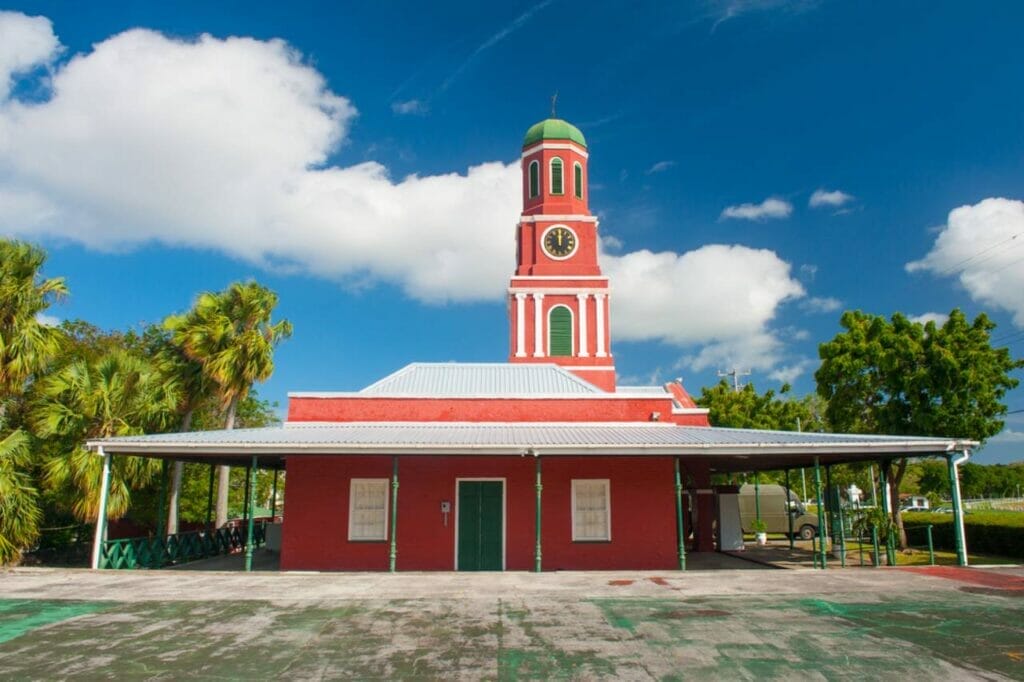 Allow me to whisk you away to two amazing locales: the dreamy Turks and Caicos and the vibrant Barbados. These Caribbean jewels, each with their unique flair, cater to every type of traveler. Whether you're a couple in love, a family on the lookout for fun, an adrenaline chaser, or someone who loves luxury or the simpler things in life, there's something for everyone.
Our first port of call is the lively Barbados! This island is a treasure trove of rich history and awe-inspiring landscapes. Picture strolling through the colonial buildings of Bridgetown or soaking up the sun on the stunning Platinum Coast beaches. For families, I highly recommend Sweet Life Tours. They balance cultural immersion with child-friendly fun. Couples, prepare for romance on the high seas with El Tigre Catamaran Sailing Cruises. A sunset journey you won't soon forget. And thrill-seekers, get ready for an adrenaline boost with Beautiful Barbados Tours & Excursions.
Next, let's glide over to the mesmerizing Turks and Caicos! Picture-perfect beaches, turquoise waters—this place is paradise on earth. Families, Caicos Dream Tours has your name on it, ensuring a great time for everyone, on land or underwater. Couples, you'll adore Island Vibes Tours. Their specialty? Crafting memorable moments, be it a private beach picnic or a visit to a secluded cay. And adrenaline junkies, look no further than Caicos Catalyst Charters & Excursions for heart-racing water sports and marine life encounters.
Those who appreciate more affordable options will find cozy beachside digs and tasty local cuisine, while luxury lovers can indulge in world-class resorts, complete with private beaches and top-notch services.
A Comparison of Rental Cars in Turks and Caicos and Barbados
Ready to uncover the hidden beauty of Turks and Caicos and Barbados? How you get around is the magic key to those tucked-away treasures and soul-stirring views. Every visitor, from families needing a restful escape to thrill-seekers hungry for adventure, can find a unique experience waiting for them on these exquisite Caribbean islands.
Think of Barbados as the Caribbean's sparkling jewel, a confluence of vibrant cultures against a backdrop of picturesque landscapes. To journey across this enchanting island, there are wonderful car rental services at your disposal. If you're watching your wallet, consider Top Car Rentals – they're known for budget-friendly prices without skimping on the service.
Stoutes Car Rental is another great choice, with a range of vehicles designed to accommodate every family size and style. And if your dream vacation includes cruising around in style, The Barbados Car Rental Company has the luxury cars to add an extra layer of sophistication to your getaway.
On the flip side, Turks and Caicos, a captivating string of islands known for untouched beaches and crystal-clear waters, calls out to love-struck couples and adrenaline junkies alike. For the explorers who want to meander at their own rhythm, First Choice Rent a Car comes highly recommended for their dependable vehicles ideal for navigating the islands' scenic routes.
Another excellent option is TCI Car Rental – they offer an effortless car rental experience with a friendly, customer-first approach. For those wishing to lap up the luxury while touring these sun-drenched islands, Grace Bay Car Rentals provide top-tier vehicles to make sure your vacation is as dazzling as you'd imagine.
Whichever island paradise you set your heart on, Turks and Caicos and Barbados both extend fantastic transportation options to cater to every kind of traveler. Budget-conscious family rentals or upscale vehicles for those with a taste for luxury, these islands have got all the bases covered.
Turks and Caicos and Barbados Ultimate food guide
If your tastebuds are tingling for a memorable culinary adventure in the Caribbean, you've got to check out Turks and Caicos and Barbados! Both of these tropical paradises are overflowing with food experiences that'll make any foodie's heart skip a beat.
Fancy a taste of the Caribbean life in Barbados? Let's explore! It's a food lover's paradise with options perfect for families, couples, or even if you're on a solo adventure. Craving an oceanfront dinner? Well, Cafe Luna Barbados is waiting for you. Picture this: you, relishing succulent seafood while the rhythm of the waves serenades you.
Got a hankering for some Asian fusion? Then you can't miss Naru Restaurant. Their irresistible blend of flavors will have you going back for seconds. And for those seeking a candlelit evening, the Harlequin Restaurant is your go-to. With its elegant atmosphere and top-class service, it's the perfect backdrop for a romantic dinner to remember.
But don't think we're done yet! Turks and Caicos is brimming with its own culinary wonders sure to please every budget and preference. Picture dining under the stars at Grace's Cottage Restaurant. Tucked away in a quaint Caribbean cottage, every bite of their Caribbean-inspired cuisine feels like a mini vacation.
Or perhaps you're in the mood for something Italian? Baci Restaurant serves mouth-watering pastas and pizzas in a cozy, family-friendly setting. And for a dash of luxury, look no further than Coco Bistro. Dine under towering palm trees adorned with twinkling lights and enjoy their sublime dishes with a unique Caribbean twist.
Each location bursts with an array of culinary delights, promising something for everyone. Whether you're a food-loving family on a quest for new flavors, a couple looking for a romantic dining spot, a solo explorer eager to try something different, or a budget traveler seeking tasty yet wallet-friendly options, Barbados and Turks and Caicos have got you sorted. So pack your bags and prepare your tastebuds for a gastronomic journey that'll leave them dancing in delight and your heart filled with unforgettable memories!
Barbados Vs. Turks And Caicos FAQ
Is Barbados close to Turks and Caicos?
The distance between Turks and Caicos Islands and Barbados is 1597 km.How long does it take to go from Barbados to the Turks & Caicos Islands? It takes approximately 4h 23m to get from Turks and Caicos Islands to Barbados, including transfers.
Why is Turks and Caicos so popular?
Turks and Caicos is popular for several reasons. Firstly, its pristine beaches, such as Grace Bay Beach, with its soft white sand and crystal-clear turquoise waters, attract visitors seeking a tropical paradise. Additionally, the destination offers exceptional diving and snorkeling opportunities, thanks to its extensive coral reef systems and diverse marine life. The exclusive resorts and luxurious amenities available in Turks and Caicos further contribute to its popularity as a high-end vacation destination.
Is Turks and Caicos a luxury island?
Turks and Caicos can be considered a luxury island. The destination is renowned for its upscale resorts, private villas, and high-end amenities, catering to discerning travelers seeking a luxurious experience. The island offers world-class spas, fine dining options, and extravagant beachfront accommodations, creating an atmosphere of indulgence and exclusivity. Visitors to Turks and Caicos can expect to enjoy a sophisticated and lavish vacation experience.