Ishigaki vs. Miyako-Jima: Which Vacation Is Better?
If you want to experience Japan's beautiful tropical side, you are looking at the two best destinations for your vacations. While both are dotted with breathtaking beaches, local restaurants, and incredible hikes, Ishigaki and Miyako-Jima are still slightly different. 
Ishigaki is known for beaches such as Kabira Bay, the most beautiful of Japan, and hikes up Mount Omoto. Instead, Miyako-Jima is a little smaller, pricier, and more exclusive. This is home to ancient traditions such as Paantu, stunning beaches, and delicious traditional food.
| Category | Ishigaki | Miyako-Jima |
| --- | --- | --- |
| Cost Range for 1 Week | $760 | $1190 |
| Transportation | Car rental, bus (limited rides except for airport routes), plane, taxi, bicycle | Car rentals, busses, planes, bicycle rentals |
| Notable Attractions and festivals | Ishigaki Triathlon, Tamatorizaki Observation, Ishigaki Yaima Village, Uganzaki Lighthouse, Torinji Temple, 730 Crossing, Peace Bell Park, Southern Gate Bridge, and "Cat Island" | Miyakojima City Tropical Plant Garden. Paantu festival, Cape Higashi-Hennazaki, Tuyumya Grave, Irabu, Ikema, and Kurima bridges, Miyako Shrine |
| Weather | Tropical rainforest climate, the best season with high temperatures is between June and October. | Tropical climate, best temperatures between April to November |
| Food and Drink | Traditional Yaeyama dishes, Orion beer, awamori cocktails, Ishigaki beef. Western-like meals available. | Japanese shochu, soba noodles, kobushime-yawaraka-ni (steamed cuttlefish), gyōza. |
| Activities for Kids | Shisa, Taketomi Island, snorkeling | Tropical Plant Garden, Imgya Marine Garden |
| Nature Attractions | Mount Omoto, Kabira Bay, and Yoshino, Aragusuku, Fusaki, Sunayama, Yonaha Maehama beaches. Neighboring islands of Taketomi and Iriomote | Sunayama Yonaha-Maehama beaches, Higashi-Hennazaki |
Ishigaki has several city-based attractions but is also well-known across Japan for diving and snorkeling spots. Since it is the holiday destination of many Japanese university students, it is cheaper than Miyako-Jima.
However, the latter is perfect for relaxation and to immerse in small-island life fully.
Ishigaki vs. Miyako-Jima Cost of Stay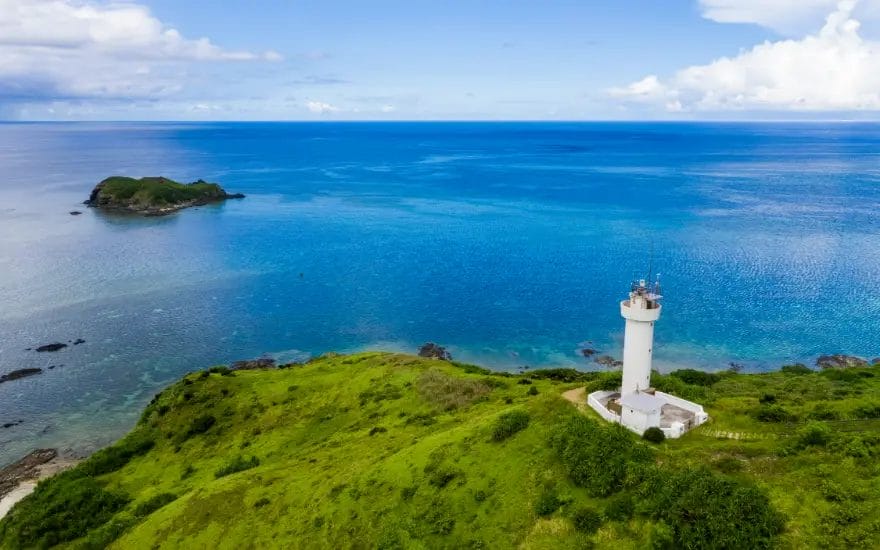 Ishigaki is cheaper than Miyako-Jima.
A week here will only set you back around $760 for a 3-star hotel. This is mainly because there is a much broader choice of accommodation on this island. Of course, more luxurious accommodation options are also available, which might include meals, but can set you back up to $250 per night ($1729) per week.
Especially if you opt for local dishes such as the Ishigaki beef, you won't need to spend much more than $10 for a meal.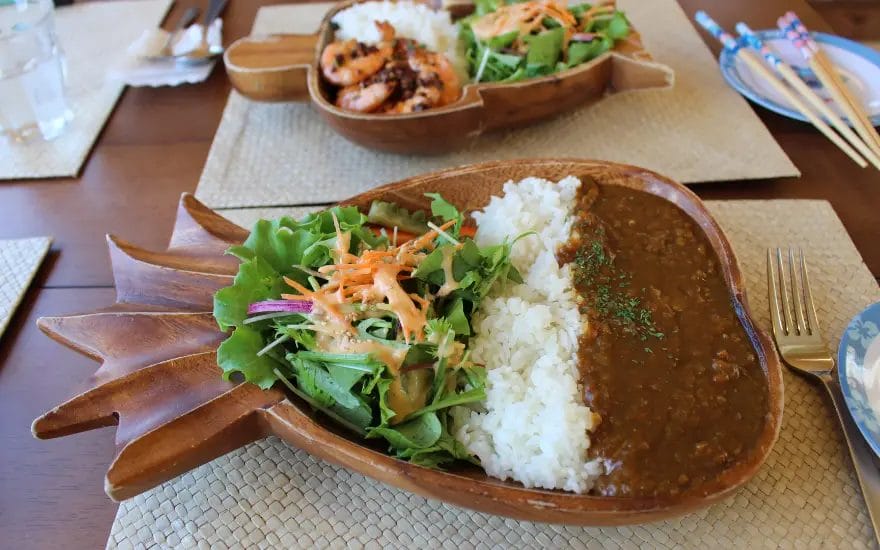 Miyako-Jima, instead, boasts a range of budget accommodation. However, if you are looking for a middle-range stay, you might pay over $1000 a week for it.
Meals in a restaurant can also be more expensive than the ones in Ishigaki. Indeed, for a lunch box, you can spend up to $7, and dinner in a restaurant for two people is close to $40!
In terms of transportation, you might need to rent a car independently from the island you wish to visit. Indeed, while there are busses on the islands, these rarely run, and to explore the islands, having your means of transportation would be ideal. This can cost up to $44 per day.
Best Affordable Hotels
In Miyako-Jima, you can find accommodation options starting at $50 for one night. However, for just a little more, you can secure a room in the charming Miyakojima Minshuku Jupiter, which offers WiFi and private parking a stone's throw away from the beautiful Painagama Beach. Instead, for a truly exclusive stay at an affordable price, check out the Private Resort Hotel RENN.
Instead, in Ishigaki island, the Grandvrio Resort offers rooms ranging from $150 to $230 per night, which include everything you need in a breath-taking setting just a few meters off the beach. Alternatively, at the Ishigakijima Pacific Club, you can secure a stylish room for less than $100 a night!
For vacationers, it is worth noting that, if you are traveling on a budget, the vibrant Ishigaki offers a dynamic backpacker scene. You can even find a bed in a dorm for less than $20 and still experience the island's stunning beaches!
Main Attractions
Both islands are world-famous for the unspoiled beaches and crystal clear waters that have become one of the most sought-after destinations for divers and any snorkeling passionate.
In Ishigaki, you should not miss out on the unique opportunity to climb Mount Omoto and visit Kabira Bay – the beach that has become famous as the most beautiful of Japan.
Instead, if you and your family wish to spend some more time in town, Tamatorizaki Observation Deck, the Torinji Temple, and the 730 Crossing are all must-see points.
In Miyako-Jima, don't miss out on a visit to the Miyakojima City Tropical Plant Garden and the Miyako Shrine.
Among the festivals that can give you powerful insights about the local culture, make sure you check out the Paantu festival in Miyako-Jima in October and the Ishigaki Triathlon in Ishigaki in April.
Activities for Kids
If your little ones are into swimming and enjoying unspoiled beach days, you are definitely on the right track for the perfect holiday. However, to fill in the hours between a swim and the other, a visit to Taketomi Island near Ishigaki and checking out the traditional Shisa sculpture can be the right activities for the whole family.
In Miyako-Jima, the Tropical Plant Garden and the Imgya Marine Garden can keep the whole family entertained for hours!
Food and Drink
Both islands are famous for their rich food culture. In Ishigaki, you can find mainly traditional Yaeyama dishes, but western-style meals are also available. Among the noteworthy delicacies to try in Ishigaki are the Ishigaki beef, the awamori cocktails, and the Marine Beer.
As you eat, you can also have the pleasure of attending a local show!
Instead, in Miyako-Jima, you should not miss out on the opportunity to try the traditional Goya Chanpuru and soba noodles. On this island, opportunities for Italian or American foods are limited, but you can still find something to suit the whole family.
Weather
The islands are situated about 120km away from each other, so they lay in the same climate region. The weather on the two islands is similar throughout the year, with some peculiarities.
The best time to visit Ishigaki is during the shoulder-months, the ones just before and after the hot, tropical, and often rainy, warm season. If you head here during May, you can enjoy sunny, warm days and participate in the official beach opening ceremony.
In Miyako-Jima, the temperatures stay around 30℃ (86℉) and 26℃ (78℉) through the summer season (May to October). This is also when rains and thunderstorms are also frequent. However, the rainy season on the islands only lasts a few weeks! So you will be able to enjoy undisturbed beach days for the rest of the time!
It is important to notice that in Japan, the winter months can be harsh and not so suitable for holidaymakers.
Safety
Miyako-Jima and Ishigaki's main towns are generally safe, and it's rare for tourists to fall victim to crimes and pickpockets.
However, natural disasters such as Typhoons, Tsunamis, and Earthquakes are much more common off Japan's coast compared to other parts of the world. When enjoying the islands' beautiful nature, it is important to keep an eye out for rip currents and UV exposure.
In terms of harmful animals, you should stay clear of the areas in which the Habu Jellyfish (more common from June to October), the Habu snake, and Cone Shells are present.
Transportation
While public buses are present on both islands, they infrequently run, except for the one that runs from and to the local airport every 15 minutes. If you want to explore the different beaches and hidden areas of the islands, renting a car is always the preferred way of getting around.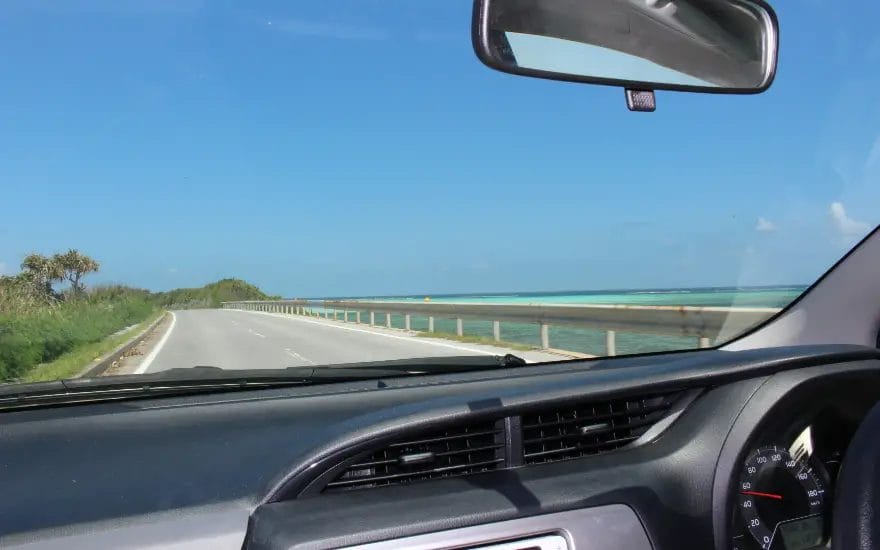 When getting into the islands, instead, the local airports – Miyako Airport in Miyako-Jima and Painushima (New) Ishigaki Airport in Ishigaki – are the ones connecting the islands to major locations such as Naha and Okinawa.
Conclusion: Miyako-Jima Vs. Ishigaki
Both Ishigaki and Miyako-Jima are unspoiled pearls of Japan.
A vacation here will mean a lot of days spent sunbathing, diving, and snorkeling. The natural beauty that hugs the islands is combined with ancient culture and traditions, such as those displayed during the Paantu festival.
When deciding on your destination, you should keep in mind that Ishigaki has been a more popular choice for a while, and it offers more accommodation and food options. From here, island hopping is also easy. Instead, Miyako-Jima is still an unspoiled area of Japan that is only waiting for you to discover it!