Belfast vs. Derry: Which One Should I Visit?
Are you confused about which of these two Northern Ireland cities to visit? Well, you're not alone. Belfast and Derry hold a great deal of history that will interest you, so whether you belong to the class of people who favor the old ways or those that love the renaissance and modern blend, one of these two places is for you.
Belfast's rich maritime heritage is a source of charm that you can barely resist. Its food and drink hold great appeal, and not forgetting its people and their rich dialect. Derry prides itself on preserving its history in murals and museums containing relics from the old world.
| Category | Belfast | Derry |
| --- | --- | --- |
| Cost Range for 1 Week | $993 per person | $981 per person |
| Transportation | Metro buses, Taxis, and Trains | Public Transport, Car rental, Coach rentals, and Taxi hire |
| Notable Attractions | Titanic Belfast, Titanic Public Art: The Masts, Samson & Goliath Cranes, Titanic Spillways, Titanic Memorial Garden, and HMS Caroline | The City Walls, The Guildhall, The Peace Bridge, People's Gallery Murals, Museum of Free Derry, Tower Museum, Hands Across the Divide, and Ebrington Square |
| Weather | High chance of rain or snow throughout the year; the hottest period is in late July. | Long, cold, and wet winters. Summers are cool. |
| Food and Drink | Comber Potato, Abernethy butter, Ulster fry, and Beef and Venison | Seared pork rack chop, Derry Pale Ale, Chocolatey Stout, Pintxos, Chicken skin and gin, Sorbet, and Lavender panna cotta |
| Activities for Kids | Belfast Zoo, Ulster Museum, Lost City Adventure Golf, Vertigo Titanic park, Barnett Demesne | Roe Valley Country Park, Kidz Ahoy, Sperrin Fun Farm, Alley Cats Indoor Play Center |
| Nature Attractions | Lagan Valley Regional Park, Belfast's Window on Wildlife, Redburn Country Park | Ness Country Park, Riverwatch Visor center & Aquarium, Ness, and Ervey Woods Nature Reserves |
Overview: Derry Vs. Belfast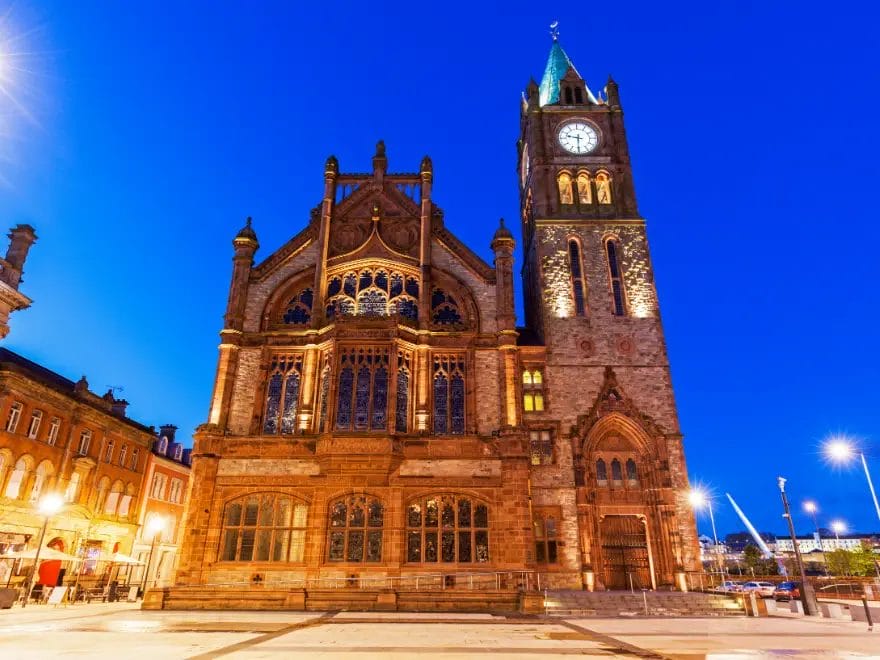 Belfast is a city known for its design of the popular ship, the Titanic, and sewn into the fabric of its history are the old-fashioned lifestyle of coastal city dwellers, relics of the first world war, and diverse flora presentation.
Derry is home to the iconic 400 years old wall that is as tall as it is thick, and museums will bring you back in time with the aid of audio-visual presentations.
As we go on, we will consider the fascinations both tourist destinations possess and help you decide on where you should go.
Cost of Stay
Belfast is a city of mixed times, the old and modern. It is therefore expected that the classics will cost more. However, there are budget-friendly options for transportation, feeding, lodging, and many more. On average, it is estimated that a visit to Belfast will cost you $961 per week.
The timing of your visit is also important; more tourist presence comes from June to September. So, if you're looking to avoid the high prices that come with huge demand, consider other months.
Derry is somewhat more affordable than Belfast, which is expected as the latter is the country's capital.
Best Affordable Hotels
Places to stay while on vacation are abundant in both Belfast and Derry. You can choose from the luxurious hotels or the humble B&Bs and guesthouses that are around.
In Belfast, we recommend The Flint for its top-notch facilities and proximity to sites of interest. Another option is the Maldron Hotel, also within walking distance to attraction sites.
In Derry, the Phoenix B&B is an excellent option. You can equally choose the Bridge Bed & Breakfast Hotel located in the heart of Derry.
Main Attractions
Belfast hosts the biggest tribute to the popular Titanic. Being the spot where the infamous ship was built, Titanic Belfast attracts the most visitors to the city's numerous attractions. Looking over the River Lagan is the Waterfront Hall, host to many concerts and exhibitions. Its impressive restaurant, The Arc Brasserie, is another reason it is often visited.
Many more attraction sites like the Ulster Museum hold the country's troubled history, the Botanical Garden, an impressive display of tropical flora in a glasshouse, and many more.
Beginning at the City Walls of Derry, there is no shortage of sights and learning here. The walls are 8m high and 9m thick, and they are the only standing city walls in Europe. Right on the walls are 12 murals towards a place called Free Derry. These murals are called the People's Gallery. Just outside the city walls is the Guildhall, a magnificent neo-Gothic building housing the exhibition of Ulster Plantation.
Activities for Kids
Both destinations offer interesting activities for toddlers and kids alike. You can take your kids to the Streamvale Open Farm, which is open to sheep, cows, ponies, and several smaller animals.
You can also visit the Belfast Zoo, one of the leading tourist attractions in Northern Ireland. Other places you can visit include the Ulster Museum, Vertigo Titanic Park, Botanic Gardens, Lost City Adventure Golf, and Aunt Sandra's Candy Factory.
Derry has some places of attraction that will interest kids as well. Sperrin Fun Farm, an adventure site for kids, is one. You can also visit the Long Line Surf School with them to enjoy a surfing session. Other places include Kidz Ahoy, Roe Valley Country Park, and many more.
Food and Drink
The assortment of food to give pleasure to the palettes are numerous in Belfast. Starting from the Comber potato, a spud with a unique flavor, we consider the Abernethy butter, a wonder that melts in your mouth. Sausages and bacon, not forgetting Beef and Venison. St. George's Market is one of the best places to grab breakfast.
There are plenty of restaurants in Derry. You'll always find one to meet your needs, whether you're looking for contemporary cuisine or a simple dining experience. The average restaurant menu has a lot of options that are hard to choose from.
One of the best restaurants in Derry is Lo & Slo. You can also visit the family-run Primrose on the Quay and the popular Mandarin Palace. We also recommend the Walled City Brewery for its different choices of locally brewed drinks and excellent homemade kimchi with curry aioli.
Weather
Derry and Belfast share similar weather patterns. There is hardly a distinct period of rainfall. Belfast has short winter days and long summer evenings, while Derry has cool summers and colder winters.
Safety
Considering the history of political tension between the communities, one would expect the violence rate to be high. However, that's not the case. Belfast is one of the most peaceful in the UK. The city center, where there is always a big concentration of people, is also considered a safe place, even at night.
Derry is also a safe place for locals and tourists alike. However, just like every other tourist destination, you have to be careful and alert to your surroundings. Most importantly, never get yourself involved in political conversations or put on attire that shows affiliation toward a political community.
Transportation
Navigating Belfast is fairly easy. Tourists strolling their destinations are common, especially around the city center, where there is a lot to visit. For buses to move you around Belfast, look for Metro and Glider buses. Other buses might be going outside Belfast or connecting other parts of Northern Ireland. You can also book taxis for your sightseeing or use the train.
Getting around Derry is not difficult either. There are three options; public transport, car and coach hire, and taxis. You can visit most of the main attractions on foot. It may also be the best way to explore all the hidden gems in the city.
Key Takeaways: Belfast Vs. Derry
Northern Ireland is a country rich in history and culture. If your taste is in the culture and history of Northern Ireland, your destination should be the capital, Belfast. There, you will see and learn about the complicated past of the country. If you're after the food, Belfast is your best destination.
But for drinks and breweries, we have to give it to Derry.
Ultimately, your decision will depend on your personal preferences. We hope we have made your decision easier with this detailed comparison between these two top destinations in Northern Ireland.