Edinburgh vs. Dublin: Which Is the Most Interesting City to Visit?
Let's be honest, you can't go wrong either way if you're choosing between Scotland's stunning and historical Edinburgh or Ireland's lively capital, Dublin. A few days spent in either of the world-class cities are sure to please. However, if you simply cannot do both, the question becomes: Edinburgh or Dublin?
When it comes to volume and richness of offerings for its visitors, Edinburgh is the better choice. Its well-preserved historic streets, cultural offerings, and unique atmosphere make it one of the greatest cities to visit. A trip to this Scottish capital by the sea will not disappoint.
Although Edinburgh certainly deserves this title as the more interesting city to visit, both cities are undoubtedly full of charm. The rest of this article will take a look at the attributes and whimsy of both Edinburgh and Dublin.
Old and New: Architecture in Edinburgh and Dublin
Edinburgh: Giving You History at Every Glance
One of the biggest allures of Edinburgh is its iconic cityscapes. With over 4,500 buildings registered as heritage sites, every street gives you a look into the intriguing architecture of the past. You can enjoy the haunting, medieval-style as you meander through the Old Town streets or take in the more modern Georgian architecture found in the New Town.
Dublin's Modern Twist
When it comes to historical architecture, Edinburgh simply dominates in this category. However, Dublin showcases a more modern style and even has some buildings that have attracted international attention. The Aviva Stadium, opened in 2010, is a great example of unique modern architecture that calls Dublin home.
Discovering History: Sites in Edinburgh and Dublin
Edinburgh, packed with history and sights to see, is easily navigated on foot. Not only are its historic streets easily accessible to visitors, but the city itself is situated with the awe-inspiring backdrop of crags or jagged cliffs. A short hike can bring visitors to Arthur's Seat, an extinct volcano that provides not only stunning views but also the alleged location of King Arthur's Court.
A visit to Edinburgh's Castle is simply a must for history buffs and visitors alike. As one of the oldest fortified castles in Europe, it has been the sight of over 26 attacks over the last 11 centuries. Understanding its undefeatable strength and spirit can you help you see why it is beloved as a symbol for Scotland itself.
In Dublin, two of the must-see historical stops are Dublin's Castle and Saint Patrick's Cathedral. Of course, there is always The Guinness Storehouse and the Old Jameson Distillery to check out as well–especially if you would fancy a drink after a day of exploring!
Literature and Knowledge in Edinburgh and Dublin
Edinburgh: From UNESCO to J.K. Rowling
As a UNESCO City of Literature, Edinburgh has been home to many literary greats that are beloved around the world. The Writer's Museum is free to the public and hosts a collection of personal items and manuscripts from some of Scotland's most famous writers. You can see artifacts from the work and lives of authors like Robert Burns, Sir Walter Scott, and Robert Louis Stevenson.
If you are a fan of Sir Walter Scott and his literary works, a visit to the Scott Monument is a must. The statue is huge, standing over 200 ft (61 m) tall, and isn't the only thing to see at this popular site. You can check out the 64 other statues that represent characters from his works. To reach the monument requires a bit of climb, but the effort will be rewarded with a stunning view of the city.
If you are a fan of more recent authors, you may enjoy checking out one of the cafes that J.K. Rowling was known to write parts of her famous Harry Potter series. The Elephant House Cafe boasts of being the birthplace of the famous series, and the narrow streets of the nearby Candle Maker's district are thought to be the inspiration for Diagon Alley.
Dublin: A City of Storytelling
As Expedia's Travel Guide puts it, poetry, literature, and music are "percolating through the cobblestones" of Ireland's bustling capital city. The tradition of storytelling is so strong here that it is no surprise that this city brought us greats like Oscar Wilde, James Joyce, and Jonathan Swift. Be sure to check out Oscar Wilde's iconic statue where he is remembered lounging back, with a grin, in his finest clothes.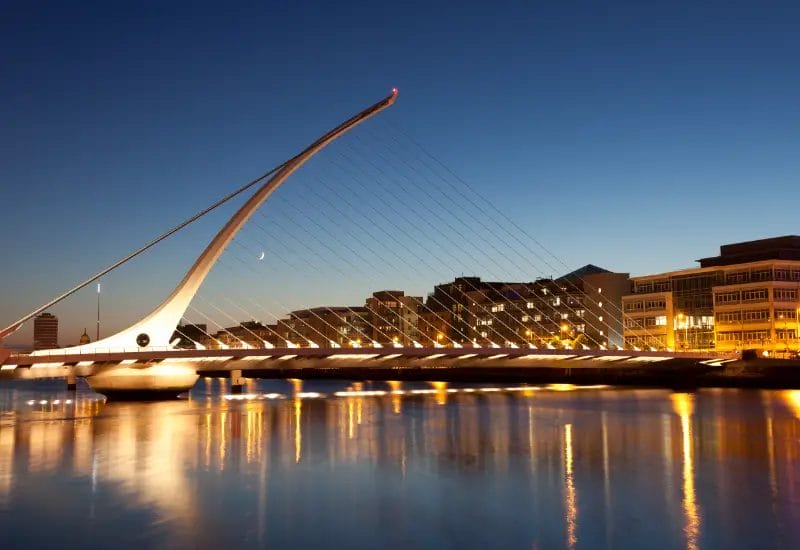 Knowledge and Innovation in Both Capitals
With the construction of its New Town in the 1760s and the growing spirit of innovation, Edinburgh took on the moniker "Athens of the North" around this time. A day at the Scottish Museum or a visit to the impressive Forth Bridge would be a lovely excursion for anyone looking to witness the city's love for innovation and knowledge.
When it comes to Dublin, no discussion of knowledge in Ireland can exclude the 1000-year-old Book of Kells. This illuminated manuscript is one of the oldest of its kind remaining in the word, and its illustrations are simply stunning. This book is housed at Trinity College, and various sections are on display at any one time.
Never a Dull Moment: Nightlife in Edinburgh and Dublin
Edinburgh will not disappoint when it comes to nightlife. From the modern clubs of the New Town to the dark, charm-filled pubs of the Old Town, you will easily enjoy a night out in the Scottish Capital. Never been to a bar in a 19th Century Church before? Give it a try by grabbing a drink at Frankenstein.
However, this is the one category where Dublin could be considered more interesting than Edinburgh. Dublin is simply famous for its nightlife, and its strong tradition of folk music is celebrated on a nightly basis. Dublin is home to over 700 pubs and a great tradition of enjoying life with music, drink, and storytelling.
Head to the famous Temple Bar district for streets lined with pubs, live music, drinks, and chats with the warm and friendly locals. Not only is this the best place for a quintessential night out in Dublin, but this district is also home to many art galleries and quirky shops.
It doesn't even have to be night time to enjoy the live musical talent in Dublin. Grafton Street is one of the most famous busking streets in the world. As one of the busiest walking streets in Europe, it is competitive for musicians to get a spot to perform for passersby. Take a stroll down this street and enjoy the talents of this city's rich collection of street musicians.
Budget and Value: How Far Will Your Dollar Go
One last comparison for the two cities is the price. While this doesn't mean much in terms of which place is more interesting, it may be a key piece of information for those of us looking to plan a trip. The good news is Edinburgh is more affordable than Dublin. You will get more food and drink for your dollar (or more accurately, your pound) in Edinburgh.
On average, salaries are higher in Dublin compared to Edinburgh, so you can expect to pay a bit more when out and about in Ireland's capital compared to Scotland's.
Final Thoughts
When it comes to history, architecture, literature, and a magical atmosphere, Edinburgh is the more interesting choice. Each day you spend in the Scottish capital will be memorable and time well spent. However, this is not to disparage the whimsical city of Dublin, whose nightlife, music, and storytelling traditions make it another good option.