Grand Cayman vs. Aruba Vacation: Which Is Better?
If you're looking for a Caribbean vacation filled with beach lounging, rugged outdoor adventures, and rich cultural celebrations, consider Grand Cayman vs. Aruba as top destination choices! Both islands are known for their spectacular dive sites, fresh seafood dishes, and warm and welcoming atmospheres.
Aruba is better for vacation if you're looking for picturesque beaches with luxury resorts and exotic off-road adventures. A vacation to Grand Cayman is better if you want to spend full days snorkeling around beautiful coral reefs, scuba diving to old shipwrecks, and lounging under big cabanas.
| Category | Grand Cayman | Aruba |
| --- | --- | --- |
| Cost Range for 1 Week | $1,817 per person | $1,822 per person |
| Transportation | Rental cars, taxis, local bus service | Rental cars, taxis, local bus service, Aruba Streetcar |
| Notable Attractions | George Town, East End, Seven Mile Beach, Camana Bay, Stingray City, Rum Point, Bodden Town, Pirate Week, Batabano Carnival | Oranjestad, Wilhelmina Park, Alta Vista Chapel, Eagle Beach, Excelsior Casino, Carnival, Bon Bini Festival |
| Weather | Hot and humid all year round with a dry, cool season from late November to mid-April. | Hot and dry all year with a rainy season occurring from October to December |
| Food and Drink | Jamaican cuisine, British cuisine, seafood, International cuisine, a variety of lounges and bars | International cuisine, Aruban cuisine, fast-food chains, numerous lounges and bars |
| Activities for Kids | Cayman Turtle Centre, Cayman Islands National Museum, Little Cayman Museum, snorkeling at Devil's Grotto | The Butterfly Museum, Aruba Aloe Factory, Donkey Sanctuary, Aruba Ostrich Farm, Philips Animal Garden, Palm Island |
| Nature Attractions | Mastic Reserve and Trail, Cayman Crystal Caves, Wreck of the Gamma, Barefoot Beach, Barkers National Park, Queen Elizabeth II Botanic Park | Arikok National Park, Boca Prins, Natural Pool, Aruba's Dive Sites (Antilia, Jane Sea, Pedernales, etc.), Mas Bango Reef |
Overview: Aruba Vs. Grand Cayman
The Dutch island of Aruba is situated nineteen miles off the coast of Venezuela and is regarded as one of the highest repeat visitor islands in the Caribbean which is filled with tropical wildlife tours, flashy casinos, and beaches.
Grand Cayman, on the other hand, is the largest of the three British Cayman islands, where you can snorkel your heart out, enjoy a glass of spiced rum, and laze around in the sand for days.
This article will explore these two island getaways to help you decide which destination will give you the best vacation experience.
Cost of Stay
When it comes to an Aruba vacation, like most Caribbean destinations, you can expect prices to lean on the expensive side. However, that doesn't mean that it's impossible to go there on a budget. By eating local food, staying in cheaper hotels that are a bit further from the beach, and enjoying more natural (and free!) attractions, you can make your trip to paradise more affordable.
Similarly, you'll want to follow the same advice for a vacation in Grand Cayman. Depending on how long you plan to stay, a great way to save money is to rent a place with a small kitchen and prepare some of your own meals, as dining on the island can eat up a lot of your budget.
Another money-saving tip is to travel during the low tourist season. For Aruba, that window is from September to October — if you don't mind the sweltering heat, this might be a good time to book your trip! For Grand Cayman, hotel rates drop between March and June.
Best Affordable Hotels
There are a number of options when it comes to budget-friendly accommodations in Aruba. One way to go is to stay at a hostel; the eco-friendly and centrally located Agua Clara Eco Suites is considered the best hostel in Oranjestad. It's also close to the city's major tourist attractions and offers comfortable rooms.
If you're looking for a hotel experience that's gentle on the wallet, Aruba Blue Village Hotel and Apartments is a popular choice. This hotel is located just five minutes from Eagle Beach and is conveniently placed next to restaurants, and tourist sights — not to mention each guestroom features its own private patio!
Likewise, Grand Cayman offers many affordable boutique lodging, such as the Sunshine Suites Grand Cayman Island Resort that is a short walk from the famous Seven Mile Beach. Or Eldemire's Tropical Island Inn, a family-owned guest house that provides a cozy accommodation in a quiet neighborhood that's across from the ocean.
Main Attractions
Aruba is covered with rugged deserts, towering green cacti, and steep ocean cliffs. And in Arikok National Park, you'll see a bit of each and more! You can also hike up the Hooiberg, a cone-shaped mountain that rises 540 feet up from the center of the island.
If viewing natural wonders isn't your thing, Aruba is known for having a vibrant nightlife. There are a variety of casinos and dance clubs, as well as festivals that take place throughout the year, including the Aruba Summer Festival.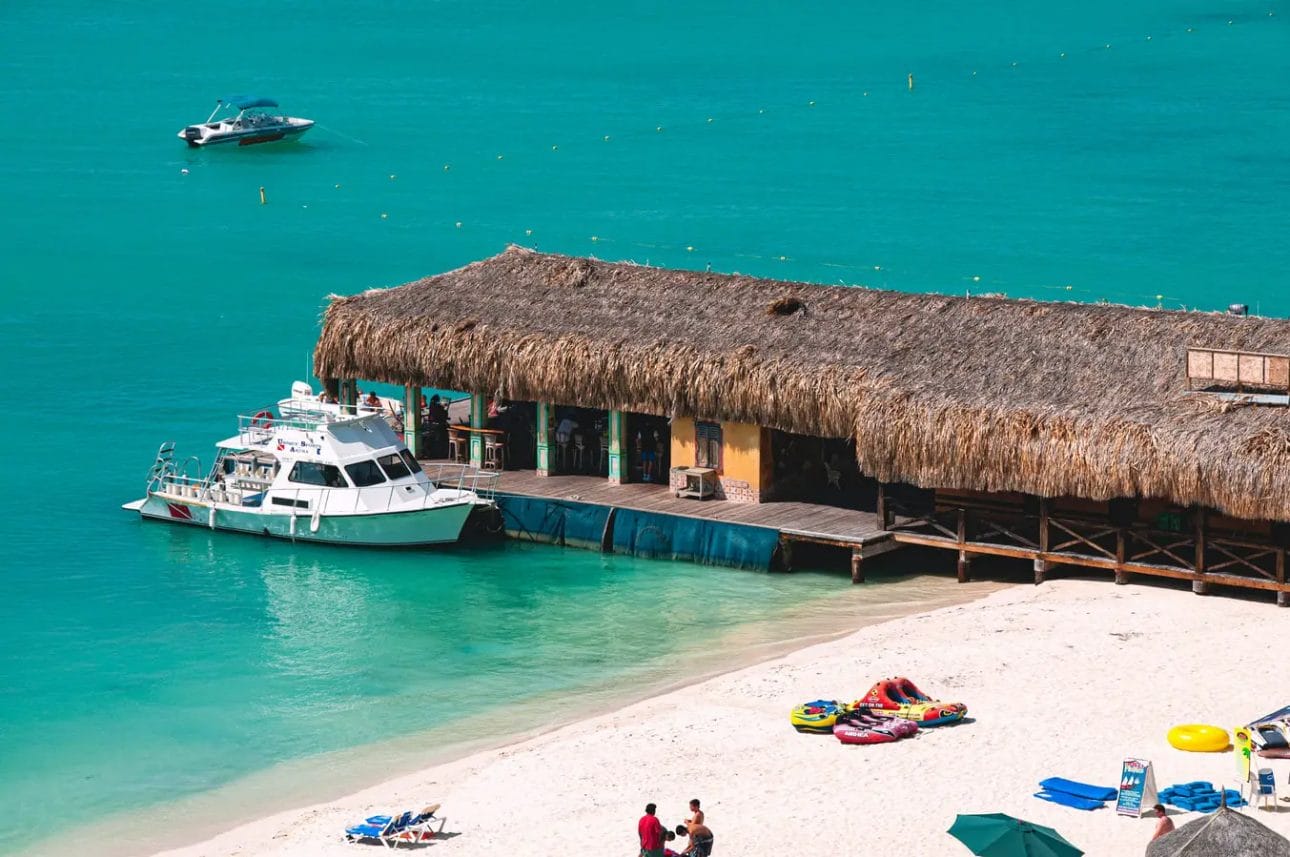 Grand Cayman is a water-lover's paradise. Even though the geography is similar to Aruba, there is much better snorkeling and dive sites to explore here. Considered one of the best experiences in the Caribbean, visitors shouldn't miss a swim in Stingray City.
As for beaches, Grand Cayman is known for its Seven Mile Beach; it's widely regarded as one of the gorgeous beaches in the world with its sparkling turquoise water and pure white sands.
Activities for Kids
Both islands have an array of fun experiences and activities for children to enjoy both in and out of the water. A visit to Aruba's Butterfly Farm is an unforgettable encounter; kids can step into a tropical garden full of butterflies and learn about the life cycle of these colorful insects.
The Cayman Turtle Center in Grand Cayman is a delight for families. There's so much to do at this popular attraction; you can swim with turtles, shop for handcrafted local treasures, and read all about the history and life cycles of these remarkable sea creatures.
Food and Drink
It's no surprise that seafood is a staple on both these Caribbean islands. Particularly in Grand Cayman, there is an emphasis on turtle and conch (a large, chewy mollusk). Tangy jerk preparations are frequently seen in restaurants, as the island has historical ties to Jamaica.
Aruba has many fast-food chains that can offer a quick and cheap alternative to the more pricey local restaurants; however, you still won't want to miss out on the Aruban flavors. A must-try dish is keshi yena — a round ball of cheese stuffed with spicy meat; we recommend the chicken keshi yena at The West Deck in Oranjestad.
Weather
The weather in Aruba is dry and hot all year round; however, there is almost always a constant breeze that takes away some of the sizzle; there is no monsoon season and no threat of tropical storms as it sits just outside the storm belt. Grand Cayman is hot and humid for most of the year with a dry, cool season from late November to mid-April.
Safety
Although tourist areas on both island destinations are considered to be two of the safest in the Caribbean, it is important that visitors stay alert. Avoid deserted areas at night, and always be aware of your surroundings and belongings.
Transportation
Public transportation serves the main way to get around in Aruba. You can jump on the island's Arubus system that is reliable and affordable, with buses running every 15 minutes.
Renting a car is the best way to see Grand Cayman, as it is the most accessible way to explore the whole island. Keep in mind you'll be driving on the left-hand side of the road!
Conclusion: Grand Cayman Vs. Aruba Vacation
So which of these Caribbean islands should you escape to?
We recommend Aruba for those travelers who want to have a variety of activities outside of the water to do, and who also want to experience a vibrant nightlife. Meanwhile, Grand Cayman would be a great getaway for those who want to spend a majority of their trip inside the crystal clear water doing a vast array of fun activities.
But the choice is up to you!