Aruba vs. Bermuda: Which Vacation is Better?
Planning your next vacation will be less difficult if you take the time to compare some desired locations, like Aruba vs. Bermuda. Each destination will have its advantages, and your choice will depend on many factors like weather, cost, and attractions.
The main difference between Aruba and Bermuda is that Bermuda is a better vacation location than Aruba for a few reasons, one being the total cost. However, each location has sights and activities for any tourist. Therefore, both places can be terrific spots for couples or families. 
| Category | Aruba | Bermuda |
| --- | --- | --- |
| Cost Range for 1 Week | $1,832 per person | $1,151 per person |
| Transportation | Arubus (public transit bus service), taxis | Public transit busses, taxis, ferry, mini-bus/car, scooters, bicycle and motorbike rentals |
| Notable Attractions | Capital city of Oranjestad, the Arikok National Park, the California Dunes and California Lighthouse | National Museum of Bermuda and Royal Navy Dockyard, Gibbs Hill Lighthouse, Fort St. Catherine, Horseshoe Bay Beach, Bermuda Aquarium, Museum, and Zoo, Fort Hamilton, the Haunted History Walking Tour |
| Weather | Hot and dry climate throughout the year, similar to a desert climate, rare for extreme weather patterns | Subtropical climate, late June to early September can be very humid, is susceptible to damaging tropical cyclone storms once every six or seven years |
| Food and Drink | Authentic Aruban cuisine, American cuisine, Fast-Food, International cuisine, European cuisine, Argentinian cuisine, Portuguese and Peruvian menus, Asian options, Italian and Spanish cuisine, Belgian and Dutch cuisines | Seafood, Italian cuisine, Caribbean, fast-food, Asian cuisine choices, American and British cuisine, European and International choices, French cuisine, steakhouses, Irish and Indian choices, pubs and bars, pizza and pasta, bakeries and dessert options, cafes |
Aruba is famous for its sandy beaches and relaxation in a tropical climate without such drastic weather changes.
Bermuda is well known for its exquisite beaches and gorgeous reefs where diving enthusiasts frequent regularly. Both locations have fantastic family-friendly activities and hidden gems to explore.
This article will discuss the many attractions and attributes of both Aruba and Bermuda to help you choose which vacation is better suited for you.
Cost of Stay: Bermuda Vs. Aruba
Both Aruba and Bermuda have low-cost alternatives for tourists, but still, have a wide variety of luxury hotels and middle-of-the-road selections for any budget. There is sure to be a perfect place to lay your head after a day of enjoying the local sights and taking in some delicacies.
Aruba
Aruba can be quite pricey to stay, but there are also fantastic options for those looking to vacation on a budget. The best time to take advantage of lower hotel prices is between April and August. The high tourist season is between January and March, making hotels more expensive.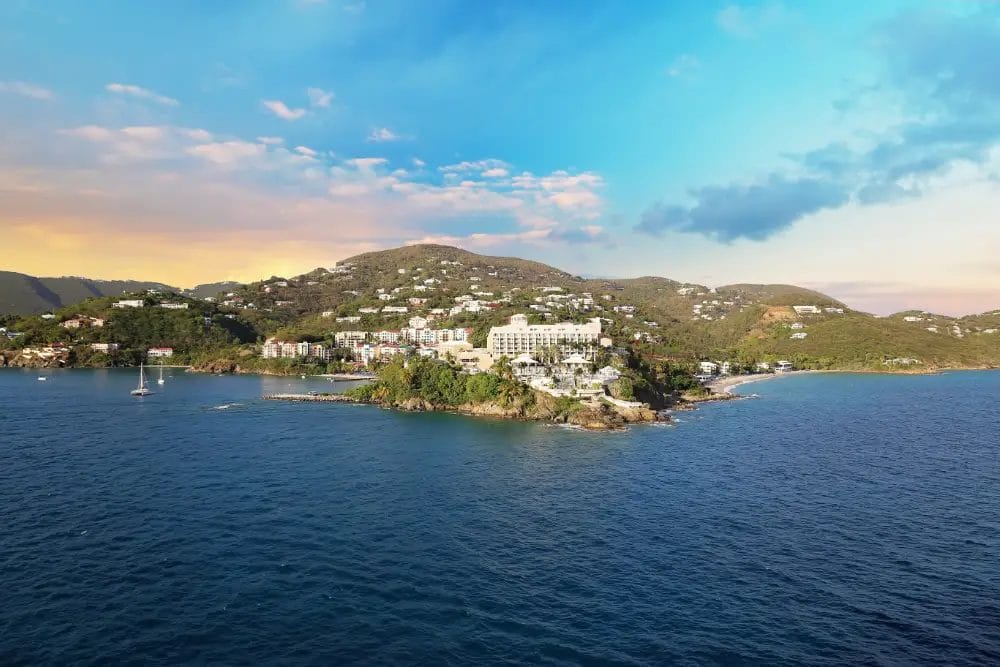 Aruba Blue Village is a prime spot to stay if you want to experience luxury for a reasonable cost. Another beautiful location that is very economical for travelers is the Aruba Beach Villas.
Bermuda
Bermuda's busy tourist season is between May and October each year, causing accommodations to jump drastically during that time. March and April are perfect times for visitors who want to stay on budget but still enjoy the warmer climate. The slow tourist season is November until March, where hotels can be significantly cheaper due to low occupancy.
Tourists in Bermuda who are economical will appreciate accommodations like the Willowbank Resort that delivers comfort without a high price tag. Oyster.com helps potential travelers by giving an honest opinion on the Fourways Inn that is an inexpensive, hidden gem in Bermuda.
Transportation
Aruba is more limited for getting around than Bermuda, as they have public transit busses and taxis for hire. Bermuda boasts a wide range of options from the ferry, public transportation busses, taxis, bicycle and motorbike rentals, scooters, and mini-bus/car rentals.
Major Attractions
Aruba has several notable attractions that keep visitors coming back every year. Oranjestad's capital city hosts a wide variety of activities for travelers, including shopping, guided tours, beaches, and more. The Arikok National Park is a wondrous beauty to behold. There is a great deal of landscape diversity across the 7,907 acres of the park with cultural and historical aspects.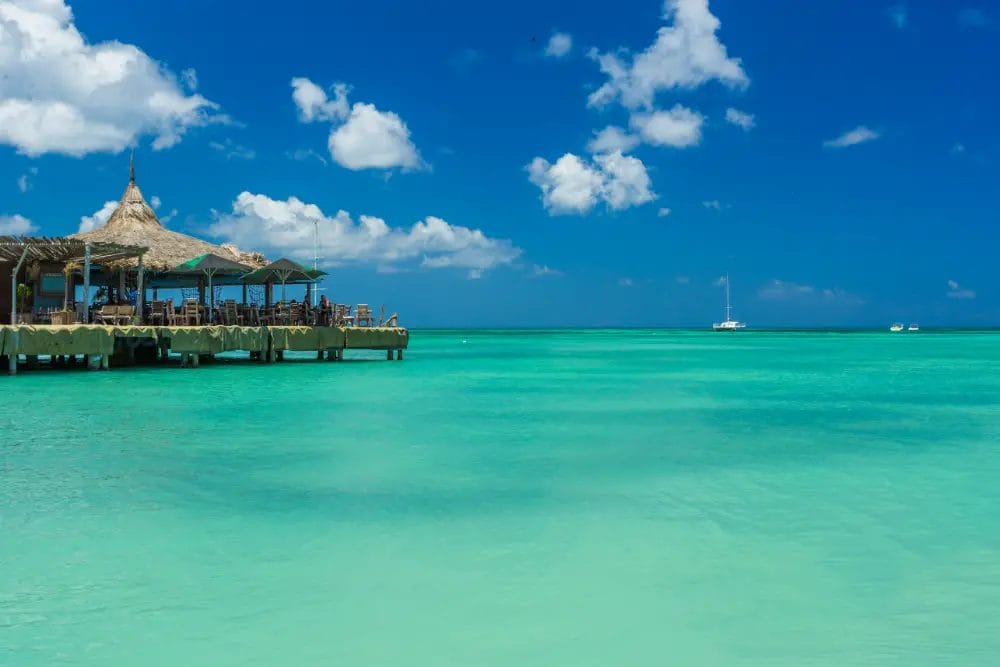 There are numerous attractions that Bermuda is famous for, including Horseshoe Bay, one of the more famous sandy white beaches that visitors enjoy year-round. The Gibbs Hill Lighthouse is well-known as the tallest lighthouse in Bermuda and the fact that it is made entirely of cast iron. Many visitors take the 185 steps to the top to enjoy the spectacular views.
Weather
One deciding aspect for tourists will be the weather when they are planning an upcoming trip. No one likes their vacation spoiled by torrential downpours or colder than average climate. Both locations will have optimal weather conditions during the year at specific times.
Aruba has a rainy season from October until the beginning of January, but it lies outside of the well-known hurricane belt, so there is little threat of tropical storms. Temperatures in Aruba are relatively consistent throughout the year, with dry periods ranging from February until August. September is regularly the hottest month of the year, with temperatures reaching 89°F(32°C).
Bermuda's temperatures are optimal during the summer months from May until October, where the temperatures reach around the higher 80°F(30°C) range. The official hurricane season lasts from June until November each year, but thankfully, Bermuda is rarely affected by drastic weather occurrences like hurricanes.
Food and Drink
Aruba
When in Aruba, eat like Arubans! There are numerous choices for authentic Aruban cuisine while visiting this island, including the Gasparito Restaurant.
You can find countless other options at other tourist destinations, including Caribbean, Argentinian, Portuguese and Peruvian, as well as Belgian and Dutch choices. There is also a wide variety of Asian options, Italian and Spanish cuisine, American, International, and European options.
Bermuda
Bermuda has something for every palate! With a focus on fresh seafood choices, tourists are sure to enjoy anywhere they feast. Restaurants that cater to the Caribbean, European, Indian, and international choices are full of tasty options. You can also find the more traditional French cuisine stops, Italian restaurants, steakhouses, pubs, and bars. American, British, and Irish options help round out the diverse food choices in Bermuda.
Hailed as one of the best places for authentic Bermudan cuisine and atmosphere, Marcus' is the place to visit when you can. With a world-class menu, you are sure to be satisfied with whatever you choose.
Conclusion: Aruba Vs. Bermuda
When comparing Aruba vs. Bermuda for the best vacation spot, making a decision can be tricky. Additional factors, including cost, attractions, and weather, can make or break your choice, so you must research all of the attributes that are important to you for your next holiday.
If you want to travel anytime throughout the year and prefer a warm, dry climate, then Aruba would be the best choice for you. Although, travelers who wish to visit more tropical islands may favor Bermuda but will have limited time frames where the weather is optimal for tourists.