4 Best Places To Get Loco Moco in Kauai
Loco Moco is a delightful traditional Hawaiian breakfast and a must-try if you haven't had it before. Unfortunately, finding the best Loco Moco can be difficult as not every establishment offers the dish. Luckily, there are several that do and do so exceptionally well.
The best places to get Loco Moco in Kauai are Marks Place and Unkos Kitchen. Both make delicious traditional Loco Moco and provide an excellent menu full of other authentic dishes you will love. In addition to great food, the pricing is reasonable, and the staff is extremely friendly.
In the rest of this article, I will discuss the top restaurants serving Loco Moco and some other great dishes they offer. So if you want to learn more about where to go to eat this fantastic dish, keep reading. 
1. Marks Place
Marks Place is one of the best places to get Loco Moco in Kauai. Their Loco Moco is a perfect traditional breakfast. Mark's also serves many other spectacular authentic dishes and has been in business since 1998.
With fabulous Loco Moco, Mark's Place has a few awards, making it a great place to eat from Tripadvisor, The Garden Island, and Hawaii Magazine. Additionally, unique specials are offered daily with Mark's standard menus.
Other than Loco Moco, some of Mark's most popular dishes include:
Katsu
Teriyaki beef
Teriyaki chicken
Beef stew
Coleslaw
Spam musubi
This list covers a few of the fantastic dishes Mark's Place offers. It's important to note that this restaurant only does takeout and doesn't have indoor seating. However, there is some outdoor seating around a few picnic tables. You can place your order upon arrival or ahead of time.
Marks offers a basic selection of beverages, such as soda and water, with other drinks occasionally available. You can ask for their full selection over the phone or in person.
As for location, the restaurant is located a short distance from the ocean in Kauai. Additionally, the establishment is only a short drive to Huleia National Wildlife Refuge, where you can book tours to explore the wildlife refuge.
2. Unkos Kitchen
Another fantastic dining option if you're looking for authentic Loco Moco is Unkos Kitchen. Unko has been operating for over 10 years with the goal of providing food that's not only affordable but also tastes great.
This establishment is known for its tasty dishes, relaxing environment, and friendly staff. Additionally, they have a breakfast, lunch, and dinner menu full of delicious traditional dishes.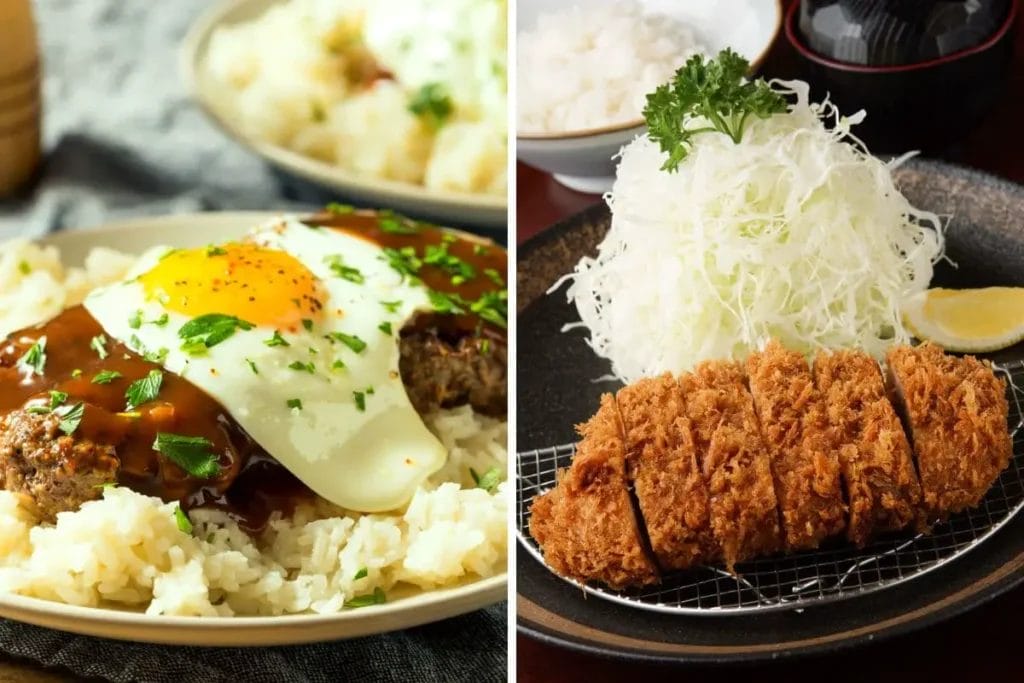 Some of Unkos best dishes include:
Loco moco
Kalua pork
Chicken katsu
Fried chicken
These are just a few of the fantastic meals they have to offer. Unkos also offers a great spin on traditionally styled cheeseburgers.
When it comes to beverages, you can choose from drinks like:
Coffee
Tea (hot or cold)
Hot chocolate
Location-wise, Unkos is near Hanapepe Swinging Bridge, a stunning tourist photo spot where you can cross a beautiful river on a swinging bridge. If moving bridges aren't for you, the restaurant is also near Hanapepe Town Park, perfect for a stroll after a delicious meal.
3. Kountry Style Kitchen Restaurant
If you're looking for a fantastic Loco Moco, look no further than the Kountry Style Kitchen Restaurant. This establishment does a great job of providing a cozy atmosphere and great food. Additionally, if someone in your dining party isn't a massive fan of Loco Moco, the menu is extensive, and there is something for every flavor preference.
This busy little restaurant is a favorite of locals and tourists. So you should try to stop in before leaving Kauai, or you will miss out on some truly delicious cuisine. Kountry Style offers breakfast and lunch throughout the week.
Some of their more popular dishes include:
Loco moco
Eggs Benedict
Strawberry french toast
Fresh local fruit
Kalua pork and eggs
Along with these incredible dishes, the coconut syrup you can order to top your pancakes has received rave reviews and comes highly recommended. Also, it's important to note that the portions are large, and you will most likely leave with plenty of leftovers.
As for beverages, Kountry Style has an extensive menu of drinks like:
Lattes
Teas
Milk
Sodas
Fresh juice
Regarding location, you can find Kountry Style a short trip from Kapaa Beach and quite close to the Historic Ahukini Terminal Railroad Bridges. The Terminal Railroad is a unique historical landmark undoubtedly worth checking out if you're in the area.
4. Kalapaki Joe's
Lastly, if you want fantastic Loco Moco on the island of Kauai, Kalapaki's Joe's comes highly recommended. Kalapaki offers a wide array of delicious foods, from breakfast to dinner. They also have a good selection of alcoholic beverages, so Kalapaki's Joe's is good for a fun night out too.
Since Kalapaki is a sports bar, they have a lot of hearty meat dishes, one of which is their loco moco. However, their menu is quite extensive; therefore, almost everyone can find something they will love.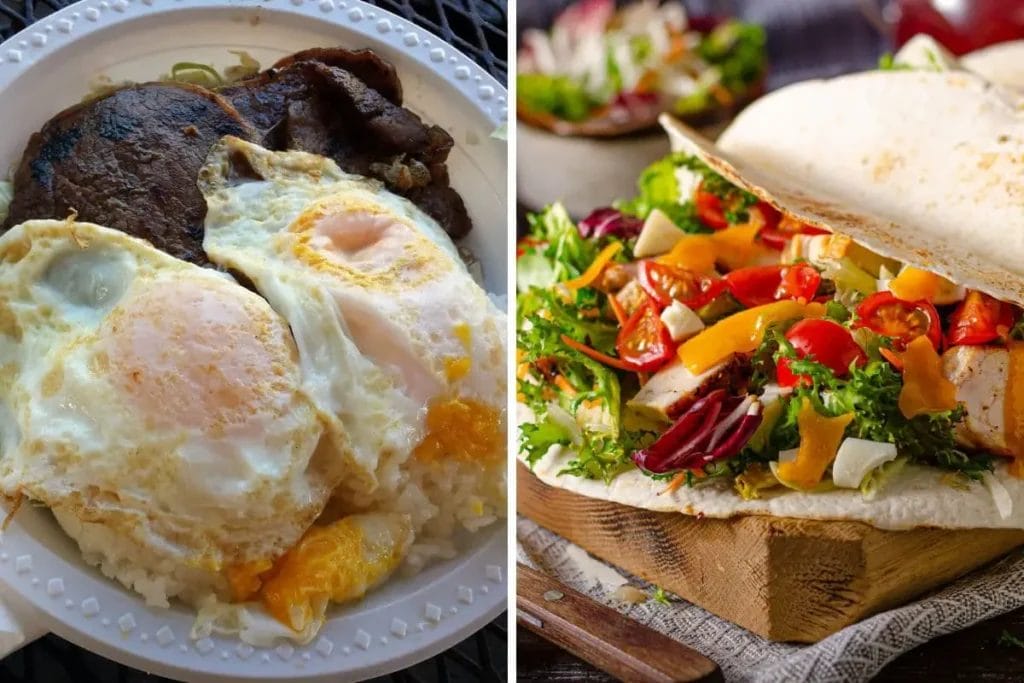 Some of Kalapaki Joe's best meals include:
Loco moco
Poke
Wings
Tacos
Vegan beyond burger
Along with these fantastic dishes, you can also order an array of delicious drinks, such as large Mai Thai cocktails and Lilikoi Ale, from a local brewing company. The drink menu has many beers and cocktails to choose from. They even offer cocktails mixed with Redbull.
Regarding location, you can find Kalapaki Joe's, a short drive from Brennecke's Beach, a beautifully scenic beach. There is sand, giant palm trees, and a stunning ocean view, making it a great place to take a walk after a filling dinner.