4 Best Places To Get Udon in Honolulu
Honolulu is one of the best places to get Japanese food, such as udon, soba, and sushi, thanks to its large Japanese population and proximity to the sea. However, with many places to choose from, finding the best udon in the city can be challenging if you haven't tried them all. But don't fret – I'm here to tell you about everyones' favorite udon spots in Honolulu.
The best places to get udon in Honolulu are Marugame Udon, Tsuru Ton Tan, I-Naba, and Ichikiri. Marugame offers the best udon at a low price. Tsuru Ton Tan has a menu of specialty gourmet udon, I-Naba is best for its soba and udon combos, and Ichikiri offers traditional and customizable hot pots.
So, let's look at what makes each of these udon spots unique! I've selected these restaurants for their very high ratings, recommendations by locals and tourists, and special flares to help you find some udon that comes with unbelievable flavors and a memorable dining experience.
1. Marugame Udon
Hours of Operation
Opens Mondays to Saturdays, from 10:00 AM to 6:00 PM
**Closed on Sundays
Price Rating
1/5
Reservation
Walk-in Only
Service Options
Dine-in | Takeaway | Delivery
Address
1104 Fort Street Mall, Honolulu, HI 96813
Phone Number
(808) 545-3000
Menu
Marugame Udon's Menu
Website
https://www.marugameudon.com/
Social
Marugame Udon on Facebook. Marugame Udon on Instagram.
Marugame Udon is a staple for locals, and it has gained a reputation as the best place to get Japanese Udon on Oahu. Marugame Udon also has a location in Waikiki, but that one often has lines that wrap around the block.
That said, This location in downtown Honolulu is much less crowded, so you probably won't have to wait in line for longer than a few minutes.
This Marugame Udon is also just 0.7 miles (1.12 km) from Iolani Place, the Hawaii State Art Museum, and the King Kamehameha Statue. So, this is the best place to grab lunch or dinner after touring Honolulu's most famous historic sites!
Unlike most udon spots, the chefs here pull their noodles and cook them fresh, so you won't get old, soggy noodles here. Everything tastes like it just came right off the stove – because it did!
Their Nikutama Udon is their most popular dish, and it comes with some delicious savory and sweet beef, a hot spring egg, and their classic kake soup. Top it off with their complementary tempura flakes and green onions for the best udon you'll ever have!
Marugame also offers a genuinely spectacular Matcha Latte and many other teas, so grab one before you head out the door.
2. Tsuru Ton Tan Udon Noodle Brasserie
Hours of Operation
Open 7 Days a Week
From 11:00 AM to 2 PM, then again from 4:30 PM to 9:00 PM
Price Rating
3/5
Reservation
Recommended
Service Options
Dine-in | Takeaway | Delivery
Address
2233 Kalākaua Ave B310, Honolulu, HI 96815
Phone Number
(808) 888-8859
Menu
Tsuru Ton Tan's Menu
Website
https://www.tsurutontan.com/hawaii
Social
Tsuru Ton Tan Waikiki on Facebook. Tsuru Ton Tan Hawaii on Instagram.
Tsuru Ton Tan is an elevated Japanese restaurant offering sushi, gourmet udon, and tempura in a stunning setting. You don't need to dress up to eat here, but expect a high-class atmosphere – perfect for a date night!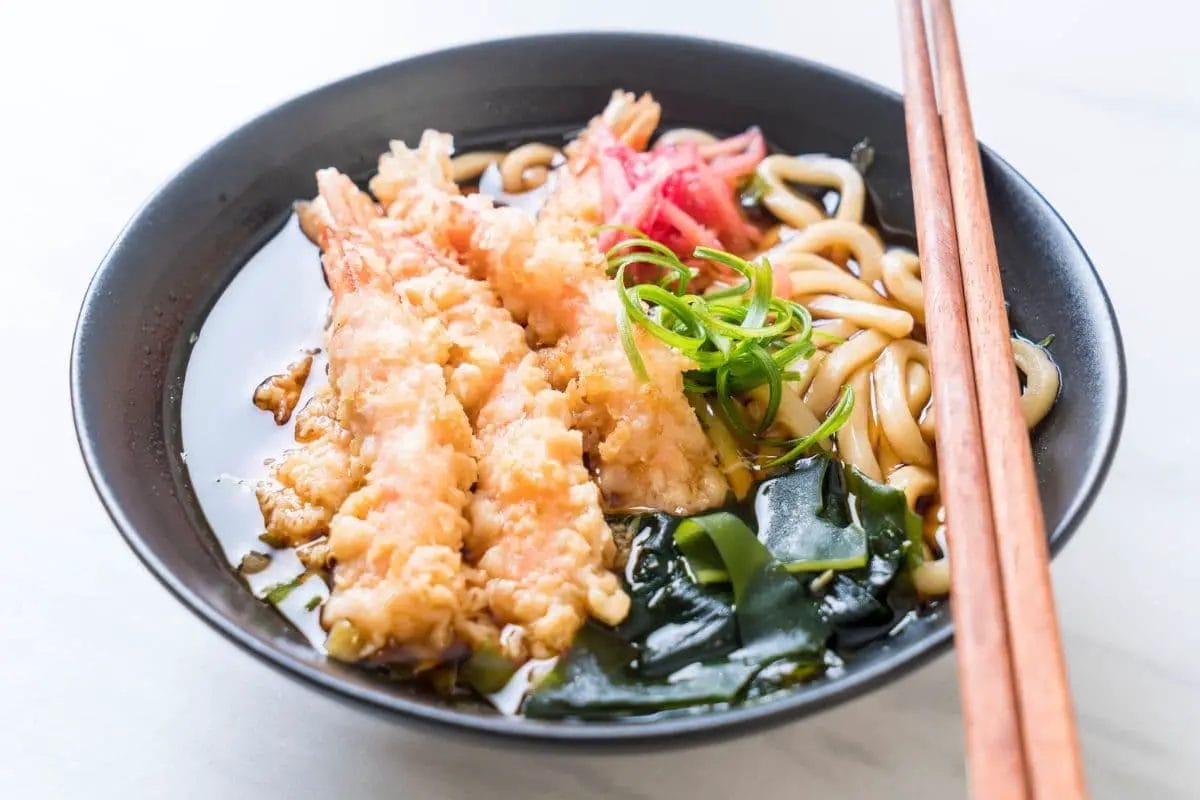 It's just 0.4 miles (0.64 km) from Waikiki beach and near all of the best shops and bars in Waikiki, so it makes for a fantastic dinner after soaking up some sun and wandering around Hawaii's most famous beach town.
The udon at this restaurant is remarkable. Aside from their excellent house-made udon noodles, their broth and toppings feature interesting and exquisite ingredients, such as wagyu, caviar, ahi poke, truffles, and crab, for a truly unforgettable meal.
It can be a bit pricier here, but the serving sizes are large. In addition, they have a happy hour from 11 AM to 2:30 PM and from 4:30 PM to 5:30 PM.
The discounts vary depending on the dish, but you can get half-off on their most popular udon bowls, like their Tan Tan Udon. Plus, the deals extend to their sushi menu.
If you come here, I recommend trying something new, like their very popular Tsuru Ton Tan Deluxe Udon. Their Lava Roll is also one of their best-selling sushi options, so grab one for an appetizer!
You can also finish your meal with one of their inexpensive draft beers, soju, sake, wine, hard seltzers, or cocktails. I recommend their Asian Pear Mojito since you won't find another drink like it outside of Japan or Hawaii.
3. I-Naba
Hours of Operation
Open Thursdays to Mondays,
From 11:00 AM to 2:00 PM, then again from 5:00 PM to 8:00 PM
**Closed on Tuesdays and Wednesdays
Price Rating
3/5
Reservation
Recommended
Service Options
Dine-in | No Takeaway | No Delivery
Address
1610 S King St Honolulu, HI 96826
Phone Number
(808) 953-2070
Menu
I-Naba's Menu
Website
https://inabahonolulu.com/
Social
I-Naba Honolulu on Facebook. I-Naba Honolulu on Instagram.
I-Naba is a small mom-and-pop restaurant specializing in soba and tempura, but their udon is also one of their most popular dishes. You can substitute their soba noodles with their homemade hand-pulled udon, which are always delicious, perfectly chewy, and fresh.
It's located in McCully, next to Ala Moana, and it's a great spot to stop when traveling between Honolulu's downtown districts and Waikiki.
This place is a local favorite, and there's usually a line going out the door during lunch and dinner, so I recommend making reservations if you want to eat here!
Everyone loves their tempura, so be sure to try some. As far as udon goes, I-Naba's best seller is their hot tsukimi udon. It's delicious, especially when paired with their light, fluffy tempura.
Also, pro tip: you can order any of their soba dishes with half udon noodles and half soba noodles. Feel free to customize your order!
This establishment is BYOB, so if you want to drink, grab something at the nomnom across the street or the Times Supermarket Down the Block.
4. Ichikiri Japanese Nabe Restaurant
Hours of Operation
Open 7 Days a Week, from11:00 AM to 9:30 PM
**On Fridays and Saturdays, from 11:00 AM to 11:00 PM
Price Rating
4/5
Reservation
Recommended
Service Options
Dine-in | Takeaway | No-contact delivery
Address
510 Piikoi St, Honolulu, HI 96814
Phone Number
(808) 589-2299
Menu
Ichiriki Nabe's Menu
Website
http://www.ichirikinabe.com/
Social
Ichikiri Nabe on Facebook. Ichikiri NabeMan on Instagram.
Ichikiri is a traditional Japanese hot pot spot with a fully customizable menu of dishes. They offer a truly authentic atmosphere with floor seating and standard tables, but I always recommend sitting on the floor for the most memorable experience.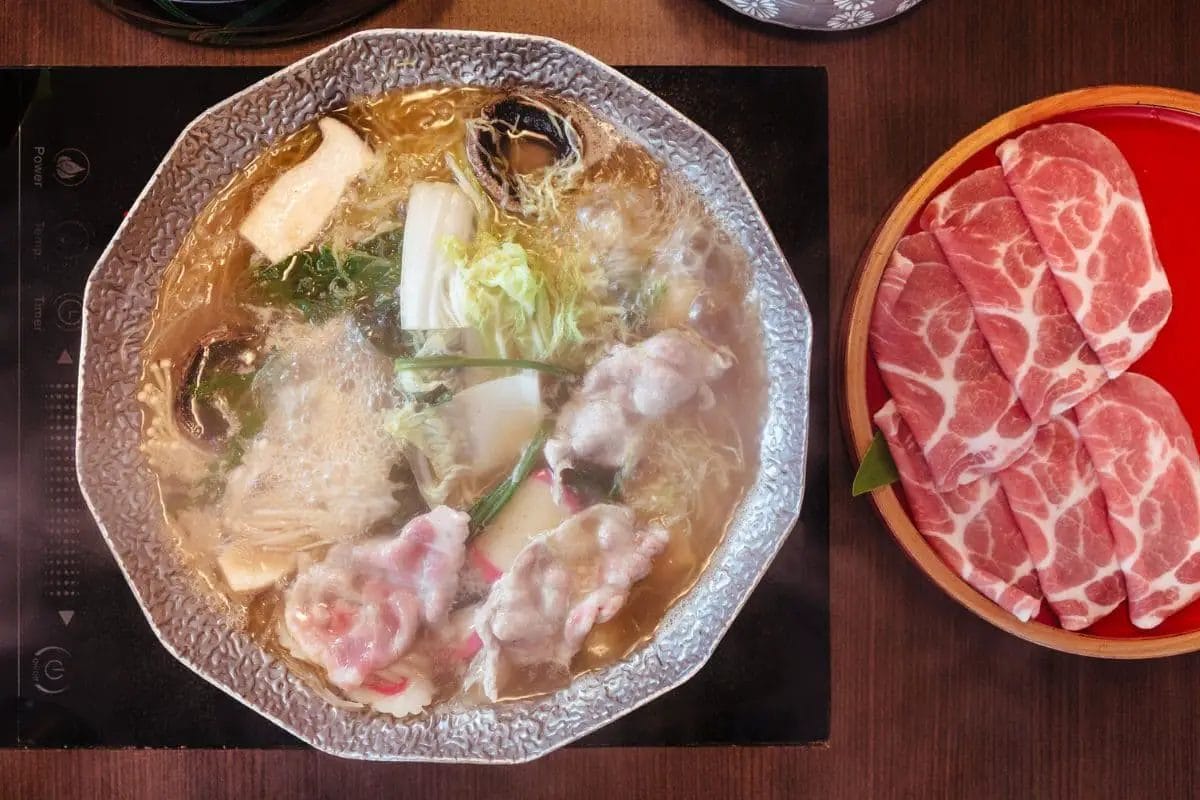 The best part about their menu is its step-by-step "design your own meal" layout, where you choose your broth, veggie and meat set, starch, and extras, allowing you to get a unique hot pot that fits all of your preferences.
Naturally, their udon is top-tier, homemade, and delicious. While there are many options, I recommend getting the Paitan pork broth base with the shabu shabu set and udon noodles. Top off your hot pot with beef balls, and you'll have a meal you'll never forget.
Ichikiri offers an outstanding drink menu with beer, sake, soju, and cocktails. I always get the lychee soju here, but you can't go wrong with anything!
The prices here are a bit higher than average, but you get a lot of food, and the atmosphere is terrific. Plus, having so many options with large serving sizes makes this an excellent place for groups and dates.