Aruba vs. Cancun: Which Vacation Is Better?
The Caribbean region offers outlandish tourist destinations with picturesque white sandy beaches, turquoise blue sea waters, luxurious resorts, and near-perfect weather. You're in a dilemma about whether to tour the one happy island of Aruba or the hotbed of Mexican tourism, Cancun. In this Aruba vs. Cancun battle for your vacation dollars, these are the factors you'll want to consider…
Aruba is the better vacation option if you want an epic tropical paradise, and if you're into white sandy beaches, luxury resorts, snorkeling, and hiking. Cancun is cost-effective and would be perfect if you relish a vibrant nightlife, spectacular historical sites, and stunning cenotes as you sample impeccable beaches and delicious cuisines.
| Category | Aruba | Cancun |
| --- | --- | --- |
| Cost of Stay: Weekly (USD) | $ 1,821 per person | $ 635 per person |
| Transportation | Taxis, Arubus bus system, minibuses, car rentals, free trolleys, motorcycle and scooter rentals, a tramway line, ferries and planes | Taxis & shuttles, ADO (public city bus services), car rentals, motorbike, and scooter rentals, ferries, and planes |
| Notable Attractions | Arikok National Park, Boca Prins, California Lighthouse & California Dunes, Aruba's Dive Sites, The Natural Pool, De Palm Island, Aruba Ostrich Farm, Flamingo Beach, Butterfly Farm, Donkey Sanctuary, Hadicurari Beach, Eagle Beach, Baby Beach | Beautiful beaches, Mayan ruins of Chichen Itza, El Ray Maya ruins, The Maya Museum, The Cancun underwater museum (MUSA), El Meco archeological site, The scenic tower and Xcaret, Urbano Kabah Park, Isla Mujeres, Tulum |
| Weather | Tropical warm weather all-year-round. Average temp. 82℉ (28℃).Lies out of the hurricane paths | Tropical warm weather all-year-round. Average temp 77°F (25°C) |
| Food and Drink | Seafood, local and international cuisine. Numerous restaurants, open cafes, and bars | Mexican cuisine, seafood, international cuisine, numerous lounges, and bars. |
| Activities for Kids | De Palm Island, Atlantis submarine, Baby Beach, Palm Island, Donkey sanctuary, Flamingo Beach, Philip's Animal Garden, Ostrich Farm, Paseo Herencia Mall, Aruba Waterpark | Xcaret, Dolphin Discover, Jolly Roger Pirate Show, All Ritmo Water Park, Croco Cun Zoo, Interactive Aquarium, Parque las Palapas, Isla Mujeres, Ventura Park |
| Nature Attractions | Arikok National Park, Nature Bridge, Ostrich farm, Flamingo Beach | The numerous Cenotes, white sandy beaches, turquoise blue seas, underwater attractions (coral reef) and lively marine life, Isla Mujeres |
Overview: Cancun Vs. Aruba
Aruba is an arid island that measures 19 miles (30 km) long and is part of the Netherlands' kingdom. It's located 15 miles (24 km) off the coast of Venezuela. It has picture-perfect white sandy beaches, clear seas, lavish resorts, and a steady tropical breeze.
Cancun is a city on the southeast of Mexico on the Yucatan Peninsula famed for its historic sites, vibrant nightlife, and outstanding beaches.
This article will further explore the two destinations to enable you to decide which will be a better getaway.
Cost of Stay
The best time to visit Cancun and get pocket-friendly rates is during the low-season months of July to October when it's a bit wet. The Caribbean belt is prone to storms at this time hence the low accommodation and air-ticket prices. The peak season starts from January to March when it's winter season in the North (USA & Canada).
Cancun's Airbnb presents a less expensive accommodation alternative you'd want to explore if on a budget. They are also near the beach-line.
Aruba offers multiple accommodation packages that you can choose from to suit your family size, the period of stay, and your budget. Accommodation in Aruba's prestigious resorts can cost between $300-500 per night, but hotels and BnBs are cheaper than the high-district Plam Beach area.
Check out Aruba hotel reviews in advance to view hotels, resorts, timeshare and apartments, all-inclusive resorts, and adult-only getaways.
Best Affordable Hotels
There are numerous affordable hotels in Cancun. They range from prime resorts to budget homes not far from the main attractions and beaches.
The Pyramid at Grand Oasis is a top resort that features lavish luxuries, stunning sweeping city views, beach access, swimming pools, massage spas, and in-house eateries.
However, for the whole family, The Westin Lagunamar Ocean Resort Villas is a perfect, affordable accommodation.
There are luxurious seafront resorts in Aruba, family-friendly apartments, fascinating B&Bs, exclusive resorts for couples, and modern hotels with casinos since gambling is legal. Most hotels are on the northeastern side of the island. Popular, high-end resorts are concentrated on Palm Beach.
Less expensive accommodation can be found on Eagle Beach that's in between Palm Beach and Oranjestad, the capital city.
If you're looking for a romantic excursion, Aruba's Sunset Beach Studios will suit you. It's affordable ($100-150 per night) and is a walking distance to the beach.
If you're looking for premium accommodation, we recommend The Hilton Aruba Caribbean Resort & Casino on Palm Beach. It has iconic beach views, multiple modern amenities, a world-class spa and casino, and private balconies. It can be costly, but the experience is unforgettable.
Main Attractions
You'll get warm weather, white sandy beaches and clear turquoise sea waters at both Aruba and Cancun. However, each has its unique peculiarities that you'll want to examine before you book your ticket.
An electrifying nightlife characterizes Cancun. It's also generously dotted with ancient attractions of the Maya kingdom such as the famed Chichen Itza, one of the new seven wonders of the ancient world, and a UNESCO world heritage site.
Its countless cenotes, created by sunken limestone rocks, offer a magnificent once-in-a-lifetime underground swimming experience. Il Kil Cenote surpasses them all. The unparalleled underground museum (MUSA) in the waters surrounding Cancun and Isla Mujeres is spectacular, with over 500 life-size sculptures in the coral. At the interactive aquarium, you'll have the rare opportunity to swim with rays, dolphins, sharks, and swarms of fish.
Aruba, on the other hand, is a biodiversity haven. There is the Arikok National Park, natural caves, and a natural bridge, making it irresistible to hikers. A flamingo beach, butterfly farm, donkey sanctuary, and teeming sea life complete its biologically diverse portfolio.
Its reliable trade winds make it the go-to spot for water sports enthusiasts for kitesurfing, windsurfing, and parasailing. Snorkeling, shipwreck diving, and gambling are some of Aruba's notable addictions.
Activities for Kids
Although there are outdoor activities suitable for kids in both destinations, Aruba has the upper hand, and here is why.
Baby Beach has shallow waters ideal for kids to swim in. Hiking adventures at the Arikok National park and a visit to the ostrich farm, donkey sanctuary, and flamingo beach can be exhilarating for kids.
De Palm Island is a sort of all-inclusive kids-fun-activity resort. It has spectacular water slide jumps and a plethora of amusements such as swimming, snorkeling, zip line, and a banana boat that will thoroughly entertain the kids.
The Atlantis submarine is a great vessel for under-sea adventure.
Food and Drink
It's advisable not to go for all-inclusive plans to sample authentic dishes from various restaurants in both destinations.
Mostly restaurants in Aruba's resort area offer seafood and international cuisine and tend to be pricey. It's cheaper outside the tourist areas where you get tasty traditional Aruba delicacies such as Keshi yena, satee, and arroz con pollo.
We'll recommend the mouth-watering Keshi yena. It's a traditional Aruba food of Dutch-origin heavily centered on cheese, wherein Cheese balls are crammed with marinated meat and coated in Edam cheese. Pure temptation.
There are numerous high-end and mid-level food joints, open eateries, and a string of clubs and bars. You'll find American eateries sprawled all over the main tourist district.
Cancun's restaurants have a variety of authentic Mexican food, seafood, and international cuisines. Food prices are much lower compared to Aruba. Ceviche is a most sought after delicacy consisting of raw fish marinated in lemon juice and served with finely chopped onions, cilantro, chiles, and fruit.
Cancun's nightclubs serve an array of freshly-blended tropical drinks and rare cocktails.
Weather
The weather on both destinations is warm throughout the year, with minor temperature fluctuations. The wet season in the Caribbean begins in June, so you might experience more rainfall from June-November. The hottest temperatures are between May and September. If you're on a budget, travel during the wet season.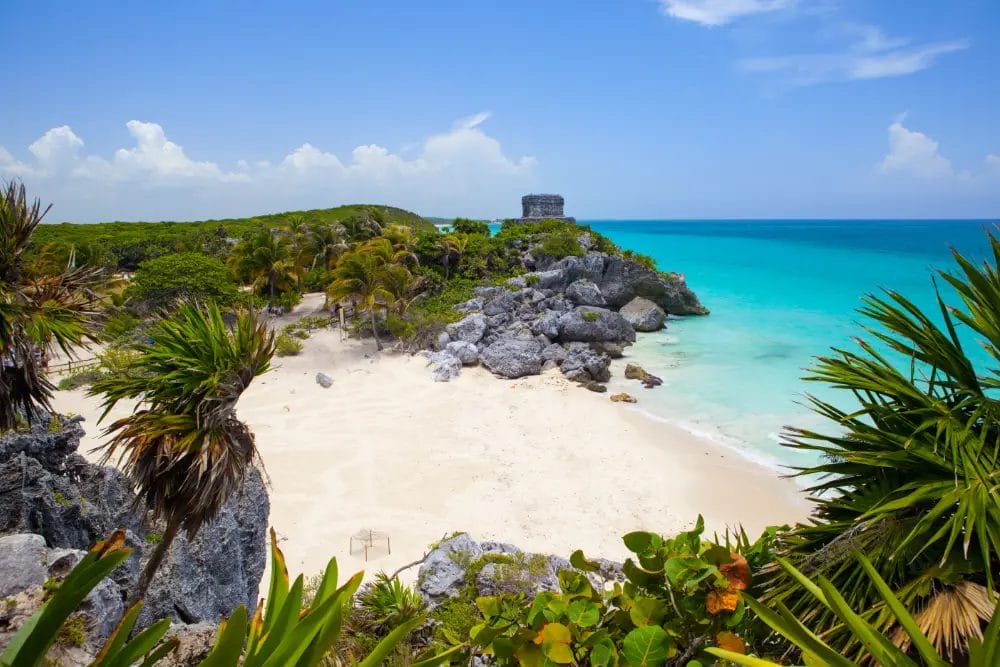 Aruba lies outside the Caribbean hurricane belt. However, hurricanes are a real threat to Cancun.
Safety
Both destinations are generally safe for tourists, but it's always advisable to stay vigilant and avoid isolated locations, especially at night.
Transportation
Public transport via the government bus system, Arubus, is reliable. Therefore, you do not have to rent a car. Moreover, Aruba is a relatively small island measuring 21 miles (33 km) long, and you can drive across the entire island in thirty minutes. Taxis and Uber are available from the airport.
You can rent cars, motorbikes, and scooters in Aruba and Cancun.
The bus system in Cancun is cheap and reliable, and the drivers are informative and friendly. Cancun's attractions are scattered over a wider area from Tulum, Playa del Carmens, to Cancun. Renting cars can be handy for far-placed attractions. Uber operates in Cancun, but they've had problems with the local taxi unions.
Conclusion: Aruba Vs. Cancun
There is a litany of near-perfect holiday getaways in the Caribbean belt that make it difficult to choose from. You get to sample exquisite beaches, tropical breeze, tantalizing cuisines, and friendly locals.
Cancun stands out if you're into some rustic historical destinations that give a glimpse into ancient civilizations. The outrageous nightlife in Cancun is irresistible if you're a party animal.
Aruba, the one happy island, offers a great variety of attractions that are easily accessible being on a relatively small island. Hiking, watersports, and the biodiversity on the island would make it great for a family vacation. Tourists with children will find that Aruba offers more for the children in amusement parks.