Which Temple Should I Visit First in Tirupati?
If you're booking a spiritual journey to India, you might want to add Tirupati to your list of must-see destinations. Not only is Tirupati rich in culture and authentic Indian cuisine, but it's also a beloved religious and spiritual center with tons of fascinating history behind it. Due to its numerous temples, choosing one to start with can be challenging.
The first temple you should visit in Tirupati depends on your preferences. If you prefer to see the largest of the Tirupati temples, you may want to visit the Sri Venkateswara Temple first. However, if you like to visit calmer sites, the Kapila Theertham may be the better option.
This article will explore some necessary information about Tirupati that may be helpful for visitors. We'll also be discussing some of the most famous temples in the area before attempting to determine the best one to visit first.
Tirupati: A Brief Overview
Before exploring all of the temples Tirupati offers, it might be a good idea to learn a little more about the city and the surrounding area. After all, a city isn't the sum of its landmarks. Instead, it's a culmination of culture, cuisine, transportation, and people.
Let's explore those factors and learn what Tirupati has in store for its many visitors! Firstly, let's begin by identifying where Tirupati is located and what kind of weather it experiences.
Location and Climate
Tirupati is an Indian city located within the country's Southeastern coastal area. More precisely, it is a bustling city situated within the Chittoor District of Andhra Pradesh, one of India's 29 states.
Though it's overflowing with history and heritage, its popularity as a pilgrimage and touristic site has helped propel it into the future. As such, it's a relatively prosperous city with plenty of opportunity and culture.
Tirupati lies at the base of several hillsides, and it has a tropical climate. This location makes for wet summers and lukewarm, rainy winters. May and June tend to be the hottest months of the year for Tirupati, with average temperatures quickly reaching over 100℉ (37.8°C).
Visitors may want to arrive in Tirupati sometime between November and January to avoid the massive crowds, monsoons, and unbearably hot weather. Still, if you plan on stopping by Tirupati during a trip to India, you'll want to be prepared for rain.
Local Cuisine
Several restaurants in Tirupati cater solely to tourists' tastes. These restaurants typically feature a wide variety of cuisines, including American favorites, Indian classics, and continental snacks.
Still, the overwhelming majority of available grub is vegetarian due to a heavily Hindu population and tourism sector. Don't be surprised to see many rice, veggie, and yogurt dishes being sold on the street and in eateries.
Accommodation Options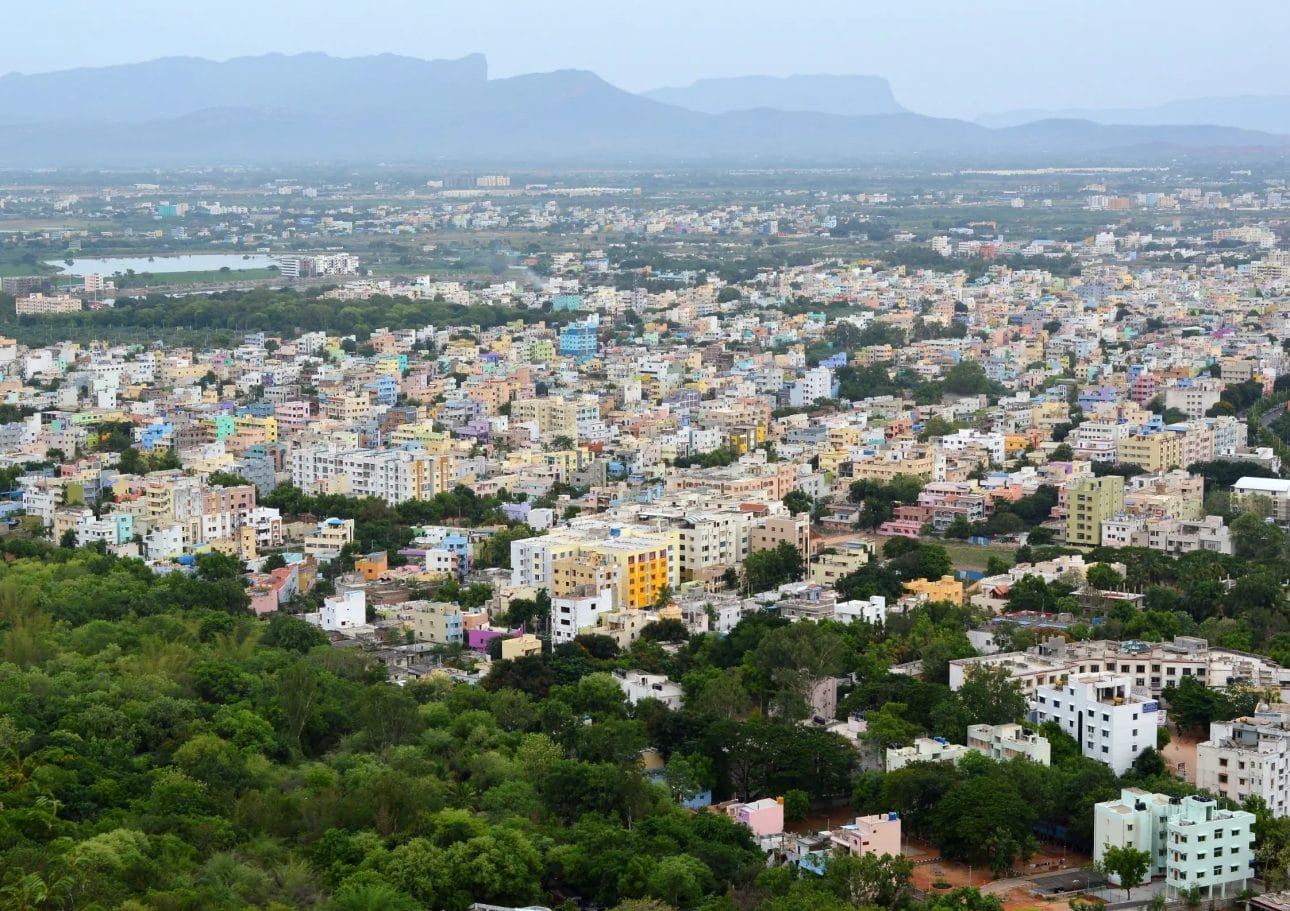 Though Tirupati isn't home to many swanky 5-star hotels, most people who come to visit aren't doing so to experience a luxurious vacation. Instead, many of Tirupati's tourists are religious pilgrims coming to worship at sacred temples and shrines. The accommodation in this area reflects this tradition.
That said, there are a handful of jaw-droppingly stunning hotel options for guests that want to experience the best possible pampering. The Marasa Sarovar Premiere and its many pools, bars, and eating options come to mind.
However, for the best and most dramatic views of the surrounding wilderness, you can't beat the Hotel Pai Viceroy. No matter which hotel you choose, keep in mind that the nightly rate is likely to be about a third of the cost of a standard US hotel room. This price difference makes for a fantastic opportunity to treat yourself.
Transportation
Though many visitors find India's transport system overcrowded and confusing, there is something to be said about the wealth of transport options you have upon arriving in India. You could visit Tirupati by arriving at the Tirupati Railway Station (TPTY), the Tirupati International Airport, the Sri Padmavathi Bus Station, or by rented car.
Once you're in Tirupati, getting around is a relatively straightforward process. Most of the temples are within several miles of one another, so visitors ready for a good walk should have no trouble transporting themselves to their destinations.
Otherwise, buses, taxis, bicycles, and rental cars can keep you off your feet and onto the next site.
Tourism
The primary source of tourism for Tirupati is its many temples and religious sites. However, that doesn't mean that spirituality is the sole source of Tirupati's wealth and attraction. Tirupati is home to some of the world's most stunning geologic formations and some unique flora and fauna species.
Suppose you ever get bored of exploring this city's many temples. In that case, you could always choose to take a hike at the Sri Venkateswara National Park or explore one of the many smaller nature parks along National Highway 71 (NH 71).
Temples in Tirupati
There are more than a dozen temples in Tirupati. If you're looking to explore some of the most beloved Hindu temples while you're in town, you'll want to check out at least a few of the following temples.
To start things off, we'll take a look at the Sri Venkateswara Swamy Vaari Temple, also called the Venkateswara Temple. It's perhaps the most well-known temple in Tirupati, and it may also be one of the largest and most expansive.
Venkateswara Temple
As the name of this temple might suggest, the Venkateswara Temple is dedicated to the worship of one of Vishnu's many forms, Venkateswara. It is a place of pilgrimage for many Hindus due to its religious significance.
The exact age of the temple is unknown, though it's believed to be several hundreds of years old, if not far older. Visitors are asked to leave their gifts at home, and there is a strict no-photography rule once you've entered the temple.
Text-based guides of the temple can help you get a feel for the majesty and opulence of the place, but seeing the complex with your own eyes is the only way to take in everything this ancient temple has to offer.
Kapila Theertham
The Kapila Theertham Temple lies just beside and below a gorgeous waterfall. It can be reached by long concrete walkways that are often partially flooded or covered by water.
Bathers are a common sight, though the temple caretakers have blocked the main pool's deeper areas from the general public due to its harrowing depths and strong currents. Still, many of this temple's visitors take a moment to douse themselves in the surrounding water.
Still, from the moment you walk through the decorated stone gate to the minute you physically reach the powerful waterfall's splashy dropoff, Kapila Theertham is a spiritually-charged place that emits some enormously positive vibes. It's nearly impossible to ignore the thrill and energy of merely being in this place.
Padmavathi Temple
The Padmavathi Temple is a towering structure. It is a spiritual place devoted to worshipping Venkateswara's consort, Padmavathi. As such, visitors may see many golden lotus statues placed throughout the temple.
One of the exciting features of this site is that it is part of a more massive worship complex. There are two sub-temples near the main Padmavathi Temple, allowing visitors to stop and pray to many gods and goddesses.
Tourists can explore the Sri Krishna Swamy Temple, the oldest temple of this particular complex. This smaller worship site was built in the 13th century. Its adjacent structure, the Sri Sundararajaswamy Temple, is slightly more recent and was constructed in the 16th century.
Govindaraja Temple
Though many people choose to go to New York City when wanting to view backbreaking, tall skyscrapers, the Govindaraja Temple can give you the same feeling but without all the hot dog carts. It is about 50 meters (164 feet) tall, or roughly seven stories.
This height might not seem very large by modern standards, but the Govindaraja Temple is nearly a thousand years old. Certain parts of the temple complex are far older. It is almost impossible to keep from tilting your head upwards toward the many golden cone-like spires at the top upon approaching the temple.
There, you'll spot an impressively ornate array of gods and goddesses, as well as an ancient brass bell. It isn't easy to stand in this site's presence and not feel a rush of potent energy and immense respect. Still, the surrounding shops and stalls can be somewhat distracting.
Which Temple Should You Visit First?
The most straightforward answer to this question would be to say, "Visit Venkateswara Temple! It's gorgeous, massive, and one of the most-visited sites in Tirupati!" However, if you have a few days at your disposal, you could choose to "save the best for last" and experience several of the local Hindu temples.
As such, your preferences will play a significant role in choosing the first temple to visit. If you're short on time, you might want to go big before going home. In that case, the Venkateswara Temple is an easy option. However, if you're in the mood to explore, you could choose to start with the smallest of Tirupati's temples (like the Tataiahgunta Gangamma Temple) and work your way up.
The best option for you is the one that leaves you feeling comfortable and excited. If gigantic shrines and monuments leave you weak at the knees, visit the Govindaraja Temple, the Padmavathi Temple, or the Venkateswara Temple first. If quaint rural beauty is more your style, visit the Kapila Theertham or the Kapila Theertham temples first.
Conclusion
There are many temples in Tirupati. Some are better suited to visitors than others. The first temple you choose to visit should be one that leaves you feeling comfortable and eager to see more local sites.
If you're okay with crowds and large landmarks, a more massive temple may suit your needs. If you're uncomfortable with the idea of being in a sea of people, you may want to opt for one of the more out-of-the-way temples surrounded by natural splendor. Still, your trip length will also help you determine a great option to visit first.