Turks And Caicos Vs. Greek Islands
Looking for your next dream vacation? Discover the captivating charms of Turks and Caicos and the Greek Islands.
The main difference between Turks and Caicos and the Greek Islands lies in their geographical location and cultural ambiance. Turks and Caicos, situated in the Caribbean, boasts stunning white sandy beaches and a laid-back island vibe, perfect for those seeking relaxation and water activities. The Greek Islands offer a rich historical and cultural experience, with ancient ruins, picturesque villages, and diverse landscapes.
Travelers inclined towards beach-focused serenity should opt for Turks and Caicos, while those seeking a blend of history and natural beauty should consider the Greek Islands.
| Aspect | Turks and Caicos | Greek Islands |
| --- | --- | --- |
| Cost Range for 1 Week | $992 – $4,556 (source) | $664 – $6,988 (source) |
| Location | Caribbean, southeastern Bahamas | Southeastern Europe, Aegean and Ionian Sea |
| Geography | Low-lying coral islands | Varied landscapes, including mountains and sea |
| Language | English | Greek |
| Government | British Overseas Territory | Parliamentary Republic |
| Currency | United States Dollar (USD) | Euro (€) |
| Tourism | Famous for pristine beaches and diving | Rich historical sites and cultural heritage |
So pack your bags and embark on a journey filled with sun-soaked beaches, fascinating history, and delicious flavors. Your dream vacation awaits!
A Journey Through History and Nature
First stop, Turks and Caicos! Can you believe that these islands were inhabited by the Taino and Lucayan tribes dating all the way back to 700 AD? Talk about ancient roots! From the footsteps of Christopher Columbus to the trials of the salt industry and the tug-of-war between the Spanish, French, and British, these islands have seen it all. Today, they proudly stand as a British Overseas Territory, a living testament to the vibrant tapestry of their past.
Now, let's sail over to the Greek Islands – a true playground of history and myth! Picture this: settlements that existed during the Neolithic Age, home to legendary heroes, great philosophers, and epic wars that shaped the course of civilization. I mean, who wouldn't want to walk in the footsteps of gods and warriors? With Byzantine splendor and the echoes of the Ottoman Empire, these islands are like a time machine taking us back to the glorious chapters of human history.
But wait, there's more! Let's talk geography, my fellow wanderers. Turks and Caicos may be flat as a pancake, but trust me, there's nothing plain about it! Those immaculate white sand beaches stretching into the horizon and the kaleidoscope of life teeming beneath the turquoise waters – it's a paradise for divers and snorkelers, like an underwater wonderland waiting to be explored.
Now, the Greek Islands couldn't be more diverse if they tried! From the towering mountains of Crete to the golden beaches of Mykonos and the lush vineyards dotting the landscape – it's like stepping into different worlds on each island. The Greek Islands truly know how to spoil you for choice!
So, my fellow history buffs and adventurers, whether you're drawn to the tales of colonial conquest and economic transformation or the allure of ancient gods and philosophers, these destinations have something magical in store for you.
Turks and Caicos and the Greek Islands, with their rich histories and diverse landscapes, promise an unforgettable adventure of a lifetime. So pack your bags and let's embark on a journey to the past and present, where history and nature weave a story that's uniquely their own!
A Captivating Beach Showdown
First up, let's talk about Turks and Caicos. Oh boy, get ready to have your breath snatched away! These islands are famous for their drop-dead gorgeous beaches, and Grace Bay Beach is like the crown jewel. I mean, it's no surprise it often wins the title of the world's best beach. With its soft-as-cloud white sand and the bluest waters you've ever seen, it's like stepping into a real-life postcard.
Plus, the vibrant barrier reef just a stone's throw away means you're in for some epic snorkeling and diving adventures. Hello, underwater wonderland!
But hold your horses, because the Greek Islands have some beach magic up their sleeves too! From the stunning Elia Beach on Mykonos, where you'll want to dance with joy in its turquoise waters, to the mysterious black-sand beaches of Santorini, each island brings its own spellbinding beach experience. You'll feel like you've landed in paradise's VIP section.
Now, let me help you pick the perfect place based on your travel crew. Families, listen up! Turks and Caicos is your ticket to happiness. The kids will go wild splashing in those calm, clear waters, while you can finally chill out without a care in the world. And hey, couples, looking for that dreamy romantic escape? The Greek Islands have your names written all over them. Imagine getting lost in each other's eyes while watching those enchanting sunsets. Swoon!
Adventure seekers, you're in for a treat in both spots. Turks and Caicos will let you explore a whole new world under the sea, snorkeling, diving, paddleboarding, you name it! Meanwhile, the Greek Islands will unleash the explorer within you with their diverse landscapes. It's like an action-packed movie set, except it's all real and you're the star!
But wait, luxury lovers, I've got your back too. Turks and Caicos knows how to spoil you rotten. It's like they invented the word "luxury" over there! With upscale resorts and beachfront villas that'll make you feel like a VIP, you'll be living the high life in no time.
Unraveling Ideal Travel Seasons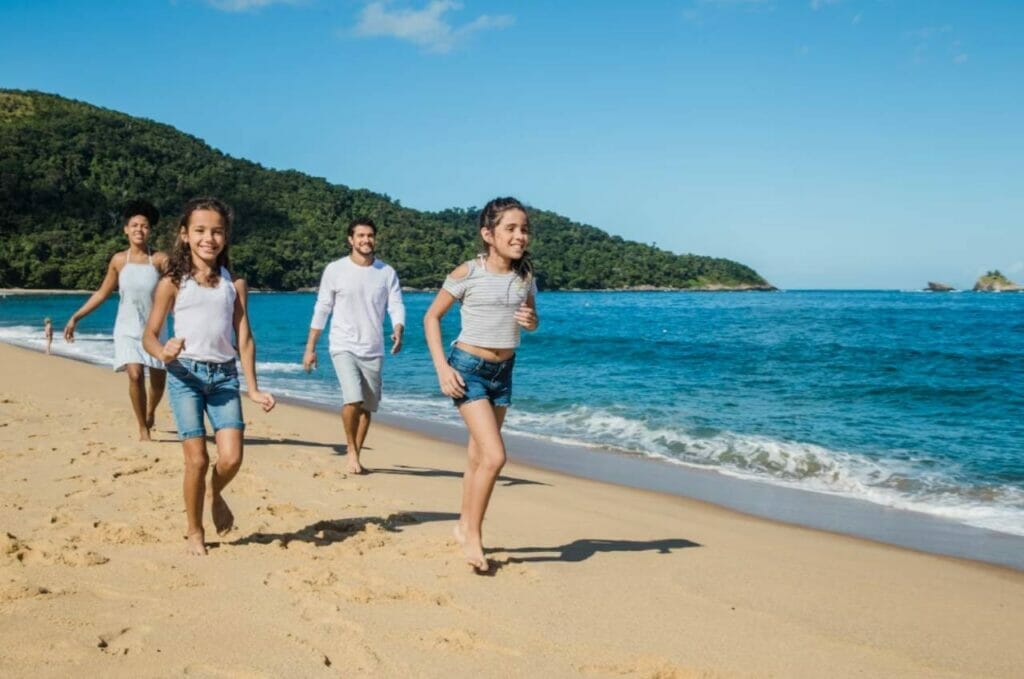 Families, honeymooners, adventurers, and luxury travelers can all enjoy a better holiday if they are aware of the different travel seasons and weather patterns. Based on these variables, let's investigate the ideal dates to travel to Turks & Caicos and the Greek Islands.
Turks and Caicos offers an enticing tropical escape for all types of travelers. Families seeking a fun-filled getaway should consider visiting during the dry season, from November to April. With its warm temperatures and clear skies, this period allows for endless beach activities and water sports suitable for all ages. Honeymooners, looking for a more intimate and romantic atmosphere, may also find this time appealing, as it offers beautiful sunsets and serene settings.
On the other hand, adventure seekers might enjoy the rainy season (May to October) when the islands offer fewer crowds and more affordable options. However, be aware of the occasional hurricanes and rain showers.
In the Greek Islands, peak season (late May to early September) caters to luxury adventurers seeking a vibrant and bustling atmosphere. The warm weather and various island events create a captivating environment for those looking to indulge in high-end experiences and luxurious accommodations. Families can also take in the vibrant atmosphere, but it's crucial to plan ahead and be ready for busier beaches and popular tourist destinations.
For honeymooners and adventure seekers looking for a more serene and authentic experience, the shoulder seasons (April to early May and late September to October) present a perfect opportunity. These times offer pleasant weather, fewer tourists, and more opportunities to immerse in the local culture and explore hidden gems.
When planning your trip to either destination, consider packing suitable clothing for the weather conditions during your chosen travel season. In Turks and Caicos, families should pack light, breathable clothing and plenty of sunscreen for the dry season. Honeymooners and luxury adventurers may also want to add some elegant attire for romantic evenings. For the rainy season, adventure seekers should come prepared with waterproof clothing and travel insurance.
For the Greek Islands, luxury adventurers should pack their finest resort wear and beachwear for the peak season. Families, honeymooners, and adventure seekers visiting during the shoulder seasons should bring a mix of layers to adjust to varying temperatures while exploring the beautiful islands.
Whether you're searching for a relaxing family vacation, a romantic honeymoon, exciting activities, or opulent luxury, knowing the travel seasons and weather trends will help you plan a memorable trip that is tailored to your preferences.
Your Complete Guide to Reaching Paradise
Turks and Caicos and the Greek Islands are both stunning destinations, offering unique experiences for travelers seeking sun, sand, and sea. Turks and Caicos is a very straightforward destination to go to in terms of accessibility and travel issues. The primary entry point to the islands is Providenciales International Airport (PLS), which gets frequent direct flights from significant cities in the United States, Canada, and Europe.
American carriers, Delta, United, Air Canada, British Airways, and JetBlue are a few of the carriers that fly to this place. Once you arrive at Providenciales Airport, you can easily access your accommodation and explore the islands by renting a car. You may choose from a wide selection of automobiles from a number of reliable car rental providers, including Grace Bay Car Rentals, TCI Car Rental, and Scott's Car Rental & Sales.
However, even though getting to the Greek Islands involves a little more preparation, the trip is unquestionably worthwhile. Most travelers fly into Athens International Airport (ATH), which is well-connected to major cities worldwide. From Athens, you can take a domestic flight or ferry to the Greek Islands. Depending on which island you choose to visit, you might find direct flights or ferry connections from Athens.
For travel between the Greek Islands, ferry services are the most common and efficient means of transportation. Once you arrive at your desired island, renting a car is an excellent way to explore the picturesque landscapes and hidden gems. Popular car rental companies in the Greek Islands include Ios Rent a Car, Notos Rent a Car, and Sun Rental Leros.
Turks and Caicos do not require a visa for admission for citizens of several nations for stays up to 90 days. However, it's essential to check specific visa regulations based on your nationality before traveling. If you are a national of the European Union or a Schengen Area country, all you need to enter Greece for the Greek Islands is a valid passport or national ID card. However, it's important to check the visa requirements and make sure you have the required paperwork before your travel if you are from a non-EU nation.
Finding Your Perfect Retreat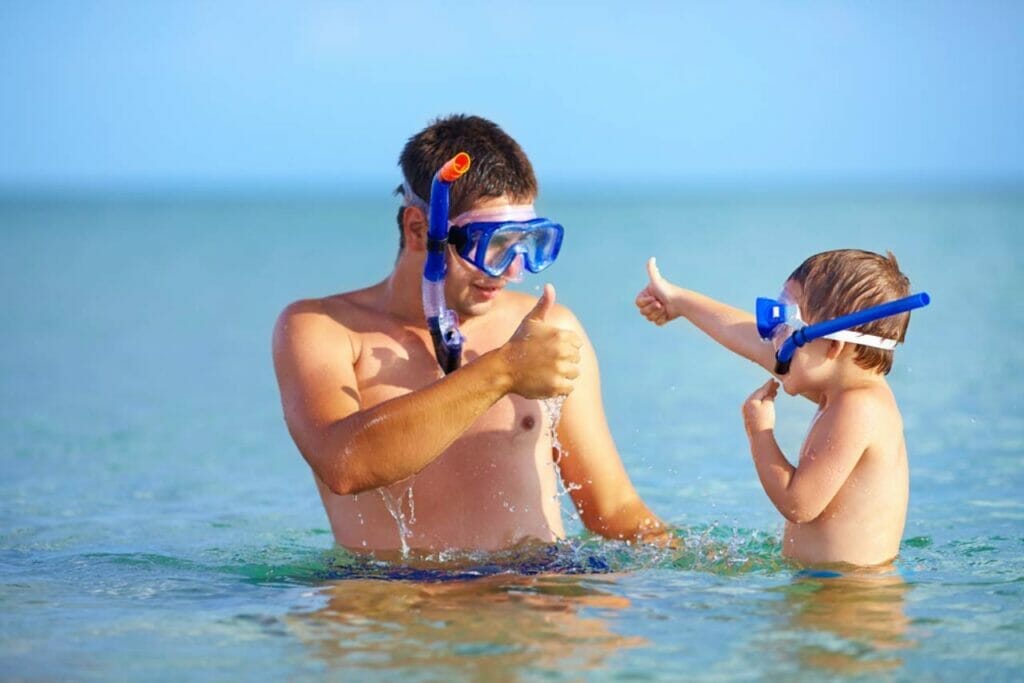 First things first, let's talk about where you'll rest your head after a day of exploration and fun. In Turks and Caicos, get ready for some serious luxury at places like Amanyara, where you can kick back in your own private oasis with stunning ocean views. But don't worry if you're not a millionaire (because who is, really?), places like The Venetian on Grace Bay got you covered with all the comfort and beach vibes, perfect for families!
Oh, and hey, fellow family travelers, you'll absolutely adore The Shore Club Turks & Caicos, with their spacious suites and exciting activities for the little ones. And guess what? Booking a rental car is a piece of cake through popular platforms, so you can explore the islands like a true adventurer!
Now let's talk about the adventure that awaits you! Turks and Caicos, let me tell you, is like a dream come true for everyone. Families, get those snorkels ready for some exhilarating underwater adventures among colorful coral reefs! Couples, how about a romantic sunset cruise? Picture yourself on a boat with your loved one, watching the sun paint the sky in breathtaking hues.
And calling all adrenaline junkies! Turks and Caicos has got water sports galore, from kiteboarding to paddleboarding – you won't have a single dull moment, I promise! And if you're a luxury seeker, oh boy, get ready for some pampering. Picture yourself at a world-class spa, sipping on cocktails by the pool, and indulging in gourmet cuisine – heaven on Earth, my friends!
Now, let's hop over to the Greek Islands – an enchanting Mediterranean dream that will steal your heart away. Families, history buffs, and culture vultures, get ready for a treat! The Greek Islands are a treasure trove of ancient ruins and charming villages, where you can immerse yourself in history and culture like never before. Couples, be prepared to fall in love all over again on those mesmerizing sunsets in Santorini and those dreamy moments on the stunning beaches of Mykonos.
Adventure seekers, the Greek Islands have got hiking trails that will leave you speechless, like the famous Samaria Gorge in Crete – breathtaking landscapes guaranteed! And luxury lovers, get ready for a taste of the good life with the renowned Greek hospitality, exquisite cuisine, and luxurious amenities that'll make you feel like royalty!
Turks And Caicos Vs. Greek Islands FAQ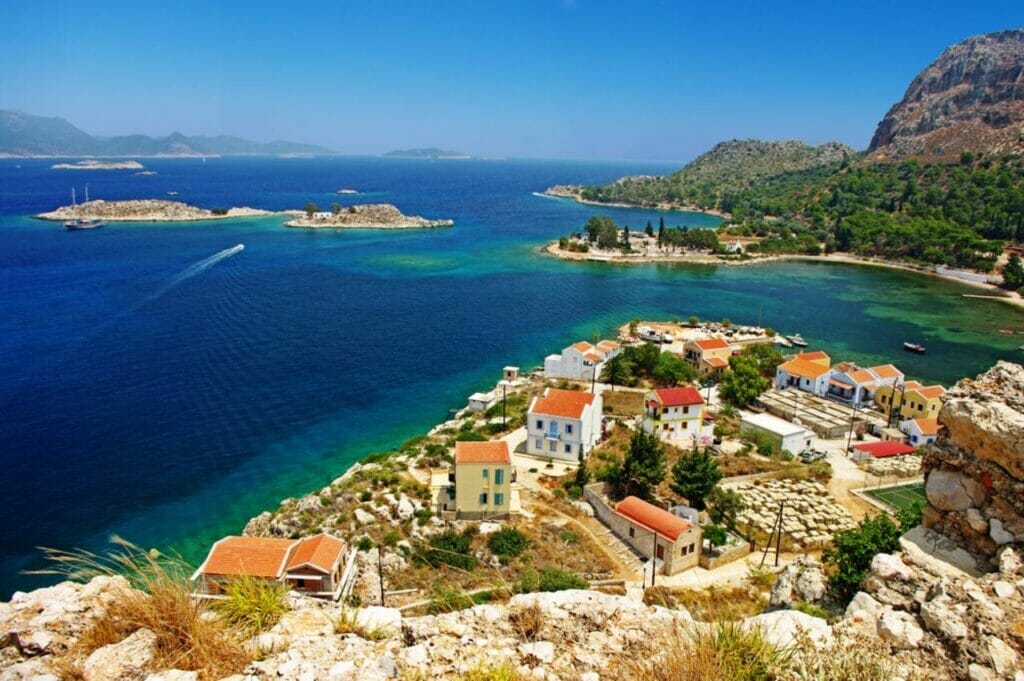 Is Turks and Caicos a Greek island?
Turks and Caicos is not a Greek island. Southeast of the Bahamas, in the Atlantic Ocean, sits this British Overseas Territory. With its own distinct history, culture, and geographical features, Turks and Caicos offers a unique Caribbean experience.
Is Turks and Caicos close to Greece?
Turks and Caicos is not close to Greece. The two destinations are located in different regions of the world. Greece is situated in southeast Europe, bordering the Mediterranean Sea, while Turks and Caicos is situated in the Atlantic Ocean, southeast of the Bahamas. They are thousands of kilometers apart.
Is Turks and Caicos worth going to?
Turks and Caicos is worth visiting for its breathtaking natural beauty, pristine beaches, and rich colonial history. The archipelago is a delight for beach lovers and water sports enthusiasts thanks to its blue waters, bright coral reefs, and large wetlands. Additionally, the islands' colonial past adds an intriguing layer to explore, making Turks and Caicos a destination worth experiencing for those seeking relaxation, adventure, and cultural immersion.