Santorini vs. Athens: Which One Should I Visit?
Santorini and Athens are some of the most iconic Greek Islands, so it's easy to be confused when deciding which to choose for your next vacation. The breathtaking landscape, unusual architecture, and exquisite sunset of Santorini can be a difficult trade-off for the rich historical background, packed summer streets, and antiquated modernity in Athens.
Athens is the better vacation spot if you want to experience everything that Greece has to offer. Athens is historically and culturally unique, and day trips from Athens are easy to make. You should visit Santorini if you prefer sunsets, romance, natural beauty, volcano views, sailing trips, and boutique hotels.
Athens offers more in terms of history, culture, ancient ruins, and historic sites. Santorini is wonderful for those who have already seen Athens, but it doesn't offer the range that Athens does.
Discover some of the historical and cultural experiences you can have in and around Athens and learn why Santorini is only a runner-up to this amazing Greek city.
| Category | Santorini | Athens |
| --- | --- | --- |
| Cost Range for 1 Week | $907 | $598 |
| Transportation | Public buses, taxis, car and motorbike rentals, organized tour buses, cable cars, and ferries. | Organized tours, metro (subway), buses and trolleybuses, tram, suburban railway, taxis, car rentals, lime electric scooters, and happy train. |
| Notable Attractions | Fira, Oia, Caldera, Akrotiri Archeological Site, Red beach, Pyrgos, and Beach at Perissa. | The Acropolis, Acropolis Museum, National Archeology Museum, The Plaka and Anafiotika neighborhood, Ancient Agora, and Olympeioin. |
| Weather | Mostly warm from June to September with splashes of rain, and cold from November to March | Hot months start from June, the hottest being July, and lasts till September, before the onset of cold from November to March. |
| Food and Drink | Fava me Koukia, Tomatoe Gefthedes, Saganaki, Greek salad, Keftes, and Greek wine. | Briam, Tomatoe Keftedes, Horiatiki salad, Retsina, Ouzo, and Octopus meal. |
| Activities for Kids | Museum for Prehistoric Thira, Kamari Beach, Sunset in Oia, Perissa Black Sand Beach, and Three Bells of Fira. | The Parthenon, Theatre of Dionysus, The Acropolis Museum, Goulandris Modern Art Museum. |
| Nature Attractions | Skaros Rock, Perivolos Beach, Amoudi Bay, Nea Kameni, Perissa Black Sand Beach. | Areopagus, Lake Beletsi, National Garden, Mount Lycabettus. |
In the rest of this article, we'll explore the cost of staying in both destinations, their main attractions, weather, food and drinks, safety, and transportation methods to help you decide where to spend your next vacation.
History Comes Alive in Athens
Historical Monuments
Athens, the center of Ancient Greek civilization, is one of the oldest cities in the world. In Athens today, traces of this ancient world can still be seen. There are dozens of significant archaeological and historical sites in Athens. Here are just a few:
Historical Museums
As you might expect, Athens is the home of several notable history museums:
Athens Is Bursting with Culture
Cultural Experiences
No one list could do justice to the opportunities for experiencing Greek culture in Athens. But here are a few to get you started:
Syntagma Square: Syntagma Square is the center and the heart of Athens. The Greek Parliament is located here, and you can watch the guards changing each hour at the Tomb of the Unknown Soldier. It's also where the high-end shopping district along Ermou Street begins.
The National Garden: Although it's also a historical interest site, the National Garden is a beautiful place just to take an afternoon stroll. But you do want to find out about the monkey that bit a king here.
Monastiraki Flea Market: If the upscale shopping on Ermou Street isn't for you, give Monastiraki Flea Market a try. You'll be elbow-to-elbow with Athens natives as you comb through the treasures here.
Plaka: The oldest residential neighborhood in Athens, Plaka's winding little streets, are filled with shops, restaurants, and Neoclassical architecture.
Alatsi: if you're looking for one of the best Greek restaurants in Athens, try Alatsi. However, be prepared for a little sticker-shock because it's pricey.
Papadakis: A more casual choice is Papadakis. This is the place for fresh Greek seafood and people-watching.
Cultural Museums
History isn't the only thing on display at the museums of Athens:
Athens Is Centrally Located
Because Athens is on the Greek mainland, it's easy to make day trips around Greece from Athens. Among the many possibilities are:
Beaches: The southern suburbs of Athens lie on the Aegean Sea, and the stretch of coastline from these suburbs to the southern tip of the peninsula is called the Athens Riviera because of its excellent beaches.
Islands: Just off of the coast are the Argosaronic Islands, a popular tourist destination. Hop a ferry from Piraeus's suburb and explore quaint villages, sandy beaches, historical sites, and striking views.
Historical Sites
From Athens, Delphi is an easy 2-hour excursion and an unforgettable one. Delphi was known as the "navel of the world" in Ancient Greece and today is a UNESCO World Heritage Site. While you're there, stop in at the celebrated Delphi Archaeological Museum.
If you're up for a longer day trip, Meteora is about 4 hours away from Athens. This complex of Eastern Orthodox monasteries perched precariously in the air atop boulders and pillars is a UNESCO World Heritage Site.
A few hours away, there's Mycenae, an archeological site where one of the most important Greek civilization centers once stood.
Santorini: Idyllic but Limited
If you've already spent time in Athens and are looking for another amazing Greek adventure, you can't do better than Santorini. Santorini is a group of Greek islands, located 186 miles (300 km) from Athens.
Santorini is famous for its beauty (and its high prices).
Santorini is one of the top island destinations in the world for a reason. Its volcanic history has given it breathtaking beaches, natural wonders like the Santorini Caldera, and unique soil for wine production.
Its iconic blue and white buildings and gorgeous views make it one of the most Instagram-friendly spots on earth. Santorini even has its archeological sites: Thira and Akrotiri.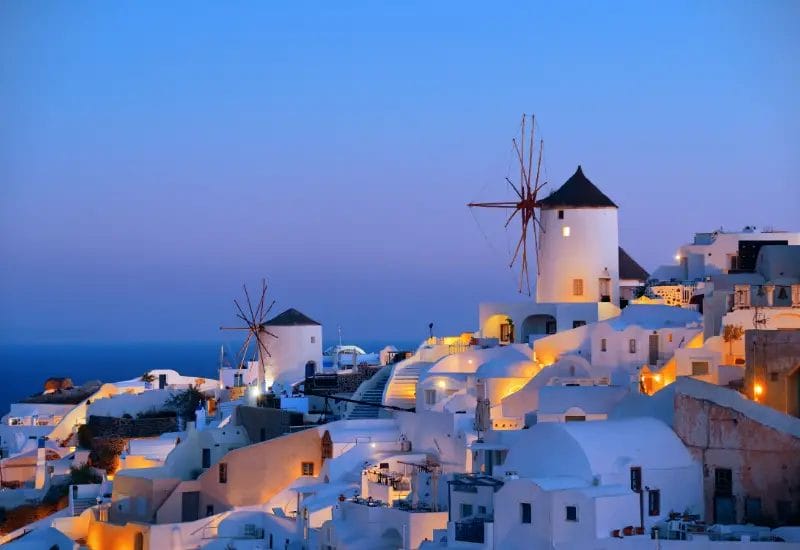 Although Santorini is beautiful and offers plenty to see and do, Santorini's charms come at a price, often a steep one, and are about twice as expensive as Athens. And if you find that after a few days you're eager to explore beyond Santorini's shores, getting to other destinations in Greece means buying a plane or ferry ticket.
For this reason alone, Santorini is probably a better choice for those who have already explored everything that Athens has to offer.
Cost of Stay
The cost of staying in Santorini varies depending on your preferences and taste in hotels, transportation, and cuisines. On average, a single tourist staying in Santorini for a week should budget about $907. If you're traveling on a budget, consider visiting in the low and shoulder season.
For a budget traveler looking for cheap hotels with good weather, the best time to explore this exquisite Greek Island is between late May, early June, late September, or early October.
If your destination is Athens's historical city, you should be ready to spend around $598 on transportation, food, accommodation, entertainment, etc. It's best to visit between March to May and September to October to lessen your expenses, as tourist influx is usually low.
Best Affordable Hotels
Where you sleep is as important as where you visit. There are numerous affordable hotels to pick from in Athens. If you're a minimalist, Amalia Hotel is the best fit for you.
It has been in existence since 1960, and its pride is in the simplistic yet artsy design it carries. The rooms are spacious and well-lit through the numerous windows in each room. However, the best thing about it could be its location, right on the National Gardens.
In Santorini, most hotels offer a view of the breathtaking Caldera, hence the reason for their pricey nature. However, some are more affordable than others. One of such is the Marvarit Suites, located in Mesaria. All conveniences, including satellite TVs, free Wi-Fi, are provided for guests, and every room has a sitting area, a desk, and a hairdryer. The hotel is situated close to the Monolithos and Karterados beaches.
Main Attractions
Even though Athens and Santorini are top vacation destinations in the world, they offer different values and attractions that you must be aware of before making your decision.
Your first stop should be at the capital of Santorini, Fira. Take long walks in the narrow alley of white-washed houses and blue-domed roofs of the Caldera's expansive view right before you as you stride.
Consider taking a walk, about ten minutes to the capital, to the Firostefani Village, where you will face the unbelievable panoramic view of the island. Top your experience off with a ride on the cable car after you've descended over 500 stairs and enjoy the island's view from another angle.
In Athens, be ready to fill your head with a lot of history, starting from the Acropolis, a testament of Athens' might, once upon a time. The magnificent Parthenon temple on the Athenian Acropolis commands every visitor's attention with its rows and columns of sculptures. The vastness of the temple itself inspires the thought of the endless vastness of the world.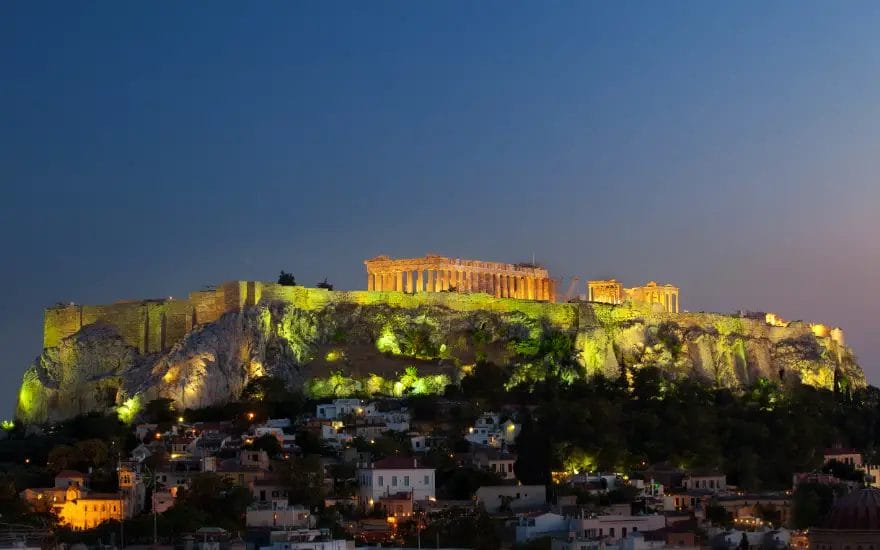 Other iconic structures in the Athenian Acropolis are the Temple of the goddess Athena, the Temple of Athena Nike, The Erechtheion, and The Statue of Athena Promachos.
After experiencing the Acropolis, stroll southward into the famous Plaka district. The homely rural feel mixed with the somewhat urban floor is something you cannot miss. Ancient churches, restaurants, shops, and houses bounded by well-trimmed bougainvillea line the street.
Activities for Kids
As alluring as Santorini is, it can be a challenge to find activities suitable for kids. However, there are things you can do together with them. One of them is to walk from Fira to Oia. With so many distractions on the way, be sure to pack some food and set out early, preferably before the sun is out. Note that this is an activity you will enjoy with older kids.
The Acropolis tops the list of places kids can visit in Athens. They can tour the gigantic temples and experience the massive sculptures. Another place you can visit with your kids is the ancient Agora Workshop, where you're allowed to create your artwork.
Food and Drinks
On a sailing boat in Santorini's waters, that is the best place to enjoy Souvlaki and Gyros. As you take in the flavorful delicacy and blame yourself for packing on calories, you can dive into the water and burn some off.
Don't forget to taste the Fava Puree with capers and scallions. The oven-baked Santorini white eggplant is heavenly, and top it all off with their abundance of wine. There is a reason Santorini is called the glutton's heaven.
Athens is not short of culinary adventures. Bite through the saganaki's crusty top and be thankful for its insides that melt in your mouth. Fruits and vegetables that are spicy, that's what the Greek salad, Horiatiki Salata offers. It is a traditional Greek food. Don't forget the spinach pie, as well as the Mousaka. Complete your meal, each time if you can, with the ever-satisfying Greek wine.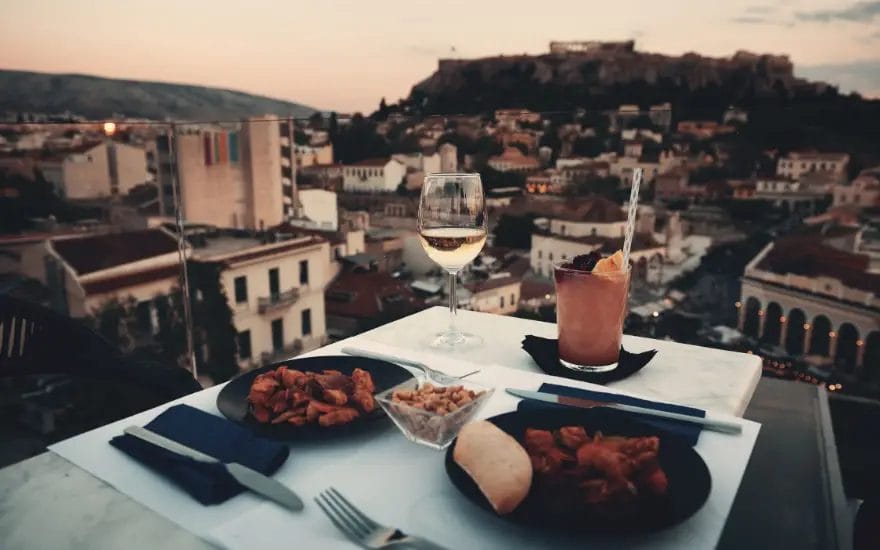 Weather
Like almost all other tourist destinations, the summer is the time for a massive influx of people. In Santorini, the weather is warm with little rain between late April and early November. The hottest weather is in June, July, August, or September. Hotels are generally cheaper from November to March.
For guaranteed sunshine, the best time to visit Athens is between March and May, and from September to November. During these months, the weather is warm but not blazing hot like in July and August. Athens has good weather year-round, but it can be wet from November to March. Most of the rainfall occurs during winter.
Safety
Greece is generally safe for tourists, and the crime rate in Santorini and Athens is low. However, you need to take some precautions and stay alert. Scammers often attempt to take advantage of visitors, so you should pay attention to whoever is offering help with your luggage. Also, beware of fake taxis without meters that try to overcharge tourists.
Street crimes like pickpocketing, mobile phone theft, and purse snatching are also at a high level in both destinations, so pay attention to the people around you at all times.
Transportation
With the high influx of tourists from around the world into the island with the most beautiful sunset in the Mediterranean, it is only reasonable that there are ample transportation means. Santorini boasts of an array of transportation means to ease tourists' movements. There are public buses to convey you from one place to another if you wish to explore the island that way.
Car rentals are available for those who wish to explore privately. You can also rent motorcycles to explore the secluded places at your convenience. Other means of transportation include cable cars from Fira to the town and ferries for movement between islands. Public buses are the cheapest means of transportation in Santorini.
Athens has more modern transportation. Buses, taxis, rented cars, scooters, and even organized tours are available. The fastest means of transportation in Athens is the subway. If you're on a budget and wouldn't mind the slow pace, the tram is an excellent choice.
Planning Your Trip
Fodor's Essential Greece: For an expert overview of Greece in general, you can't do better than Fodor's. This thorough guide also includes sections on both Athens and Santorini. It's the best of both worlds.
Lonely Planet Pocket Athens: You'll be able to find the top destinations in Athens as well as enjoy little-known insider experiences when you're carrying this guide from Lonely Planet. Despite its small size, it has a wealth of features, including brief histories, key Greek phrases, maps, and more.
Santorini Marco Polo Travel Guide: Carry a guide to Santorini in your pocket! Whether you're looking for a boutique travel experience or seeking out the best spots to relax and have fun with the family, this pocket-sized guide has you covered.
Check out this video by YouTube travel experts Samuel and Audrey:
Or this one, from YouTube food expert Mark Wiens:
Do you want to get up to speed on Ancient Greece before you go? Here's a National Geographic video with the key information:
Conclusion
Athens is a travel destination with something for everyone. In Athens, you can see ancient temples in the morning, go to the beach or go shopping in the afternoon, and have fresh seafood in the mountains' foothills in the evening.
You can visit world-class museums and take a day trip to scenic coastal islands. Although Santorini is a beautiful island destination, Santorini's options are limited in a way that makes Athens the better choice for a Greek vacation.