Outer Banks vs. Jersey Shore: Which Beach Is Better?
Beaches are a very popular summertime holiday destination. Families and young adults alike love to enjoy the sand between their toes, sunshine on their cheeks, and quirky beach shops. When deciding on a beach location, there are several things to keep in mind.
The Outer Banks is better if you are looking for a family-oriented vacation spot with a lot of wholesome activities such as museums and nature walks. Jersey Shore is better if you are looking for a vacation spot with a lot of nightlife activities such as clubs and casinos.
| Category | Outer Banks | Jersey Shore |
| --- | --- | --- |
| Cost Range for 1 Week | $700 per hotel room or Airbnb | $700 per hotel room or Airbnb |
| Transportation | Car rental, bicycle, rideshare, and ferry | Car rental, trams, ferry, rideshare, and trolley |
| Attractions | Lighthouses, state park, fishing, boating, and hiking | Pinball Museum, Jersey Shore Alpacas, and parasailing |
| Weather | Hot summers and mild winters | Mild-warm summers and cold winters |
| Food and Drink | Fast-food chains, seafood, American cuisine, local restaurants | Italian cuisine, fast food chains, American cuisine, local restaurants |
| Activities for Kids | Wrights Brothers National Memorial, Bodie Island Lighthouse, Mini Golf, Pea Island Wildlife Refuge | Whale and Dolphin Watching Cruise |
| Nature Activities | Nature Conservancy at Nags Head Woods Preserve and Elizabethan Gardens | Beach Yoga, Sunset Safari |
Overview: Jersey Shore Vs. Outer Banks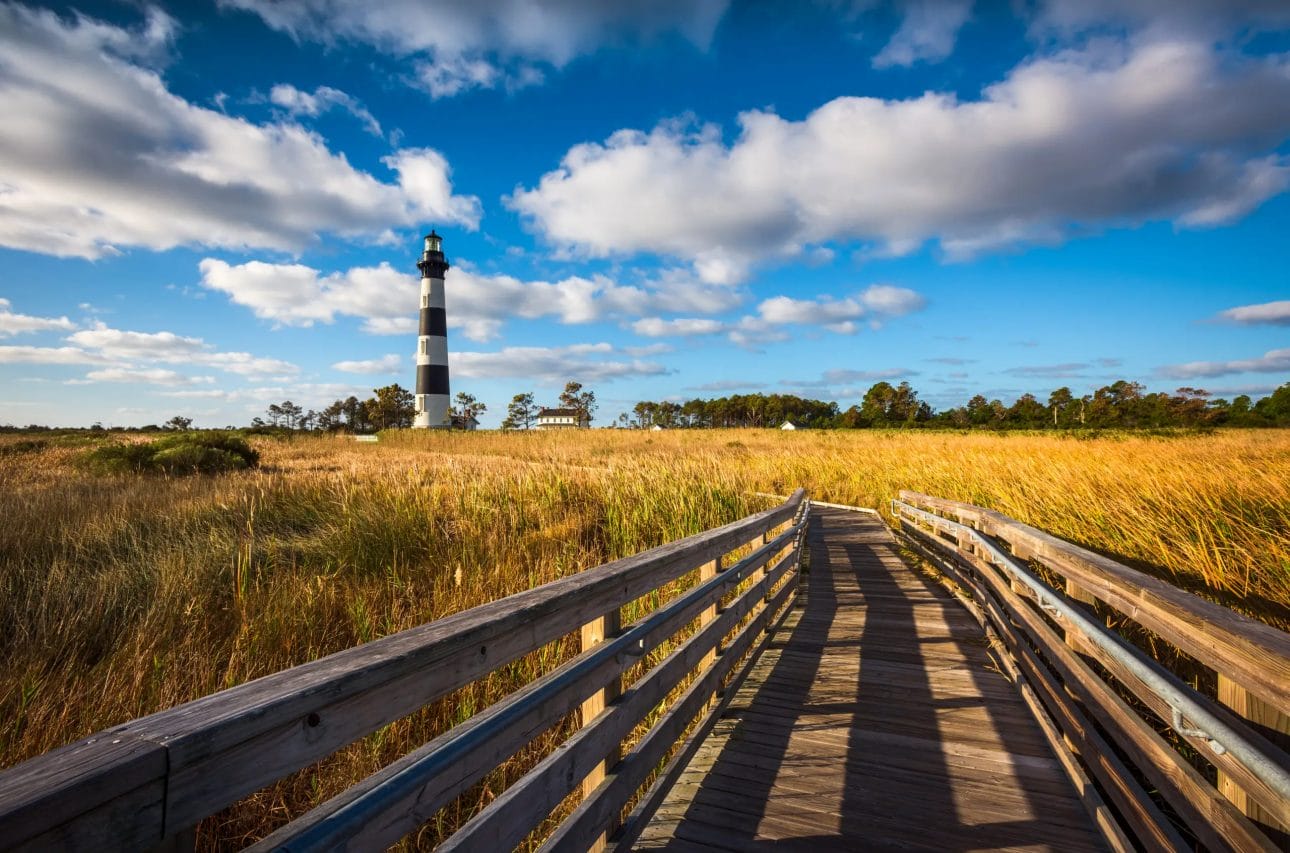 The Outer Banks is a cluster of barrier islands right off the coast of North Carolina. They are known for their beautiful state parks, wild horses, and tall lighthouses. Visitors to these islands will have no shortage of family fun activities to keep everyone satisfied.
Jersey Shore has gained quite the reputation from the pop culture phenomenon series, Jersey Shore. However, there is more to it than its reputation suggests. Jersey Shore is several beach towns along the coast of New Jersey, offering over 100 miles of sandy beaches and tons of fun activities.
This article will be a deep dive into what these two beach spots have to offer. Both destinations provide beautiful beaches and exciting attractions. By the end, you will know which holiday destination is exactly right for you.
Cost of Stay
There are several options for affordable hotels on the Outer Banks, averaging about $100 per night. Prices will vary depending on the time of year and the location. Expect to spend more during the summer months and if you are close to the downtown area or directly on the beach.
Similarly, you can expect to pay an average of $100 per night at a Jersey Shore hotel or Airbnb depending on where you stay. Ocean views at peak season will cost a bit more than something further from downtown.
Best Affordable Hotels
You have tons of lodging options when you visit the Outer Banks! Any one of these suggestions will certainly make for an excellent trip.
If you are looking for a quaint, family-friendly hotel, try Beachwoods Resort. They offer a variety of room sizes, a pool, fitness center, and maintain a high level of cleanliness. You are also just a short drive from the nearest public beach access.
If you want something with a stunning ocean view and many amenities, check out Sea Ranch Resort. Guests staying at the Sea Ranch Resort can access the YMCA, oceanfront dining, a pool, and a fitness center. It will be a bit more expensive, but the oceanfront views will be worth it.
Jersey Shore has tons of hotel options for every kind of vacation. You can't go wrong with one of these suggestions:
Try the Hard Rock Hotel and Casino in Atlantic City if you want an affordable option without sacrificing amenities. Guests can access the casino, restaurants, retail shops, spa, and nightlife without leaving the comfort of your hotel.
However, the Berkeley Oceanfront Hotel offers classier vibes and great views of the ocean from your room! You are just steps away from sandy beaches, beautiful parks, and the Count Basie Theater.
Main Attractions
There is no shortage of exciting attractions on the Outer Banks!
History buffs may want to visit the Wright Brothers National Memorial, an exciting commemoration of the brothers that achieved the first-ever flight. Visitors can learn of the trials and triumphs of Orville and Wilbur Wright as they built America's first successful airplane. If you want beautiful views, check out Bodie Island Lighthouse, standing 150 feet high. Tickets are $10 for adults and $5 for seniors and children.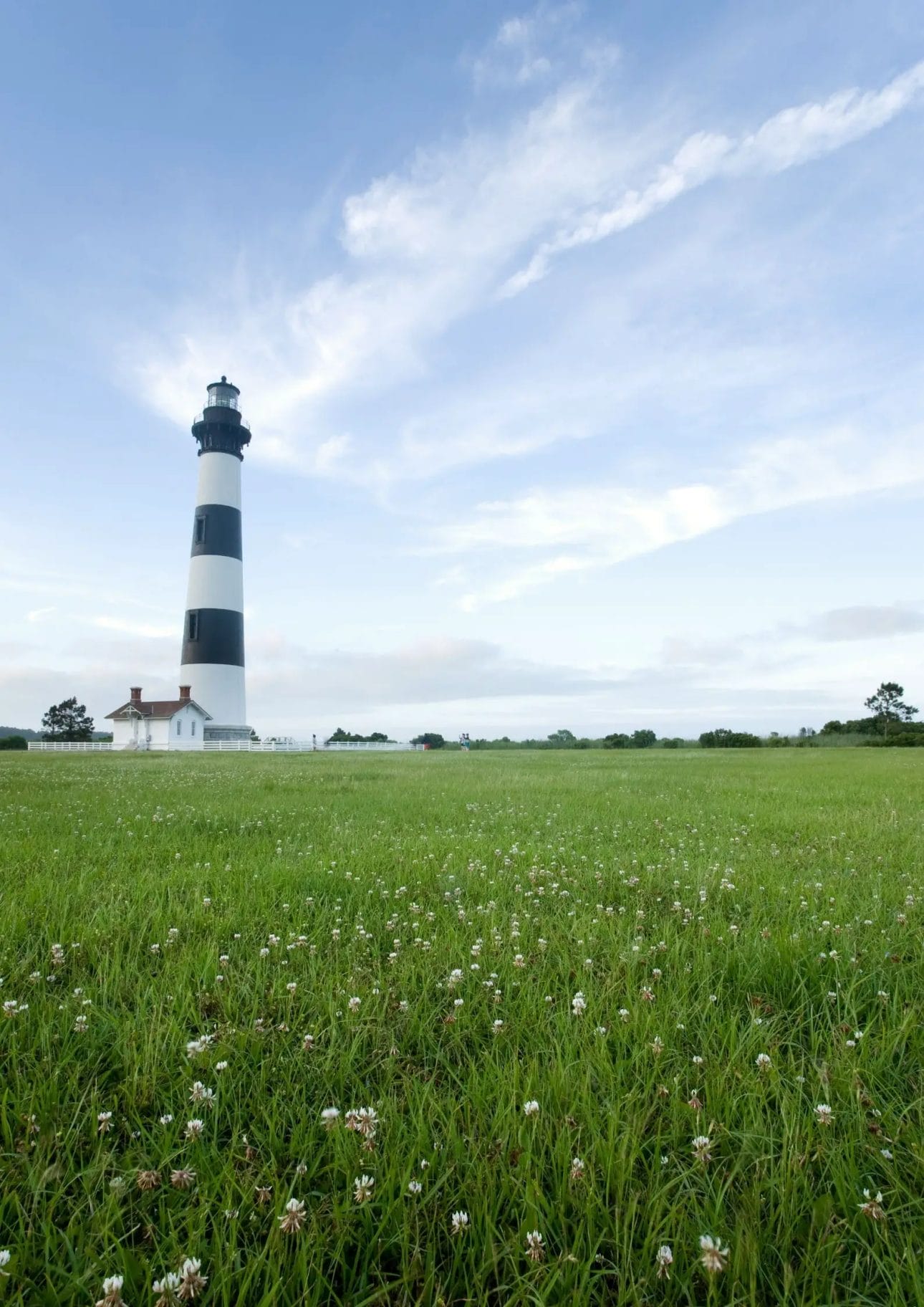 An especially exciting attraction in Jersey Shore is parasailing across the Atlantic Ocean with Atlantic Parasail. This is a thrilling and adventure-packed activity for the whole family! If you want something a little bit more low-key, visit Jersey Shore Alpacas, a small family-owned farm where you can get a private tour and mingle with some of the cutest alpacas on the east coast!
Activities for Kids
Mini golfing is a fun and popular beach activity for kids. The Outer Banks has several options for mini-golf, including Mutiny Bay Adventure Golf and Lost Treasure Golf. Visiting the Pea Island Wildlife Refuge is a great educational opportunity for kids and families!
Jersey Shore has a few options for kids, including the Cape May County Park and Zoo and the Thunder Cat Dolphin Watch.
Food
There is an abundance of fresh seafood options on the Outer Banks. Check out Hatteras Sol Waterside Grill for a dining experience with a view! Outer Banks Boil Company is also a delicious seafood option.
Jersey Shore also has a lot of great options for dining. A local brewpub, Mudhen Brewing Company, offers several locally brewed beers, excellent happy hour specials, and classic American cuisine. Additionally, the Avon Pavilion offers waterfront views and delectable meals for breakfast, lunch, and dinner.
Weather
Peak season at the Outer Banks is May-July. While hurricanes are a possibility July-December, they are most likely in August and September. Keep this in mind when making your travel plans. Summer temperatures can soar as high as 90°F (32°C) with relatively mild winters.
You can expect the most beach-friendly weather during July and August on the Jersey Shore, with temperatures between 80-90°F (26-32°C). While beaches are still beautiful in the winter, it can get quite cold that far north.
Safety
Both beaches are considered safe for visiting, but it is important to be mindful of your surroundings whenever you travel. Beaches specifically present the possibility of getting caught in a riptide, so swim cautiously and with proper safety measures (e.g., life jackets, lifeguards).
Transportation
The Outer Banks is very easy to navigate by car. Additionally, there are multiple bike rental shops available year-round. Check out Island Cycles for affordable bike and water sports rentals.
Similarly, Jersey Shore is also easy to navigate by car. They also have a few public transportation options, such as the Atlantic City Board Walk Tram Service and the Long Branch Trolley.
Final Thoughts: Outer Banks Vs. Jersey Shore
These two beach destinations have a lot to offer for all types of travelers. Whether you decide you prefer the history and nature that the Outer Banks has to offer or the exciting nightlife of Jersey Shore, you will have a great vacation!