Does St. Lucia Get Hurricanes?
One of the most common concerns of visitors to the Caribbean islands is the threat of hurricanes. As hurricanes can be common in this region, it is important to understand how likely you are to encounter a hurricane during your visit to the island.
So, does St. Lucia get hurricanes? St. Lucia has historically experienced hurricanes, but they are not frequent and are usually not a concern for tourists or locals.
Even with the uncommon nature of hurricanes in St. Lucia, one should still have an understanding of the risk. This article will discuss the times in which St. Lucia is at the highest risk of a hurricane (hint: those aren't the best times to visit St. Lucia), as well as the history of hurricanes in St. Lucia.
It will also provide information about how threatening hurricanes can be and how you should behave in case you do find yourself in the area of an oncoming hurricane.
When is Hurricane Season in St. Lucia?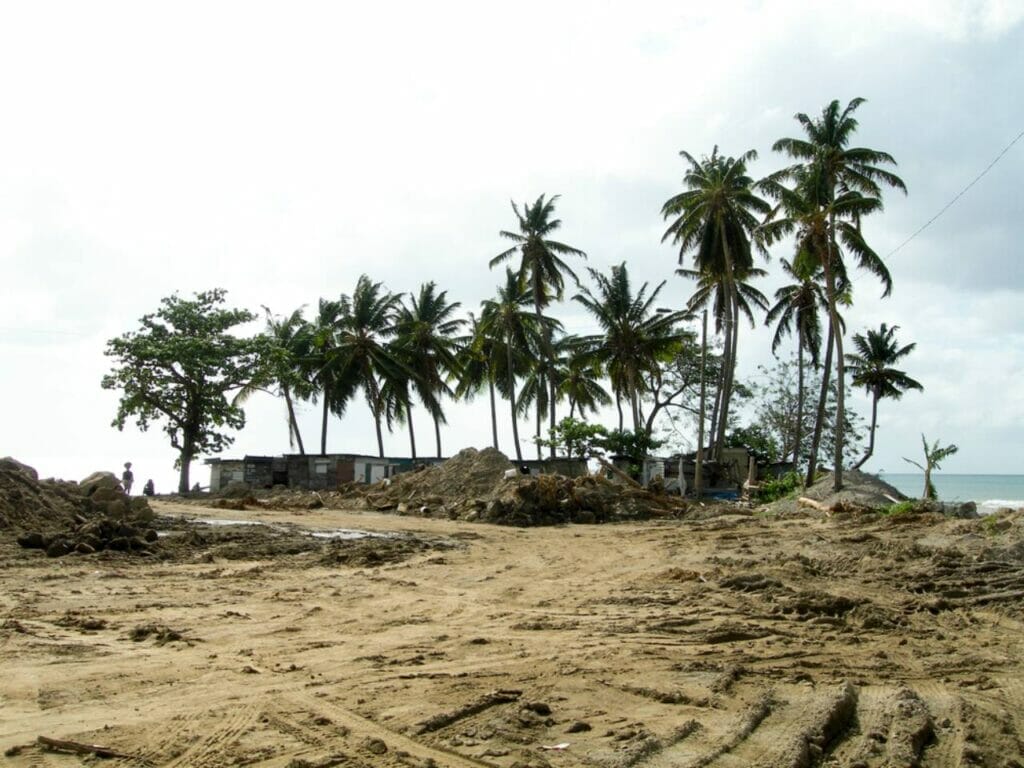 The Caribbean hurricane season officially begins on June 1 and ends on November 30th every year. Since St. Lucia is a Caribbean island, its hurricane season is the same.
During the average Caribbean hurricane season, it is possible to have at least 12 to 20 named storms, including 6 hurricanes.
In 2020, the Caribbean experienced 30 named storms, which is a record amount. Of the 30 named storms, 13 became hurricanes, and 6 of those became major hurricanes.
The 2020 season had the most named storms in all of recorded history and the second-most hurricanes.
When is Rainy Season in St. Lucia?
St. Lucia's rainy season can last from June until December.
During the rainy season, heavy showers are known to arrive suddenly and often leave in just the same amount of time. The unpredictable nature of the rainy season frequently discourages visitors to the island during this season.
In September and October, the worst months of the rainy season, St. Lucia can have an average rainfall of as much as eight inches!
St. Lucia Hurricane History: How Often Does St. Lucia Get Hit by Hurricanes?
Since 1850, only 14 hurricanes have touched within 60 miles of the island of St. Lucia. Of these hurricanes, only one has been a Category 3 hurricane, and only one has been a Category 4, and no hurricanes impacted the island between 1980 and 2007, according to USA Today.
While St. Lucia does not seem to regularly experience hurricanes, it is still important to understand the risk of hurricanes when visiting a Caribbean island, especially during the hurricane season.
Before you plan your trip, be sure to stay up to date with the weather and with the hurricane policies of the location you choose to stay in.
Is St. Lucia in the Hurricane Belt?
The island of St. Lucia is located in the southeastern portion of the Caribbean sea. The hurricane belt encapsulates much of the Atlantic Ocean and is known to be the region in which hurricanes are the most likely during the Atlantic hurricane season.
While St. Lucia is technically included in the hurricane belt, the strongest segment of the hurricane belt is much further north than the island.
Hurricanes in the Atlantic are commonly known to increase in strength and threat level as they move west, away from St. Lucia and towards the United States of America. Therefore, the hurricanes that St. Lucia does experience are frequently much weaker than those that are known to terrorize islands further northwest and the mainland of the United States.
Almost all hurricanes that touch St. Lucia are either Category 1 or Category 2.
What was the Worst Hurricane in St. Lucia?
While St. Lucia infrequently suffers hurricanes greater than Category 1 or Category 2, it has had some experiences with more powerful storms. Hurricane Allen, which impacted St. Lucia between August 3rd and August 4th, 1980, had maximum winds of 125 miles per hour.
Loopnews.com states that the Central Planning Unit report recorded six deaths, severe damage to 1,570 homes, and 10,000 homes that experienced some form of damage, causing about 9,600 people to be left homeless due to Hurricane Allen. The government of St. Lucia estimated their total damages to be around $250 million.
Hurricane Tomas, while it was only a Category 1 hurricane, caused the loss of fourteen lives in 2010 in St. Lucia. This storm also caused damage to roads and bridges, initiated landslides, and affected electricity and telecommunication across the island. While this was technically a weak hurricane, its damages were extreme on the island.
How Dangerous Are Hurricanes?
Hurricanes are extremely damaging storms that can be the cause of numerous serious threats to the lives and livelihoods of those affected by the storm. Such threats include flooding, high winds, rip currents, storm surges, and tornadoes.
Hurricanes are known to produce intense downpours of rain that can cause flash flooding inland. This can be a major threat for anyone within the radius of the storm, as it is often difficult to identify or avoid before it is too late. The high winds associated with a hurricane can cause significant damage to man-made structures, trees, and more, causing debris to fly through the air at high speeds and do further damage to anything in their way.
Rip currents are another serious threat associated with hurricanes and can occur even when hurricanes are miles away from the coast. These currents channel water away from the shore and are too powerful for swimmers to endure. Storm surges occur when strong winds quickly send water inland, often wiping out entire communities. This is perhaps the most threatening aspect of hurricanes.
Hurricanes can also cause the formation of tornadoes. A large percentage of tornadoes in the United States is a direct result of hurricane activity and can be extremely damaging. Overall, hurricanes have the potential to produce extreme threats to civilization in many ways.
What Should You Do During a Hurricane?
In most situations, areas under the serious threat of an oncoming hurricane are evacuated, or residents are strongly advised to leave their homes and seek shelter elsewhere. However, if you are caught in close proximity to a hurricane, it is important to take proper precautions to put yourself in the position for the least risk.
During a hurricane, it is important to stay inside and avoid windows and glass doors. You should seek a safe interior room with as little glass as possible. You should never leave the safety of your shelter without receiving official word that the storm has passed and you are safe to exit. To stay up to date with the storm's activity, instructions, and updates, utilize a portable radio.
If you lose power during the storm, you should be prepared with a portable generator for emergency use. In the case you lose power to your refrigerator, be sure to keep the door closed as much as possible in order to preserve the cold and attempt to prolong the life of your foods and beverages. By following these procedures, you are setting yourself up to have the best chance of safety and survival in the case of a hurricane.
When Should You Visit St. Lucia?
St. Lucia is an outstanding vacation island at almost any time of year. There are benefits and downsides to each season, and you should be aware of the pros and cons of each in order to visit Saint Lucia at the best time for you.
December through April is known to be the most expensive time of year to travel to St. Lucia. This is due to the beautiful weather and infrequent rain, with temperatures ranging between the mid-70's and mid-80's. However, rooms during this season can be as costly as $1,000 per night.
From July to November, you can expect to find the lowest rates for rooms due to the rainy weather. If you do choose to visit during this time, there is the possibility to experience a number of festivities, including the Lucian Carnival, La Rose Festival, the Roots & Soul Festival, and Arts & Heritage Month. All of these activities will surely make your trip worthwhile.
May through June is also an excellent time to visit, and rooms can be found for under $200 per night! Yes, even at all-inclusive resorts like St. Lucia Sandals! Temperatures during this time are in the mid-80 degrees on average, but you are more likely to experience rain than you are between December and April.
There is no bad time to visit the island, however, as it is a beautiful Caribbean location that will surely not disappoint!
Recap: St. Lucia Hurricane Season
Despite the infrequency of hurricanes on the island of St. Lucia, you should still be knowledgeable of the risk and prepare for the possibility of severe storms. However, while the Caribbean Sea is known to be at risk of hurricanes, the island of St. Lucia individually is at very little risk. With only 14 hurricanes being recorded within 60 miles of the island since 1850, you can rest assured that your visit is likely to be safe and hurricane-free.
The beauty of St. Lucia, along with its many possibilities for exploration, sightseeing, fine dining, and more, makes it the perfect Caribbean getaway for your next vacation. Be sure to stay up to date on the weather on the island and prepare your trip during a time in which you are confident there will be no storms.