Curacao Vs. Aruba – Where Should You Choose for Your Vacation?
With so many holiday-perfect islands in the Caribbean, it can be difficult to make up your mind on where to go. Two options that easily come to mind when planning a vacation are Curacao vs. Aruba. Both islands are known for their picturesque beaches, rich culture, music, carnivals, delicious cuisine, and friendly locals. But with only a few vacation days to spend, you'd want to choose the best place to visit.
Curacao is twice the size of Aruba, with a coastline that stretches over 226 miles. The Island is known for its smaller cove-like beaches, hidden bays, and coral reefs that make it a paradise for diving and snorkeling. Despite its small size, Aruba has a more American feel and receives almost double the visitors than Curacao.
The Island is famous for long stretches of pristine white sand beaches, entertaining nightlife, and flamingos.
| Category | Aruba | Curacao |
| --- | --- | --- |
| Cost Range for 1 Week | $2,274 – $4,782 (source) | $1,006 – $4,611 (source) |
| Transportation | Taxis, Public buses, Car rentals, Private chartered boats. | Taxis, Public buses, Car rentals. |
| Notable Attractions | Beaches, Oranjestad, Wilhelmina Park, Aruba Historical Museum, Arikok National Park, Boca Prins, Aruba's Dive Sites, California Lighthouse, and California Dunes. | Blue Room, Christoffel national Park, Museum Kura Hulanda, Grote Knip, Klein curacao, Queen Emma Bridge, Shete Boka National Park, Playa Kalki, and Cas Abao. |
| Weather | Warm all year round with a little stint of rainfall. | More sunlight days than any other Caribbean nation. Semi-arid climate. |
| Food and Drink | Keshi yena, Stoba, Cala, Pastechi, and Ayacas. | Stroopwafels, Funchi, Tutu, Stoba, poffertjes, Bitterballen, and Oliebollen. |
| Activities for kids | Archeology Museum Aruba, Eagle Bowling Palace, Aruba surf and Paddle School, Donkey sanctuary Aruba, Philip's Animal Garden, and Bubali Bird Sanctuary. | Kura Hulanda Museum, Curacao Sea aquarium Museum, Curacao Dolphin Academy, and Curacao Ostrich Farm. |
| Nature Attractions | Conchi aka the Natural Pool, Bubali bird sanctuary, Blackstone Beach, Guadirikiri Cave, and Arikok National Park. | Ostrich farm, Flamingo Sanctuary, Sint Willibrordus, Curacao sea Aquarium, Hato Caves, and Den Paradera. |
Curacao and Aruba are both territories of the Netherlands. As a result, they have similar cultural heritage. Both islands lie outside the hurricane belt and offer warm weather all year round.
Despite their similarities, Curacao and Aruba have differences in beaches, landscape, activities, attractions, nightlife, accommodation, etc. This article will highlight these differences to help you decide your vacation type.
Curacao Vs. Aruba: The Comparison
Although you only need a 20-minute flight to connect both neighboring islands, Curacao and Aruba offer visitors diversity.
They might appear similar at first glance, but each Island has notable differences, and it makes sense to understand these differences before choosing which island to visit.
That said, here's a section dedicated to comparing different elements of the two islands. Let's go!
Curacao Overview
Curacao is a beautiful island country in the Caribbean sea. It became a constituent of the Kingdom of Netherlands in 2010 and is one of the six Caribbean islands that are part of the Kingdom. However, the Island is an independent country. It handles all its internal affairs, while the Kingdom handles matters such as defense, foreign affairs, and extradition.
Curacao enjoys warm tropical temperatures averaging 28°C (76F). September brings the highest temperatures, rarely exceeding 32°C (90F). The Island's official languages are Papiamentu (a blend of Portuguese, Spanish, Dutch, and English), Dutch, and English. However, the influx of immigrants has made languages like Portuguese, Spanish, German, and French popular on the Island.
About Aruba
Aruba is also a member constituent of the Kingdom of the Netherlands as far back as 1815. It became an independent country in 1986. Aruba now handles its domestic affairs while the Kingdom handles external matters such as defense, extradition, and more.
Visitors to Aruba are guaranteed warm tropical temperatures averaging 27°C (82F). The official languages spoken on the Island are Papiamentu and Dutch. Other unofficial languages are English and Spanish.
Beaches
Both Curacao and Aruba have plenty of pristine white sand beaches surrounding sparkling turquoise water. However, these beaches differ in looks and features.
Most of the beaches in Curacao are private and are mainly part of a beach resort. You will need to pay for entry if you are not staying in the resort. However, they have beach chairs, clean bathrooms, restaurants and bars, and shops to get gear for diving and snorkeling. The beaches here are small, secluded bays that resemble coves. Famous beaches in Curacao include Playa Kenepa, Playa Lagun, Cas Abao, Grote Knip, Blue Bay, and Mambo.
Most of the beaches in Aruba are public, and you will need to pack your snacks, drinks, beach chairs, and gear for snorkeling and diving. They are also more extensive, with long stretches of coastlines, perfect for relaxing and soaking up the sun. The best beaches in Aruba are Eagle, Baby, Palm, Arashi, Surfside, Mango, Boca Catalina, etc.
Culture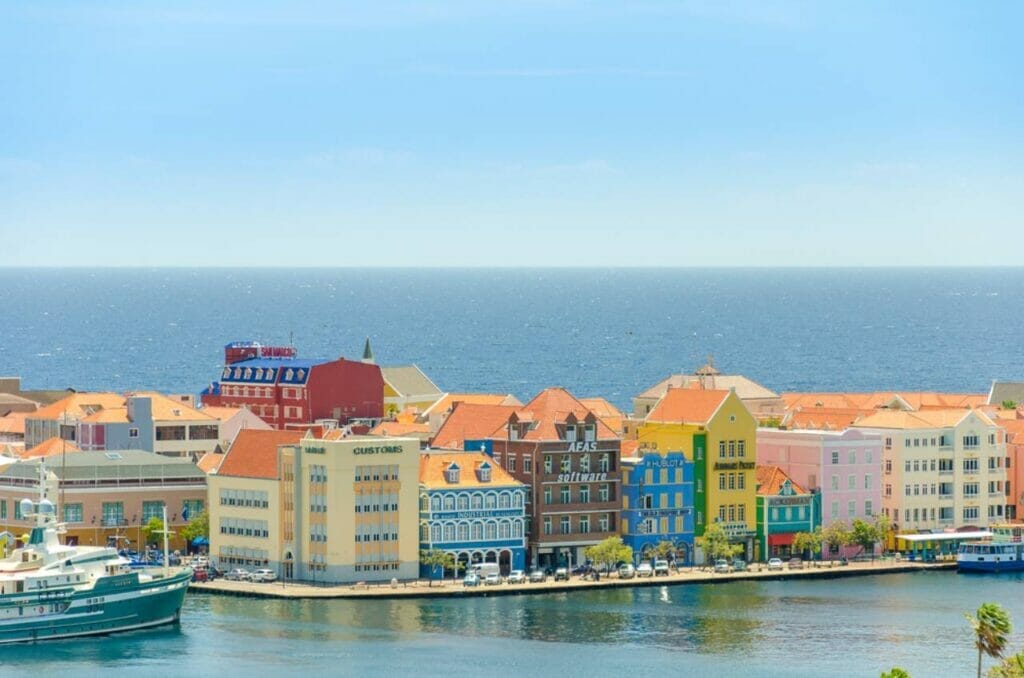 Both islands display a rich cultural heritage with carnival celebrations, parades, singing, dancing, and colorful costumes. However, Curacao has a stronger Dutch culture and feels more European when compared to Aruba. Willemstad, the capital, is home to a UNESCO world heritage site, Handelskade. It preserved its Dutch colonial heritage with colorful architecture, Amsterdam canal houses, local markets, and boutique shops.
Aruba has a more American feel because it caters more to tourists (over 80% of tourists to Aruba are North Americans). Oranjestad, the capital, has more of a Hispanic influence in architecture, music, and food. It has several strip malls, shopping centers, fast food chains, and high-rise buildings, all combining to give it the city feel.
Landscape
The Curacao landscape has more cliffs, hills, and mountains, which makes it a hiker's haven. For example, the Christoffel Park Reserve Mountain is 372 meters high, and climbing to the summit will show you a breathtaking view of the Island. Other beautiful spots allow you to soak up the beauty of the island while enjoying your favorite mountain sports.
Aruba's landscape is flat and desert-like with rocks. The vegetation is primarily cacti and divi-divi trees. Not far away, you'd find gleaming white sand beaches shaded by towering palm trees overlooking the Azure sea. The small island features a dramatic variation of landscapes that's echoed by an equal variation of attractions to keep tourists fixated throughout their stay.
Weather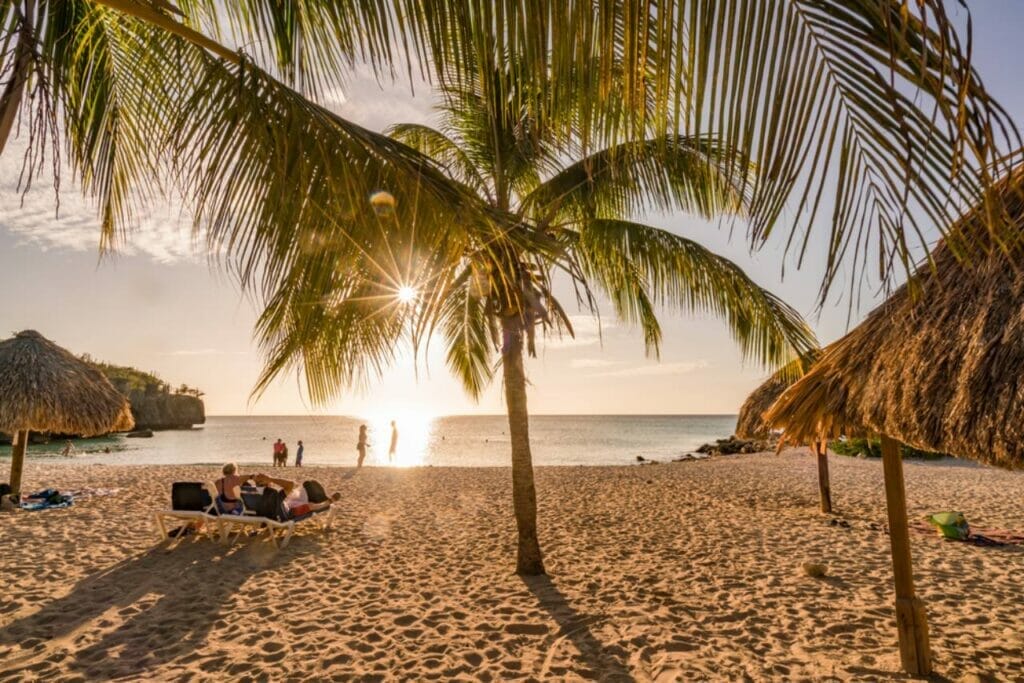 Curacao and Aruba are tropical islands with warm and sunny weather throughout the year. However, there's notable differences in temperature. Curacao's climate is a gentle breeze, while Aruba is windy due to trade winds that blow hard.
Both islands experience rainfall during hurricane season. Since they both lie outside the hurricane belt, you don't have to worry about hurricanes.
Accommodation
Accommodation in Curacao is mainly family-owned low-rise resorts and boutique hotels. Some of the best choices include the famous Avila Beach Hotel and KenTiki Beach Resort.
Aruba receives more tourists and accommodation is readily available. Options are mainly high-rise hotel chains and resorts. Popular hotel chains include the Ritz-Carlton, Hyatt Regency Aruba Resort, Marriott Resort, Stellaris Casino, etc.
Whichever location you choose, we advise knowing the available accommodation options and their exact prices to enable you to plan your vacation more efficiently. Nonetheless, both locations have housing options for any budget, so it shouldn't be too difficult finding what suits your budget.
Flights
There are more direct flights from major US cities to Aruba. You can only get direct flights to Curacao from New York, Miami, and Charlotte. However, there are layover flights to Curaçao from other cities in the US.
You can travel to Aruba from Boston, New York, Miami, Washington DC, Atlanta, etc. Another advantage Aruba has is the section for US Customs and Border Protection at Queen Beatrix International Airport.
When traveling back after your vacation, it will be better to go through customs there than at home airports. You can go straight to baggage claim instead of joining the long customs queues when you arrive home.
Transportation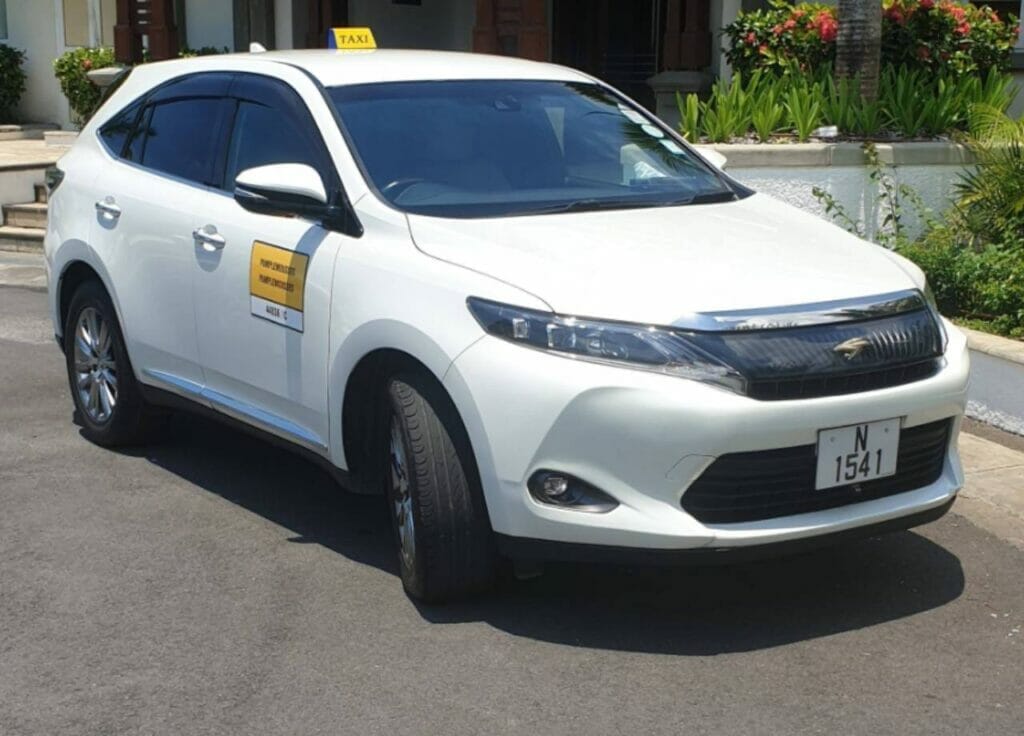 From the airport in Aruba, taxis are available to get you to your destination. The taxis are not metered, so every standard location has a fixed price. Rental cars are also available for tourists, and they are quite affordable for the distance they travel.
On the waterways, there are private boat charters – no public water transportation – to other islands. The cheapest transportation option is the Aruba bus. They serve every district on a schedule every day of the week.
Curacao has all options of transportation as Aruba. However, public transport is not as reliable as Aruba's. The taxis in Curacao are easily recognized because they are marked. You should note that they are unmetered, and even though the fares are fixed, it can change when the number of passengers exceeds four.
Main Attractions
Aruba, starting from its capital, Oranjestad, offers tourists ship cruises from its port. It also has several family-friendly activities like a visit to one or more of the butterfly beaches. Aruba has the most beautiful and inviting beaches. If you're one for the outdoors, the Arikok National Park should be on your list of places to visit.
You will find the Ayo Boulder, designed with Indian paintings, a sight to behold. The dunes, a landscape covered with cacti, are all part of its appeal.
One of the amazing trips you can make in Curacao is to the hidden cave, the Blue Room cave, accessible by the ocean, the Blue Room. Many plantations, different white sand beaches, one of them the Grote Knip, and the Queen Emma Bridge are a few of the attractions you will find in Curacao.
Activities for Kids
Kids love beaches, but they can also get bored easily. Both Aruba and Curacao will provide your kids with more to do than stroll, run, or play on the white sands of their beaches.
In Aruba, they can get familiar with animals like donkeys in the Donkey sanctuary or ride horses at the Gold Mine Ranch Horseback Riding Tours.
They can also visit the Ostrich Farm to see how the orange-necked birds live. The Butterfly Farm is another excellent place to visit for kids.
The Aruba Surf and Paddle School are suitable for kids willing to try paddling for the first time.
Curacao has the Curacao Sea Aquarium, a great place for kids to learn more about sea life. The Hato Caves are a perfect place to spawn tales about dragons and other mystery creatures for kids' entertainment.
The Curacao Ostrich Farm is also a sight to behold for them. They will get to see about 200 ostriches, Vietnamese pot-bellied pigs, and emus with a tour guide. They also have a dolphin academy; your kids will enjoy swimming with dolphins.
Water Sports
Scuba diving and snorkeling are better in Curacao. The Island has several diving sites that include coral reefs and shipwrecks. In addition, you can access these sites from the shore, unlike Aruba, where you would have to take a boat out to the water before diving. Curacao Marine Park, Paradise Beach, Snake Bay, Watamula, Mushroom Forest, Tugboat, and more are the best places for diving and snorkeling.
Aruba's windy weather makes the water rougher and bad for snorkeling. However, the winds are advantageous for kitesurfing, windsurfing, and parasailing. The wrecks of SS Antilla, Jane Sea, and Plane wrecks are good sites for diving in Aruba.
Tours and Excursions
Curacao provides some of the most exotic tours and excursions. The Christoffel National Park is the largest on the Island and home to several species of wildlife. You will come across several slave plantations and species of birds of prey. Curacao provides several underwater tours, such as swimming with sea turtles and walking on the sea floor with coral fish. Non-scuba divers can enjoy the Aquafari tour, which is a fun way to breathe underwater while riding a scooter with a bell-shaped helmet.
You can visit Aruba's private Island of Renaissance to see the famous pink flamingos. In addition, the Arikok National Park occupies 20% of the Aruba and consists of deserts, ancient fountain caves, and cacti clusters. You will come across the Bushiribana gold mine, where you can mine some gold or visit the Aruba Ostrich Farm. There are natural wonders, such as natural bridges and rock formations. One example is the Tripod Natural Bridge, three naturally formed bridges connecting.
Dining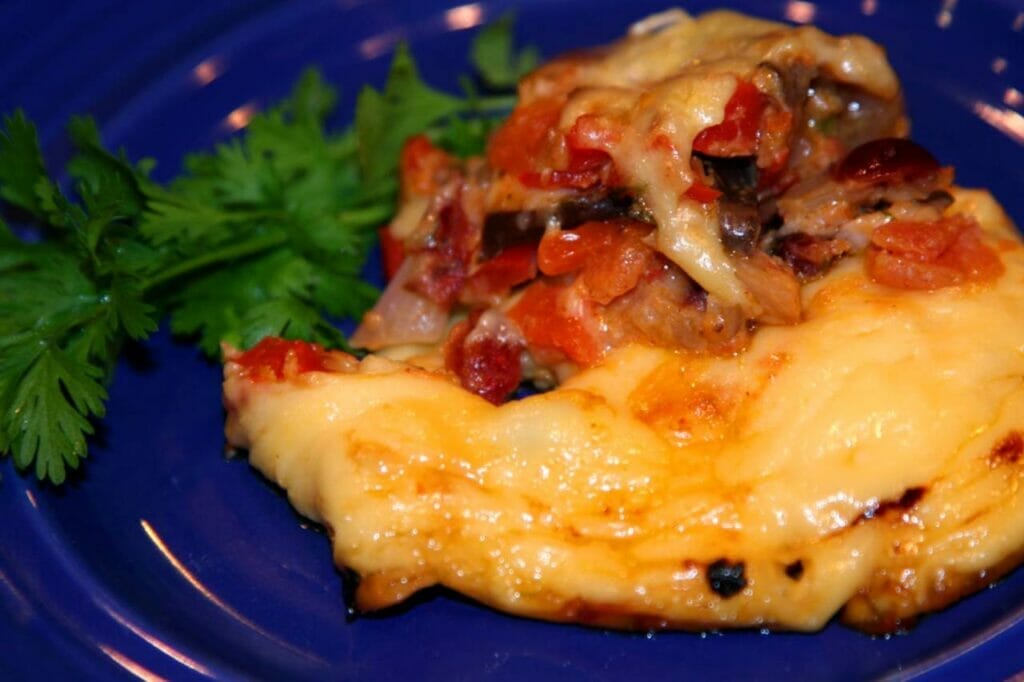 Dining on both islands centers on fresh seafood with Dutch influence. For example, the Keshi Yena is a dish in Curacao and Aruba. It is a large cheese baked with chicken or any other type of meat, depending on your preference.
Curacao has more fine dining options with a more traditional Dutch influence.
The lack of all-inclusive hotel deals allows visitors to experience the regional cuisine. The Island also has a unique blue liqueur made from native fruits.
Aruba caters more to North American tourists.
The food has more Latin American influence with a mixture of Dutch and Caribbean. The Island also has a lot more fast food chains than its counterpart.
In Aruba, the Keshi yena is one to try as it promises a spicy mixture of baked chicken and beef. Their bean fritters, Cala, is another one to try. When it comes to drinks, as it is with most Caribbean communities, a little dose of rum accompanies it.
Curacao is especially known for its orange-flavored rum.
Foods you should try include the Bitterballen, a flavored meatball whose filling is usually veal, and sometimes vegetables. The Keshi yena is another cuisine to try, as is Fuchi or Tutu.
Nightlife and Entertainment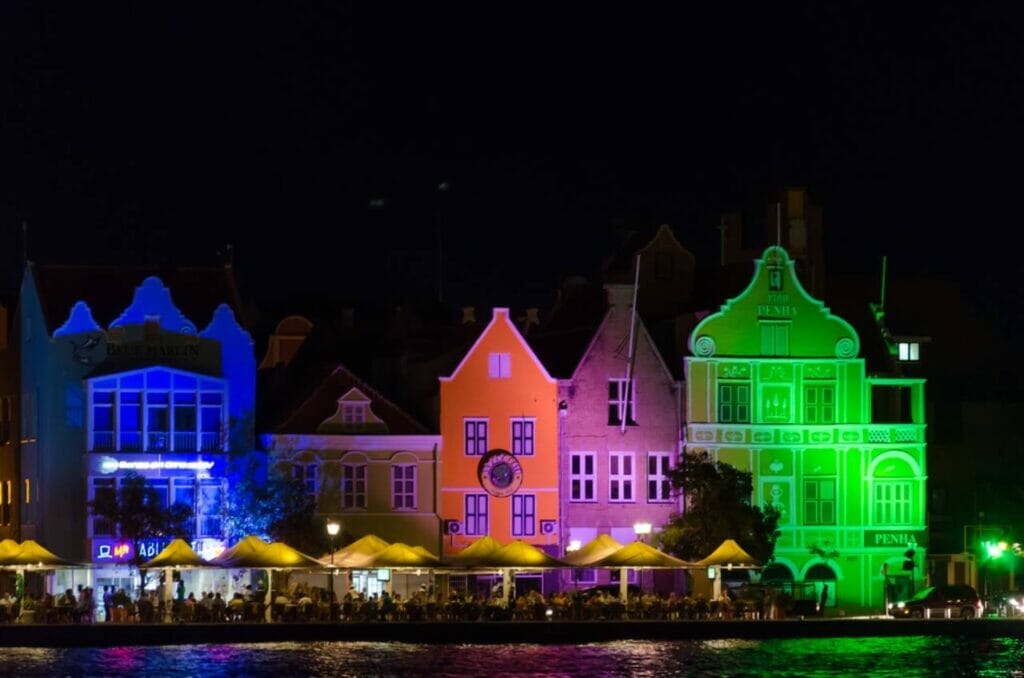 There are plenty of bars, restaurants, and nightclubs on both islands. Curacao's nightlife has a more laid-back and relaxing atmosphere. Entertainment across the Island is a mix of Latin and Dutch Caribbean.
Aruba is popularly nicknamed the Las Vegas of the Caribbean. The hotel strip comprises nightclubs, restaurants, bars, and casinos. You can easily walk around and not require car rental services. The party vibe in Aruba is more cosmopolitan, with open-air party buses.
Safety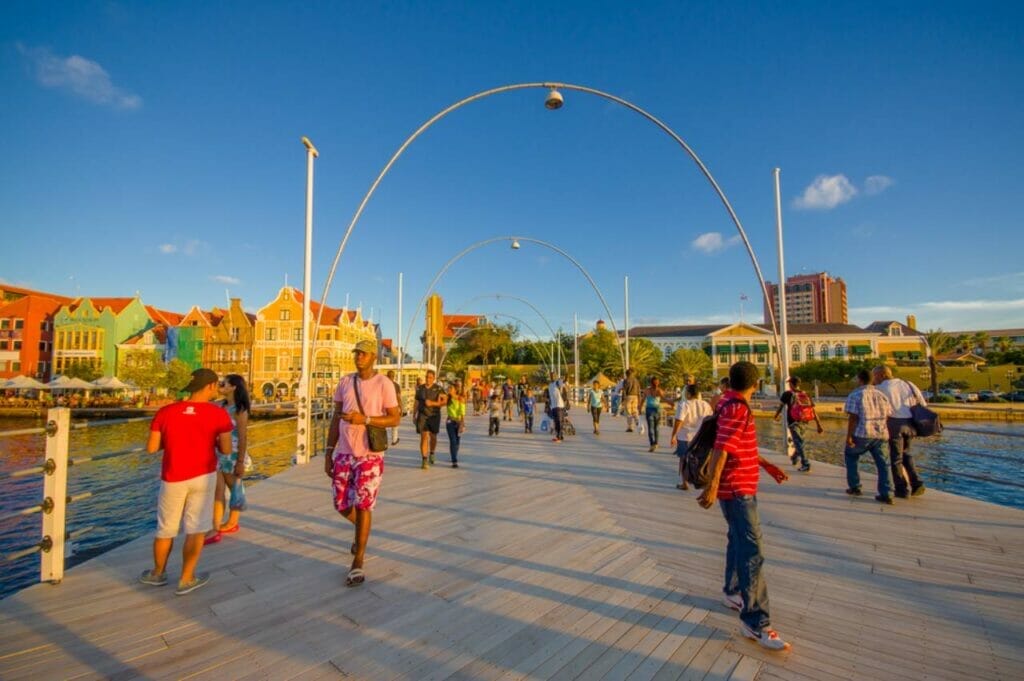 It is relatively safe to visit both Caribbean islands.
Like other destinations, you should avoid late-night walks in the dark or carrying packages for strangers. Keep copies of your ID in your suitcase or locked up if your hotel has a safe.
Aruba is one of the safest destinations for tourists in the Caribbean.
It has a low petty and violent crime rate. However, it is prudent that you guard your valuables.
In Curacao, you need to be a little more watchful.
We suggest staying off the back streets at night; they can be a bit sketchy after dark. Focus on where you're headed and avoid using your map on the streets of Punda; it could send an obvious message to unfriendly locals.
In Curacao, car break-ins are common, and you shouldn't leave any valuables in the car. These break-ins are so common that locals advise keeping cars unlocked and windows down. Doing this gives the impression that there's nothing of value inside.
Affordability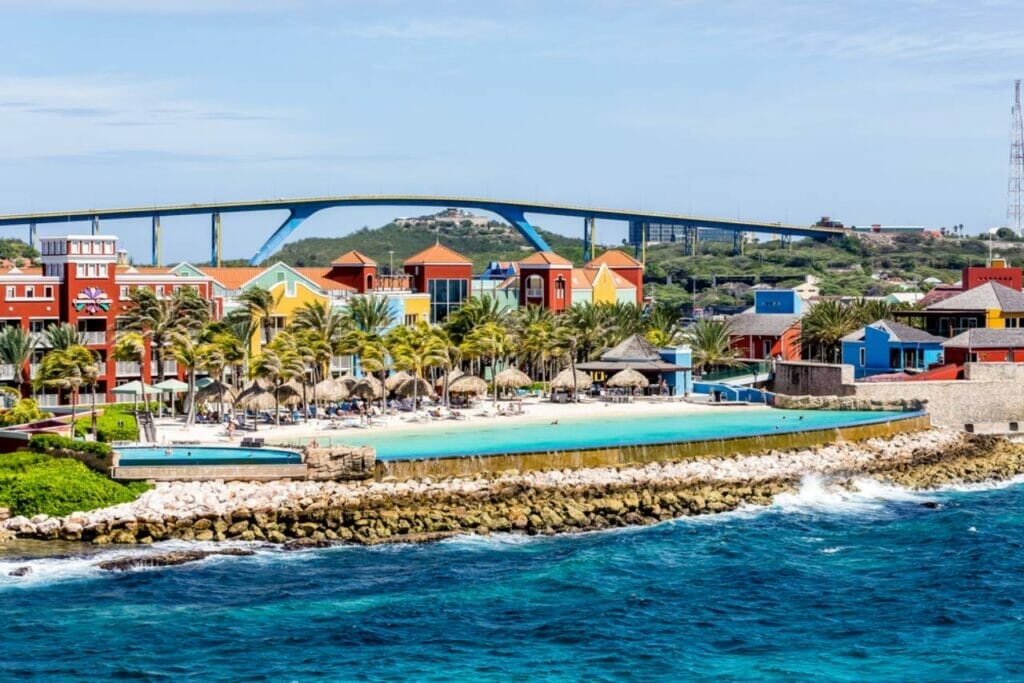 Even though Curacao is relatively cheaper than Aruba, several factors determine the general price points. For example, there are more daily flights from major US cities to Aruba; hence, flight tickets to Aruba cost less.
On the other hand, Curacao has cheaper accommodation that fits every budget, unlike Aruba. Furthermore, Curacao has larger grocery stores where groceries are more affordable than the mini markets of Aruba.
Average Cost of a 7-day Trip to Curacao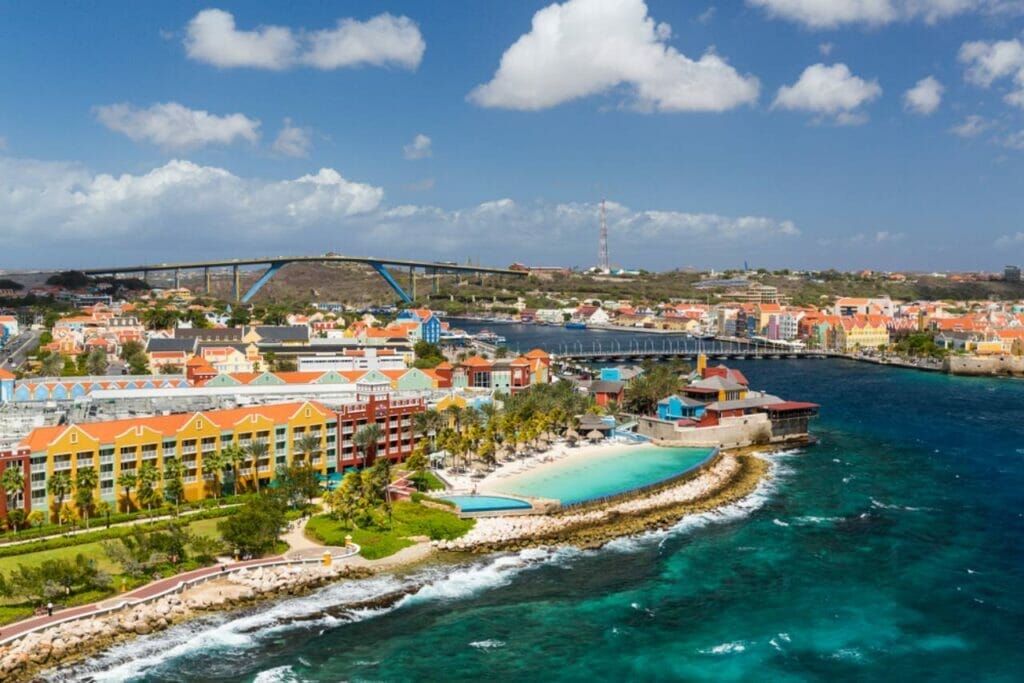 The average cost of a 7-day trip to Curacao is between $2456-$2806 per person. This cost covers all expenses, including flight tickets, accommodation, local transportation, food, and activities.
Flight Tickets: Round trip flight fares from major US cities cost between $650-$1000. Ticket costs depend on whether you visit Curacao during peak or shoulder. Flight costs may also be slightly higher or lower depending on airline and several other factors. If you're traveling on a budget, explore all the available options to know what suits your budget best.
Accommodation: Curacao has a range of accommodations, from budget hostels to luxury hotels. The average cost of a hostel is $40, while 2-3 star hotels cost about $74 per night. Luxury hotels cost $250 per night for one person.
Local Transportation: Car rental services offer a better means of moving around than public transportation and taxis. The average daily cost of a car rental is $50. Other transportation options like public buses and water taxis exist, but are limited to certain parts of the island.
Food: Dining is somewhat cheaper in Curacao. The average cost of breakfast and lunch is $7-$12, while dinner comes in at $19. Several restaurants offer local and intercontinental dishes, so you can choose based on personal preference.
Activities: Curacao has plenty of activities, from history museums to exotic tours and excursions. The average cost of entrance into a museum is $25, while tours start at $100 and above.
Average Cost of a 7-day Trip to Aruba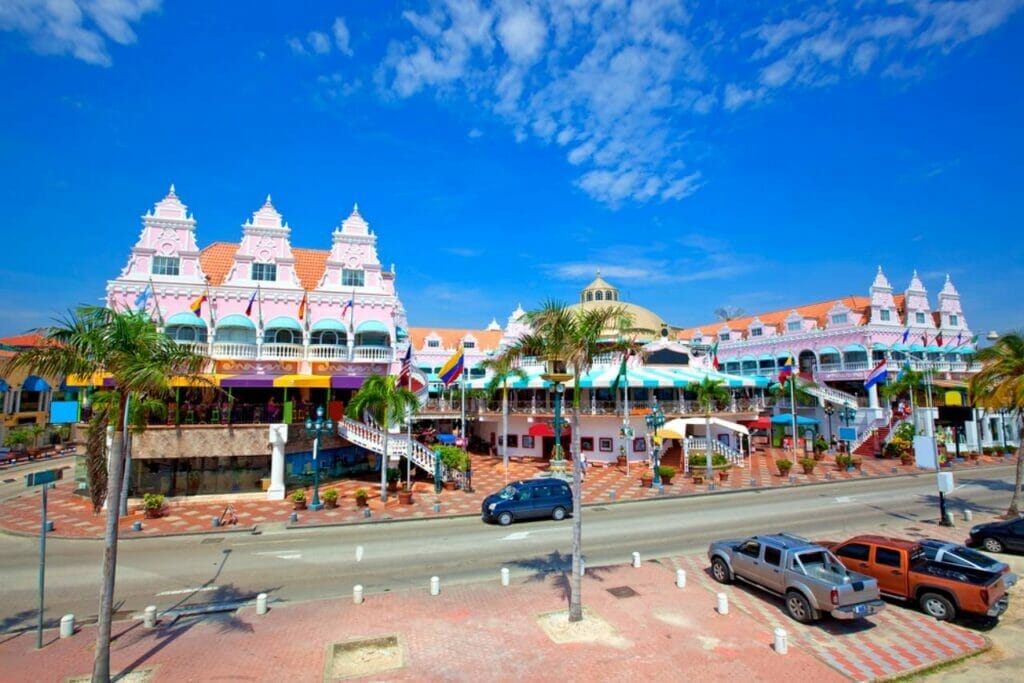 A 7-day trip to Aruba is between $2690-$3040 per person. Below is a breakdown of each cost.
Flight Tickets: A round-trip flight fare from major cities in the United States is between $450-$800 per person. Airfares are cheaper because several airlines fly into Aruba from the US daily. Another factor that affects flight tickets depends on whether you travel during peak season and if you book your ticket in advance.
Accommodation: Aruba has a lot of hotels because of the number of tourists it receives annually. The average daily cost of lodging per person is $100 for regular hotels and $500 for luxury hotels.
Local Transportation: Moving around Aruba is easy, and car rentals are the best option for traveling off the beaten path. The average car rental cost is $45 daily, with gas inclusive.
Food: The average breakfast and lunch costs are $15 and $25, respectively. Dinner is more expensive and costs about $35 daily.
Activities: The average cost of activities starts from $80 and goes above $100 for tours and cruises.
BONUS: Best Affordable Hotels
Aruba may have some of the most luxe resorts and hotels, but you can also find cheap and affordable hotels. The Aruba Bed & Beach in Pos Chikito should be on your list if you're on a budget.
For an affordable bed and breakfast facility, we recommend Club Arias Bed & Breakfast in Savaneta. Aruba Bed & Beach also offers breakfast.
In Curacao, the Scuba Lodge is one of the best options for anyone on a budget. Other options include the Ritz Village Hotel, Curacao Airport Hotel, and Curacao Suites Hotel.
Curacao Vs. Aruba: Which Should You Choose
Curacao and Aruba are beautiful Caribbean countries, and you should visit both with enough time and resources. However, your choice of either Island depends on the vacation you want.
Curacao is a larger island; you need enough time to explore the country. Suppose you are looking for a more authentic Dutch culture with colorful architecture and rich history. In that case, Curacao is the best option. On the other hand, Aruba is a relaxing beach getaway for beachgoers because of its long stretches of coastline. It is better developed with tourist amenities and has a more American feel with its high-rise buildings.
Furthermore, Curacao is a sweet haven for honeymooners with its tranquil nature, secluded coves, and beaches. Budget travelers have better options in Curacao. In contrast, Aruba's busier nature is preferable for families.
Again, we recommend touring both cities, but if you must choose, then review factors like costs and what you want to find in each location. This way, you can choose the best location that suits your style and budget.
Final Thoughts: Aruba Vs. Curacao
There you have it; everything you need to know about vacationing in Curaçao and Aruba. Both countries are similar with their white sandy beaches and beautiful landscapes.
Whatever your decision, you are guaranteed to enjoy the tropical weather and warm beaches. Just enjoy you have a book where you can journal your everyday experience.