Culebra vs. Icacos: Which Vacation Is Better?
Puerto Rico, here you come! You're in for a treat when you visit this unincorporated territory of the United States where locals are American citizens, and people from the United States can visit without a passport. Rather than staying on the busy mainland, you've decided to vacation on a tranquil slice of paradise on one of Puerto Rico's smaller islands.
So which vacation is better for you: Culebra vs. Icacos?
Culebra is better if you're looking for an island with a mixture of paradise, world-famous beaches, and a quaint small-town feel. For a truly remote getaway with no amenities and pure natural tropics, visit Icacos.
| Category | Culebra | Icacos |
| --- | --- | --- |
| Cost Range for 1 Week | $1,225 – lodging for seven nights | $2,275 – nearby lodging for seven nights + daily roundtrip transportation to the island for 2 adults |
| Transportation | Access by private boat, the Culebra Ferry, or airplane via its own small airport. On island, use taxis and public cars. | Only reached by boat, such as a water taxi or catamaran charter. No public transportation on the island. |
| Notable Attractions | World-famous Flamenco Beach, scuba diving, downtown area. | Beaches, chartered day trips to snorkel or catamaran. |
| Weather | Warm and tropical, ranging from 70 to 80℉ (21-27℃) throughout the year. Daily rain showers in the summer. | Similar to Culebra |
| Food and Drink | Several options for restaurants and bars, including Caribbean, Puerto Rican, coffee, seafood, and international cuisine. | Bring your own – no amenities or restaurants. |
| Activities for Kids | Boat charters, Museum of History, Culebra Public Library | Charter tour day trips |
| Nature Attractions | Hiking, beaches: Flamenco, Brava, Las Vacas, Zoni | Beaches, snorkeling |

Both islands will bring you an unforgettable vacation experience that's tranquil, rejuvenating, and full of white sand beaches. You'll enjoy the peace away from the bustling mainland traffic and crowds, but Culebra still offers some development versus the undeveloped Icacos.
Let's take a closer look at some of the top factors for determining the best Puerto Rican island vacation.
The Basics About the Islands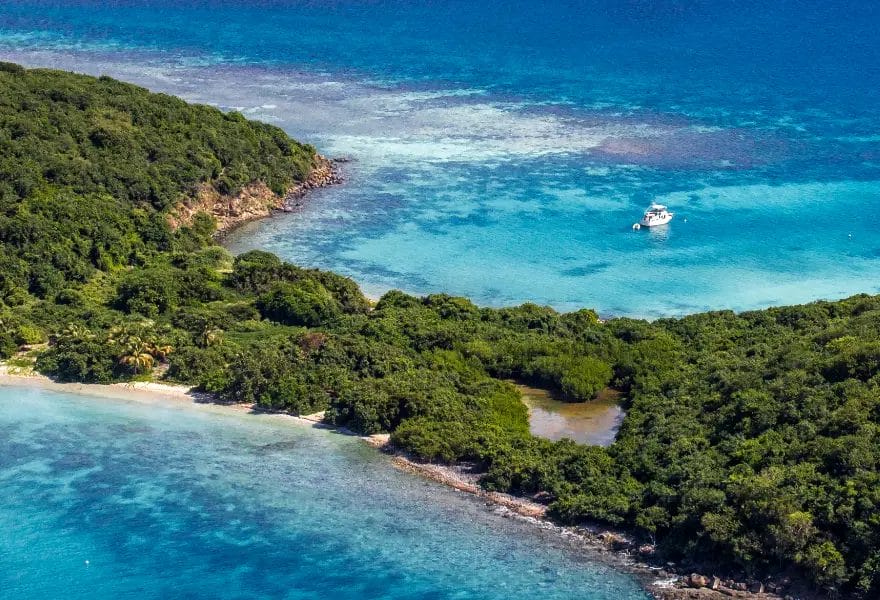 Icacos
Icacos Island, sometimes called Cayo Icacos, is a small, picturesque, completely uninhabited cay, or small island. It's a speedy 15-minute sail from the marina in Fajardo, Puerto Rico. A popular tourist day-trip destination, Icacos can only be just that; a day-trip and nothing more.
There are no facilities or buildings on the island, and camping is not allowed, so visitors must bring everything they need for the day or ensure they have it from a planned excursion. Enough food and water is needed, and also things like garbage bags and a beach umbrella to shade you from the sun's harsh rays.
Day trips to the cay start early in the day to make the most of the trip. To many, it feels like a deserted island, because it mostly is. It's pure scenery, and there's no population except those there for the day, so it's almost like a real-life scene from a postcard.
It's the biggest of all cays off the northeast tip of Puerto Rico, but it's quite a bit smaller than Culebra. Its scenery and diverse aquatic population make it excellent for swimming, snorkeling, and scuba diving.
Icacos is under the jurisdiction of the Department of Natural Resources and Environment. It's part of the Cordillera Keys Nature Reserve. There used to be a limestone quarry with a short railroad system to transport limestone from the quarry to the pier for a while.
Culebra
Culebra, also called Culebra Island or Isla Culebra, is about 17 miles (27 km) straight east of Puerto Rico. To the east of it lies St. Thomas, US Virgin Islands, and to the south is Vieques, Puerto Rico. It is the larger of the two islands at just over 10 square miles, and it's further away from the Puerto Rico mainland than Icacos.
As of the 2010 census, Culebra's population was 1,818, making it the least populated of Puerto Rico's municipalities, yet offering a small-town feel where you can mingle with locals.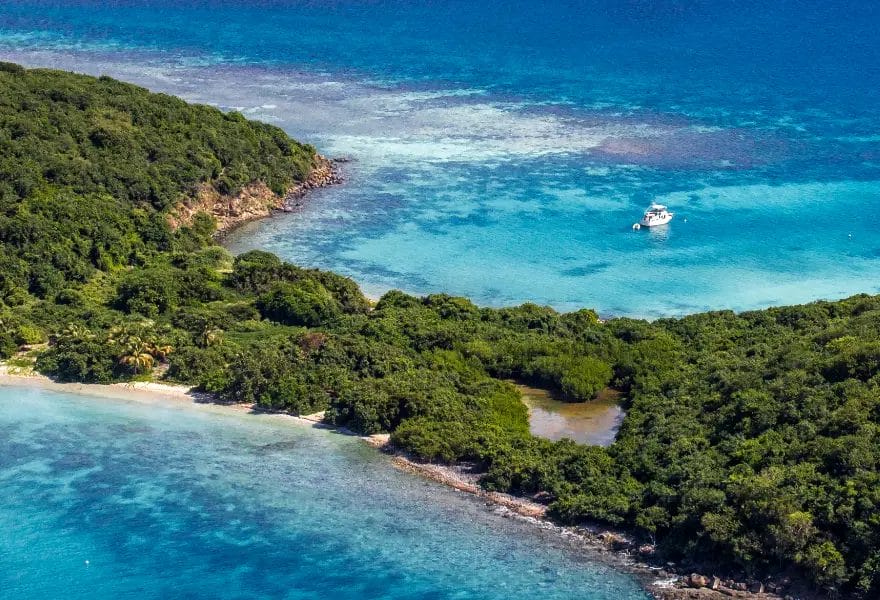 While it's more touristy than Icacos, according to TripAdvisor, Culebra is somewhat of an anti-tourist destination. There are no flashy bells and whistles that you might find on other islands, but there are some offerings in the way of amenities, such as hotels, shops, and restaurants.
Some sources say that after being discovered by Christopher Columbus during his second voyage on November 19, 1493, Culebra was left abandoned for centuries. Later, it was used as a refuge for pirates, fishermen, and sailors and served as a US Naval Base until 1975.
Culebra features unique topography with cliffs, sandy coral beaches, and forests of mangroves. It has a long and detailed shoreline, so beach-lovers, rejoice! There's plenty of ocean life, making it another great option for snorkeling or diving.
For more than 100 years, about 20% of the island has been preserved as a National Wildlife Refuge. This area is a haven for endangered sea turtles, seabirds, and more.
For a quick three-minute virtual trip through Culebra, enjoy the views in this video:
Cost of Stay: Icacos Vs. Culebra
When traveling to Icacos, your only expense on the island will be getting to and from the island, plus any boating or snorkeling expenses. Consider that your lodging will need to be on a nearby larger, more populated island.
For Culebra, you'll have all the usual vacation expenses, like lodging, basic attractions or experiences, and dining. Visitors can find ample, reasonably priced hotels or vacation rentals to choose from in Culebra.
Best Affordable Hotels
In Culebra, we recommend you try a taste of villa life at Hillbay View Villas, a family-friendly place known for exceptional quality and a great price near the ferry terminal. Another great bet is the highly-rated Club Seabourne, a boutique hotel described as "Carribbean-chic."
For an Icacos vacation, you'll need to stay nearby on the big island of Puerto Rico and boat to and from Icacos. One great lodging option that's well-rated for cleanliness and value is the Village Inn located nearby in Carolina, Puerto Rico. For a bit of a further drive from the town you can catch a charter from and a slightly higher price point per night, try the luxurious San Juan Marriott Resort & Stellaris Casino.
Main Attractions
Attractions in Culebra
If you've never been to an award-winning beach, Culebra is where you can experience one. It consistently wins prizes for having one of the world's best beaches – Flamenco Beach.
In 2014, Flamenco Beach was rated the third best beach in the entire world by TripAdvisor. In 2017 it earned the #19 spot on Forbes' list of the top 50 beaches in the world. Visitors say walking on the beach is like floating through satiny powdered sugar as it dusts your toes. You can even camp on the beach year-round. Don't miss seeing its iconic rusty old military tank.
With nine other beaches on the island, beach-lovers have options. Try Brava Beach, Las Vacas Beach, or Zoni Beach, too.
Scuba diving is popular in Culebra, which is home to many reefs and crystal-clear waters. Since there's no run-off from rivers or streams, the waters stay very clear.
Aside from beach-hopping, you can mingle with locals and immerse yourself in nature in Culebra. There are plenty of opportunities for hiking and nature photography, and as opposed to Icacos, there is a downtown area in Culebra. There, you can admire the colorful architecture and some quaint small-town activity.
Want to hit the jackpot finding buried treasure? You just might find it in Culebra. A 2018 Netflix docudrama, The Legend of Cocaine Island, featured Culebra as the buried treasure, in the form of $2 million worth of cocaine. Even if you don't find the treasure, you can still say you've visited the site of the Netflix show.
Attractions in Icacos
In Icacos, it's all about the beaches, and not much else. Their pristine wonder will draw you in for a completely unplugged, natural experience, and the underwater wonderland will nourish the soul.
Most of your day will be filled with lazy swimming and snorkeling. You can book tickets with a company who will take you on a snorkel charter tour, a snorkeling and beach-going combo trip, a catamaran and picnic cruise, or even a mini boat snorkel safari. Alternatively, you could rent a private boat for the day.
Depending on your day trip, your captain may make a stop at an offshore reef where you can best explore colorful corals, large schools of fish, stingrays, and more.
One thing to look for as you cruise around the island is the booby birds nesting site.
Activities for Kids
Kids will enjoy their time with you in Culebra or Icacos.
In Culebra, hit the public library for a break from the sun. For a unique attraction located in a former Naval munition warehouse, visit a museum exhibiting the island's history. At the Museo Histórico de Culebra, you'll learn about the culture, ecology, and formation of Culebra. It also shares information about the island's endangered ecosystems, creatures, and the Taínos people's culture, who stayed on the island hundreds of years before the Spaniards.
In Icacos, children will enjoy leisurely beachcombing, searching for seashells, and snorkeling with the family. They'll make their own fun during a day on the island with no agenda except enjoying your time together.
Food and Drink
You'll find a few quaint establishments in Culebra, featuring everything from local Caribbean cuisine to tacos to coffee to seafood. In addition to Caribbean cuisine, you'll find Spanish, Puerto Rican, Mexican, and American, too.
In Icacos, you guessed it – bring your own or make sure meals are included with your day trip tour. With no amenities, you will not find a restaurant or local cuisine here. If you can, try to taste the sweet-yet-bitter renowned Icacos fruit at some point during your stay.
Weather
Puerto Rico and its surrounding islands are warm and tropical, with temperatures varying between 70 and 80℉ (21-27℃) throughout the year. During the summer months, you can often expect an afternoon rain shower.
Safety
There are extremely low crime rates on both islands, which are considered safe. Either way, it's always a good idea to be aware of your surroundings, avoid traveling alone after dark, and use common sense.
If you choose to swim or snorkel in Culebra or Icacos, be aware of the natural hazards of oceanic wildlife like stingrays and watch for rip currents. If you're on a water taxi or catamaran, pay attention to the crew's instructions. There are no lifeguards in Icacos and few in Culebra, so flotation devices and the buddy system are great ideas.
Transportation
Icacos can only be reached by boats, such as a water taxi for the budget-conscious or a catamaran charter for more amenities and convenience. 
The ride from Fajardo to Icacos is only about 20 minutes long, and the trip to the island is part of the experience! With no amenities on the island at all, it's no surprise that there's no transportation. However, ensure that you arrange to get to Icacos will also bring you back.
You can reach Culebra's island by a private boat, the Culebra Ferry, or an airplane. Many people opt for the ferries, making several roundtrips to the main island cost of about $4.50.
Culebra is also home to a small airport, Benjamín Rivera Noriega Airport, which has flights from Puerto Rico mainland and nearby Vieques. To get from point A to B on the island during your Culebra vacation, you'll find public transportation in the form of taxis and public cars.
Conclusion: Culebra Vs. Icacos
Puerto Rico is calling your name, and those white sand beaches and warm breezes are ready when you are.
While both Culebra and Icacos promise a fabulous vacation, choose Culebra for a blend of beachy tropics and small island towns. Choose Icacos to get away on a scenic, real-life deserted island completely.