6 Best Places To Get Authentic Hawaiian Food in Maui
While Maui has a vibrant food scene full of fusion restaurants, touristy joints, fine dining establishments, and run-of-the-mill chains, eating at an authentic Hawaiian spot will make your stay on the island much more remarkable, culturally rich, and fun. While you'd think these places would be easy to find, you have to scope out the scene and ask the locals for recommendations to find them – which is precisely what I did for you.
The best places to get authentic Hawaiian food in Maui are Huli Huli Chicken, Tin Roof Maui, South Maui Fish Co, Coconut's Fish Cafe, and 808 Grindz Cafe, all locally owned spots with a traditional Hawaiian menu. However, for fine dining, head over to Ko for an authentic plantation-style meal.
All of these restaurants are fantastic, top-rated options if you're looking for Hawaiian flavor, but each one has something extraordinary to offer. So, let's look at each restaurant's features and find the perfect place for you to get real Hawaiian food during your stay.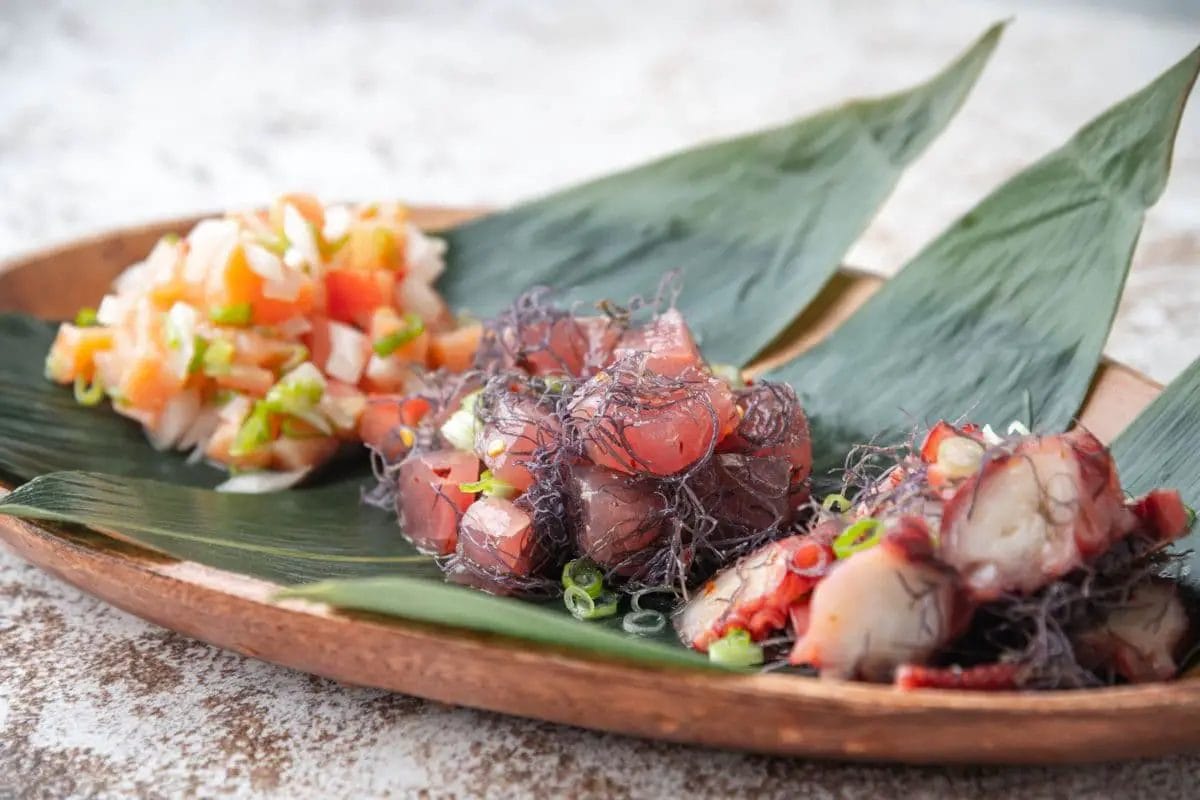 1. Huli Huli Chicken
On the Map: Huli Huli Chicken
If you get anything from this article, I hope you go to Huli Huli Chicken. Eating here is a memorable and delightful experience, and it's hands-down the most authentic place to get Hawaiian food on the island.
Huli Huli Chicken is a cash-only, mom-and-pop food stand in Hana on the island's east side. So, bring some paper money if you plan to eat here.
The restaurant is in an open-air cabana, surrounded by the lush tropical jungle and overlooking a rocky beach. You'll get to dine at one of the picnic tables or lounge chairs beside the ocean with the gentle waves mere feet away from you, which is better than any candlelit dining room, in my opinion.
The menu changes daily, but they always offer their world-famous Huli Huli chicken cooked over a large open grill, a vegetarian option, a combo plate, ribs, and kalua pork. Their dishes come with rice and a salad, and the portions are massive, so come here hungry!
Naturally, I recommend the Huli Huli chicken, which comes with a BBQ half-chicken and rice with a salad. If you haven't had any, get the mac salad for a truly authentic Hawaiian meal.
Also, you might want to try to get here early since this joint is very popular, and they might run out of some of their meat before dinnertime. So, stop by for an early lunch!
If you want to see what all the hype is about, check out this clip from Gordon Ramsay's show Uncharted, where he visits and cooks at the Huli Huli Chicken stand. Pay attention to Sheldon from the beginning – he's the chef and owner of my next top pick in Maui:
2. Tin Roof Maui
On the Map: Tin Roof Maui
Tin Roof Maui is a local classic. They offer take-out-style food prepared by one of Hawaii's most renowned celebrity chefs.
The restaurant is in Kahului in central Maui, just 0.3 miles (0.5 km) from Kanaha Pond State Wildlife Sanctuary and 1.6 miles (2.6 km) from Kahului Airport. It's the best place to stop for a meal after landing or before leaving the island.
This local restaurant is owned by Sheldon Simeon, a Maui native, and two-time Top Chef Finalist. As a restauranteur, he has ranked in Hawaii Magazine's Top 5 Best Hawaiian Chefs and FOOD & WINE Magazine's People's Best New Chef.
Despite the chef and owner's many accolades, his restaurant, Tin Roof, is a humble, traditional plate lunch joint with limited seating. Still, where the ambiance is lacking, Sheldon's incredible menu makes up for it.
You'll find traditional Hawaiian dishes such as mochiko chicken, mac salad, garlic shrimp, and dry mein with spam, along with options that pay homage to Hawaiian cuisine's close relationship with Japanese and Chinese fare. However, everyone's favorite here is the mochiko chicken with mac salad on the side.
While you're here, I recommend trying some of their local kombucha, which includes fresh tropical fruit juices and teas for a genuinely Hawaiian beverage.
Since this restaurant is a favorite among tourists and locals, and since seating consists of only a couple of picnic benches outside, be prepared for a line if you head in during lunchtime. If you want the wait to be shorter, I would order online, then go in when the pickup is ready.
3. South Maui Fish Co.
On the Map: South Maui Fish Company
If you're looking for fresh-caught Hawaiian fish and authentic poke, this is the place to grab some food. South Maui Fish Company is a locally-owned food truck. It's a favorite among everyone who eats here – even Guy Fieri loves it!
Located in Kihei, they're right next to Kalama Park, and they're just feet away from Maui Ono Donuts, where you can grab some remarkable dessert after your meal.
The South Maui Fish Co truck is usually parked in the center of Kihei Marketplace, making for some fantastic locally-sourced shopping after lunch or dinner.
South Maui Fish Company stands out because they serve the freshest fish, which is all sustainably line-caught.
The owners and staff at this truck fish for most of their food themselves, which is why they have a "break" in their hours of operation. During their break, you'll find the chefs and staff out on the water fishing for the dinner rush and scouring the docks for the freshest catch. Everything you eat here was caught on the same day, so there's no better place to grab poke or ahi steaks.
However, this truck is also incredibly popular among locals, which often means they run out of fish before closing. So, head over as soon as they open if you want your pick of anything off their menu.
Their menu changes based on the seasonal catch, but everyone always raves about their ahi poke bowls. Their fish tacos are equally good, though – so I'd honestly recommend pretty much everything on their menu!
4. Coconut's Fish Cafe
On the Map: Coconut's Fish Cafe
Coconut's Fish Cafe in Kihei, on the south side, is a fantastic, casual place to grab some traditional Hawaiian seafood. It's less than a mile away from Maui Nui Golf Club and Kihei Regional Park, and it's just a 5-minute drive from Kalepolepo Beach Park.
This cafe-style eatery has a clean, open feel, and they offer some of the best-rated seafood dishes on the south side. It's an order-at-the-counter joint where you get your utensils by the drink fountain, so it's a far cry from a fine dining establishment. However, it has food that tastes better than most of the upper-class restaurants on the island.
Their most popular dish is their fish tacos, but I highly recommend their grilled Mahi-Mahi sandwich, which is delightfully flavorful and has the perfect texture. Pair your dish with their coconut shrimp pupu platter for the best seafood meal you'll have in Hawaii!
Overall, Coconut's Fish Cafe is the best choice if you want a quick but delicious authentic Hawaiian meal that speaks for itself.
5. 808 Grindz Cafe
| | |
| --- | --- |
| Hours of Operation | Tuesday – Sunday, 7 AM to 2 PM |
| Price Rating | 2/5 |
| Reservation | Recommended |
| Address | 843 Wainee St, Lahaina, HI 96761 |
| Phone Number | (808) 280-8914 |
| Social | 808 Grindz Cafe on Facebook 808 Grindz Cafe Maui on Instagram |
On the Map: 808 Grindz Cafe
808 Grindz Cafe is Lahaina's favorite spot for an authentic breakfast or brunch. It's only 0.7 miles (1.13 km) from Lahaina Beach, so it's the perfect place to enjoy delicious traditional Hawaiian food before a long beach day!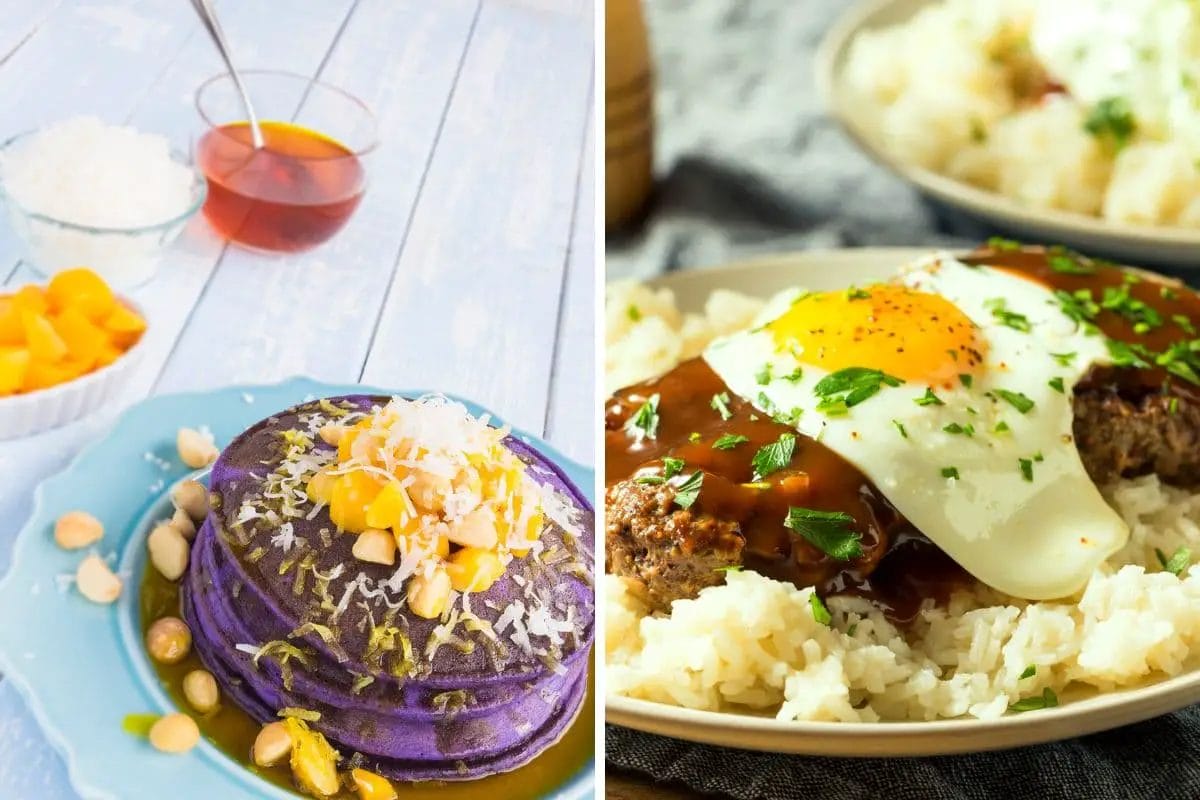 808 Grindz is a locally owned and operated restaurant with a casual, family-friendly atmosphere and limited seating.
They also fill up fast since they are the top brunch spot among tourists and locals, so I recommend starting your day early if you want to avoid waiting. Otherwise, you can always order ahead and get takeout to bring to the beach.
Their menu includes fantastic Hawaiian fare, but everyone loves their Hawaiian-style pancakes and loco moco.
If you want a genuine taste of Hawaii, you must try the Ube pancakes. They are perfectly sweet and flavorful, and there's nowhere else you'll find purple pancakes!
However, if you want something savory, I recommend their short rib moco, a traditional Hawaiian recipe with rice, Hawaiian BBQ short ribs topped with a fried egg, and sweet and savory gravy. There's nothing like it!
They also have some of the best macadamia nut pancakes in all of Maui! However, I've already discussed that in my other article, XX Best Places for Macadamia Nut Pancakes in Maui – so if you're looking for macadamia nut pancakes on the island and other fantastic brunch spots, you might want to give it a skim.
6. Ko Restaurant
On the Map: Kō Restaurant
Ko is the place to go if you're looking for fine dining with a historically accurate, authentic Hawaiian menu.
Ko Restaurant in Kihei on the south side offers a menu with all of the traditional Hawaiian dishes that once graced the banquets of early Maui. However, all these unique and exquisite dishes are served in an elevated environment with all the frills you need to take your eating experience to the next level.
It's within walking distance of Polo Beach and only 0.6 miles (1 km) from Wailea Beach, so if you're staying in the area or heading to Maui's most luxurious beaches, why not stop at Ko for a dinner that's just as wonderful?
Ko's menu mimics the Hawaiian plantation style, taking you back in time with their menu of Maui's traditional dishes.
Everyone raves about their Ahi on the Rock, a local ahi tuna with shichimi and orange ginger miso. The flavors melt together in your mouth for a taste like you've never experienced!
For another authentic dish of Maui, I recommend pairing your tuna with a Mauka Harvest Salad, which includes pothole fern shoots, a traditional ingredient you won't find anywhere outside of Hawaii.
I highly recommend finishing your dinner with their creme brulee, served in a fresh pineapple. It's both gorgeous and delicious!
Ko also offers cocktails and a bar for a whole night of fun. Their best-selling drink is their Kō Plantation signature cocktail, a frozen beverage with Bacardi Ocho, ginger, cilantro, pineapple, and lime. It's spicy, sweet, and so flavorful that I want to fly back to get another one!
If you can't tell, I've had a hard time choosing just one thing to recommend eating or drinking here – it's that good!
So, pick this restaurant if you're looking for one place to splurge on a meal. It'll give you a taste of Hawaii paired with an exceptional, luxurious dining experience you'll never forget.