Aruba and St. Kitts, two dazzling gems in the Caribbean, vie for the spotlight as they showcase their unique versions of paradise. In the battle of Aruba vs. St. Kitts, each island reveals its distinctive charm.
The main difference between Aruba and St. Kitts lies in their geographical location and cultural ambiance. Aruba, located in the southern Caribbean, is renowned for its arid landscapes, pristine beaches, and vibrant nightlife. St. Kitts, situated in the eastern Caribbean, captivates travelers with its lush greenery, historical landmarks, and a more tranquil atmosphere.
The choice between these two destinations depends on whether one seeks a lively beach getaway or a serene escape amidst natural beauty and heritage.
| Aspect | Aruba | St. Kitts |
| --- | --- | --- |
| Cost Range for 1 Week | $2,274 – $4,782 (source) | $890 – $5,024 (source) |
| Location | Southern Caribbean | Eastern Caribbean |
| Geography | Flat, desert-like terrain | Lush, mountainous |
| Language | Dutch, Papiamento, English | English |
| Government | Parliamentary democracy | Parliamentary democracy |
| Currency | Aruban Florin (AWG) | Eastern Caribbean Dollar (XCD) |
| Tourism | Major tourist destination | Developing tourism industry |
| Economy | Tourism, oil refining | Tourism, agriculture, manufacturing |
Embark on an adventure to uncover the wonders of Aruba and St. Kitts, two Caribbean treasures that promise a vacation like no other.
Aruba vs. St. Kitts: Geography and History
How about we dive into a little tropical daydreaming? Picture this: balmy breezes, endless sun, and the sounds of gentle waves. Sounds tempting, right? Now, let's wander through the tropical gems of Aruba and St. Kitts. Whether you're a family filled with curious explorers, lovebirds looking for some cozy moments, a savvy traveler on the hunt for a deal, or someone who just wants to indulge, we've got the perfect island escape waiting for you.
Aruba, fondly nicknamed "One Happy Island," is a shimmering spectacle. Think of beaches that look straight out of a postcard – soft white sands meeting crystal-clear blue waters. It's a paradise for both families and couples. Ever dreamt of snorkeling beside colorful fish, riding the wind while windsurfing, or discovering sunken treasures? This island is your playground.
And oh, let's not forget its charming Dutch-inspired corners and traditions that add a touch of nostalgia. Don't miss the iconic California Lighthouse; it's like standing on the edge of the world with views that stretch for miles. For those watching their wallets, Aruba has a treasure trove of cozy stays and tasty treats that won't break the bank.
Now, let's swing over to St. Kitts. It's a canvas of green rainforests and mysterious volcanic terrains. Imagine romantic strolls in mesmerizing botanical gardens, or a scenic train journey revealing the heart of the island's wonders.
History enthusiasts, the tales of Brimstone Hill Fortress National Park await – it's like stepping into an epic saga of colonial battles. And to our luxury lovers, St. Kitts has some plush corners where you can drench yourself in opulence. Just picture spa days and dinners by the beach with the Caribbean's calm setting the mood.
So, is it Aruba's exhilarating adventures and warm embraces or St. Kitts' enchanting tales, dreamy landscapes, and plush treats that's calling your name? Each island is a chapter of paradise ready to be explored. But, no matter which one you choose, remember: sun-kissed memories await.
Unveiling Aruba and St. Kitts: Beach Gems
Aruba, with its picture-perfect beaches, is a true beach lover's delight. Eagle Beach, a perennial favorite, boasts miles of soft, powdery sand that's perfect for families seeking a slice of paradise. The calm, crystal-clear waters make it an idyllic spot for kids to splash around while parents relax under swaying divi-divi trees.
Couples can indulge in romantic strolls along the shoreline during magical sunsets that paint the sky in hues of gold and pink. For those itching for some adventure, Arashi Beach offers fantastic snorkeling opportunities amidst colorful marine life, making every dip an underwater escapade.
Now, let's hop over to St. Kitts, where the coastline unveils its own set of treasures. South Frigate Bay, divided into a lively Atlantic side and a serene Caribbean side, caters to all types of travelers. Adventurers can ride the waves on a surfboard, while families can build sandcastles and soak up the sun in tranquility.
Couples will find solace in the secluded coves of Cockleshell Beach, where the gentle lull of the waves and the shade of palm trees set the stage for intimate moments. To amplify the luxury, travelers can head to Pinney's Beach on the neighboring island of Nevis, where exclusive beach clubs and plush amenities redefine beachside relaxation.
In the showdown between Aruba and St. Kitts for the ultimate beach experience, it's a draw of paradise that caters to your preferences. Whether it's Aruba's family-friendly shores, captivating sunsets, and underwater marvels, or St. Kitts' versatile coastline, hidden coves, and luxurious enclaves that beckon you, one thing's for sure: both destinations offer a sun-soaked escape that dreams are made of.
Aruba vs. St. Kitts: Attractions and Activities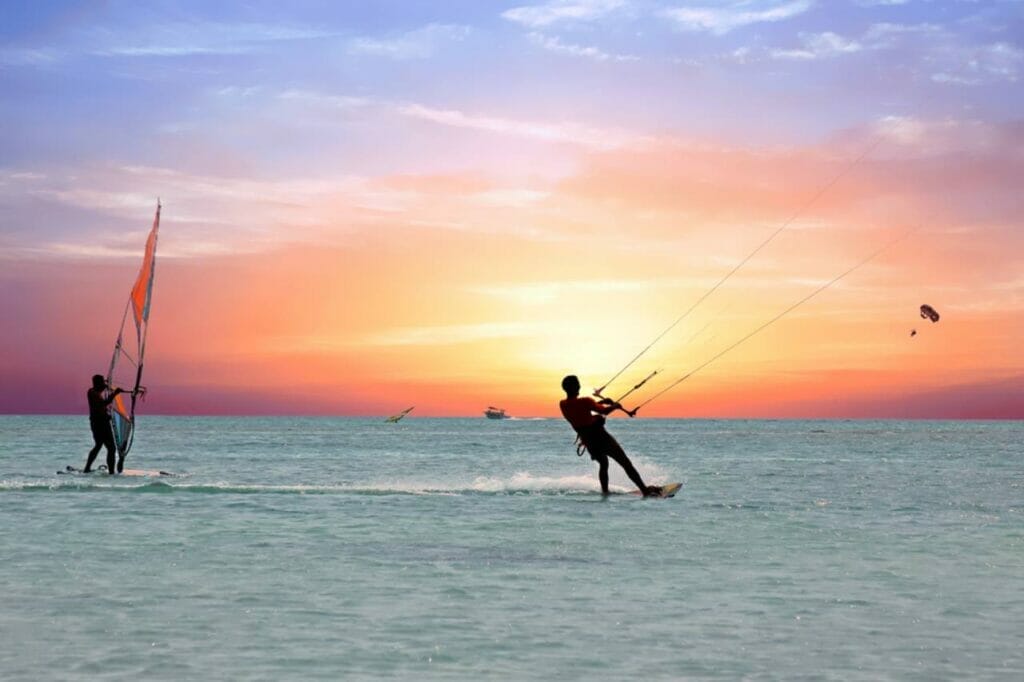 Aruba, that sun-kissed gem in the Caribbean, knows how to keep everyone entertained. Families can dive into the vibrant marine world at the Aruba Ostrich Farm or explore the mystical Arikok National Park, home to desert landscapes, hidden caves, and stunning vistas. For couples, a horseback ride along the coastline, with the waves as your background music, sets the stage for romance.
And when adventure calls, why not try kite surfing at Fisherman's Huts? It's an adrenaline rush like no other. Even for the budget-conscious, Aruba doesn't hold back – from exploring the charming streets of Oranjestad, adorned with colorful architecture, to indulging in local food trucks that promise a flavorful experience.
On the flip side, St. Kitts lures you in with its unique offerings. Families can immerse themselves in history by exploring the awe-inspiring Brimstone Hill Fortress or engaging with adorable monkeys at the St. Kitts Eco Park. Couples seeking an intimate escape can take a scenic hike to Mount Liamuiga, an ancient volcano, or embark on a catamaran cruise, sipping on champagne as the sun dips below the horizon.
Thrill-seekers can satisfy their hunger for excitement through ziplining over rainforests or hopping on a 4×4 safari to uncover the island's hidden treasures. For those with a taste for luxury, a round of golf at the Royal St. Kitts Golf Club or a day of pampering at a world-class spa awaits.
When it comes to attractions and activities, Aruba and St. Kitts are a traveler's playground. It's not just about choosing between them – it's about embracing their distinct flavors and experiences.
So, whether you're drawn to Aruba's underwater wonders, desert landscapes, and vibrant streets, or enticed by St. Kitts' historical landmarks, rainforest thrills, and luxurious leisure, one thing's certain: your days will be filled with unforgettable moments and your heart with pure wanderlust.
Aruba and St. Kitts: Top Accommodations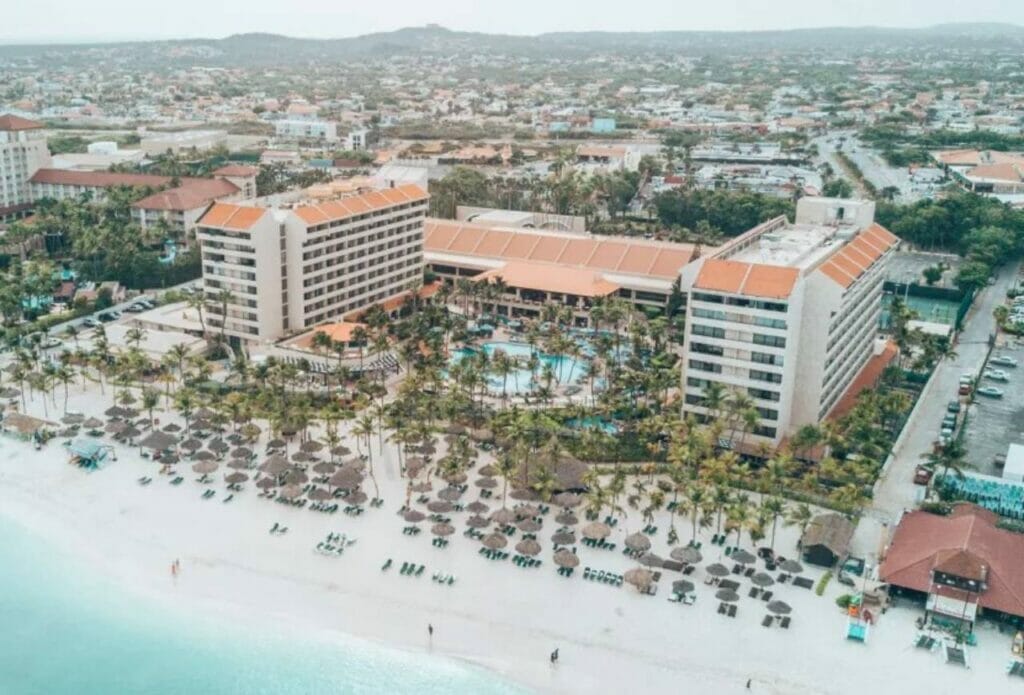 Let's talk about your home away from home in the captivating realms of Aruba and St. Kitts. Whether you're a family tribe, a couple in love, a thrill-seeking explorer, a budget-savvy nomad, or a luxury connoisseur, these islands offer accommodations that cater to your unique tastes and preferences.
Aruba, the sun-kissed jewel of the Caribbean, rolls out a red carpet of options. For families, the Ocean Z Boutique Hotel brings the comfort of home with a dash of tropical flair. It's a cozy oasis where kids can frolic by the pool while parents unwind in stylish rooms.
Couples, on the other hand, can revel in the Barceló Aruba, an all-inclusive paradise that spoils with private beaches and romantic sunsets. And let's not forget the adventure seekers – the Eagle Aruba Resort & Casino combines exploration and entertainment with its convenient location and vibrant nightlife.
St. Kitts steps up to the plate with an equally enchanting lineup. Park Hyatt St. Kitts Christophe Harbour is a symphony of luxury and elegance, ideal for couples seeking an exquisite escape. This haven of serenity offers a private beach, lavish spa treatments, and sumptuous suites overlooking the azure waters.
For families, Belle Mont Farm Resort is an organic haven where the little ones can connect with nature, and parents can relish the eco-chic charm. And when it comes to pure opulence, Four Seasons Resort Nevis takes the cake. With its lush surroundings and top-tier amenities, it's the pinnacle of luxury for those seeking the crème de la crème.
So, whether you're lured by Aruba's family-friendly havens, romantic retreats, or bustling casino resorts, or if St. Kitts' luxury hideaways, nature-immersed escapes, and world-class elegance are calling your name, rest assured that both islands have you covered. It's not just about where you lay your head – it's about crafting unforgettable memories that make these destinations your own personal paradise.
Choosing Your Car Rental: Aruba or St. Kitts?
Let's dive into the exciting world of car rentals in the picturesque locales of Aruba and St. Kitts! Buckle up, because we're about to rev those engines and embark on an incredible road adventure.
Aruba, the sun-soaked paradise, has got your back when it comes to car rentals. If you're all about making the most of your vacation budget, Drive 4 Cheap Car Rental is your go-to choice, tailor-made for families eager to explore every nook and cranny of this paradise. Want to infuse some romance into your trip? Look no further than Aruba Car Rental – Top Drive, boasting a fantastic fleet perfect for couples yearning for a dreamy drive along the coast.
And for the thrill-seekers among us, Mitoo Quality Cars Aruba steps up the game with rugged rides ready to conquer the island's wild terrains. Aruba covers all bases, ensuring your vacation stays firmly in cruise control, whether you're looking for budget-friendly options or heart-pounding adventures.
Heading over to St. Kitts, Bullseye Car Rental hits the bullseye for those who want to cruise around in style without breaking the bank. It's a fantastic choice for families and budget-conscious travelers alike, offering a range of options from compact cuties to spacious chariots.
Seeking a smoother ride with a bit more space? Families and couples aiming to uncover the island's hidden gems will find solace with ABC Car Hire. And for the luxury enthusiasts out there, Hertz Car Rental is a dream come true, transforming every drive into a VIP experience.
So, when it comes to deciding the ultimate car rental face-off between Aruba and St. Kitts, who's the one calling the shots? It's none other than you! Whether you're drawn to Aruba's diverse range of choices catering to families, couples, and thrill-seekers, or you're leaning into St. Kitts' blend of affordable and luxurious options that let you cruise in style, both destinations hand you the keys to an adventure you'll forever cherish.
Best Dining Experiences: Aruba vs. St. Kitts
Ever thought of mixing sunbathing with a delightful culinary escapade? Aruba and St. Kitts are your go-to islands, offering so much more than just shimmering beaches. They invite everyone – from families and lovebirds to adventurers and penny savers – for a taste fest!
Aruba, our delightful flavor playground, has something for everyone. Families, ever tried P.F. Chang's Aruba? Imagine diving into Asian delicacies while hearing your kids' joyful laughter. Their sizzling woks sure are music to my ears!
For those romantic nights out, Carte Blanche Restaurant offers an intimate setting with a chef-curated menu. Imagine, just you, your partner, and a few other diners, indulging in a food experience like no other. And for those on a flavorful adventure that's wallet-friendly, Papillon Restaurant merges European flair with Caribbean zest.
Hop on over to St. Kitts and the culinary fiesta continues. Seafood lovers, Rock Lobster Seafood & Grill awaits with the freshest catch, and just imagine digging into juicy lobster with your loved one while the ocean serenades you.
If you're after an authentic Caribbean feel without the fancy price tag, Boozies on The Beach serves up heartwarming island classics. And, speaking of heartwarming, picture this: Dining at Sunset Restaurant & The Dock with your partner, surrounded by the majestic sunset colors, diving into dishes that scream luxury.
In a nutshell, whether you're wandering through Aruba's mouthwatering alleyways or soaking in St. Kitts' breathtaking sunset views with a gourmet dish in hand, these islands promise a treat for both your tan and your taste buds!
Aruba vs. St. Kitts FAQ
Is Aruba bigger than St. Kitts?
Aruba is larger than St. Kitts. Aruba covers an area of approximately 75 square miles (193 square kilometers), making it a relatively small island in the Caribbean. In comparison, St. Kitts is smaller, spanning around 68 square miles (176 square kilometers). Despite their size difference, both islands offer unique attractions and experiences for visitors to enjoy.
Is St. Kitts near Aruba?
The distance between Saint Kitts and Nevis and Aruba is 944 km. How long does it take to get from Saint Kitts and Nevis to Aruba? It takes approximately 5h 54m to get from Saint Kitts and Nevis to Aruba, including transfers.
Is St. Kitts a British country?
St. Kitts is not a British country. St. Kitts, officially known as the Federation of Saint Kitts and Nevis, is an independent country. It gained independence from Britain on September 19, 1983, and is now a sovereign nation in the Caribbean. It is a member of the Commonwealth and maintains diplomatic relations with various countries around the world. St. Kitts has its own government, constitution, and national identity separate from British control.