Aruba vs. St. Croix (U.S. Virgin Islands)
Aruba and St. Croix (U.S. Virgin Islands) are two Caribbean destinations that radiate irresistible charm and promise unforgettable experiences.
The main difference between Aruba and St. Croix (U.S. Virgin Islands) lies in their geographical locations and cultural influences. Aruba, located in the southern Caribbean, offers a vibrant mix of Dutch and Caribbean cultures, boasting pristine beaches and arid landscapes. St. Croix, part of the U.S. Virgin Islands in the eastern Caribbean, showcases a more laid-back atmosphere with a strong American influence, lush greenery, and historic sites.
Travelers seeking a blend of European and Caribbean vibes may prefer Aruba, while those seeking an American-influenced tropical getaway may opt for St. Croix.
| Aspect | Aruba | St. Croix (U.S. Virgin Islands) |
| --- | --- | --- |
| Cost Range for 1 Week | $2,274 – $4,782 (source) | $1,655 – $3,295 (source) |
| Location | Caribbean Sea, north of Venezuela | Caribbean Sea, southeast of Puerto Rico |
| Geography | Flat, desert-like terrain | Hilly terrain with rainforests and beaches |
| Language | Dutch, Papiamento, English | English |
| Government | Constituent country of the Kingdom of the Netherlands | Unincorporated territory of the United States |
| Currency | Aruban Florin (AWG) | United States Dollar (USD) |
| Tourism | Major tourist destination with beautiful beaches and resorts | Popular tourist destination with historical sites and natural beauty |
So, let's dive into this island showdown and discover the unique allure of Aruba and St. Croix that keeps travelers returning year after year.
Contrasting Histories and Geographies: Aruba and St. Croix
Hey there, fellow traveler!
How does a journey to two of the most breathtaking spots on the planet sound? Join me as we dip our toes into the mesmerizing worlds of Aruba and St. Croix. These beauties are where tales of history, nature's wonders, and unforgettable memories are waiting to be made, no matter your travel style.
First stop? Sunny Aruba, the southern Caribbean's crown jewel. Picture crystal-clear waters hugging sugar-white shores – sheer bliss. And when you wander around Oranjestad, the island's capital, you're met with the colors and designs of its Dutch colonial past.
For the lovebirds out there, a sunset sail is romance incarnate. And for our adrenaline junkies, Aruba's unique landscape offers heart-pumping adventures galore. Whether you're on a shoestring budget or living it up in luxury, you'll find a warm welcome and a comfy bed waiting for you.
Next, we're island-hopping to St. Croix, the historical heart of the U.S. Virgin Islands. The whispers of Spanish, Danish, French, and Dutch tales greet you on every corner. Just take a leisurely stroll in Christiansted and Frederiksted, and you'll feel the stories of yesteryears.
For family outings, the Whim Plantation Museum is a hands-on dive into the island's sugary history. And for those itching to explore the deep blue, Buck Island Reef is your underwater playground.
But what's most magical? Each island has its unique allure. Aruba beckons the brave with rugged landscapes like the Arikok National Park, while St. Croix's soothing rainforests and rolling hills call out to the soul-seekers. Family bonding over horseback rides or luxe days at elite resorts, there's something for everyone.
Traveling on a budget? Fret not! Aruba's snug guesthouses and St. Croix's charming inns offer genuine hospitality without denting your savings. But if you're looking to treat yourself, the luxury is limitless on both islands.
So, my fellow wanderluster, whether it's the enchanting allure of Aruba's desert beauty or the rich tapestry of St. Croix's verdant landscapes, there's an island tale waiting to be part of your story. Ready your adventurous spirit, historical curiosity, or just a thirst for chill vibes – paradise is just a flight away.
Beach Bliss Showdown: Aruba vs. St. Croix – Paradise Rivalry
Imagine setting foot on Aruba's Eagle Beach. Feel the soft, powdery sands underfoot, perfect for a family day of castle building and frolicking in the gentle waves. For lovebirds, the secluded coves of Arashi Beach paint the perfect canvas for hand-in-hand walks, with sunsets that'll make your hearts skip a beat.
And adrenaline junkies? Get ready to conquer the winds at Hadicurari Beach with a kiteboard! If you're watching the pennies, know that dreamy beachfront stays don't always come with a hefty price tag here.
Meanwhile, St. Croix beckons with its untouched allure. Dive with your family into an underwater fairy tale at Buck Island Reef National Monument. Couples, imagine a romantic horseback ride on Rainbow Beach, where every step tells a story.
For those with adventure in their DNA, the vibrant marine world of Cane Bay Wall is a must-dive. And if a touch of opulence is what you're after, picture yourself in posh resorts overlooking the pristine Sandy Point, sipping a cocktail, and living the luxe life.
To wrap it up, whether you've got kiddos in tow, have stars (and hearts) in your eyes, are an adrenaline chaser, or a savvy spender, Aruba and St. Croix promise endless sun-kissed memories. From diverse beach vibes in Aruba to the untouched natural treasures of St. Croix, a beachy dream is calling out to you.
Where to Rest Your Head: Aruba vs. St. Croix Accommodations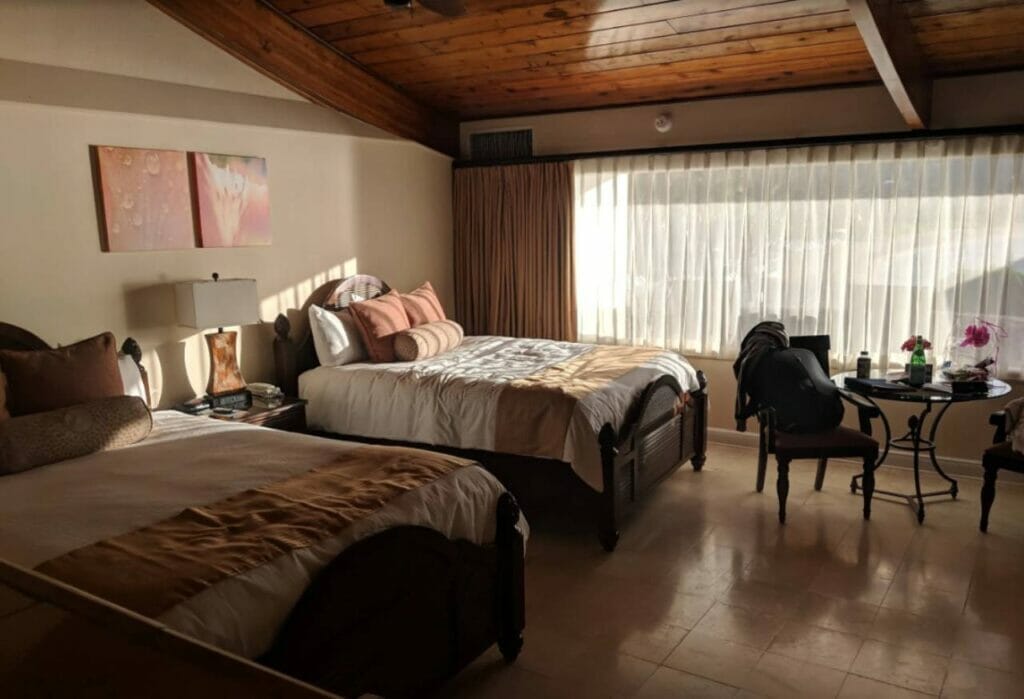 Aruba, our Caribbean darling, is a haven of diverse stays. If luxury is your melody, let the Radisson Blu Aruba serenade you. Picture yourself waking up to the rhythm of the waves, wrapped in luxury, every whim just a whisper away.
Families, gather for an epic time at Marriott's Aruba Surf Club, where spacious suites and fun activities are the day's agenda. And if you're leaning towards an all-in deal, the Divi Aruba All Inclusive Resort promises an indulgent escape, making every moment a lavish affair.
Swing over to the entrancing St. Croix in the U.S. Virgin Islands, and the charm intensifies. At the Buccaneer Beach & Golf Resort, lovebirds can lose themselves in a blend of serene vibes and playful moments.
Fancy a more intimate stay? Sand Castle on the Beach offers beachfront rooms that feel like your secret slice of paradise. And for our thrill-seekers, the Company House Hotel, trendy yet easy on the pockets, positions you right in the heartbeat of Christiansted, ready to uncover the island's treasures.
Imagine walking along Aruba's pristine beaches with grains of sand tickling your toes or capturing quiet moments against the backdrop of St. Croix's serene shores. The beauty of these islands is reflected in the myriad of stays they offer.
Comparing the Allures: Aruba vs. St. Croix – Exploring Attractions
Aruba, fondly dubbed "One Happy Island," is truly a haven for every soul. Picture families laughing as the turquoise waves kiss their feet, and the golden sands become castles of dreams. For those lovebirds out there, imagine holding hands and leaving footprints on Eagle Beach as the sun sets, painting the horizon.
If you're an adrenaline chaser, Aruba's ocean beckons with its thrilling water escapades, from dancing with colorful fishes while snorkeling to riding the windsurf's breeze. And hey, whether you're counting pennies or feeling a little lavish, Aruba promises both cozy nooks and luxury resorts that cater to your mood, ensuring that the island's magic touches every heart.
Now, let's set sail to St. Croix, the heart of the U.S. Virgin Islands, where stories of old mingle with nature's wonders. Families, it's time-traveling as you wander through historic towns and sugar plantations, each narrating tales of bygone eras.
For the romantics, envision a serene horseback ride on untouched beaches or a stolen moment under a canopy of stars. Whether you're watching the Dollar or ready to dive into opulence, St. Croix has cozy corners and majestic resorts to fit your vacation mood.
So, my dear wanderlusters, whether it's bonding on beaches, kindling romance, seeking thrills, or choosing between budget-friendly and opulent experiences, both Aruba and St. Croix hold the keys to your dream escape. Which will it be? Aruba's vibrant allure or St. Croix's rich tapestry? Your slice of paradise is waiting, and trust me, either choice will serenade your soul.
Car Rentals in Comparison: Aruba vs. St. Croix
Aruba, with its white sandy beaches and crystal-clear waters, is a dream come true. When it comes to transportation, you have options that cater to every whim. Hertz Aruba Car Rental & Leasing, National Car Rental, and Budget Rent A Car Aruba are all at your service. Hop into a comfy rental and explore the island at your pace.
With a family in tow, you can easily pack your gear and set off on a beach-hopping adventure. Couples, be ready to embrace the freedom of the open road as you chase breathtaking sunsets. Thrill-seekers, grab an SUV and chase the wind as you engage in heart-pounding water sports. Aruba's transportation options align perfectly with your every desire.
Meanwhile, over in St. Croix, part of the U.S. Virgin Islands, the magic of the Caribbean awaits. Picture this: the warm sun kissing your skin, the gentle ocean breeze tousling your hair. To explore this island gem, transportation is your trusty sidekick.
Twin City Car Rental offers a range of vehicles to suit your needs, whether you're a family seeking new horizons, couples yearning for intimate moments, or adventure enthusiasts ready to conquer land and sea. Centerline Car Rentals, with locations at the STX Airport Terminal and Christiansted, add convenience to your journey, giving you the keys to unlock hidden corners and create lasting memories.
For families seeking affordability without compromising quality, both Aruba and St. Croix provide a plethora of options. And for those who crave a touch of luxury, worry not, for the winding roads of these islands lead to high-end experiences too.
Battle of Flavors: A Culinary Showdown Between Aruba and St. Croix
Aruba, a gem in the Caribbean, boasts a range of dining options that will leave your taste buds dancing. For those who appreciate a juicy steak or a perfectly cooked chop, look no further than Daniel's Steak and Chop.
With a history dating back to 1877, this restaurant not only serves up delectable dishes but also offers a journey into the island's culinary heritage. If you're in the mood for a taste of Italy, Italy In The World-Wine Restaurant is your go-to. Mangia!
Now, let's set our sails towards St. Croix, part of the U.S. Virgin Islands. Are you craving a dining experience that's as scenic as it is scrumptious? Salt at the Dairy, located near the stunning Salt Great Pond, promises just that.
The fusion of flavors here reflects the island's rich history, and you can almost taste the sunshine in every bite. For those who prefer sand between their toes, the Beach Side Cafe at Sand Castle on the Beach is pure paradise. Enjoy fresh seafood while the ocean serenades you. And then there's Too.Chez Restaurant And Bar, where Caribbean and French cuisines entwine to create dishes that are a true masterpiece.
Whether you're a family with ravenous little adventurers, a couple seeking a candlelit dinner by the sea, a solo traveler on a shoestring budget, or someone who doesn't mind splurging on luxury, Aruba and St. Croix have your dining desires covered. So go ahead, explore, savor, and make memories one plate at a time. Your taste buds will thank you, and your heart will be forever captivated by these culinary havens.
Aruba vs. St. Croix (U.S. Virgin Islands) FAQ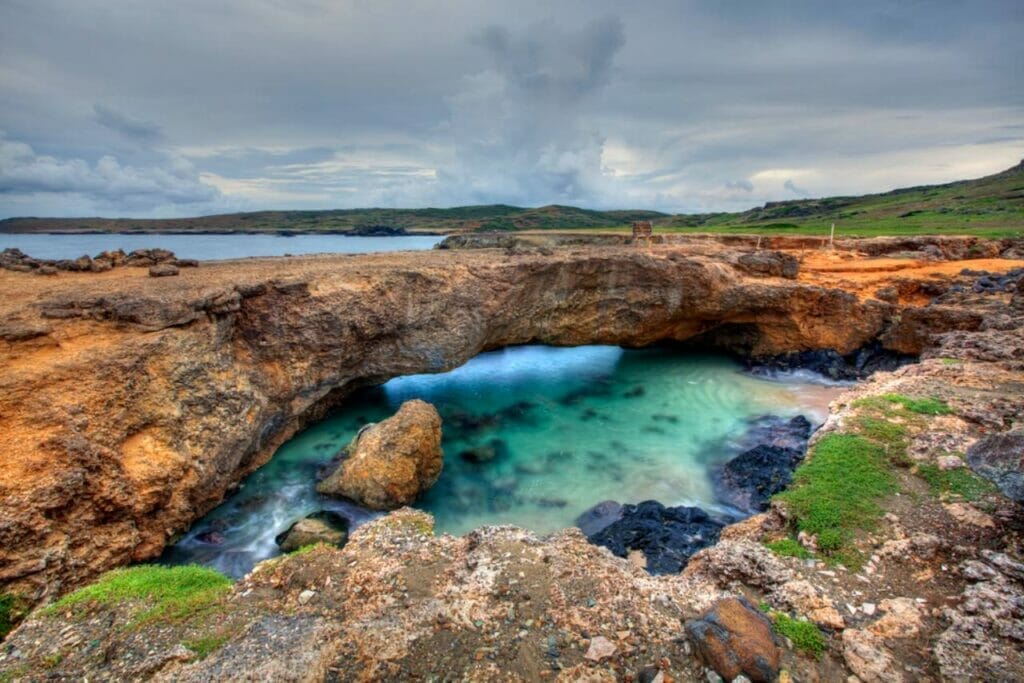 What country is St. Croix Virgin Islands?
St. Croix is part of the United States Virgin Islands, which is an unincorporated territory of the United States. It is located in the Caribbean Sea, specifically in the northeastern Caribbean, east of Puerto Rico. The United States acquired the Virgin Islands from Denmark in 1917.
Is Saint Croix part of the United States?
Yes, Saint Croix is part of the United States. It is one of the three main islands of the United States Virgin Islands, along with St. Thomas and St. John. The United States Virgin Islands is an unincorporated territory of the United States, meaning it is under U.S. sovereignty but does not have the same constitutional rights and privileges as a state.
What is St. Croix island known for?
St. Croix is known for its rich history, breathtaking natural beauty, and pristine beaches. The island's history as a former Danish colony and its current status as a U.S. territory contribute to its unique cultural heritage. St. Croix is also famous for its diverse ecosystems, including a lush rainforest, stunning coastlines, and the Buck Island Reef National Monument, a popular destination for snorkeling and diving. Additionally, St. Croix hosts vibrant festivals, offers opportunities for ecotourism, and showcases charming colonial architecture.