Looking for your next Caribbean getaway? Aruba and Dominica offer contrasting experiences, each with its own allure.
Aruba and Dominica differ significantly in their geographical attributes and overall travel experiences. Aruba, situated in the Caribbean Sea, is renowned for its pristine beaches, arid landscapes, and vibrant nightlife. Dominica, also a Caribbean destination, stands out with its lush rainforests, volcanic landscapes, and opportunities for eco-adventures such as hiking and diving.
Travelers seeking a lively beach resort atmosphere may opt for Aruba, while those desiring a more nature-oriented, off-the-beaten-path experience would find Dominica appealing.
| Aspect | Aruba | Dominica |
| --- | --- | --- |
| Cost Range for 1 Week | $2,274 – $4,782 (source) | $623 – $2,741 (source) |
| Location | Caribbean Sea, north of Venezuela | Caribbean Sea, between Guadeloupe and Martinique |
| Geography | Flat and arid, with sandy beaches and cacti | Mountainous, with lush rainforests, rivers, and waterfalls |
| Language | Dutch, Papiamento, English | English, Dominican Creole, French |
| Government | Constituent country of the Kingdom of the Netherlands, parliamentary democracy | Unitary parliamentary democracy and Commonwealth realm |
| Currency | Aruban florin (AWG) | Eastern Caribbean dollar (XCD) |
| Tourism | Major tourist destination known for its beaches, resorts, and water sports | Nature-based tourism, eco-tourism, hiking, and diving |
Whether you seek beach bliss, outdoor adventures, or a taste of local flavors, both destinations have something special to offer. So, are you ready to discover your ideal Caribbean paradise?
Paradise Showdown: Aruba and Dominica's Epic Face-off
Oh, the joy of choosing between two tropical delights! Do you find yourself daydreaming about Aruba's sunny embrace or the enchanting wilderness of Dominica?
Let's embark on a heartwarming journey through the tales and terrains of these Caribbean wonders. Whether you're traveling with family, your partner, seeking adventure, or looking for a luxurious or pocket-friendly escape, both islands have a treasure trove waiting for you.
Aruba, our little slice of Caribbean heaven, dances under the sun with its pristine beaches and pulsating nightlife. Nestled near Venezuela, this Dutch gem bathes in perpetual sun, and its azure waters seem almost too perfect. Dive into a snorkeling adventure amid schools of vibrant fish or laze around with a cocktail in hand at a breezy beach bar – Aruba is a symphony of relaxation.
Its history, a rich tapestry of Dutch influences and native stories, comes alive in candy-colored houses and jubilant festivals. Whether you fancy a lavish resort or a cozy beach hut, Aruba beckons with a promise of sunlit memories.
Dominica, affectionately known as "The Nature Island," is a green dream come true. If untamed landscapes call your name or if you're a family eager to reconnect with nature, Dominica answers with open arms. Majestic volcanoes, sprawling rainforests, and cascading waterfalls are your playground here.
As you trek through aromatic trails or discover secluded hot springs, you'll realize why Dominica remains a cherished secret among travelers. Romance flourishes amidst the island's untouched beauty, and its history – a dance of native and colonial tales – adds depth to your adventure. Though it may not shout luxury, its tranquil accommodations blend seamlessly with the nature-centric ethos, offering a wholesome retreat.
Caught between Aruba's glamorous shores and Dominica's wild heart? Aruba woos you with shimmering beaches and storied lanes, welcoming all traveler types and budgets. Dominica, in contrast, whispers tales of adventures less traveled, perfect for families, couples, and nature aficionados.
Whatever your heart leans towards, both islands shimmer with a magic that ensures your memories are cast in a golden Caribbean hue, long after your footprints fade from their sands.
Sandy Rivalry: Unveiling Aruba and Dominica's Best Beaches
Let's start with Aruba, affectionately dubbed "One Happy Island." Imagine soft white sands tickling your toes, and the gentle rustle of divi-divi trees as a backdrop. Eagle Beach is a family favorite – a place where little ones can play in tranquil waters and parents can recharge with a tropical drink in hand.
For those moments of romance? Arashi Beach, with its secret coves, awaits. And if you're an underwater enthusiast, Aruba's marine wonders, including intriguing shipwrecks, will leave you spellbound. From lavish resorts to cozy stays that won't break the bank, Aruba has it all.
Then there's Dominica, the "Nature Island." A place where verdant rainforests whisper tales of adventure. Families will adore the trails that lead to enigmatic black sand shores like Red Rocks Beach. Couples, imagine a private moment at Secret Beach, a slice of heaven reached only by boat or a scenic hike.
Dive into Champagne Beach and be surrounded by a mosaic of marine life, where volcanic springs make the sea bubble like a glass of bubbly. Stay in charming local retreats or luxuriate in eco-resorts that are a dream for nature lovers.
In essence, if Aruba's vibrant shores and friendly vibes call to you, or if Dominica's raw, nature-rich beauty tugs at your heartstrings, both islands hold the promise of memories that will last a lifetime.
Luxury Getaways: Where to Stay in Aruba and Dominica
Imagine Aruba as a canvas painted with vibrant hues of joy for every traveler. Families, set your sights on the Bucuti & Tara Beach Resorto – think laughter echoing from pools and kiddos delighting in endless fun.
Lovebirds, get ready to fall head over heels at the Ocean Z Boutique Hotel. Imagine waking up to the sound of the waves, and taking those dreamy beach walks together. And for those looking for a sprinkle of opulence, Barceló Aruba wraps you in luxury like no other.
Onward to Dominica, a haven for the wild at heart! Craving a dose of adventure? Jungle Bay Dominica places you right where the magic unfolds amidst verdant jungles. If it's an elegant escape you're after, InterContinental Dominica Cabrits Resort & Spa is where luxury meets local warmth. Families, Secret Bay whispers the promise of undisturbed tranquility, your private corner of paradise.
Worried about the purse strings? Fret not! Aruba might dazzle with luxury, but it also hides quaint inns that promise comfort without the hefty price tag. Dominica? Well, its heartwarming guesthouses and lodges ensure you've got more to splurge on zesty local dishes and thrilling escapades.
So, whether you're toasting to sunset hues on Aruba's golden sands or diving deep into Dominica's emerald forests, know that a cozy bed and warm hospitality await. Dive into the magic of these islands, tailored just to your liking. Here's to journeys filled with stories and smiles!
Thrills Await: Unforgettable Activities in Aruba and Dominica
First up, Aruba! Picture yourself on a sunlounger, toes wiggling in soft white sands, gazing at shimmering blue waters. Eagle Beach and Palm Beach are more than just your usual sandy stretches; they're where memories of building sandcastles or sharing sunset moments are made.
But there's more to Aruba than its postcard-perfect coasts. Fancy an off-road Jeep ride across wild landscapes? Or how about diving deep to greet colorful marine life? And if wind sports tickle your fancy, the winds here are calling. Worried about splurging too much? Aruba's got a place for every pocket, ensuring dreams don't always come with hefty price tags.
Lovingly dubbed the "Nature Isle of the Caribbean," it's a green paradise waiting to be explored. Picture hiking through emerald forests to stumble upon gems like Trafalgar Falls or feeling the thrill of snorkeling amid Champagne Reef's effervescent springs.
Families will adore river kayaking adventures, while couples can steal away for intimate moments beside the surreal Boiling Lake. And hey, whether you're aiming for a swanky resort or a cozy nature-nestled guesthouse, Dominica's got you.
To wrap it up, while both Aruba and Dominica call the Caribbean home, they wear their charms differently. Aruba is the go-to for sandy dreams, water thrills, and the right balance between excitement and unwind time.
On the flip side, Dominica promises adventures in every leaf rustle and water ripple, catering to both luxe lovers and thrifty travelers. Whichever island sings to your heart, know that unforgettable memories and warm island smiles are a guarantee.
Wheels of Adventure: Navigating Aruba and Dominica with Car Rentals
Aruba, with its sun-soaked beaches and vibrant culture, presents a variety of transportation choices to cater to your needs. For families and couples, Mitoo Quality Cars Aruba and XL Car Rental are your go-to options. They provide reliable vehicles that accommodate groups of all sizes, ensuring your island adventures are comfortable and stress-free.
Now, adventure seekers, listen up! Aruba's got you covered with YESS RENTAL CAR's airport transfer package deals. Whether you're a private explorer or a VIP adventurer, their services will get your heart racing as you embark on thrilling escapades across the island.
Over on Dominica, the nature lover's paradise, getting around is a breeze with the help of the local car rental scene. If you're a family looking for reliable options, Kingdom Car Rentals is there to assist you.
Courtesy Car Rental, on the other hand, caters to budget travelers who still want to experience the beauty of the island without breaking the bank. Now, for all you luxury seekers, Island Car Rentals has something special in store for you, ensuring you cruise through Dominica's stunning landscapes in style.
So, whether you're a family yearning for beachside picnics, a couple dreaming of romantic sunsets, an adventurer ready to conquer new trails, or a traveler watching your budget or seeking luxury, both Aruba and Dominica offer a diverse range of transportation options.
Culinary Clash: Savoring the Unique Dining Scenes of Aruba and Dominica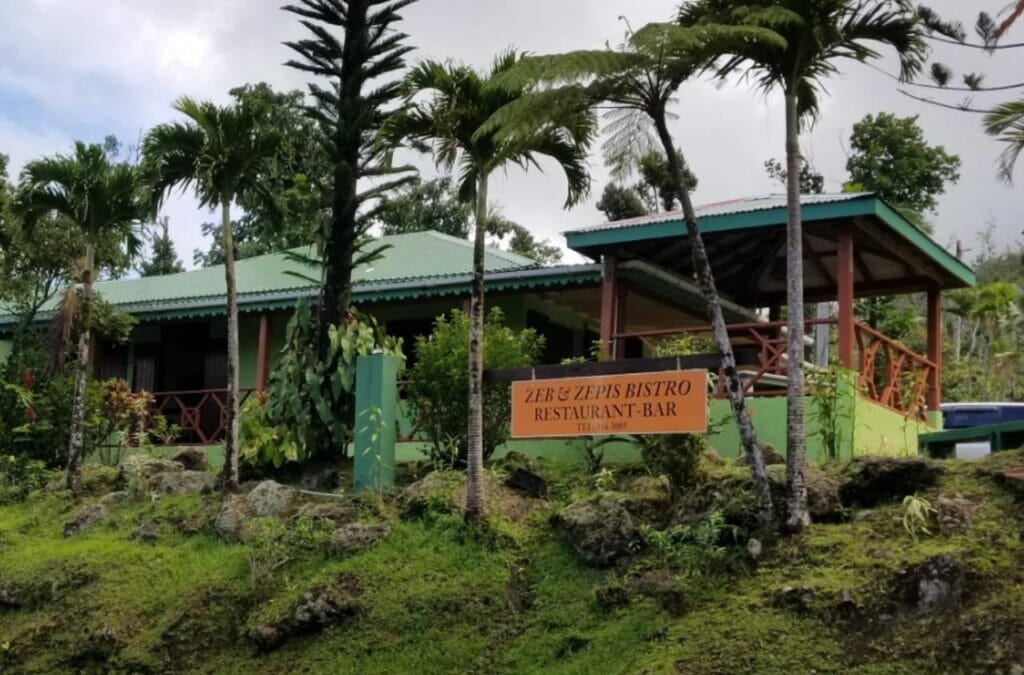 Sun-soaked Aruba is a carnival for the senses! Bringing the family? "Aquarius" beckons with beachside bites everyone will adore. For the lovebirds out there, light up your evening at "The Chophouse at Manchebo."
Imagine this: sizzling steaks, soft lighting, and just the two of you. If you're one with nature and hungry to boot, "Bistro de Suikertuin" offers a secret garden spot with dishes as fresh as morning dew.
Then there's Dominica. Picture it: emerald canopies and nature untouched. Families, how about digging into the island's soul food at "Chez Wen Cuisine"? Couples, find your quiet nook at "Zeb Zepis Bistro" and let the Caribbean flavors serenade you. And hey, thrill-seekers and luxury-lovers, "Infinity Restaurant Bar & Grill" is ready with a vista that matches its grand menu.
Whatever your travel vibe or wallet size, Aruba and Dominica have plates and places to make your heart (and stomach!) flutter. From toes-in-the-sand meals to fancy date nights, and from hometown favorites to world-class dishes, these islands are a food lover's dream.
So, here's to family giggles, romantic whispers, post-adventure appetites, and foodie indulgences! Let's make some mouthwatering memories together.
Aruba vs. Dominica FAQ
What is better than Aruba?
Dominica offers a distinct experience that some travelers may find preferable to Aruba. Dominica's lush rainforests, volcanic peaks, and natural wonders like the Boiling Lake provide Lake provide a unique and immersive natural experience. Additionally, Dominica's rich Creole culture, diverse wildlife, and off-the-beaten-path appeal make it an attractive destination for nature lovers and adventurers seeking a more authentic Caribbean experience.
Is Dominica a beautiful country?
Dominica is undeniably a beautiful country. Its stunning landscapes, including rainforests, waterfalls, and volcanic peaks, captivate visitors with their natural beauty. The island's lush vegetation, abundant rivers, and vibrant marine life contribute to its reputation as the "Nature Island." Dominica's unique and diverse scenery offers breathtaking views and countless opportunities for exploration and appreciation of its natural wonders.
Is Dominica a rich or poor country?
Dominica is considered a lower-middle-income country. Its economy relies heavily on agriculture, tourism, and offshore services. While the country faces economic challenges, it is rich in natural resources and possesses a vibrant cultural heritage. Dominica's commitment to sustainable development and ecotourism provides opportunities for growth and the preservation of its unique natural environment. Efforts are underway to enhance economic diversification and improve the standard of living for its population.