Antigua vs. St. Lucia (2023 Comparison)
Are you looking for sun, sand, and sea on your next vacation? Antigua and St. Lucia are two Caribbean islands that offer these things. If you are looking for a once-in-a-lifetime honeymoon or family vacation, you should know what each destination offers.
Here's the main difference between Antigua and St. Lucia: Antigua is the best location if you want to sunbathe on white sandy beaches, enjoy amazing cuisine and experience Caribbean history. St. Lucia is great for tourists who enjoy outdoor activities like hiking, snorkeling, and driving into a volcano.
| Category | Antigua | St. Lucia |
| --- | --- | --- |
| Cost Range for 1 Week | $2,409 per person | $1,916 per person |
| Transportation | Taxi, Bus and Car | Taxi, Minibus, Car, Scooter |
| Notable Attractions | Half Moon Bay, Stingray City, Devil's Bridge, Museum of Antigua and Barbuda, Fig Tree Drive | Marigot Bay, Chastanet Marine National Park, Tet Paul Nature Trail, Soufriere, Morne Fortune |
| Weather | Average temperature of 27 degrees Celsius, with a cold period from December to February | Tropical rainforest climate, with average day temperatures of 30 degrees Celsius and nighttime averages of 24 degrees Celsius |
| Food and Drink | Indigenous Caribbean cuisine features seafood, corn meal, and rice dishes. | A blend of European and Indian cuisine featuring seafood, soups, and pastries. |
| Activities for Kids | Hell's Gate, Valley Church Beach, Donkey Sanctuary, Catherine's Café, Nelson's Dockyard Museum | Treetop Adventure Park, Splash Island Water Park, Reduit Beach, Atlantic Shores Riding Stables |
| Nature Attractions | Pillars of Hercules, Green Island, Dickenson Bay, Boggy Peak | The Pitons, Sulphur Springs Park, Diamond Falls Botanical Gardens, Mamiku Gardens |
| Honeymoon Recommendations | Carlisle Bay, Hermitage Bay, Royalton Antigua | Ladera Resort, Castries, Jade Mountain |
Overview: Antigua Vs. St. Lucia
Antigua is the main island of the country of Antigua and Barbuda and one of the Leeward Islands in the Caribbean. The island's economy relies heavily on tourism, with several major airlines serving the island, including Air Canada, British Airways, and American Airlines, that land at the VC Bird Airport. It also has a thriving online gambling industry, with most casino operators having a license from the country.
Saint Lucia is a former French colony and one of the Caribbean Sea's Windward Islands. It is among the world's leading exporters of bananas, cocoa, avocadoes, and coconut oil and also boasts a well-developed tourism industry. The island's tropical weather and natural scenery make it a top destination for cruise ship or airplane tourists.
Below is an overview of each destination to help you plan and decide on your next holiday trip.
Cost of Stay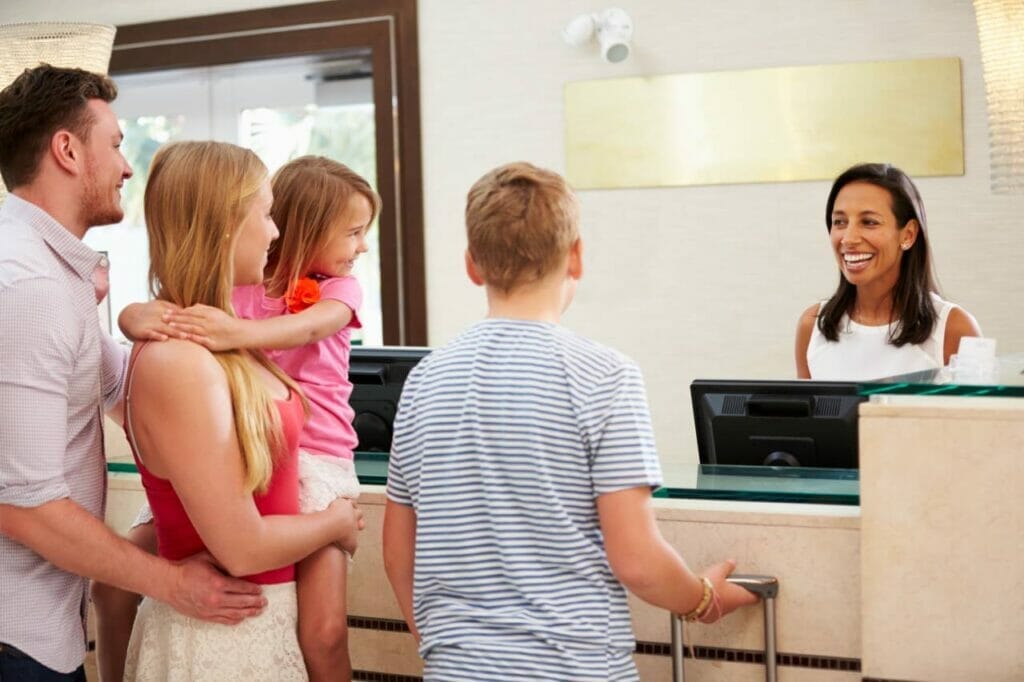 Antigua offers various accommodation options for tourists ranging from hostels to high-end luxury resorts. Whether as a business or leisure tourist, these facilities have all the amenities to make your travel worthwhile. Most tourists prefer to stay in Saint John's, the island's capital, a cosmopolitan city with plenty of luxury beach resorts, duty-free shopping centers, and beautiful beaches. The average room rate is about $ 544 per person at a 5-star hotel.
You can also consider towns such as English Harbour, Jolly Harbour, Falmouth, and Saint Phillip for a quieter, authentic experience. These destinations have several budget accommodations, including hostels, villas, and apartments. The average room rate is about $198 per person.
There is a distinct difference between staying in the north or south of St. Lucia. The island's north side is home to Castries, the capital city, which features a variety of all-inclusive resorts and a vibrant nightlife. It is also where cruise ships dock, making the region the busier part of the island. Most resorts are along Marigot Bay and offer an average room rate of $273 per person at high-end resorts. Popular resorts include Calabash Cove, Bay Gardens, and Cap Maison.
The south of St. Lucia offers a more serene environment because of the natural scenery. Several villa resorts and spas offer amenities such as self-catering, hiking, snorkeling, and spa services. The average room rate in this region is about $106 per person. Some properties to consider in the area include Stonefield Villas Resort, Sugar Beach, and Jade Mountain Resort.
Best Affordable Hotels
The best hotels in Antigua include the Curtain Bluff, Jumby Bay Island, and Hermitage Bay. Curtain Bluff on the island's southern coast rates is $900 range, and the resort has an alluring resort setting and does not have many modern luxuries. It does not cater to the party crowd and is, therefore, a perfect hideaway for honeymooners.
Jumby Bay Island is a luxurious $2250 per night rate resort. Tucked away on the island's northeast coast, it offers excellent service and vistas.
Some of the best hotels in St Lucia are Jade Mountain, Sugar Beach, A Viceroy Resort, and Ladera Resort. Viceroy Resort on Sugar Beach is perfect for honeymooners and has a $529 rate per night. It is clean, offers incredible cuisine, and offers superb service. The $1345 a night Jade Mountain resort offers the most amazing views of the Pitons. It has fantastic features, such as infinity pools and an incredibly romantic atmosphere.
Transportation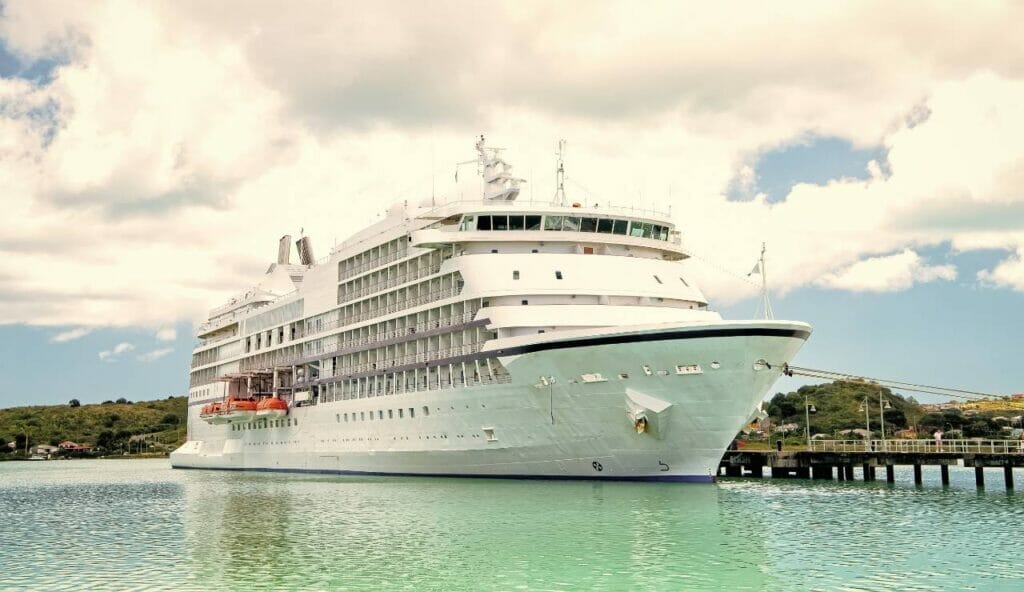 Antigua is a fairly small island covering about 281 km2. You can access the island through the VC Bird Airport or by cruise ship docking at St. John's harbor. The best way to navigate the island is by taxi since the drivers can also act as tour guides. Barry Taxi Tour and Roger Taxi are the best companies to contract, but these are ideal for short stays.
Buses are also available, but these are unreliable and may hinder your travel around the island. Several car rental companies operate on the island, including Drive-A-Matic and Pete's Taxi & Car Rental. You will need an Antiguan driving permit to self-drive on the island, and these are available from the rental company at an additional $20 fee on the rental charges. Ensure you arrange your car rental service before your arrival to save on the overall cost upon arrival.
St. Lucia is accessible via the Hewanorra International Airport and the Pointe Seraphine Cruise Port in Castries. The island offers several modes of transport, including scooters, minibusses, car rentals, and taxis. The average taxi fare is around $70 from the airport to Marigot Bay, and you can identify authorized taxis from their light blue number plates featuring the prefix TX.
Rental cars are the most affordable, and there are several agencies across the island in areas such as Soufriere, Castries, Rodney bay, and Gros Islet. You must obtain a temporary driving license to self-drive on the island, and this is available at the rental agency upon showing a valid driving license from your country.
Notable Attractions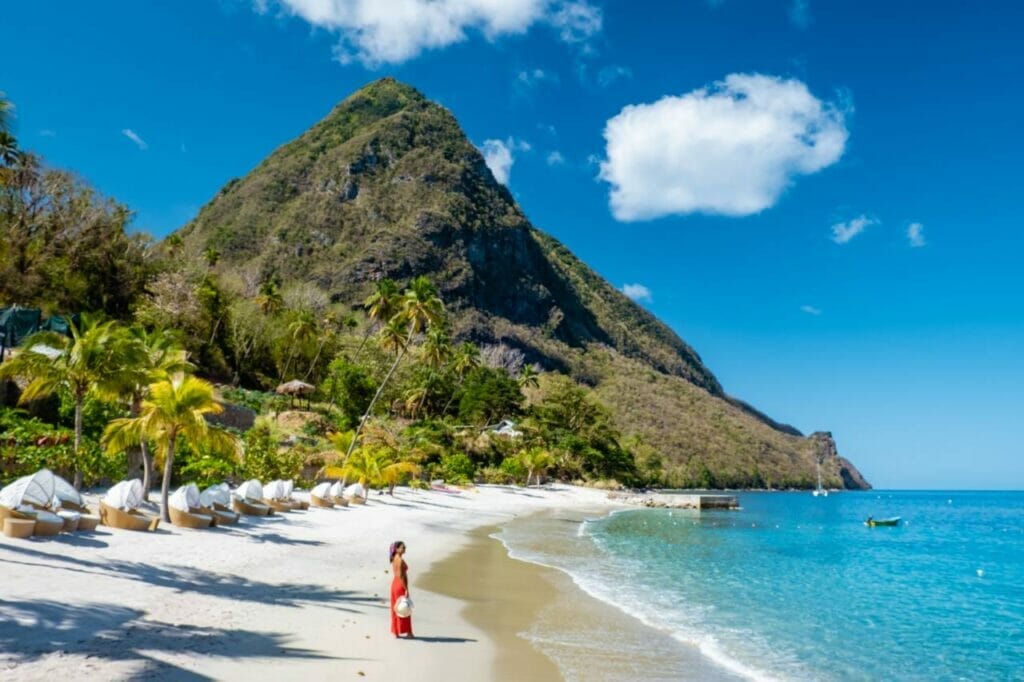 Antigua's main attraction is its 365 beaches featuring silky-soft, pure white sands and warm waters. Dickenson Bay, Runaway Bay, and Ffryes Beach appear regularly in travel magazines, also featuring in the list of the best Caribbean beaches annually. The Antigua Sailing Week is also a major tourist attraction, drawing over 1500 participants and 5000 spectators in each edition.
Visiting the island between July and August will also present you with the opportunity of witnessing one of the most popular carnival celebrations in the Caribbean. This 10-day event features several activities, including costume parades, delicious Caribbean cuisine, and live band performances.
St. Lucia is equally attractive, offering thousands of acres of rainforest, ideal for nature trails and hiking expeditions. The island also has several white and golden sandy beaches, with Anse Chastanet, Marigot Bay, and Rodney Bay being the most popular.
Saint Lucia is also a chocolate lover's paradise. You can learn the manufacturing process and sample authentic, locally grown chocolate by visiting the Morne Coubrail and Fond Doux Plantations. The island also has a vibrant nightlife, with events such as the Saint Lucia Street Party and Gros Islet Street Party being the most significant.
Weather
Antigua has a tropical climate with an annual rainfall of about 2200 mm. The island is mostly sunny throughout the year, with temperatures averaging 26 degrees Celsius in the summer and low humidity levels. Most tourists visit the island between December and April, where you can expect maximum temperatures of about 28.8 degrees Celsius, with cool refreshing breezes from the trade winds.
The best time to visit St. Lucia is between December and May when rain and humidity levels are at their lowest. Annual temperatures average between 29 and 31 degrees Celsius, allowing you to enjoy the beach in most months.
Food and Drink
Antigua's cuisine mainly features seafood and starch dishes. Fungi, a meal consisting of cornmeal and okra, is the national dish, and you will find it on most menus. Other dishes you can anticipate include jerk meats, roti, and an assortment of local pastries such as sugar cake, tamarind stew, and peanut brittle.
St. Lucia is also a culinary paradise, offering a mix of European and Indian cuisine. The popular ingredients include chicken, rice, peas, scotch pepper, and coconut milk. Seafood also features heavily on most menus, with saltfish dishes the preferred menu item.
Activities for Kids
Antigua boasts several family-friendly destinations. The Donkey Sanctuary is a popular destination where your family can pet and brush the donkeys and interact with other animals, including rescue dogs and cats. A visit to the Nelson's Dockyard Museum also makes for a fun and educational family outing. The establishment offers insight into the island's history through exhibits and art galleries.
Splash Island Water Park is arguably one of St. Lucia's most popular family destinations. It is an open-sports water park featuring inflatable islands with monkey bars, swings, climbing walls, and multiple water slides.
Honeymoon Destination
Antigua is a beautiful wedding destination offering picturesque venues ranging from white sandy beaches to natural land formations such as the Pillars of Hercules and Devil's Bridge. You can take advantage of the several all-inclusive honeymoon packages featuring treats such as private suites, concierge services, and fine dining. Properties to check out include Hermitage Bay Hotel and Sandals Grande Antigua.
St Lucia is the perfect destination if you are looking for a nature-inspired honeymoon. You and your loved one can enjoy soothing mudbaths at Sulphur Springs Park or romantic walks at the Diamond Falls Botanical Gardens. You can also ride horses along the beach at the Atlantic Shores Stable and wind down the evening enjoying your favorite drink at Cas En Bar.
Safety
Antigua is a safe destination, with most tourist spots enjoying police presence. The economy is extremely dependent on tourism, and the government prioritizes tourist safety to ensure the industry thrives. Always have a hotel-appointed tour guide accompanying you when visiting areas outside the main city to improve your safety.
St. Lucia's very low crime rate makes it relatively safe for tourists. You should be cautious when walking around alone and avoid carrying valuables because of instances of petty theft. Always travel in groups when venturing different parts of the island to improve your safety.
Recap: St. Lucia vs. Antigua in 2023
Both destinations offer a unique and memorable Caribbean holiday experience, alone or with family.
Antigua is the ideal destination for a beach-themed holiday, offering you 365 of the best beach fronts in the world.
If you want to be one with nature, then St. Lucia is the place to go. The island's rainforest offers amazing nature trails, with soothing mud baths to reenergize you afterward.