Saint Thomas vs. St. Croix: Which Vacation Is Better?
There's almost nothing that says "relaxation" more than a tropical drink, sunshine, and white sandy beaches. When you need to get away from it all, the U.S. Virgin Islands is a great place to go. However, choosing between the territory's capital, Saint Thomas, and its largest island paradise, St. Croix, can be a real conundrum.
Both destinations offer guests the chance to enjoy tropical sunshine, immaculate beaches, crystal-clear Caribbean waters, and distinct West Caribbean cuisine. But Saint Thomas is better suited to those looking for an affordable island getaway while St. Croix is perfect for families and adventurers.
| Category | Saint Thomas | St. Croix |
| --- | --- | --- |
| Cost Range for 1 Week | $1,015 per person | $1,155 per person |
| Transportation | Taxi, car rental, bicycle rental, Vitran public buses, helicopter ride, water taxi, seaplane | Taxi, car rental, bicycle rental, Vitran public buses, helicopter ride, water taxi, seaplane |
| Notable Attractions | Blackbeard's Castle, Honeymoon Beach, Lindquist Beach, 99 Steps, Stumpy Bay Beach, Paradise Point Tram | Ham's Bluff Lighthouse, Isaac Bay, Saint George Village Botanical Gardens, Christiansted National Historic Site |
| Weather | Tropical with notable dry and wet seasons, generally mild with coastal breezes | Tropical and humid, typically warm and windy with a dry and wet season |
| Food and Drink | West Caribbean cuisine, international cuisine, seafood, fine dining, cafes, several bars and casual dining restaurants, fast food | West Caribbean cuisine, international cuisine, seafood, fine dining, cafes, bars and lounges, casual dining restaurants, fast food |
| Activities for Kids | Coral World Ocean Park, Tree Limin' Extreme Zipline, The Butterfly Garden | Big Beard's Adventure Tours, Caribbean Sea Adventures, Sea Thru Kayaks, World Ocean School |
| Nature Attractions | Magens Bay Beach, Coki Beach, Mangrove Lagoon, Cas Cay, Phantasea Tropical Botanical Garden | Salt River Bay National Historical Park and Ecological Preserve, Rainbow Beach, Sandy Point National Wildlife Refuge |
The U.S. Virgin Islands are part of an island chain that lies in the Caribbean Sea. Saint Thomas, often called the "gateway island," is the territorial capital of these jaw-droppingly stunning tropical destinations, and a popular port of call, while St. Croix, slightly south, is the largest of the Virgin Islands, and visitors can spend weeks there without experiencing all of its delicious local cuisine, natural attractions, and unforgettable activities.
In this article, we'll take a closer look at what these islands have to offer, allowing you to choose the one that makes the most sense for your preferences and vacationing style. \
Cost of Stay
The peak of tourism in the U.S. Virgin Islands typically starts in December and ends in March. You could potentially save hundreds of dollars by choosing to visit during the off-peak season. By choosing to visit in April or June, you'll also be avoiding some of the wettest times of the year.
Fortunately, both Saint Thomas and St. Croix offer guests a wide variety of affordable lodging options, and nearly all of the available rooms and suites come with an impressive beachside view.
However, if you're watching your wallet, a vacation in Saint Thomas may be the better option. There are dozens of affordable, amenity-filled resorts and economically-priced bed and breakfasts that offer guests the ultimate in beachside and poolside relaxation.
But if you're willing to spend a little more, you could also opt to enjoy a relaxing trip to St. Croix. Their luxurious seaside resort hotels are sure to indulge your every whim, and many have their own opulent restaurants, lounges, and bars for visitors to take advantage of.
Best Affordable Hotels
Saint Thomas offers its guests a staggering amount of lodging options, from resorts and villas to campgrounds and guesthouses.
If you're looking forward to a week of lavish, tropical pampering, you may want to stay at The Ritz-Carlton. If you do, you'll have the option of eating at four themed in-house restaurants. This swanky hotel also has a soothing spa area and a romantic infinity pool. Guests with children can also enjoy the separate family-friend pool, slide included.
But you can also decide to stay in one of its lesser-known resorts. Doing so can afford you the same amount of lavish amenities and poolside fun, but at half the cost.
The Bolongo Bay Beach Resort has two in-house restaurants and bars, nightly local entertainment, and more than a dozen on-site activities for visitors to try, including snorkeling, scuba diving, and sailing. What you don't spend on your room, you can spend on having a spectacular time in Saint Thomas!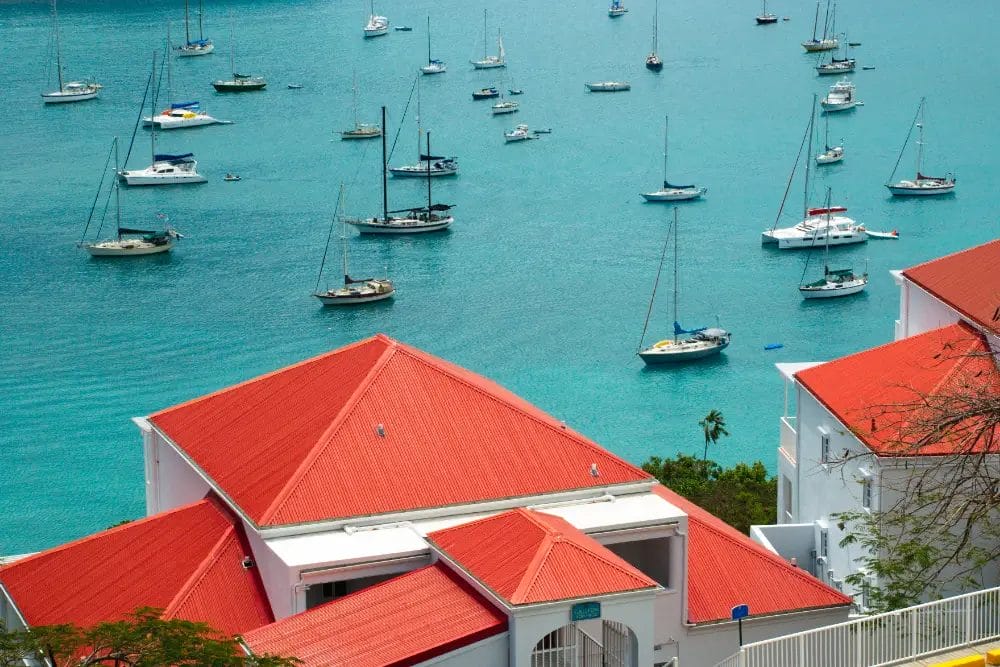 St. Croix also has some fantastic hotels and resorts, including The Buccaneer. This exquisitely styled and situated resort hotel has all of the charm you'd expect of a classically-inspired West Caribbean villa. Some of the main buildings date back to the 17th century, imbuing the entire property with a historical magnetism.
Of course, you can still enjoy some savings while you relax in the St. Croix sun. Caravelle Hotel & Casino is an exciting alternative to pricey resorts. Its boardwalk location ensures that guests have a wide variety of restaurants and bars within walking distance at all times. And if you ever get bored at the hotel's casino, you're bound to find plenty of entertainment all around you.
Main Attractions
The Caribbean is awash with a variety of adventurous activities and a plethora of historical monuments. And with beaches surrounding you in every direction, you can afford to relax and enjoy yourself without spending a dime. Still, both island paradises offer some unique attractions for visitors.
You could take a guided tour of Blackbeard's Castle in Saint Thomas, then enjoy some downtown shopping and rum tasting afterward. Or, if you're feeling more fitness inclined, you could get your steps in by visiting the 99 Steps, a very long stairwell built in the 18th century by Danish colonists.
Of course, if you've traveled to Saint Thomas for the chance to lay back and soak up some rays, there's no limit to the amount of beaches you can visit.
Magens Bay Beach provides some of the most majestic shoreside views on the entire island. Its sky-blue waters seem to sparkle in the morning and afternoon sunshine, glittering serenely against the dark green hillsides surrounding this flawless beach. If you're in need of some much-deserved tropical splendor, this is one of the best places to go.
However, St. Croix has a little more to offer guests when it comes to scuba diving and snorkeling opportunities. Adventures in Diving STX offers guided scuba diving and snorkeling and provides all of the gear and instruction you need to have fun and stay safe. This is an excellent chance to see coral reefs and sea creatures in their natural habitat.
And if you're willing to take a half-hour hike, you could find yourself on the virtually untouched and secluded shores of Isaac Bay. This shoreline is particularly popular among sea turtles who use it for nesting. If you do decide to explore this route, be sure to avoid any nests you may see. Doing so ensures the survival of the next generation of turtles and helps keep the area in pristine condition.
Activities for Kids
Family fun is never far away when you're in the Virgin Islands. And while St. Croix does offer a more diverse range of activities for kids to enjoy, parents may find that the smaller selection in Saint Thomas allows their little ones to better enjoy the sun and the sand.
That said, travelers in Saint Thomas can face their fear of heights at Tree Limin' Extreme Zipline, an adrenaline-inducing experience that pre-teens and teens are sure to get a kick out of. The little ones can also have some fun at Coral World Ocean Park, a sprawling series of oceanside exhibits and hands-on aquatic experiences.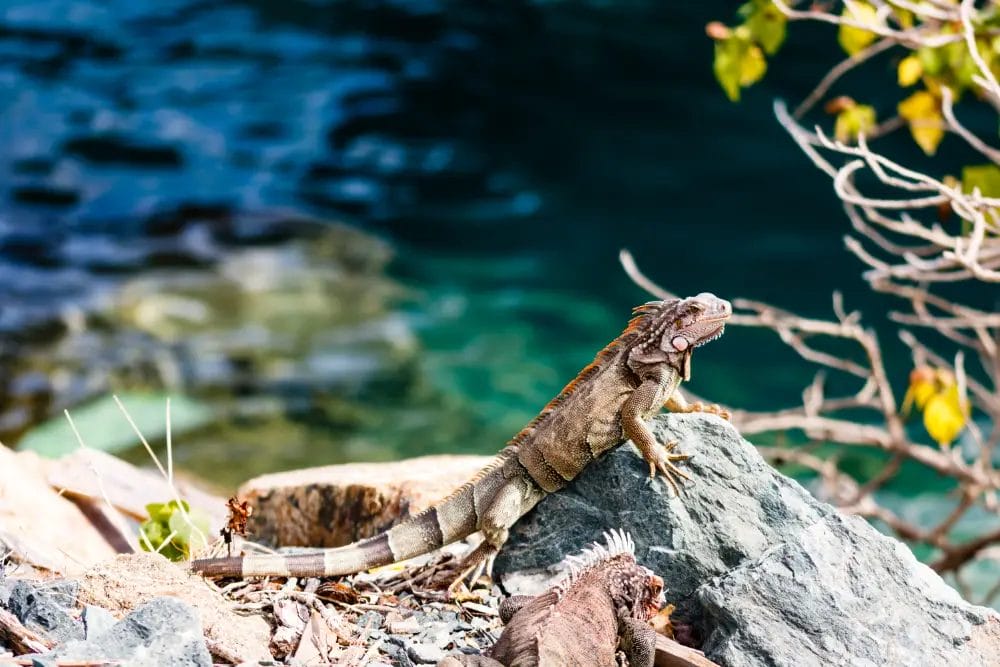 St. Croix offers an abundance of opportunities for children to take to the seas and discover the magic of sailing and the adventures that go along with it. Your entire family is bound to find something to like about the Big Beards Adventure Tours to nearby Buck Island.
Food and Drink
If you're into seafood, you're bound to enjoy a stay at either of these islands. There's an abundance of freshly-prepared, wholesomely cooked seafood around every corner.
One of the most popular dishes in the West Caribbean is fungi, which is not a mushroom. It's actually a mashup of cornmeal, salt, and okra, and it's often served inside of a steaming pot alongside fried or baked fish. You may also want to try similar Caribbean tastes like rum cake, ginger beer, or fried conch.
Visitors to Saint Thomas may want to take the time to stop by Gladys' Cafe. The authentic West Caribbean offerings are affordable and fantastically fresh, making any lunch or dinner a win-win for your tastebuds and wallet.
If you're enjoying the sights of St. Croix, you won't want to miss the oceanside flavors and fruity cocktails offered by RumRunners. Their menu has plenty of local cuisine and American favorites, making it an ideal choice for picky eaters or large families.
Weather
Both St. Croix and Saint Thomas are part of the group of islands that make up the U.S. Virgin Islands. In fact, the two destinations are only about 42 miles away from one another! As such, they largely share the same type of tropical, coastal weather.
Still, St. Croix is both far larger and further south than Saint Thomas, so it can occasionally be more humid and hot than its northerly counterpart. It's important to note that both islands experience multiple rainy and dry seasons throughout the year, so planning ahead is crucial.
Safety
Fortunately, the U.S. Virgin Islands is a relatively safe place for travelers and families. The most common crimes tend to be petty theft and pickpocketing, so it's important to always keep belongings close, or safely packed away when not in use. Travelers should also be aware of the dangers of overexposure, especially if they plan on spending lots of time in the sun.
Transportation
Saint Thomas and St. Croix are neighboring islands within the same territory. As such, they both offer guests the same range of transport options, including taxis, rental cars, and seaplanes for inter-island transit.
Unfortunately, neither Uber or Lyft are available yet within the U.S. Virgin Islands. However, visitors can still explore the island on a budget by renting a bicycle or hiring a taxi.
Conclusion
The U.S. Virgin Islands have a lot to offer, and choosing among them can feel like an impossible task. However, their minute differences can help you make a decision.
Both Saint Thomas and St. Croix have white sand beaches, authentic West Caribbean dining, deliciously refreshing tropical drinks, and luxurious hotel resorts. However, travelers hoping to spend less and experience more beachside relaxation may want to choose Saint Thomas. Alternatively, visitors with children or a lust for adventure might feel happier in St. Croix.