5 Best Places To Get Authentic Hawaiian Food in Waikiki
When in Hawaii, it's essential to find time to enjoy some of the cultural cuisines. Hawaiian food has an amazing, unique flavor that can't compare to any other cuisine. So, which authentic Hawaiian restaurant is best if you find yourself in Waikiki?
The best place to get authentic Hawaiian food in Waikiki is Haili's Hawaiian Food and Roy's Waikiki. Both restaurants are fantastic and worth the visit. Haili's is a mom-and-pop shop offering fantastic traditional food, and Roy's offers a high-end Hawaiian dining experience.
In the rest of this article, I will discuss the top authentic Hawaiian food restaurants in Waikiki and what you can expect from each establishment. So if you want to learn more about finding great Hawaiian food in Waikiki, read on.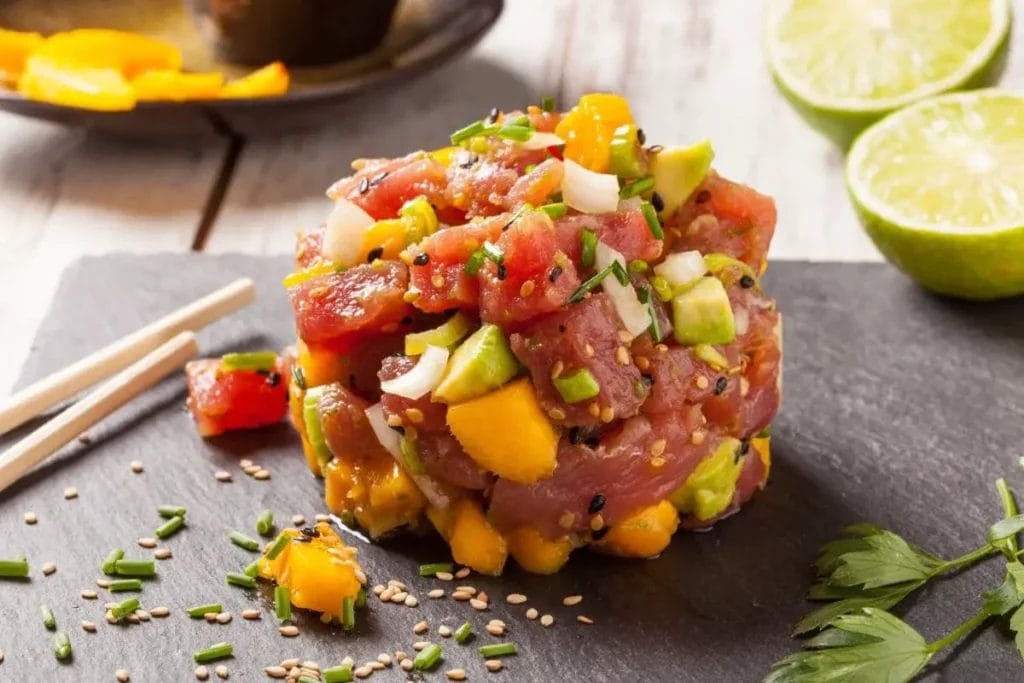 1. Haili's Hawaiian Foods
There is certainly nothing better than good Hawaiian food. But unfortunately, authentic Hawaiian can be difficult to locate on the mainland. Luckily, there are plenty of delicious places to eat in Oahu, especially in Waikiki – and one of the best options you can try is Haili's Hawaiian Foods.
Haili's prides itself on providing authentic Hawaiian cuisine since 1958. Most of their recipes and cooking methods have been passed down throughout the years to ensure the most authentic dining experience possible.
Additionally, the food is delicious, and the staff is incredibly friendly. At this restaurant, you will be able to order traditional dishes like:
Ahi poke bowls
Kalua pork
Tripe Hawwian stew
Haupia
Lau Lau
Kalbi short ribs
To name a few of the incredible dishes Haili's offers. Of all these fantastic dishes, the beef stew, laulau, and poke are fast favorites of visitors and locals.
The restaurant is also in a great location. It's near the Chaminade University Of Honolulu and just a short drive away from the Diamond Head State Monument. So, if you're planning a hike at Diamond Head, you can always stop by right after and grab a meal here to fill your hungry bellies!
Restaurant information:
I recommend this restaurant if you want to eat authentic Hawaiin cuisine during your trip to Hawaii. Haili's food is truly one of a kind, and you can't go wrong with this adorable family-owned business.
2. Moani Waikiki
Another fantastic Hawaiian food option is Moani Waikiki. This restaurant is great because it offers authentic Hawaiian cuisine and live entertainment. All dishes are unique, beautifully plated, and have a Hawaiian flare. Additionally, the space has a modern upscale design.
You can also order great drinks like their Moani Mai Tai or the Aloha My Friends cocktail. In addition, they offer an extensive list of drinks, all of which are delicious and pleasing to look at.
Moani is known for its twist on traditional Hawaiian dishes and their stunning presentation of those dishes. Their food is for your eyes as well as your stomach. Also, the menu offers an extensive array of foods, so there is something for everyone.
Some of their more notable dishes include:
Pupule poke
Pipikaula
Oyster sauce glazed ribeye
Loco moco
Whole fried Kohala mountain sunfish
Miso garlic butterfish & pork belly
There are many dishes to choose from at Moani, all of which are delicious.
As for the location, Moani is located near Coral Crater Adventure Park. Coral Crater Adventure Park is a fun amusement park where you can experience obstacle courses, climbing, and ziplining, and you can then grab a meal at Moani once you're done.
Restaurant information:
This restaurant is excellent if you're looking for somewhere to spend a long time drinking and dining. The Hawaiian food is incredible, and the drinks are fantastic.
3. Roy's Waikiki
If you're looking for a more classy dining experience that serves authentic Hawaiian food, then I recommend Roy's Waikiki. The food is decadent and prepared by James Beard (an award-winning chef) and his team of talented chefs.
This restaurant offers both in-house dining and take-out. All of the food is delicious and carefully created to give you the best Hawaiian food experience. All the food is expertly plated and provides a high-end touch to traditional dishes.
If you happen to stop in for a bite, you should also look at Roy's fantastic drink menu. One drink that genuinely stands out is Roy's Signature Hawaiian Martini. The drink is a blend of coconut-infused rum and fresh island pineapple.
As for food, Roy's menu offers a fantastic modern view of many cultural Hawaiian food favorites such as:
Beef Toban yaki
Braised beef short rib
Kuli'ou'ou salad
Okinawan sweet potato bisque
Dragon roll
Location-wise, Roy's is only a short distance from Hawaii Army Museum Society and some beautiful parks or the beach, all of which make for a great outing before or after a delicious meal.
Restaurant information:
Roy's definitely on the more expensive side, but the food and presentation are worth the money. Plus, it's not every day that you get to eat such good authentic Hawaiian food.
4. Heavenly Island Lifestyle
Another excellent authentic Hawaiian restaurant is Heavenly Island Lifestyle. A remarkable thing about this restaurant is that it prioritizes using organic and local produce to create its delicious dishes.
Heavenly Island is open for brunch, lunch, and dinner. They also offer a great selection of tropical and not-so-tropical drinks. They are primarily known for their fresh squeezed juice mimosas, which are a must-try during brunch.
When eating at the heavenly island, you should expect the taste of whole fresh foods and dishes like:
Ahi poke
Shrimp paella
Lettuce wraps with pork
Hawaiian pho noodles
Mahi Mahi tacos
The restaurant is also near the International Market Place, where you can spend some time browsing the shops. The shops are incredible and offer various fun products and entertainment.
Restaurant information:
Heavenly Islands' breakfast/brunch menu is fantastic, and I recommend trying this place for breakfast. Dinner here is good too, but their early morning menu offers more traditional Hawaiian cuisine.
5. Hula Grill Waikiki
Lastly, there is Hula Grill. This grill is fantastic because it's located at a beachside venue, and the restaurant is beautifully decorated. Additionally, Hula Grill offers an extensive menu of authentic Hawaiian cuisine.
Hula Grill prides itself on their fresh-caught local fish, the use of local organic produce, and all-natural meat selections. Additionally, you are welcome to come to eat for breakfast, lunch, or dinner.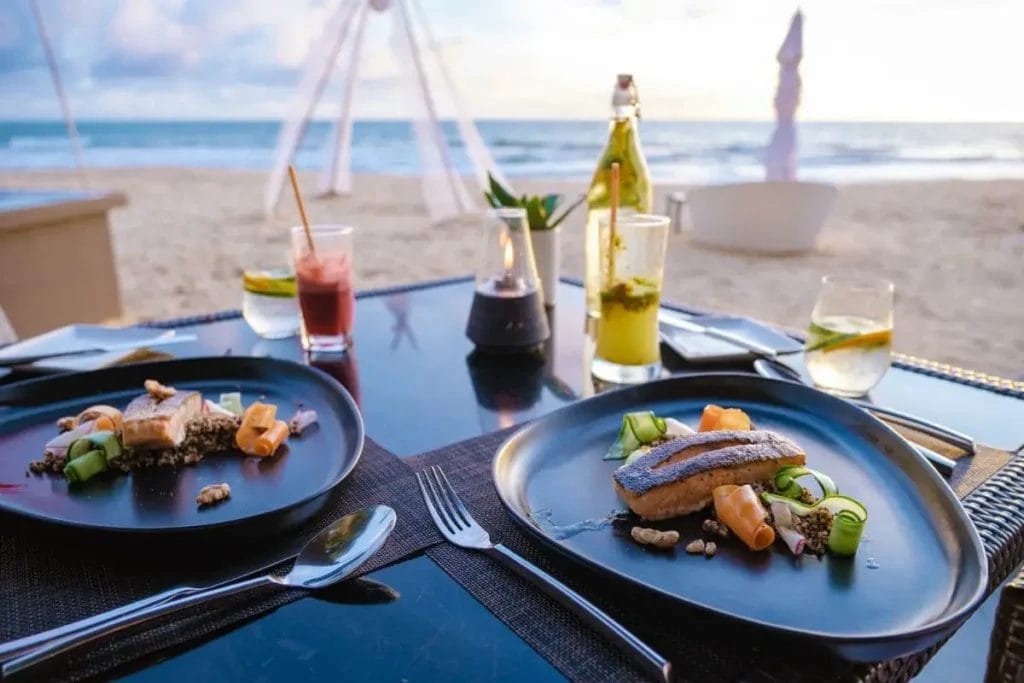 Some of the great dishes the grill offers include:
Sashimi
Poke tacos
Korean fried chicken
Coconut seafood chowder
Guava BBQ chicken
Teriyaki chicken
The whole menu offers so much more, and they also have things like cheeseburgers which can be great for picky eaters. Additionally, the grill has a great mix of other types of Asian cuisines, including Korean. If you're looking for great Korean food in Waikiki, you can also refer to my other article on the topic, "XX Best Korean BBQ Restaurants in Honolulu."
As for drinks, Hula Grill offers an excellent selection of cocktails, wine, and beers. Their most notable drinks include Tutu's Moonshine and the Hula-Rita. However, they also offer numerous other fun drinks.
The grill's location is also fantastic because it's so near Waikiki Beach. So, you can always stroll along one of the island's prettiest beaches after a nice meal.
Restaurant information:
I recommend this grill if you're looking for a quality Hawaiian meal. The food is delicious, the staff is friendly, and the ambiance is fantastic.