Calling all adventure-seekers and wanderlust enthusiasts! If you're dreaming of a Caribbean escape that combines sun-soaked beaches, vibrant culture, and thrilling experiences, look no further than Aruba and St. Maarten.
The main difference between Aruba and St. Maarten: Aruba is an autonomous constituent country within the Kingdom of the Netherlands, located in the southern Caribbean Sea. On the other hand, St. Maarten is a constituent country within the Kingdom of the Netherlands as well, but it shares an island with St. Martin, a French overseas collectivity. Aruba enjoys a greater level of political autonomy, whereas St. Maarten has a unique dual-nationality arrangement due to its shared island status.
| Category | Aruba | St. Maarten |
| --- | --- | --- |
| Location | Located in the southern Caribbean Sea | Located in the northeastern Caribbean Sea |
| Geography | Small island, mostly flat with sandy beaches | Divided into two distinct parts, with hilly terrain |
| Language | Official languages: Dutch, Papiamento, English | Official languages: Dutch, English |
| Government | Constituent country of the Kingdom of the Netherlands | Constituent country of the Kingdom of the Netherlands |
| Currency | Aruban florin (AWG) | Netherlands Antillean guilder (ANG) |
| Tourism | Major tourist destination with beautiful beaches and resorts | Popular cruise ship destination and tourist hub with beaches and casinos |
Get ready for a Caribbean adventure like no other, where paradise awaits at every turn.
Duty-Free Shopping
When it comes to duty-free shopping, Aruba offers an exquisite experience that caters to all tastes. The island boasts a myriad of shopping districts, each with its own unique charm. One of the most popular areas is Oranjestad, the capital city, where you'll find a bustling array of shops, boutiques, and malls.
Renaissance Mall, in particular, stands out with its high-end luxury brands and designer stores. From fashion and accessories to jewelry and cosmetics, Aruba presents a world of choices for the avid shopper. Additionally, don't miss out on the vibrant local markets like the Bon Bini Festival, where you can immerse yourself in the island's rich culture while shopping for souvenirs and authentic handicrafts.
St. Maarten is another paradise for duty-free shopping enthusiasts. Philipsburg, the island's capital, offers a treasure trove of shops and boutiques along Front Street. Here, you can indulge in the latest fashion trends, luxury jewelry, and electronics at unbeatable prices. From high-end brands to unique Caribbean treasures, St. Maarten has something for everyone.
The annual St. Maarten Carnival is an exciting time to explore the local markets and street vendors, where you can find a wide range of goods, including local artwork and handicrafts. Whether you're a fashionista or a souvenir collector, St. Maarten's duty-free shopping scene won't disappoint.
Cultural Heritage
Aruba's cultural heritage is a vibrant tapestry woven by influences from various cultures. From its indigenous roots and the Arawak people to the colonial era with Dutch influence, the island's history has shaped its architecture, traditions, and festivities. Explore the captivating story of Aruba, where the past and present come together to create a unique cultural experience.
Discover the colorful Bon Bini Festival, a celebration of Aruban culture that takes place throughout the year. Join the lively parades filled with vibrant costumes, traditional music, and captivating dance performances. Experience the warm hospitality of the locals as they welcome visitors into their rich cultural traditions.
St. Maarten's cultural heritage is a captivating blend of Dutch, French, and Caribbean influences. Explore the intriguing history of the island, which includes the division between the Dutch and French sides, shaping the distinct cultural identities of each. Delve into the cultural richness of St. Maarten, where a fusion of traditions creates a unique and vibrant experience.
Immerse yourself in the lively festivities of Carnival, a vibrant celebration that showcases the island's cultural diversity. Experience the exhilarating parades, energetic music, and colorful costumes that fill the streets during this annual event. Feel the infectious rhythm of the music and let the vibrant atmosphere captivate your senses.
Beaches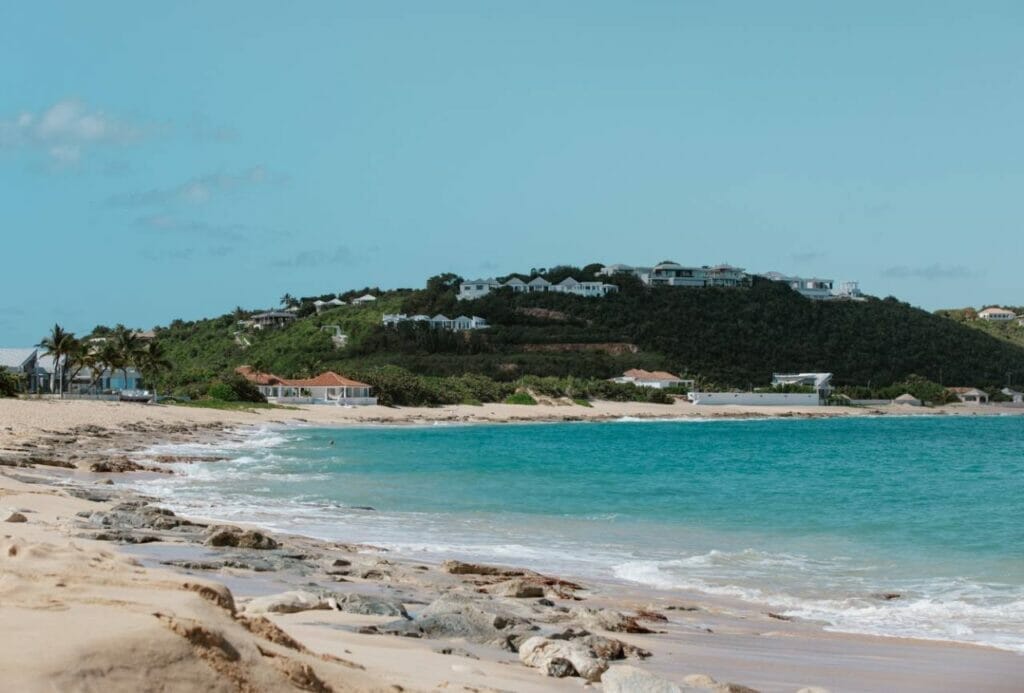 Aruba is renowned for its pristine, sun-kissed beaches, each possessing its own allure. Eagle Beach, with its powdery white sand and gently swaying divi-divi trees, offers a postcard-perfect setting. It is consistently ranked among the world's best beaches and provides ample space for sunbathing and relaxation.
Palm Beach, on the other hand, is known for its lively atmosphere, lined with resorts, beach bars, and water sports facilities. The crystal-clear turquoise waters beckon visitors to swim, snorkel, and explore the vibrant underwater world. Whether you seek tranquility or excitement, Aruba's beaches cater to all beach lovers.
St. Maarten is equally blessed with stunning beaches that captivate visitors with their natural beauty. Maho Beach stands out as a unique attraction due to its proximity to Princess Juliana International Airport. Here, beachgoers can enjoy the thrilling experience of watching planes land and take off just a stone's throw away.
Aside from the exhilarating airport view, St. Maarten boasts several other breathtaking beaches. Orient Bay Beach is a popular choice, known for its vibrant atmosphere, water sports activities, and beachside restaurants. With its azure waters and soft sands, it's a favorite spot for sun worshippers and adventure seekers alike.
Maho Beach and Airport Experience
While Aruba doesn't offer a beach adjacent to an airport, it compensates with its own unique attractions and experiences. The island presents a blend of lively resorts, boutique hotels, and entertainment options. You can indulge in thrilling water sports activities like snorkeling, diving, and paddleboarding.
For an offbeat adventure, visit the Natural Pool, a hidden gem nestled amidst rugged cliffs, offering a refreshing swim in a secluded setting. Aruba's friendly locals and vibrant nightlife scene further add to the island's appeal, providing a well-rounded experience for visitors of all ages.
Maho Beach in St. Maarten is a destination unlike any other. Located just steps away from Princess Juliana International Airport, it offers a thrilling experience as planes soar overhead during takeoff and landing. Sunbathers and aviation enthusiasts gather on the beach, cameras in hand, to capture the awe-inspiring moments.
The experience is truly unforgettable, creating a unique blend of beach relaxation and adrenaline-fueled plane spotting. Apart from the aviation spectacle, St. Maarten's rich cultural heritage, tantalizing cuisine, and vibrant nightlife make it a must-visit destination for those seeking an exciting Caribbean adventure.
Casinos
For those seeking their luck at the tables, Aruba presents an enticing array of casinos. The island is home to numerous world-class casinos that offer thrilling gaming experiences alongside luxurious amenities. Stellaris Casino, located in the heart of Palm Beach, is a favorite among visitors, offering a wide range of slot machines and table games.
Casino Aruba, nestled within the Renaissance Aruba Resort & Casino, provides a fusion of Caribbean charm and Vegas-style entertainment. Whether you're a seasoned gambler or a novice looking to try your hand, Aruba's casinos offer an exhilarating night of entertainment and excitement.
St. Maarten is renowned for its vibrant casino scene, attracting travelers from around the globe. The Dutch side of the island, in particular, is known for its bustling casinos and lively nightlife. The dazzling lights and energetic atmosphere of Casino Royale in Maho Village create an unforgettable experience.
Here, you can try your luck at a variety of table games and slot machines, savor exquisite dining options, and enjoy live entertainment. Whether you're a passionate gambler or simply seeking a thrilling night out, St. Maarten's casinos offer an electrifying ambiance that keeps the excitement going long into the night.
Yachting
While Aruba may not be widely known as a yachting destination, it offers a range of opportunities for yacht enthusiasts to explore its pristine waters. The island has marinas and ports that cater to boating and yachting activities. Renaissance Marina, located in Oranjestad, provides a convenient hub for yacht owners and visitors looking to charter a vessel.
St. Maarten, with its ideal location in the northeastern Caribbean, is a yachting paradise that attracts sailors from around the world. The island boasts a number of marinas and harbors, including the prestigious Isle de Sol Marina, which provides top-notch facilities and services for yachts of various sizes.
From St. Maarten, yacht enthusiasts can embark on exhilarating sailing excursions to nearby islands such as Anguilla, St. Barts, and Saba. The clear turquoise waters, steady trade winds, and picturesque anchorages make St. Maarten a favorite destination for those seeking unforgettable yachting experiences in the Caribbean.
FAQ
Is Aruba bigger than St. Maarten?
Aruba is larger in size compared to St. Maarten. Aruba spans approximately 69 square miles (180 square kilometers), making it a relatively compact island in the southern Caribbean Sea. In contrast, St. Maarten, which shares the island with the French territory of Saint-Martin, covers around 34 square miles (87 square kilometers). Despite their differences in size, both Aruba and St. Maarten offer diverse and captivating experiences for visitors to enjoy.
Is St. Maarten close to Aruba?
St. Maarten is located relatively close to Aruba in the Caribbean Sea. The two islands, although not adjacent to each other, are part of the Lesser Antilles archipelago. Aruba is situated in the southern Caribbean, approximately 900 miles (1,448 kilometers) west of St. Maarten. While they may not be neighboring islands, both Aruba and St. Maarten are easily accessible by air travel, with flights connecting the two destinations for those looking to explore the unique offerings of each island.