6 Aruba Trees You Need to Know
Aruba has admirable biodiversity that draws nature tourists from Central America. Aside from its diversity of birds and richness of sealife, Aruba also has a few species of trees and plantlife that aren't as common elsewhere.
The Fofoti and Watapana trees are commonly considered "Aruba Trees," even though the island also has a significant number of Caribbean pine. Its plant life includes Bougainvilleas, Wild Orchids, and Large Mondis as well.
In this article, you will learn more about the trees and plant life of Aruba. By the end of this post, you'll know which trees to look for and where to find them. But first, let's look at the top three things you need before you go tree-seeking in Aruba.
Things you need:
A checklist of the unique trees – This article acts as your checklist, as it is the most comprehensive resource on trees in Aruba. 
A polaroid camera – A polaroid camera like Fujifilm Instax Mini 11 can be great for snapping pictures and getting them in hard copy right away.
A public transport pass – This can cost you less than ten dollars per day (if you get a day pass covering unlimited travel).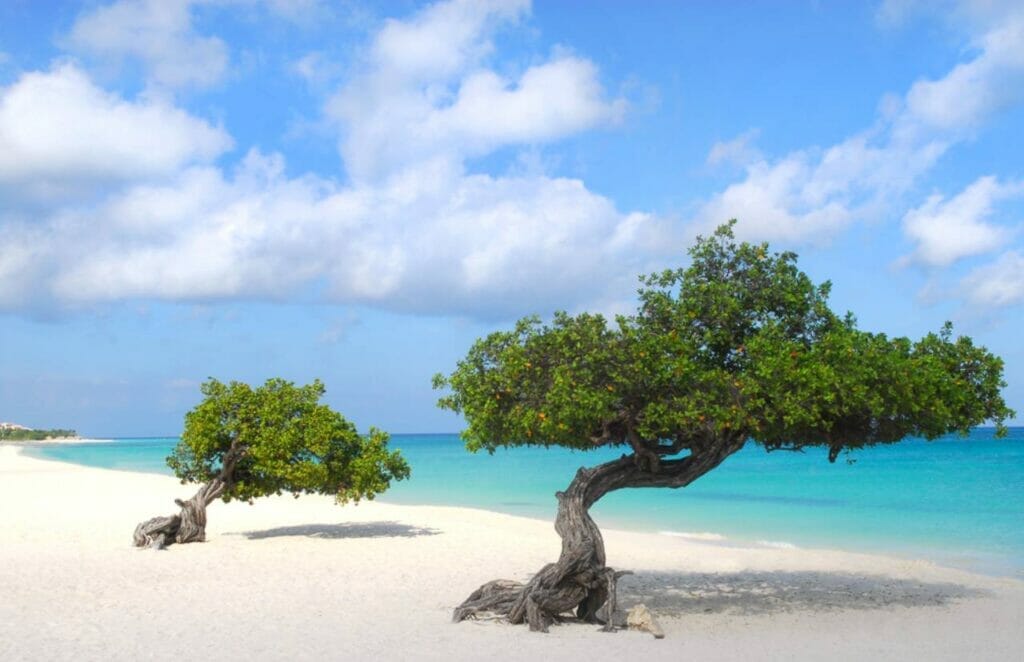 While Aruba is famous for its beaches and high-end resorts, it has a lot more to offer than an upscale tourist experience. It has complex flora and fauna, and many nature enthusiasts, bird watchers, and tree-spotters visit the island to admire its biodiversity.
If you like to spot rare and unique trees, here are a few that you must visit/encounter in Aruba.
1. Fofoti Tree
The fofoti trees are synonymous with Aruba because of how easy they are to spot. Even though the Watapana trees should be associated with the island because of their endemic nature, Fofotis are seen more often thanks to their beachside location.
These trees slant towards the horizon, with some being almost parallel to the ground. They grow on beaches and, because of that, are among the most viewed trees in Aruba. Due to their natural slant, they're relatively easy to climb, and you can perch on top of them, to pose for a picture.
Fofoti Trees are so iconic in the context of Aruba that multiple resorts and local businesses have incorporated them in their logos. Fofoti trees are often confused with Watapana trees, though the two are different. They share their directional slant, which is why they are often mistaken for each other.
2. Watapana Tree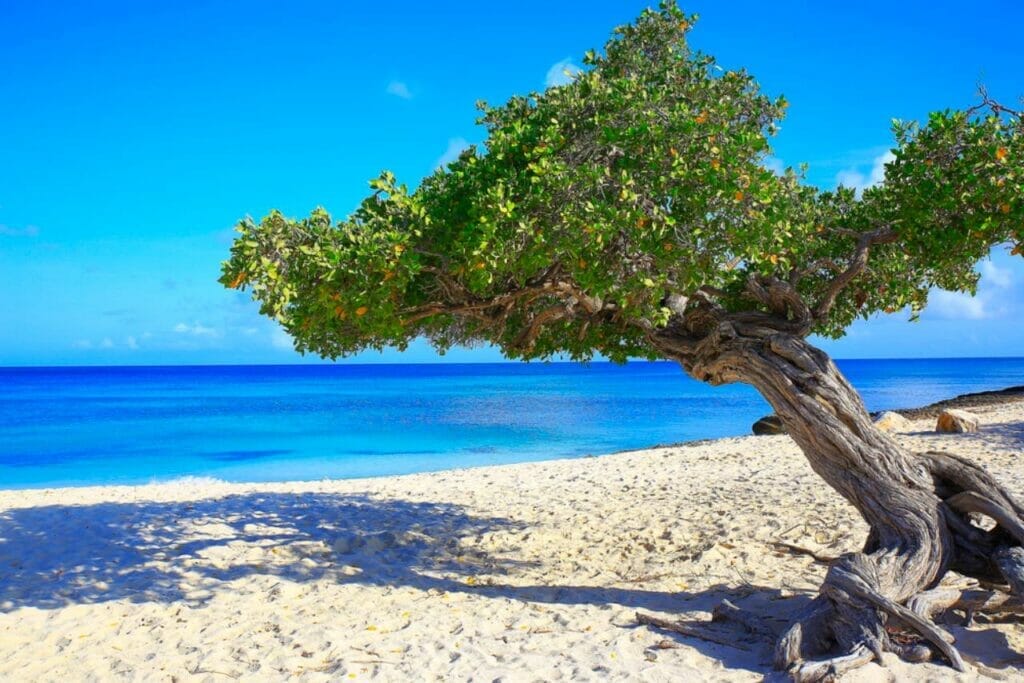 While Fofoti trees are most visible in Aruba, the Watapana (Watapana) trees are the ones that are truly unique to Aruba. These are endemic to Aruba despite attempts at forced migration. Plant enthusiasts and botanists have attempted to grow these trees in different countries but have failed. Even countries with almost the same conditions as Aruba do not prove fertile enough for the Watapana Trees.
It might be a good idea to pose atop a Fofoti tree, but you should avoid climbing one specific Watapana tree. The watapana tree located on Eagle beach is a symbol of Aruba, and many Arubans over the age of thirty might find it disrespectful.
To tell Watapana and Fofoti trees apart, you should look at where they grow and at what angle they bend. Fofoti trees grow at a slant right off the ground, while Watapana trees start off upright and then slant.
Often, Watapana trees can have an interlocked trunk followed by a steep lean. This image is also used by some resorts in their logos and messaging.
Watapana trees grow on Aruban land, a little far from sandy beaches, while Fofoti trees grow on the beach. There's one Watapana tree that is on Eagle beach. It is called Divi Divi by the locals and is considered semi-sacred.
3. Caribbean Pines
Another tree that you are likely to find in Aruba is the Caribbean pine. It is one of the only pine times to grow in the Caribbean. However, spotting a Caribbean pine tree might not be as exciting because these trees aren't endemic to Aruba. In fact, they're not even exclusive to the Caribbean, despite their common name.
You can find Caribbean pine trees throughout Central America. They have spaced-out branches with upward-facing needles. They share a few traits with common pine and are just as good for woodworking.
An average Caribbean pine can grow up to a hundred feet, so the yield from one tree is pretty significant. However, pine lumber is not among the top 10 exports of Aruba.
4. Wild Orchids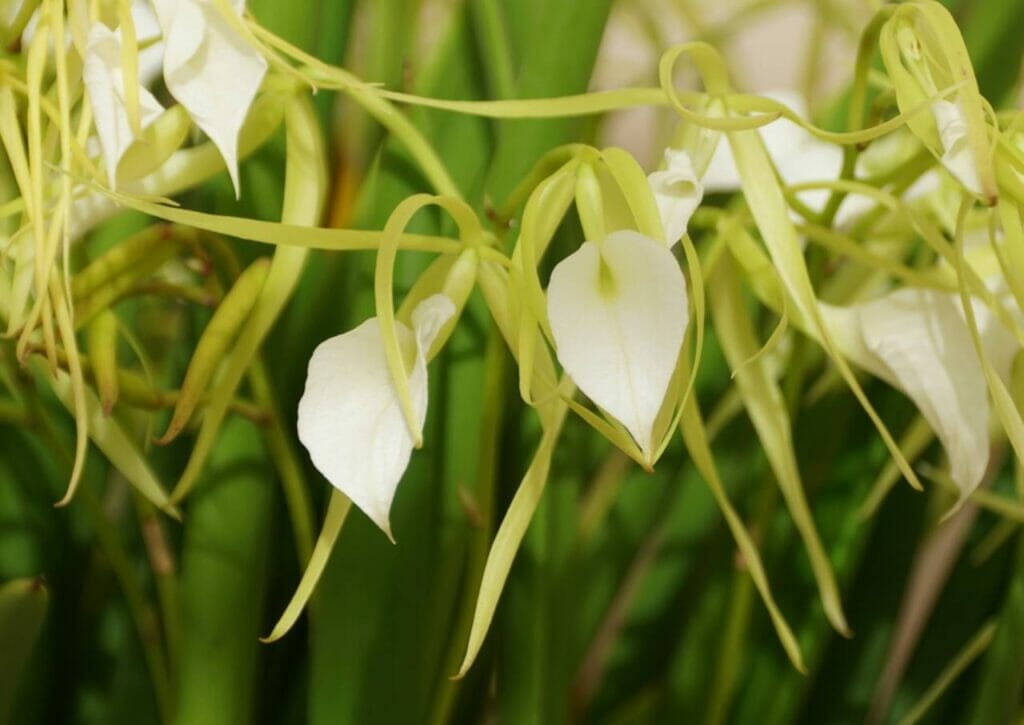 There are plenty of wild orchids in Aruba, though you'll have to actively look for them. Aruba is a big country, and wild orchids aren't really abundant in tourist spots. They are considered wild growth and are removed in well-serviced areas.
Orchids in Aruba tend to grow around the seashore, so you can find them on secluded beaches. Popular beaches are cleansed of wild growth, so seek out beaches that are unserviced if you want to find wild orchids.
5. Large Mondis (Honorable Mention)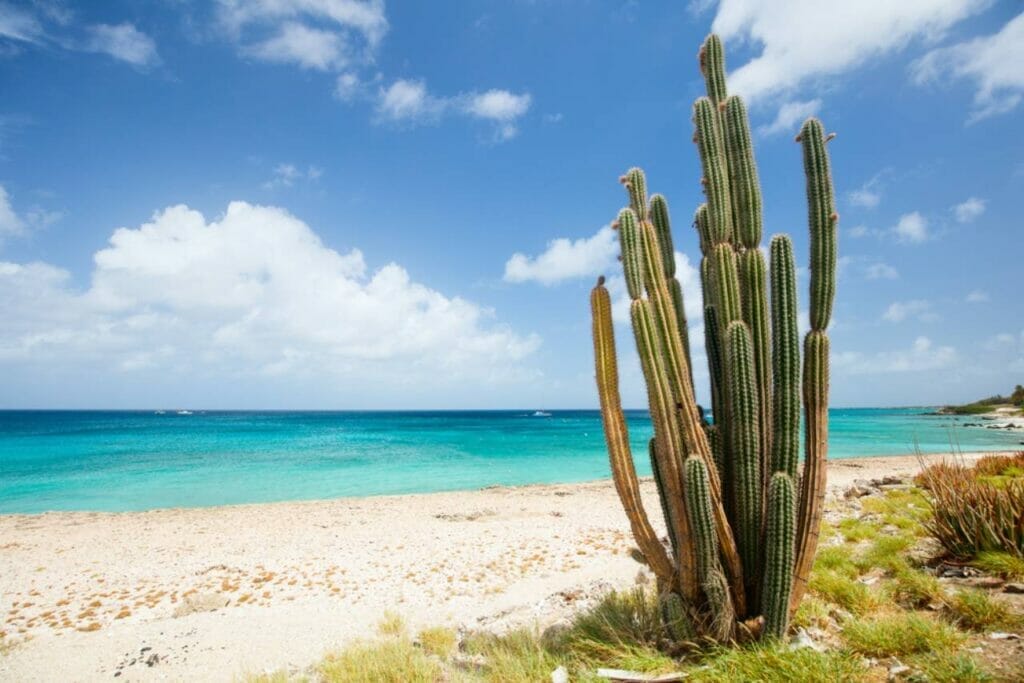 Cacti aren't trees. They are succulents. But when broadly looking at greenery, they can be included, especially when they have as unusual an appearance as large mondis.
Large mondis refer to cacti forests, which can be intimidating and awe-inspiring to witness up close.
6. Bougainvilleas (Honorable Mention)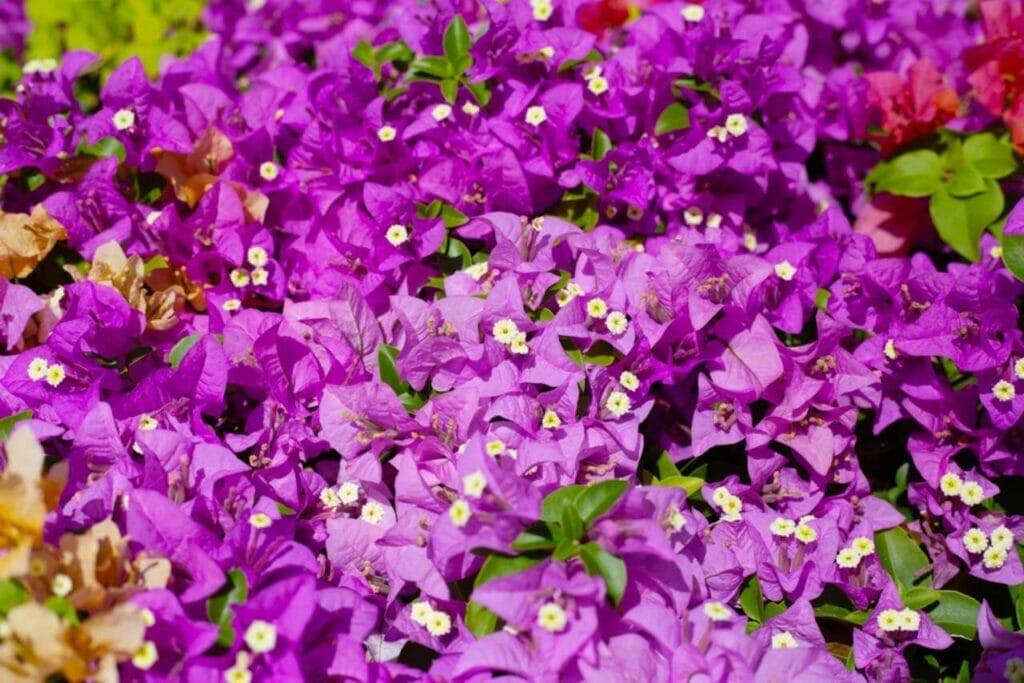 This vine also deserves an honorable mention based on its appearance alone. Bougainvillea is a thorny vine with purple-colored leaves found in Arid climates. Needless to say that it is not surprising seeing them in Aruba.
The locals have managed to grow and arrange Bougainvilleas in a decorative way. You will often see these vines hanging from walls and around corners, with their thorns tucked away.
Final Thoughts on Aruban Trees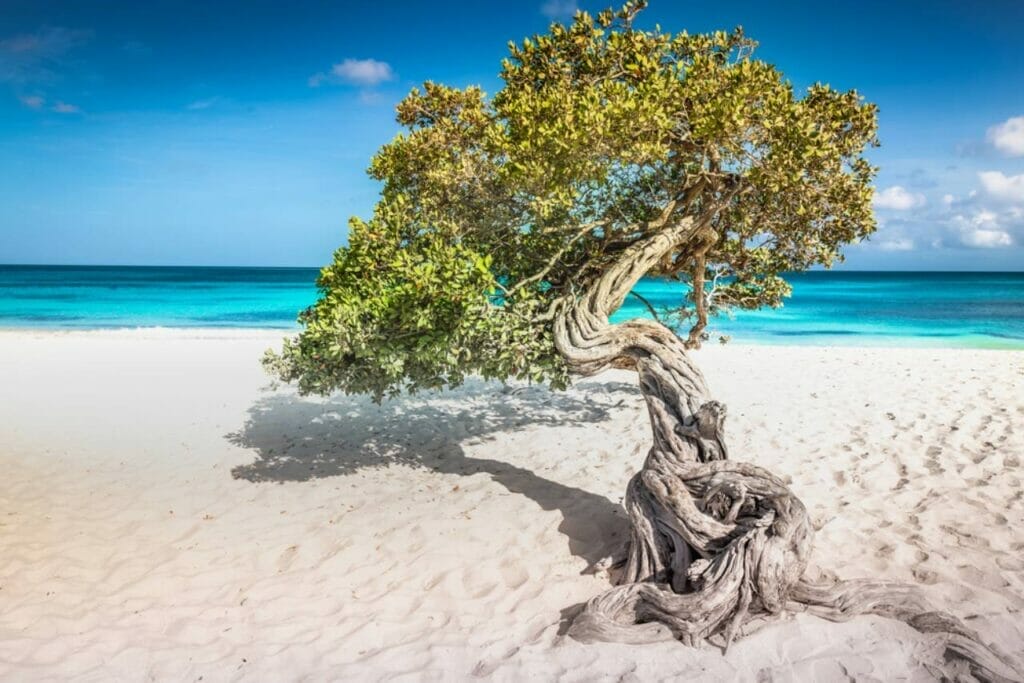 Aruba might not have many different types of trees, but it surely has one tree that botany enthusiasts would love to see.
The Watapana trees in Aruba are endemic to the island and don't grow elsewhere. They also have a steep lean and can be almost horizontal in some cases. Some people call them the Aruba Trees.
These are the most common Aruba trees:
Fofoti Tree
Watapana Tree
Caribbean Pines
Wild Orchids
Large Mondis
Bougainvilleas