4 Best Places To Get Macaroni Salad in Oahu
You might have always considered macaroni salad as a plain and simple side dish, but in Hawaii, mac salad is treated as a full-fledged main course. And by God, I never knew that you could make mac taste so good and delicious. So if you are in Oahu, Hawaii, which places should you head to try out the best Macaroni Salad?
Guava Smoked and Kau Kau Grill are the best places to get macaroni salad on Oahu. These restaurants do a great job of serving mac that isn't too heavy on the mayo or too sweet. Apart from these two, Lilihua Drive Inn and Helena's Hawaiian Food are also great places for authentic Hawaiian delicacies.
In the rest of the article, I'll share with you my detailed review of these Hawaiian BBQ restaurants. By the end, you should have an idea of which restaurants best fit into your plans so you can add them to your itinerary while traveling to Oahu.
1. Guava Smoked
| | |
| --- | --- |
| Hours of Operation | Open 7 Days a Week, from 11:00 AM to 8:00 PM |
| Price Rating | 3/5 |
| Reservation | Not Required |
| Service Options | Dine-in | Takeaway | No-contact delivery |
| Address | 567 Kapahulu Ave, Honolulu, HI 96815 |
| Phone Number | (808) 913-2100 |
| Menu | Guava Smoked Menu |
| Website | https://www.guavasmoked.com/ |
| Social | Guava Smoked on Facebook. Guava Smoked on Instagram. |
Guava Smoked is one of the best places for macaroni salad on Oahu. This fabulous restaurant serves several delicious dishes, including a fantastic macaroni salad. All the meat is cold-smoked using strawberry guava wood. The original recipe is an old family recipe that has been passed down through the years.
Since Guava's establishment in 2011, it has only grown in popularity and has now been able to open a third location on the island of Oahu.
A unique thing about Guava Smoked is the amount of food you can purchase. This restaurant offers full pans of its food, perfect for large get-togethers or for catering an event.
Apart from Macaroni Salad, some of Guava Smoked's most popular dishes include:
Spicy pork
Kalbi
Smoked fried rice
Butterfish
Smoked ribs
Thanks to their extensive menu, everyone coming to Guava always has something to suit their particular mood and palate. You can always depend on them for a fulfilling treat and a great experience.
Coming to drinks, options are limited to water or soda. However, you may also be able to find the occasional unique beverage.
Location-wise, Guava is surrounded by some beautiful golf courses and is a quick drive to Diamond Head State Monument. So if you enjoy hiking or golfing, you can pair your fantastic meal with some activity.
2. Kau Kau Grill
Hours of Operation
Open Mondays to Saturdays, from 10:00 AM to 2:00 PM
* Closed on Sundays
Price Rating
2/5
Reservation
Not Required
Service Options
No Dine-In | Takeaway | Delivery
Address
852 Mapunapuna St, Honolulu, HI 96819
Phone Number
(808) 476-5888
Menu
Kau Kau Grill Menu
Social
Kau Kau Grill on Instagram.
Kau Kau Grill is another restaurant that makes a fantastic macaroni salad. All the food is cooked to perfection and bursting with flavor. Additionally, this grill is locally owned and is a great way to support the people during your visit to Oahu.
The grill serves a wide variety of Hawaiian BBQ dishes, including:
Macaroni salad
Baby back ribs
Garlic Shrimp
Garlic ahi
Pulehu beef
It's important to note that Kau Kau's portions are large and can easily feed two people. However, the food is just so good you might want to pack the leftovers for home. In that case, the grill also offers large party-size portions that are perfect whether you're hosting a get-together or simply don't want to run out of delicious food for a few days.
When it comes to drinks, the grill likes to keep things basic. Of course, you can find the usual beverages like soda and water.
The location of Kau Kau is fantastic since it's near a cluster of beautiful parks like:
Ala Pu'umalu Community Park
Salt Lake District Park
Hoaloha Park
So, after your fantastic meal, complete with the best macaroni salad, you can explore some of the most beautiful public parks on Oahu.
3. Liliha Drive Inn
Hours of Operation
Open Wednesdays to Mondays, from 9:00 AM to 8:30 PM
**Closed on Tuesdays
Price Rating
1/5
Reservation
Not Required
Service Options
Dine-in | Takeaway | No-contact delivery
Address
1408 Liliha St #101, Honolulu, HI 96817
Phone Number
(808) 521-6888
Menu
Liliha Drive Inn Menu
Website
https://www.lilihadriveinn.com/
Social
Liliha Drive Inn on Facebook.
Another fantastic location to get good macaroni salad on the island of Oahu is Liliha Drive Inn. This restaurant not only has a flavorful mac but also puts a delicious twist on traditional Hawaiian BBQ.
Along with having fantastic food, Liliha also offers a fair price. All food is priced relatively cheaply despite the flavor being impeccable. Additionally, if you get to the restaurant early enough, you can order from their breakfast menu, which has a fantastic array of Hawaiian breakfast staples.
Liliha Drive Inn serves other delicious dishes like:
Macaroni salad
Portuguese sausage
Mini chicken wings
Garlic and Mochiko chicken
Jumbo garlic shrimp
Tonkatsu chicken.
If you're a fan of tonkatsu chicken, you can check out my other article on finding the best tonkatsu in Honolulu.
Now, the list above features only a few of this restaurant's incredible dishes. The actual menu is much more extensive and truly encompasses traditional Hawaiian BBQ.
As for beverages you can order, Liliha offers traditional sodas, water, tea, and some juices. If you're ordering takeout online, you can select your preferred drink before checkout.
Liliha is located near Foster Botanical Garden, a stunning garden space of over 14 acres (5.67 hectares). This garden will see some of the most stunning local flora and fauna. Additionally, it's just a peaceful place to stroll after a good meal.
4. Helena's Hawaiian Food
It's no secret that Helena's Hawaiian Food makes some killer macaroni salad. However, they also make excellent authentic Hawaiian food in general. Helena's is one of the oldest restaurants on the island, having served delicious food to the island of Oahu since 1946.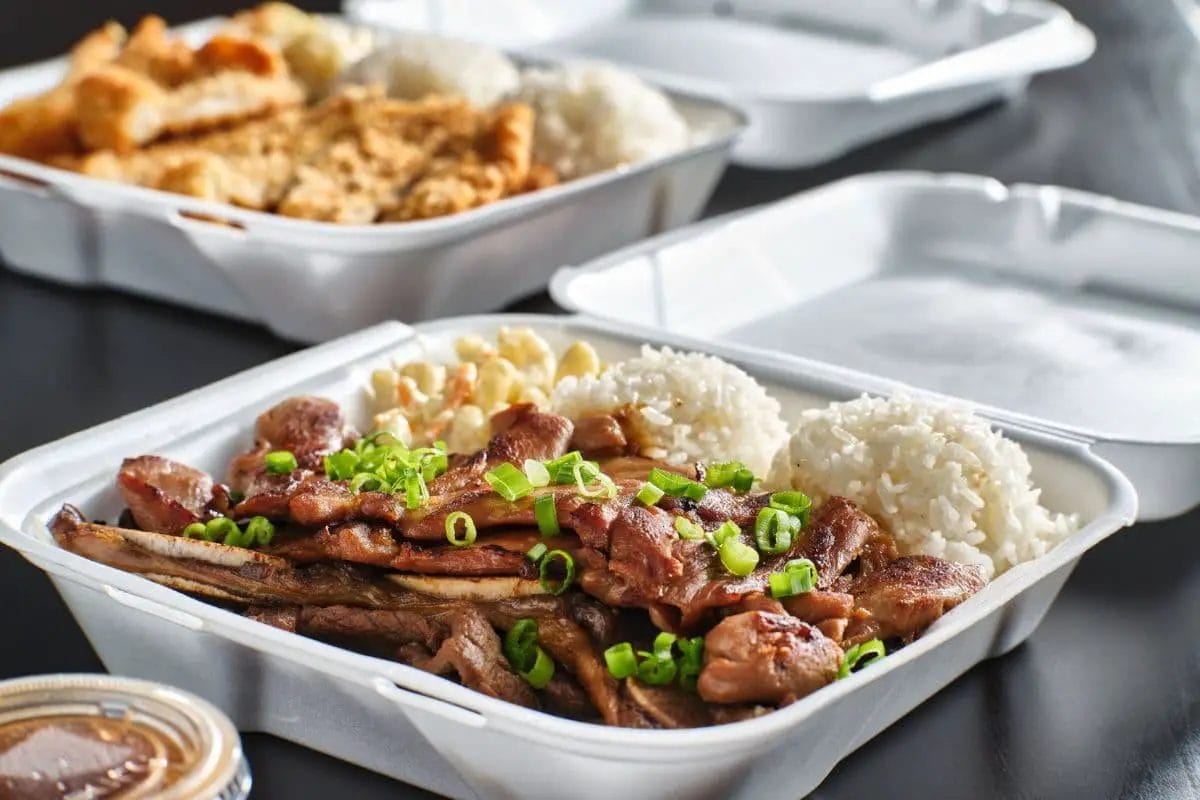 Also, Helenas is still a family-owned business that has passed down its recipes and traditional cooking.
Some of their best dishes include:
Macaroni salad
Short ribs
Smoked pork
Luau chicken
Lomi salmon
Honestly, the food is so good you will need multiple trips to fully experience all of their excellent dishes. In terms of drinks, you can order traditional sodas, coconut water, and regular water.
Helenas is located near Loʻi Kalo Mini Park, a small park with stunning vegetation and water. Due to its proximity to the restaurant, it's an excellent exploration option before or after you finish your macaroni salad.