Hey there, fellow travelers! If you're dreaming of turquoise waters, swaying palm trees, and the ultimate tropical getaway, then Oahu is calling your name.
The main difference between Windward and Leeward Oahu lies in their climate and landscape. Windward Oahu, located on the eastern side of the island, receives more rainfall, resulting in lush vegetation, vibrant rainforests, and cascading waterfalls. On the other hand, Leeward Oahu, situated on the western side, experiences drier and sunnier weather, offering beautiful sandy beaches and ideal conditions for water activities. Travelers seeking a lush, tropical experience may prefer Windward Oahu, while those desiring sun-soaked beaches and water sports should opt for Leeward Oahu.
| Category | Oahu Windward | Oahu Leeward |
| --- | --- | --- |
| Location | Eastern side of Oahu | Western side of Oahu |
| Geography | Lush and green with scenic mountains | Dry and arid with coastal plains |
| Language | English, Hawaiian | English, Hawaiian |
| Government | Part of the City and County of Honolulu | Part of the City and County of Honolulu |
| Currency | United States Dollar (USD) | United States Dollar (USD) |
| Tourism | Popular tourist destination | Less crowded tourist destination |
Get ready to dive into the beauty of Oahu and discover the magic that awaits you on either side of this breathtaking island.
Contrasting Geographical Features
Hey there, are you daydreaming about an amazing vacation to the tropical paradise of Oahu, Hawaii? Let's make it a bit more personal and really dive into what this stunning island has to offer.
Just imagine: you and your family are seeking the perfect blend of thrilling adventure and calming relaxation, right? Well, the Windward side of Oahu is ready to welcome you with its enchanting, emerald landscapes and the dramatic backdrop of the Ko'olau mountain range.
If you're the type who adores nature and lives for a bit of an adrenaline rush, you'll find numerous hiking trails cutting through vibrant tropical rainforests and leading you to mesmerizing, hidden waterfalls. Picture yourself with your family, sharing a picnic on the gorgeous sands of Kailua Beach Park, or getting a kick out of windsurfing on the tranquil waves. It's all possible here!
But maybe you're a couple looking for a romantic escapade, or perhaps you're a luxury traveler aiming for high-end experiences. In this case, the Leeward side of Oahu is where you'll want to be. Picture yourself meandering along the soft, golden sands of Waikiki Beach, hand in hand with your partner, under a breathtaking sunset sky.
Or perhaps you'd enjoy some premium relaxation at one of the region's world-class resorts, complete with gourmet dining and lavish spa treatments. Whether you're soaking up the sun or testing your balance at paddleboarding, the Leeward side is all about creating unforgettable, plush experiences.
But hey, if you're a savvy budget traveler, don't worry! The Windward side has got your back. This place is a treasure trove of beauty that doesn't require a fortune to enjoy. Wander around the charming town of Kailua, where you can browse local boutiques, enjoy a cup of joe at a quaint cafe, or taste fresh tropical fruits from vibrant farmers' markets.
With a range of affordable vacation rentals and homey guesthouses, you'll have a fantastic stay that won't burn a hole in your pocket. Plus, with plenty of free outdoor activities like beachcombing and hiking, you'll have the time of your life without worrying about your budget.
Oahu's Best Leeward and Windward Beaches
Windward Oahu, cradled on the east coast, is a tropical dreamscape, tailor-made for both family outings and romantic escapades. Close your eyes, picture this: You're ambling down the silken sands of Kailua Beach, as gentle waves tickle your feet.
The kids are off, engrossed in building their dream sandcastles, while the mesmerizing turquoise sea splashes around them playfully. The easy-going rhythm of the windward side is a lullaby to your senses, making it a haven for those yearning for a serene retreat amidst the bewitching allure of Mother Nature.
But hey, if adrenaline rushes are your cup of tea, Leeward Oahu, gracing the west coast, is your playground. Known for its thrilling water sports, you can conquer the waves at Makaha Beach or delve into an underwater world while snorkeling in the translucent waters of Yokohama Bay.
The rugged coastline, bathed in the hues of dramatic sunsets, paints a canvas of romance, an idyllic backdrop for you and your partner to weave magical memories. Leeward Oahu presents a plethora of stay options, from wallet-friendly choices to the lap of luxury, making sure there's a perfect fit for every traveler.
Families will be thrilled to find a treasure trove of activities on both coasts of this enchanting island. While Windward Oahu's child-friendly beaches ensure your little ones are in their element, the exhilarating water parks and wildlife encounters at Leeward Oahu will etch unforgettable moments in your family's holiday diary.
For the ones seeking a dash of indulgence, Windward Oahu is home to a handful of opulent resorts, offering the finest services complemented by breathtaking views of the expansive Pacific. It's an enticing proposition for luxury travelers!
So, whether you're dreaming of tranquillity by the azure shores, a whirlwind of thrilling exploits, or a delightful fusion of both, Oahu's windward and leeward sides have an exciting adventure in store for you. Embrace Oahu's warm hospitality, soak in its diverse charms, and lose yourself in the scenic beaches.
Attractions and activities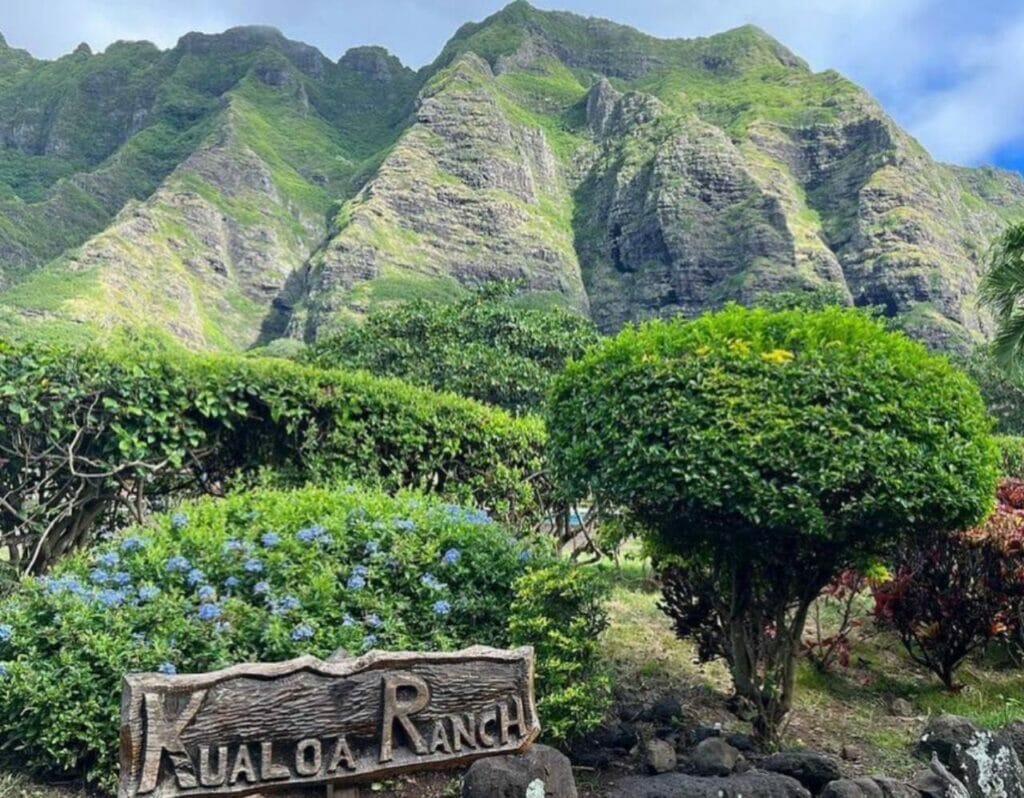 When you're piecing together your itinerary, one of the key things to consider is the unique character of Windward and Leeward Oahu. The beauty of Oahu is that it has something to offer every kind of traveler, from families creating lifelong memories to couples carving out some romantic time, thrill-seekers, budget explorers, and lovers of luxury.
Let's embark first on an imaginary journey to Windward Oahu, the island's eastern side. Picture lush vegetation and postcard-perfect beaches that offer a sense of peace and calm. The majestic Ko'olau Range mountains outline the skyline, adding to the picturesque beauty of this side of the island. Families, this is your paradise!
Imagine your little ones' joy while discovering scenic hiking trails, exploring the verdant botanical gardens, or splashing in the clear turquoise waters of Lanikai Beach. Couples, imagine yourselves unwinding on a peaceful sunset cruise along the coast, making memories that'll last a lifetime.
Then, there's Leeward Oahu, the vibrant western side of the island that's brimming with excitement. Here's where adrenaline junkies can feel their hearts pound while surfing, snorkeling, or jet-skiing at the world-renowned Waikiki Beach. If you're keeping an eye on your wallet, Leeward Oahu offers affordable accommodations and local joints serving mouthwatering Hawaiian food that won't dent your budget. If luxury is your style, you'll find top-notch resorts and high-end shopping in the lively city of Honolulu.
And don't forget, Oahu's rich tapestry of history weaves its magic across both the Windward and Leeward sides. Pay a visit to Pearl Harbor to grasp the impact of World War II and impart a valuable lesson to your family. The Polynesian Cultural Center is a treasure trove of ancient Hawaiian culture, with engaging experiences and captivating performances for all ages.
Whether you're a family creating unforgettable moments, a couple seeking romance, an adventure enthusiast, a budget-savvy traveler or a luxury lover, Oahu has a unique experience tucked away for you. From the verdant landscapes of Windward Oahu to the vibrant pulse of Leeward Oahu, this tropical paradise guarantees an adventure that will keep you longing for more.
Ultimate accommodation guide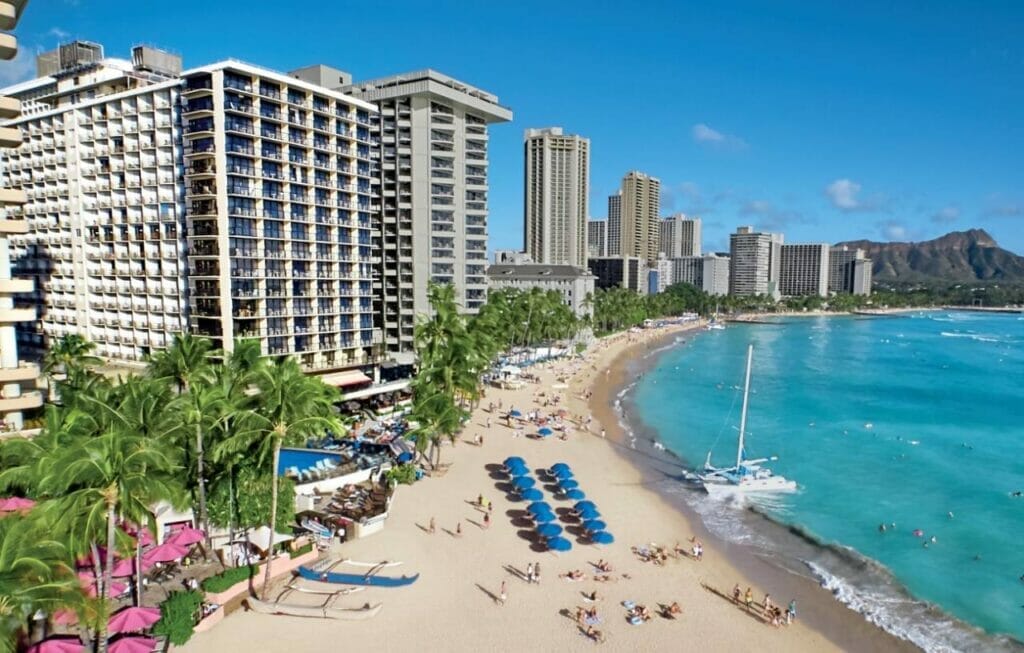 Let's first dip our toes into the energetic Leeward Oahu, where sunny beaches and bustling neighborhoods are the main attractions. Got a family? Say 'aloha' to endless fun at the Hilton Hawaiian Village, where a dazzling waterpark, sandy lagoon, and heaps of child-friendly activities are right at your doorstep. Romantics, I've got you covered.
The Royal Hawaiian, a legendary pink palace boasting an immersive history and heart-stopping ocean views, is the ultimate love nest. And hey, adrenaline junkies, you're not left out! Leeward Oahu is a playground for water sports enthusiasts and hiking fans alike. No deep pockets? No worries! There are tons of budget-friendly spots that don't compromise on coziness or charm.
Next, let's drift over to the mystical Windward Oahu, a sanctuary for those craving peace and intimacy. Traveling with family or buddies? Check out Hawaii's Hidden Hideaway Bed & Breakfast, a tranquil retreat nestled amidst lush foliage. Lovebirds, imagine waking up in a tropical garden in your private cottage at Papaya Paradise Bed & Breakfast – pure bliss! And a special shoutout to our military families – the Cabanas Inn of the Corps offers a welcoming space just for you. Windward Oahu is your ticket to relaxing, reconnecting with Mother Nature, and revitalizing your spirit.
Over on the Leeward side, you'll find remnants of ancient Hawaiian villages and notable landmarks, offering a peek into the island's intriguing past. Traverse the paths of kings and warriors as you navigate through the old temples and cultural sites.
Windward Oahu sings a different tune, painting pictures of plantation life with quaint towns and scenic coastal routes. Drop by the local towns and markets to experience the genuine Hawaiian lifestyle. No matter where you plant your feet, Oahu's rich history and geography will weave a fascinating tale that'll keep you spellbound.
So, families ready for an adventure, couples seeking that spark, budget travelers or luxury seekers, the two faces of Oahu, Leeward and Windward, have got the keys to an unforgettable time.
Exploring Leeward and Windward Oahu's Best Dining Experiences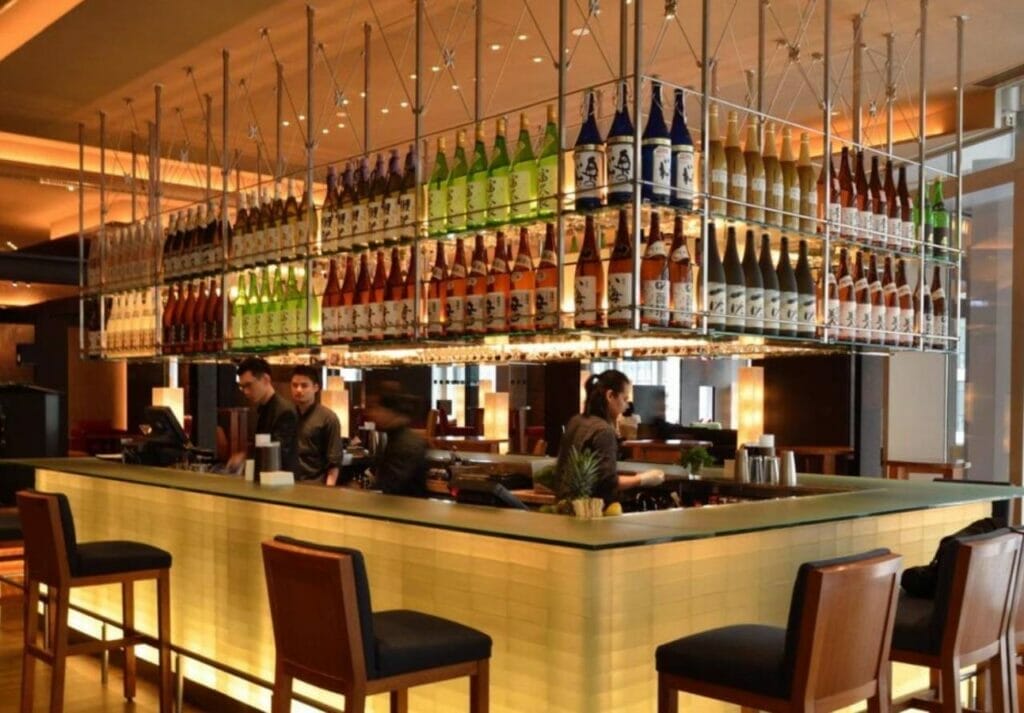 Our first stop is the Leeward side, where the generous sun paints every day in hues of gold, and breathtaking beaches caress your toes. For our fellow gourmands out there, a visit to Morimoto Waikiki is non-negotiable. Here, a delightful symphony of Japanese and Hawaiian culinary arts unfolds on your palate.
For those memorable moments that call for an exceptional celebration, La Mer offers the crème de la crème of luxury dining, boasting tantalizing French cuisine paired with sunsets that seem painted by the hand of an artist. Budget-savvy food lovers, worry not! At The Steak Shack, you'll find heavenly, succulent steaks that are friendly on the wallet.
Next, we journey to the Windward side, a cornucopia of lush greenery and majestic mountains. Hankering for some local grub? Ono Steaks and Shrimp Shack is ready to treat your taste buds to a flavorful dance of delectable shrimp dishes and melt-in-your-mouth steaks, all with a side of island charm. Seafood fanatics, Ono Seafood Hawaii is your haven. Relish in the freshest poke bowls and seafood delicacies in an atmosphere that exudes warmth and simplicity.
As we explore these regions, we encounter the rich tapestry of Oahu's history. The Leeward coast, once a major player in the sugar and pineapple industries, offers a poignant glimpse into the island's economic evolution. As you stroll through the charming towns and remnants of sugar plantations, you'll be touching the island's hardy spirit and industrious past.
In contrast, the Windward side enchants with its deep cultural roots, from age-old heiaus (temples) to traditional fishponds that pepper the landscape. These sacred spots open a window to the island's indigenous past and the harmonious relationship that native Hawaiians shared with their environment.
FAQ
What is the difference between leeward and windward Hawaii?
Windward and leeward are geographical terms used to describe the different sides of an island in relation to prevailing winds. In Hawaii, windward refers to the side of an island that faces the prevailing trade winds, while leeward refers to the side sheltered from these winds. The windward side typically receives more rainfall and is characterized by lush vegetation, steep cliffs, and picturesque waterfalls. In contrast, the leeward side experiences drier and sunnier conditions, often featuring beautiful beaches and arid landscapes.
Which side of Oahu is windward?
The windward side of Oahu is located on the eastern coast of the island. It encompasses areas such as Kailua, Kaneohe, and Waimanalo. Due to the prevailing trade winds blowing from the northeast, this side of Oahu receives more rainfall, resulting in vibrant green valleys, dense forests, and spectacular mountain ranges.
Which side is leeward on Oahu?
The leeward side of Oahu is situated on the western coast of the island. It includes popular areas such as Waianae and Kapolei. Shielded from the trade winds, this side of Oahu experiences drier and sunnier weather conditions, making it ideal for beach lovers and outdoor enthusiasts. The leeward coast is known for its stunning sandy beaches, clear waters, and breathtaking sunsets.