Willemstad Architecture: Styles & Heritage Sites
Welcome to Willemstad, a captivating city in Curacao that beautifully blends Dutch architecture with a Caribbean flair. The Willemstad architecture is like none other…
As you wander through its streets, you'll be enchanted by the pastel-colored facades, a delightful twist on traditional Dutch brick designs. Willemstad's architectural heritage has earned it a spot on the UNESCO World Heritage List, with four unique quarters to explore, each offering its own charm. 
From the iconic waterfront of Punda to the vibrant boutiques and street art in Scharloo and Pietermaai, there's something for everyone. Don't miss the Queen Emma Bridge, Fort Amsterdam, and the Mikve Israel-Emanuel Synagogue—each a testament to the city's rich history. Willemstad also embraces modern influences, creating a harmonious blend of old and new.
Whether you join a guided architecture walk or explore at your own pace, you'll be immersed in the captivating tales of this city's architectural marvels. With strict regulations in place to protect its unique heritage, Willemstad promises an unforgettable experience that effortlessly combines history, culture, and natural beauty.
Dutch Influence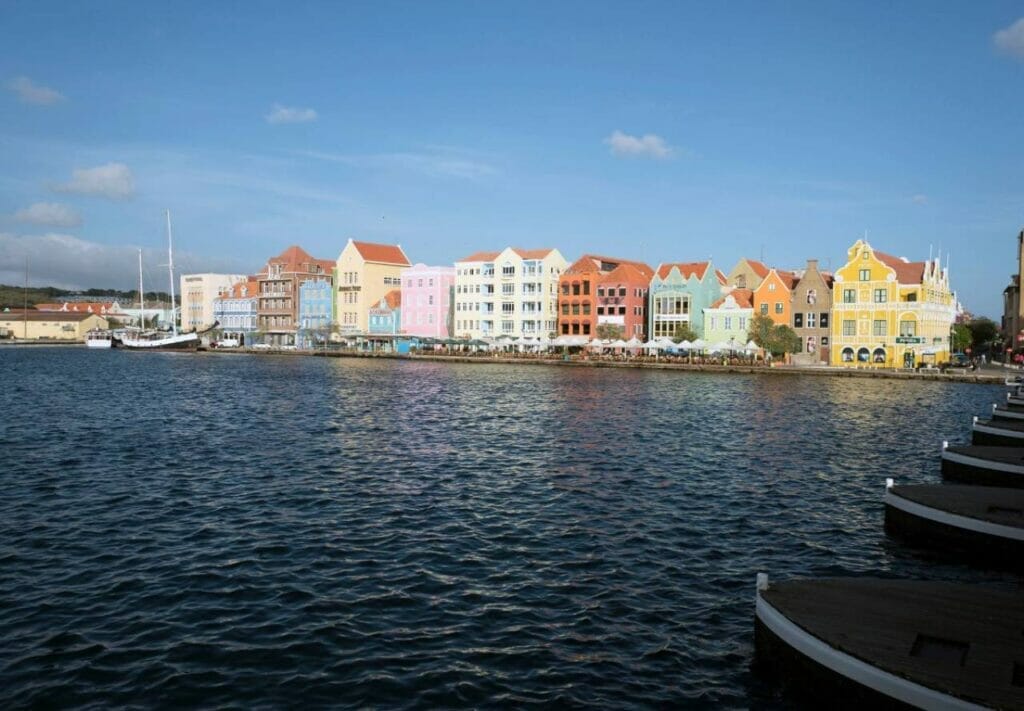 Willemstad, while just a dot on the world map, bears a strong Dutch influence, owing to its colonial history. Walking through the streets of this Caribbean city, you might think you've been teleported to Amsterdam, except for the pastel-colored facades replacing the traditional Dutch brick architecture. This enchanting blend of styles is known as 'Dutch Caribbean', characterized by Dutch architectural designs, adapted to the local climate and available materials.
The 'Amsterdam of the Caribbean' reflects a spectrum of hues in its streets. From pomegranate red to tropical turquoise, the buildings in areas like Punda and Otrobanda glow vibrantly under the Caribbean sun, a perfect blend of European influence and Caribbean flair. This transformation is attributed to Governor Albert Kikkert, who, in the late 1800s, complained the sun's reflection off the white buildings hurt his eyes, resulting in the burst of color we see today.
Despite centuries passing, Dutch influence remains prominent. From the steep, gabled roofs designed to quickly dispel rainwater, to the expansive verandas providing respite from the tropical heat, each element narrates a tale of fusion between European style and Caribbean practicality.
UNESCO World Heritage Site
In 1997, the historic areas of Willemstad were proudly inscribed on the UNESCO World Heritage List, recognizing their unique value and the city's commitment to preserving its architectural heritage. This accolade is not just a source of pride for locals but also a testament to the city's multicultural history. The UNESCO site includes four distinct quarters: Punda, Otrobanda, Pietermaai, and Scharloo, each with its own character and charm.
Punda, the oldest district, offers a picturesque waterfront, known as Handelskade, lined with iconic Dutch colonial buildings. Otrobanda, or 'the other side,' offers a blend of restored and dilapidated structures, presenting a stark contrast that adds to its unique appeal. Scharloo and Pietermaai, once residential quarters of the Jewish merchant class, now host a variety of boutiques, restaurants, and street art, housed in well-preserved colonial buildings.
The UNESCO recognition reinforces the significance of Willemstad's architectural heritage. This vibrant city not only showcases a variety of styles but also provides a tangible record of social and cultural history, spanning several centuries.
Notable Landmarks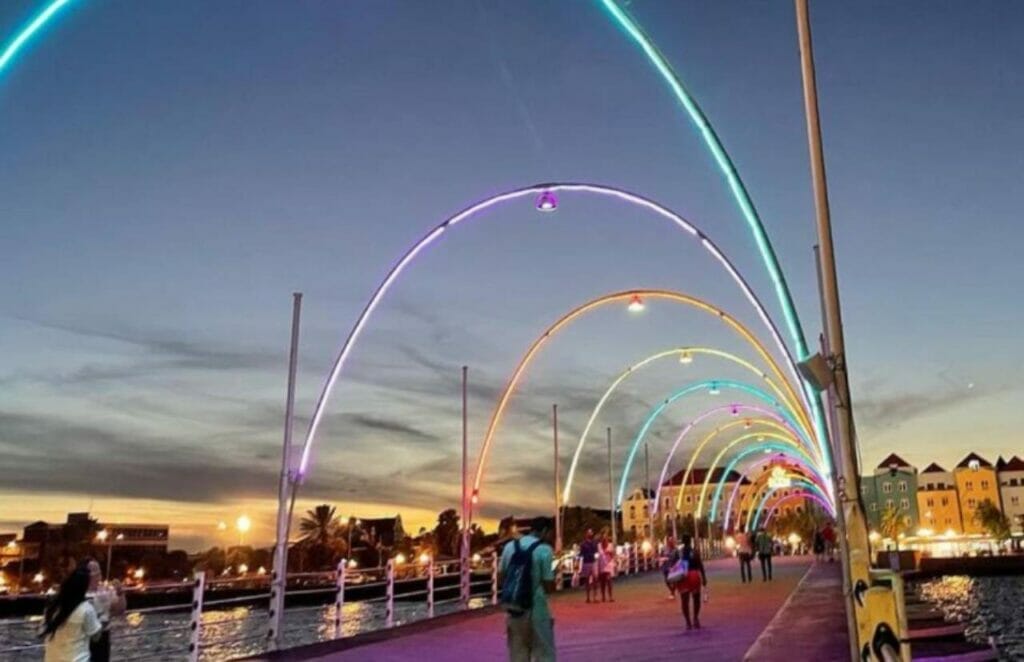 When discussing Willemstad architecture, it's impossible to skip the city's notable landmarks. The most iconic of them all is probably the Queen Emma Bridge, also known as the "Swinging Old Lady." This floating pontoon bridge lights up at night, creating a magical reflection on the waters of St. Anna Bay.
Another remarkable architectural piece is Fort Amsterdam, built in 1635. This fort, which also serves as the Governor's residence, houses a UNESCO World Heritage church bearing the scars of a cannonball fired in 1804, during the Battle of Curacao. The fort's mustard yellow façade contrasts beautifully against the azure Caribbean Sea, making it a must-visit spot.
Lastly, the Mikve Israel-Emanuel Synagogue, the oldest still-functioning synagogue in the Western Hemisphere, deserves a mention. Its sandy floor and beautiful wooden interiors reflect a unique blend of Dutch and Caribbean influences, offering a silent tribute to the diverse cultures that have influenced Willemstad's architectural landscape.
Modern Architecture
While Willemstad treasures its past, it isn't stuck in it. The city's architectural landscape continues to evolve, embracing modern influences. One such example is the Curacao Medical Centre. With its sweeping, wave-like façade, the hospital is a testament to modern design principles yet harmonizes with the colorful surroundings.
Willemstad's Renaissance Mall and Rif Fort offer another take on modern architecture, cleverly fused with history. Here, luxury shopping experiences exist within restored historic fort walls. Modern glass and steel structures blend with antique cannons, creating an atmosphere where history meets luxury.
A walk through the neighborhoods of Mahaai or Damacor reveals the city's residential architectural evolution. Modernist homes, marked by clean lines and minimalist aesthetics, sit alongside traditional Dutch colonial villines, creating a blend of old and new that typifies Willemstad's ever-evolving architectural landscape. This continuous evolution ensures that the city remains a vibrant, captivating destination for architecture enthusiasts and casual visitors alike.
Architecture Walk Tours
One of the best ways to truly immerse yourself in the Willemstad architecture is through the various architecture walk tours available in the city. These tours provide a unique opportunity to delve deeper into the rich architectural heritage that characterizes Willemstad. Guided by local experts, you will journey through the city's historic districts, such as Punda and Otrobanda, and uncover the stories etched in every building facade.
Tours range from general heritage walks, spotlighting the most iconic buildings and landmarks, to more niche tours that focus on specific architectural styles or districts. Some even offer 'behind-the-scenes' insights, allowing you to explore interiors of select historical buildings. Alongside the architectural marvels, these tours also offer a window into the city's multicultural past and vibrant present, making them a must-have experience for any visitor.
Beyond guided tours, Willemstad also welcomes self-guided walks. Maps detailing architectural points of interest can be obtained from tourist information centers. These are perfect for those who prefer to discover the city at their own pace, soaking in the symphony of styles that is Willemstad.
Local Regulations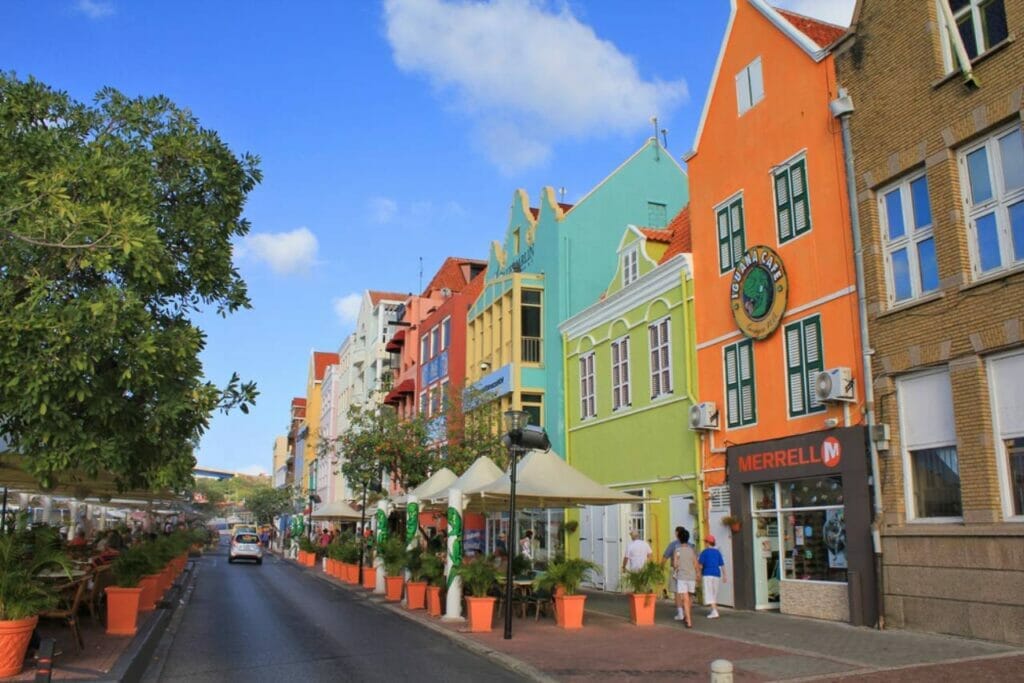 Preserving Willemstad's unique architectural heritage is no small feat. The city's authorities have implemented stringent local regulations designed to maintain its architectural integrity. These laws govern everything from the color palette of building facades to the types of materials and architectural details that can be used in construction and restoration projects.
Under these regulations, the city ensures any new developments or restorations stay in harmony with the historical aesthetics. For instance, any work on the buildings in the UNESCO World Heritage Site must be approved by a local heritage board, ensuring modifications do not compromise their historical value.
Moreover, there's a significant focus on sustainable restoration practices. These aim not only to protect the physical structures but also to preserve the cultural and historical narratives they represent. In essence, these regulations serve to protect Willemstad's architectural legacy, ensuring future generations can enjoy its architectural marvels just as we do today.
FAQ
What is Willemstad known for?
Willemstad is known for its captivating blend of Dutch architectural styles and Caribbean flair. The city's pastel-colored facades, reminiscent of traditional Dutch brick architecture, create a unique visual appeal. Its historic quarters, such as Punda, Otrobanda, Pietermaai, and Scharloo, showcase well-preserved colonial buildings, while notable landmarks like the Queen Emma Bridge and Fort Amsterdam add to its architectural allure. Recognized as a UNESCO World Heritage Site, Willemstad is celebrated for its outstanding cultural value and commitment to preserving its architectural heritage.
Why is Willemstad a World Heritage Site?
Willemstad has earned its status as a UNESCO World Heritage Site due to its exceptional architectural value and its representation of a unique blend of European and Caribbean influences. The city's historic areas, including Punda, Otrobanda, Pietermaai, and Scharloo, showcase well-preserved colonial buildings that reflect centuries of cultural exchange. Willemstad's architectural heritage narrates a story of adaptation to the local climate and available materials, creating a harmonious fusion of Dutch designs and Caribbean practicality. The UNESCO recognition highlights the significance of Willemstad's architectural legacy and the city's commitment to preserving its cultural and historical heritage for future generations.
What is the oldest building in Curaçao?
The oldest building in Curaçao is Fort Amsterdam, constructed in 1635. Situated in the capital city of Willemstad, this fort served as the headquarters of the Dutch West India Company and played a pivotal role in the island's colonial history. Fort Amsterdam stands as a testament to the enduring architectural heritage of Curaçao and serves as a significant landmark in the Caribbean region.