What to Wear to Aruba (17-Item Checklist)
It is your first time visiting Aruba, and you are excited. Your documentation, medical information, and money are ready; the only thing left is to pack. Airlines' baggage restrictions can make you wonder what to pack and leave behind. You want to avoid getting stranded because you didn't bring essential items. At the same time, you want to stay within the required luggage weight. Although Aruba has stores that sell everything you need, these items cost more, and we wish to remain within the budget.
Here are 17 items that are non-negotiable for your vacation to Aruba:
Reef-safe Sunscreen and After-sun
Sunblock Lip Balm
Sun Hat
Sunglasses
Bathing suits and Cover-ups
Sand-free Beach Towel
Towel Clips
Light Raincoat or Wind-proof Travel Umbrella
Insect Repellent/ Bug Spray
Bags
Light Jacket/ Sweater
Day time Clothing
Evening Wear
Sun Protective Clothing
Footwear
Hair Ties/Clips and Conditioner
Let's explore each item in detail to see how necessary they are for your holiday. You will discover packing gems that will come in handy on your next tropical vacation.
1. Reef-safe Sunscreen and After Sun
Aruba is a coral island with vibrant marine life. Our regular sunscreen contains chemicals that are detrimental to the island's coral reefs and marine life. These chemicals cause coral bleaching, where coral turns white and becomes susceptible to diseases and death. Coral-friendly sunscreen ensures maximum protection from UV rays while simultaneously protecting the ocean. When buying sunscreen, look out for paraben-free, mineral-based, labeled non-nano. Most importantly, avoid sunscreen with oxybenzone and octinoxate because they harm marine life.
The sun in Aruba can be intense. Your skin would need some TLC after a long day out at the beach. After sun moisturizes skin after sun exposure, thereby preventing peeling, drying, or flaking. It also protects your tan and reduces skin redness. Ingredients like aloe vera are ultra-hydrating and replenish lost moisture. In the event you run out of aloe vera, there's lots of it on the island. Aruba is the highest exporter of aloe vera in the world.
2. Sunblock Lip Balm
Don't let your lips get dry and thirst for moisture. We mainly apply sunscreen on every part of the body, forgetting that the lips are equally important. Our lips are thinner and more delicate, making them more susceptible to UV radiation. Therefore, lip balm with sunblock is needed to avoid premature aging, drying, and lip cancer.
The weather and climate in Aruba can be dry and windy; you don't want your lips getting cracked. Lip balms are necessary whether you are swimming or sunbathing— lots of which you will be doing in Aruba.
3.  Sun Hat
Packing a sun hat is non-negotiable if you want to avoid sunburn. The hat does more than make a fashion statement. They reduce UV radiation by 50%. Covering your head is also a great way to regulate body temperature and protect your face and eyes.
Wide-brimmed hats will prevent sunburn and have you looking fabulous while you are sunbathing. Remember, Aruba is very windy. Therefore, you need an adjustable hat to secure firmly on your head. On that note, your favorite baseball cap is a no-no unless you want to chase it down the shoreline.
A trick to packing hats is to stuff them with socks and scarves. Afterward, place it at the bottom of your suitcase and pack the rest of your clothing around it.
4. Sunglasses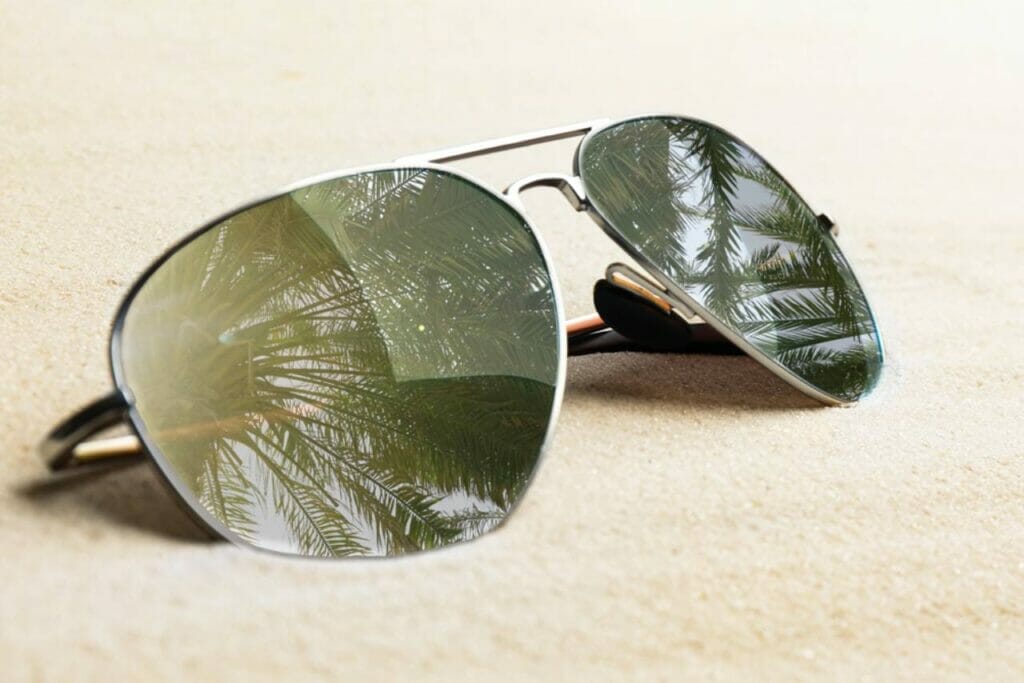 By now, you have gotten a general idea of how sunny and windy Aruba gets. Isn't it amazing how a pair of sunglasses can have you looking stylish while simultaneously working in the background to keep you safe from sunburn?
Sunglasses shield against UV rays, stinging salt water, sand, dust, and other environmental elements in Aruba. When buying sunglasses, always go for a polarized lens. They are also perfect for the water sports you will enjoy in Aruba.
5. Bathing Suit and Cover-ups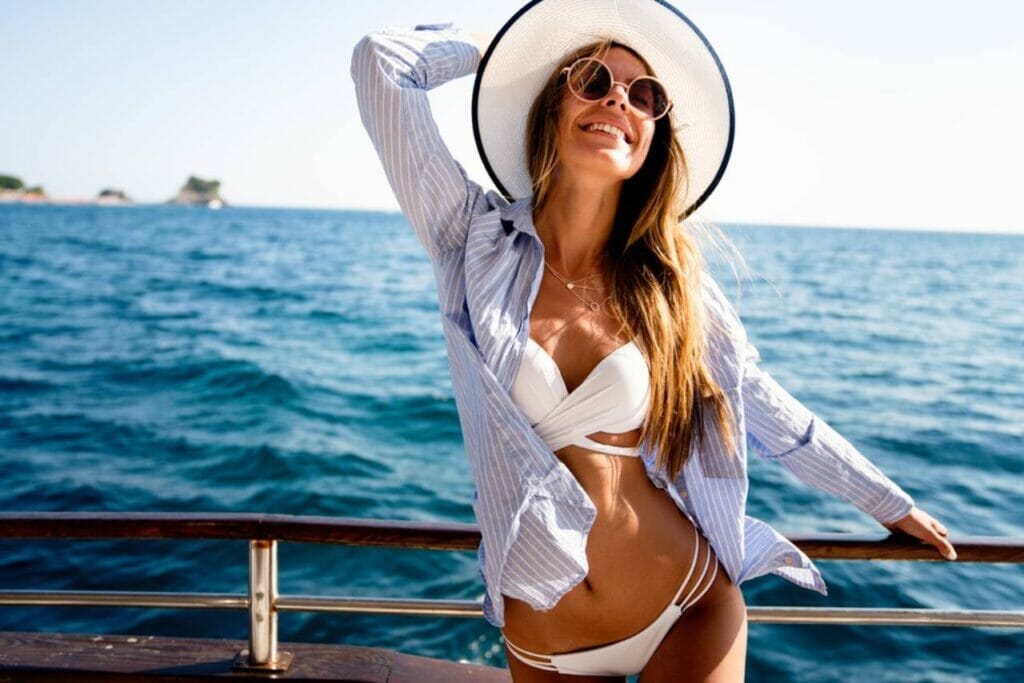 You will spend most of your days swimming in clear blue waters and walking along the pristine white sand. Pack swimsuits that are comfortable and quick drying. Your swimsuit should fit, especially if you plan on playing many water sports. The ideal swimwear for women is a one-piece bathing suit. Men can pack swim trunks that can double as shorts to save packing space.
Since you will be wearing a bathing suit most of the day, you should pack plenty of cover-ups. They are easy to throw on quickly to get food, drink, or snacks at beach bars and restaurants. In addition, a sarong can make part of your evening wear. They are lightweight, flowy, and have multiple ways to style. Three to four sarongs are enough to last you a week.
6. Sand-free Beach Towel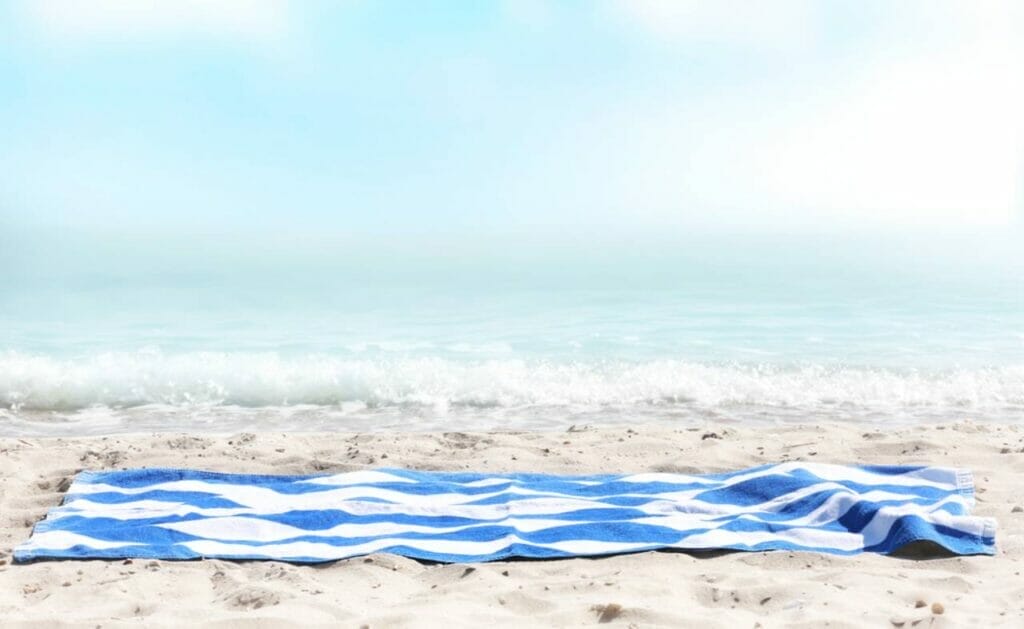 Sand-free beach towels are a worthy investment when vacationing in Aruba. It can be frustrating when you have trails of sand everywhere in your room and bathroom, even after dusting off.
Sand-free beach towels are lightweight, absorbent, and quick drying. They are made from velour or microfiber and do not trap sand in their fibers, unlike regular towels.
7. Towel clips
It might look insignificant, but packing towel clips will be a decision you won't regret. The Aruban trade winds are a double-edged sword, giving with one hand and taking with the other. While cooling you from the intense sun, the winds will also blow away your essentials if you don't secure them.
Towel clips are handy for securing beach towels to the chair. You can also nicely clip your hats and snacks to avoid chasing after them in the ocean.
8. Light Raincoat or Wind-proof Travel Umbrella
If you visit Aruba during the rainy season (October to January), you will benefit from packing a raincoat or travel umbrella. The rain showers are usually light, and it remains sunny before and after rainfall. However, you will not want to get wet when strolling out in the evening for a nighttime cocktail and entertainment.
Umbrellas are perfect for tropical and humid weather. And unlike the raincoat, you won't get hot from an umbrella. Look for portability when getting an umbrella, but it should also be sturdy enough to withstand the winds.
9. Light Raincoat or Wind-proof Travel Umbrella
Some spend their vacations close to famous beaches and lines of high-rise hotels, bars, restaurants, casinos, etc. Nature enthusiasts or photographers may want to explore the island and should pack insect repellent/ bug when going off the beaten path.
Although Aruba is arid, it has unique wetlands for nature lovers. One such is the Bubali Bird Sanctuary which exotic species. You know what they say about wetlands being breeding grounds for mosquitoes.
10. Bags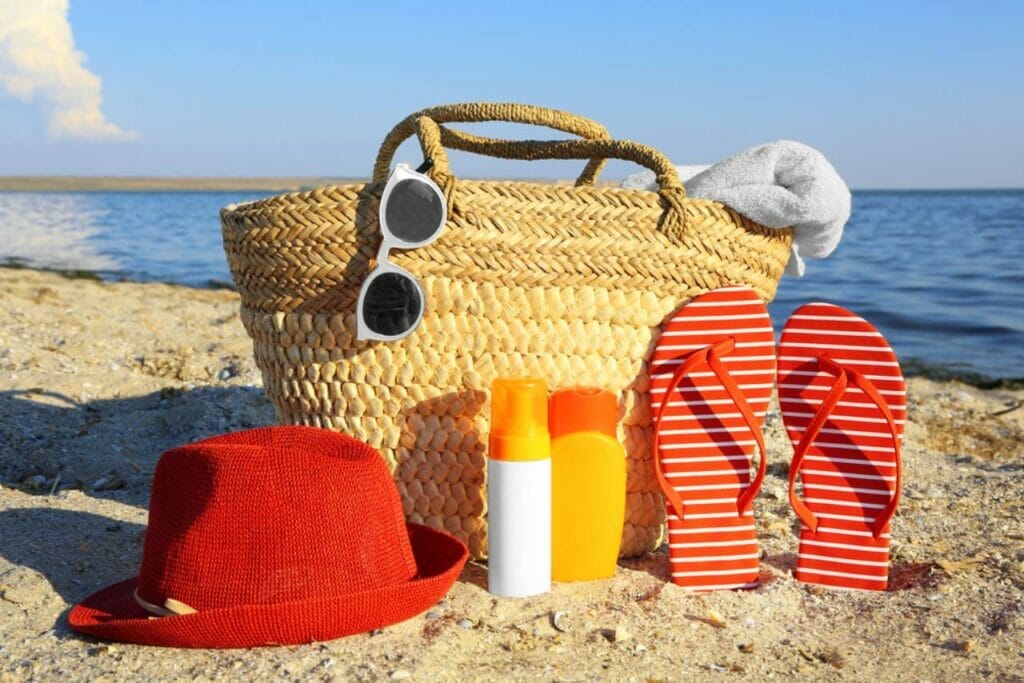 It is vital to keep your essentials and valuables close by. A beach bag that closes tightly should be part of your packing checklist. If you are thinking of carrying a tote bag, remember that the Aruban winds will blow sand at you and your valuables. Several sand-free beach bags tightly secure items such as your devices, credit cards, ID, money, and more.
Some hotels give out portable coolers to their guests. If you don't want to risk it, there are collapsible coolers you can pack if you have the extra space. This way, you don't have to stand up to buy drinks or snacks all the time.
You can't take your beach bag when traveling around the island or going out for a casual drink in the evening. A small crossbody bag is perfect for a night out. It is small enough to fit a tiny wallet, phone, and money. But most importantly, it will only occupy a little space in your luggage.
Lastly, it would be best if you had another option for going on ATV tours and hiking. Your hiking bag can be a carry-on on the plane, and you only have to ensure it fits the airline's size requirement. This way, you pack some of your luggage and unpack it when you get to the hotel.
11. Light Jacket/ Sweater
You may wonder why you need a light jacket or sweater when Aruba has a high UV index. Yes, the sun can be intense, but evenings in Aruba can get chilly.
Nightlife entertainment in Aruba is something you want to take advantage of. It would be best if you packed a light jacket or sweater for evening hangout—furthermore, restaurants, bars, casinos, etc., all blast air conditioners to offset the heat. Therefore, you will not regret packing a sweater.
12.  Daytime Clothing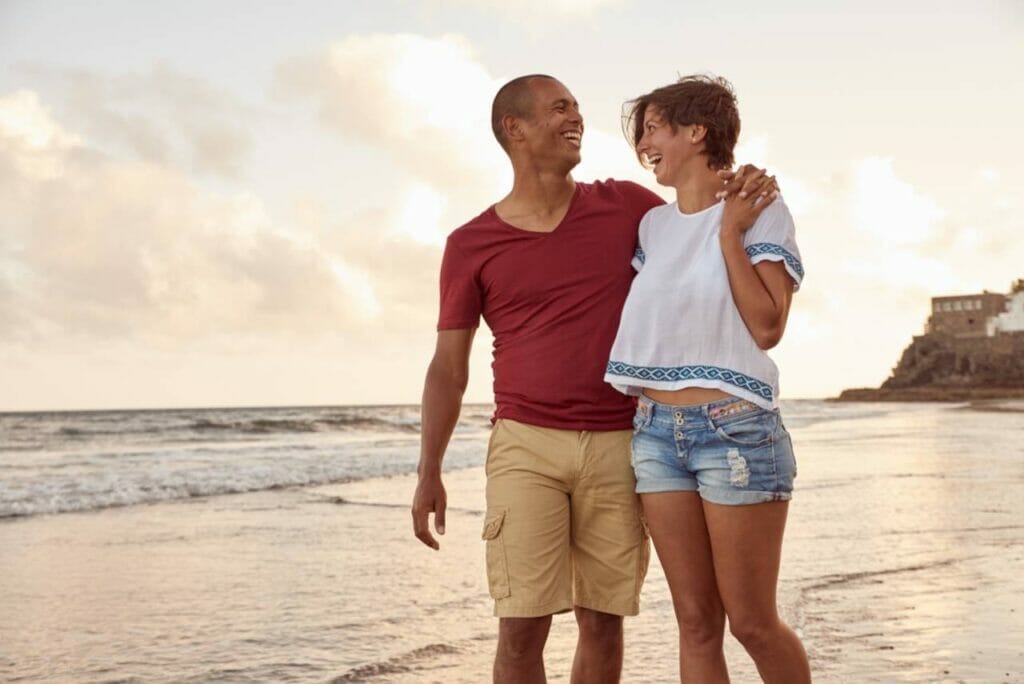 With temperatures of 84-88F (29-31°C), you should pack loose-fitting, comfortable clothes that are lightweight and breathable. Casual summer clothes, such as t-shirts, camisoles, shorts, and sarongs, are perfect for wearing during the daytime.
Women should pack sundresses, playsuits or rompers, thin shorts, t-shirts, and tank tops. Athletic shorts, t-shirts, and shirtsleeve buttoned-down shirts are perfect for Men.
Remember to choose fabrics like cotton, silk, nylon, and linen. Also, avoid dark colors that absorb heat, like black and tight-fitting jeans. Note that Army camouflage is prohibited on the island, even for children.
13. Evening Wear
Aruba is a laid-back island; you don't need to pack formal attire. Casual clothes in breathable fabrics are okay to bring along. Women can pack maxi dresses, casual silk dresses, and wide-leg palazzo paired with loose-fitting pants and comfortable sandals. You can also pack a pashmina, jewelry scarf, or wrap for styling.
Short-sleeve buttoned-down shirts or polos with slacks, a belt, and comfortable loafers are great for men in the evening.
14. Sun Protective Clothing
Did you know that clothing is one of the most effective protection against sun damage? Most manufacturers now produce clothes with Ultraviolet Protection Factor (UPF). UPV determines how much sun rays pass through clothing fabric and get to your skin.
According to Skin Cancer Foundation, shop for clothes with UPF 30 and above. The best fabrics are unbleached cotton, nylon, wool, shiny polyester, satin, and silk. These fabrics bounce off sun rays instead of absorbing them.
15. Shoes
Three pairs of shoes are okay to pack to Aruba. You may not need water shoes on the white sand beaches. Since the sand is mainly crushed shells, it has a cooling effect on your feet. However, Aruba has a lot of water sports, such as kite surfing, windsurfing, parasailing, etc., and you will need to pack water shoes for that purpose.
Away from the high-rise buildings are less popular beaches that are rocky and covered in algae. If you decide to go off the beaten path, your feet will appreciate a pair of water shoes. Tennis shoes are mandatory for horseback riding and excursions at the Arikok National Park. A bonus tip is wearing sneakers on your journey to save space.
The third set is shoes for evening hangouts. A pair of sandals is perfect for women and comfortable loafers for men.
16. Hair Ties/Clips and Conditioner
It may look like a lot, but you will see the importance of hair ties/clips when you reach Aruba. Trade wins blow so hard that you constantly have to pull the hair off your face if you don't tie it.
The winds will also tangle up your hair hence the need for a conditioner. Remember to check the aerosol requirements of the airline you will use.
17. Packing Cubes
Packing cubes are an organizational hack that makes it easy to find things on holiday. A trick is to have a larger cube for your casual and evening wears, a smaller one for underwear and swimwear, and another for toiletries and makeup.
The last cube you need is waterproof for your gadgets like cameras. There are several waterproof cases made specifically for your phones.
The Takeaway
Having a list of travel essentials is always helpful for your vacation. A travel checklist will help you to pack those must-have items that will make your holiday go smoothly.
Certain items are non-negotiable when visiting Aruba. Things such as sunscreen, sun hat, sunglasses, and bathing suits are familiar summer requirements. Other objects, like wind-proof umbrellas, sand-free beach towels, towel clips, and more, are specially required for Aruba's weather and climate.