What is Aruba Known For? (17 Famous "Aruba Things")
This is for all of you wondering "what is Aruba known for?" After all, if you go plan to a tourist destination, one of the first things you should do is get familiar with the best that it has to offer. It is hard to experience the entirety of what a city or a country can deliver, but you can be sure to enjoy the best things in that specific destination.
Aruba is known for its Clear Waters, White Sand Beaches, and Natural pools. It is also associated quite often with Flamingos and the Diversity of Birds. Overall, Aruba might not be too famous for its Aloe products, but it is still seen as a country Coecoei liquor.
Of course, the above does not cover all of the things Aruba is known for. That's why the rest of this article is needed. In this article, we will go into many more things that Aruba is famous for and the context around them.
By the end of this post, you'll be more confident about your knowledge of Aruba and will have a starting point for your itinerary. You might not be interested in everything that is included, but you will find a handful of things to do in Aruba.
Before we get into the details, here's a quick round-up of the best things Aruba is famous for…
1. Clear Waters
Aruba is known for its clear waters that present snorkeling and diving opportunities. The water in Aruba is not tainted by industrial pollution or natural dirt slides. They remain clear enough regardless of the weather and are a delight to swim in.
Over the long stretch, the view of the water from Aruba's beaches is turquoise. Where clear waters are perfect to experience when swimming, turquoise waters are perfect for capturing and posting online.
2. White Sand Beaches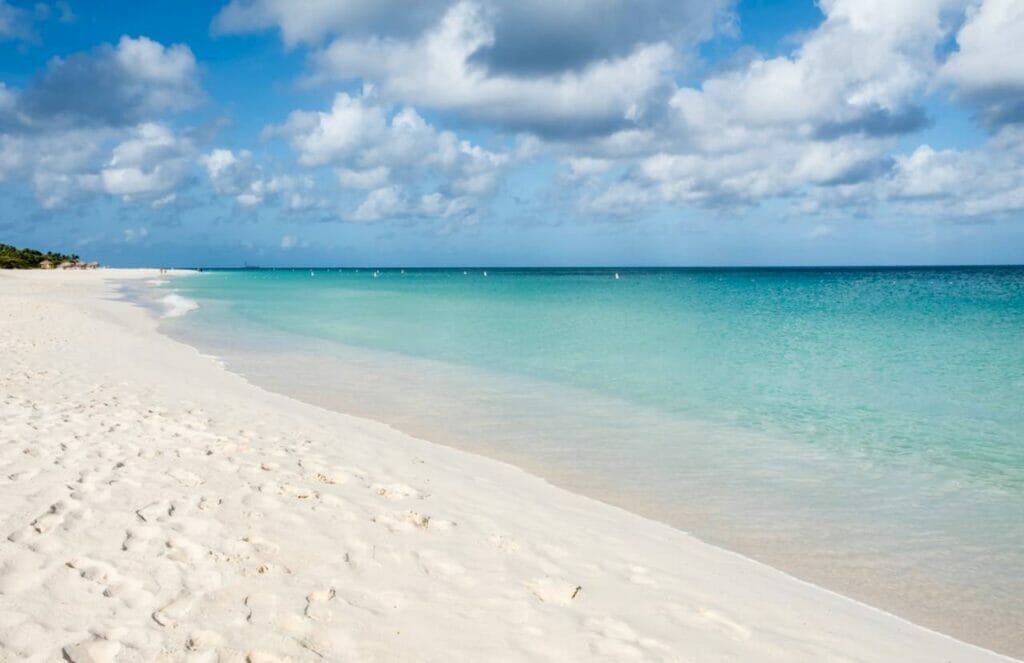 The white sand beaches of Aruba are iconic and have come to symbolize luxurious tropical vacations. Eagle Beach, Baby Beach, and Flamingo Beach are some of the top Aruba beaches with white sand and clear waters.
If you want to feel the sand between your toes, you can head over to any Caribbean country. But if you want that perfect contrast between the turquoise blue and the white sand, then you better go to Aruba.
3. Wedding-Cake Style Architecture
While Aruba has over 40 beaches, beaches aren't all there is to Aruba. It is an island nation with a functioning capital and an economy with sectors other than tourism. The capital of this country is Oranjestad, famous for its wedding-cake-style architecture and brightly colored buildings.
The bazaars in Oranjestad are Instagram-worthy and Instagram-famous, which is why they have come to represent Aruba on the global stage.
4. Natural Pools
While Aruba's beaches and their direct connection to the Caribbean sea offer plenty of swimming opportunities, its natural pool is pretty remarkable as well. A natural pool is formed when a raised land mass surrounds a body of water.
Conchi is the natural pool that Aruba is known for. It is located inside the Arikok National Park and is a swimmable pool isolated from the sea by a rock formation.
5. Turquoise Ocean
As mentioned earlier, the clear waters in Aruba turn turquoise when observed from a distance. This color is aesthetically pleasing and perfect for a view when one is relaxing by the beach or sunbathing. Aruba's turquoise waters are best observed from the California Lighthouse, which is also one of the things that the country is known for.
6. The California Lighthouse
The California Lighthouse is now a makeshift observatory that offers a 360-degree view of the island. Since it is located near the sea, the best view is that of the water. You can climb all the way up to where the lighthouse keepers would be stationed back when the lighthouse had a more important function.
Still, the lighthouse is currently active and functions as a coastal warning light. You can watch ships move across the sea from the lighthouse or witness flocks of birds migrating if you get the timing right.
7. Diversity Of Birds
Aside from immigrant birds, Aruba has plenty of inhabitant and endemic bird species. Currently, there are 270 types of birds in Aruba, making the island a treat for birdwatchers. One of the most popular bird species, even popular among those not interested in birdwatching, is the flamingo.
And Aruba has an entire beach known for the density of flamingos. The Flamingo beach is a private beach in Aruba on renaissance island.
8. Aloe Products
Aruba is also known for its aloe vera exports. Aloe grows in many full-sun and semi-sun countries. Aruba, however, has the infrastructure to turn the Aloe plant into Aloe products.
You can watch the process that turns the plant into products at the Aloe Factory Museum and Store in Aruba. The factory tour is free, but the souvenir shop is tempting enough to make you spend the money anyway.
9. Surfing Spots
Aruba is also known for its surfing spots, of which it has a wide range. There are some breaks that beginners would be content with, and then there are ones that would get an advanced surfer excited. Waves in Aruba can go from 1 foot to 3 feet on average.
Sometimes, waves in Aruba can go up to 6 feet. But you must check the surf forecast and be sure to read up on the surfing opportunities in Aruba before you visit the country as a surfer.
10. Dining Options
Aruban cuisine has a serious fusion potential. Fortunately, the tourist footfall has inspired the country's culinary pioneers to push the envelope and present some of the best fusion food and foreign cuisine.
Your dining options in Aruba are not as limited as they would be on a smaller Caribbean island. You're not limited to boiled grits and grilled seafood but can enjoy French, Norwegian, and Asian cuisine in Aruba.
11. Beachside Hotels
While many couples decide to honeymoon on summer islands, the more affluent ones head to Aruba. It is a country favored by rich retirees and affluent honeymooners, which is why it can afford to charge higher prices for the same stuff that smaller countries like Barbados can also offer.
However, rich clientele comes with development and luxury, and Aruba has hotels reminiscent of California hotels and vacation homes in the Hamptons. There's a reason why Aruba is considered the Vegas of the Caribbean.
12. Casinos
While the luxurious hotels in Aruba lend to its reputation as the "Vegas of the Caribbean," the real reason it is known by that name is the numerous casinos it has. Among the Caribbean countries, Aruba has one of the best sets of Casinos that include international establishments like the Casino at Hilton and the Windcreek Casino in Aruba.
Whether you like to roll high or enjoy an occasional game of chance, you should definitely check out the casinos in Aruba.
13. Coecoei Liquor
If you want something to drink during your casino visit or when ordering room service, try the Coecoei liquor. It is one of the most popular alcoholic beverages in the Caribbean and is available only in Aruba. It is made from the sap of local agave plants and is mixed with rum and sugar. The drink is an Aruba classic.
14. Diving Opportunities
Not everyone likes diving into the bottle, and that's probably a good thing. The healthy kind of Diving that you can do in Aruba is shipwreck exploration. Aruba has plenty of diving opportunities that allow you to explore interesting marine life. Some of the diving spots that you cannot miss include the Jane Sea and The Antilla, both of which have interesting stories.
The Jane Sea is rumored to have been caught smuggling coke and sunk because of abandonment. And The Antilla is the largest shipwreck dive in the Caribbean. Most people love exploring shipwrecks after getting their diving lessons. However, very few of them are able to get pictures and videos of the experience.
15. Flamingos
One of the most picture-worthy aspects of Aruba is the flamingos. While the bird diversity itself is something Aruba is generally known for, flamingos are the specific bird that most Aruban tourists post their photos with. As a result, flamingos have come to represent Aruba in a way that even Prikichis (Aruba's national bird) haven't.
16. Year-Round Sunshine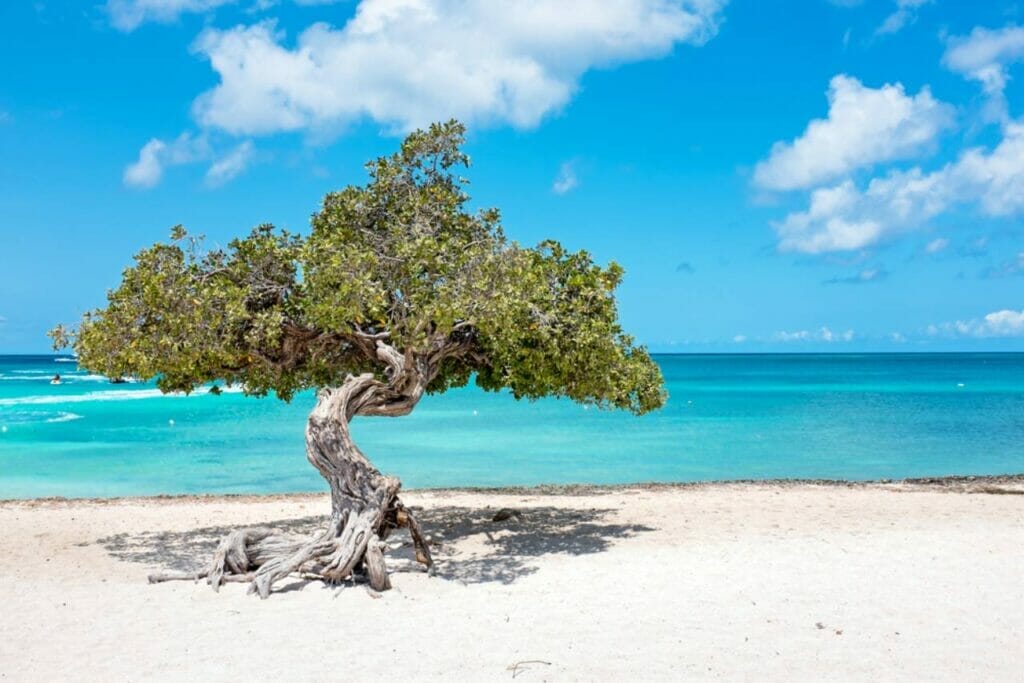 If there is one thing Aruba is not just known for but also appreciated for, it is the year-round sunshine. Aruba has 9 hours of sunlight during summer days and 7 hours of sunshine even in the winter.
Though the clouds that come with the rainy season interrupt the sunny days, the island still manages to have a few hours of direct sunlight exposure during the winter months.
Aruba has year-round sunshine to a fault, where it becomes unbearable in the summers. But fortunately, there are plenty of indoor activities that tourists in Aruba can enjoy.
17. Shopping Malls
One of the indoor activities that are accessible to tourists of all income levels is shopping at the local malls. Aruba has shopping malls to suit all income levels, with some selling cheap souvenirs and everyday-use items and others selling luxury fashion and jewelry at markups higher than those in the US.
Shopping in a mall in Aruba is less of a money-saving retail tactic and more of a luxurious self-care ritual.
Recap: Now You Know What Aruba is Famous for!
Aruba is a popular tropical vacation destination known for all the things that Caribbean countries are known for.
But things that set Aruba apart and make it uniquely famous are diving opportunities, beachside hotels, and year-round sunshine. It is also known for its liquor and aloe.
The article above covers these and all the other things that the island nation is known for.