5 Ways to Get to North Shore From Waikiki
Northshore is a stunning stretch of beach on Oahu that runs for over 12 miles (19.31 km). This beach is often used for surfing competitions and other fun activities. So what is the best way to get to this stunning location if you're coming from Waikiki?
Ways to get to the North Shore from Waikiki include renting a vehicle, booking a shuttle service, riding the bus, or utilizing a taxi company. A bicycle is also an option if you're an active rider, though it will take the longest to get there. The fastest way to North Shore is a rental car.
In the rest of this article, I will discuss different ways to get to North Shore from Waikiki. Of course, some methods are faster than others; however, each transportation option can be fun. So if you want to learn more about getting to and from North Shore in Waikiki, read on.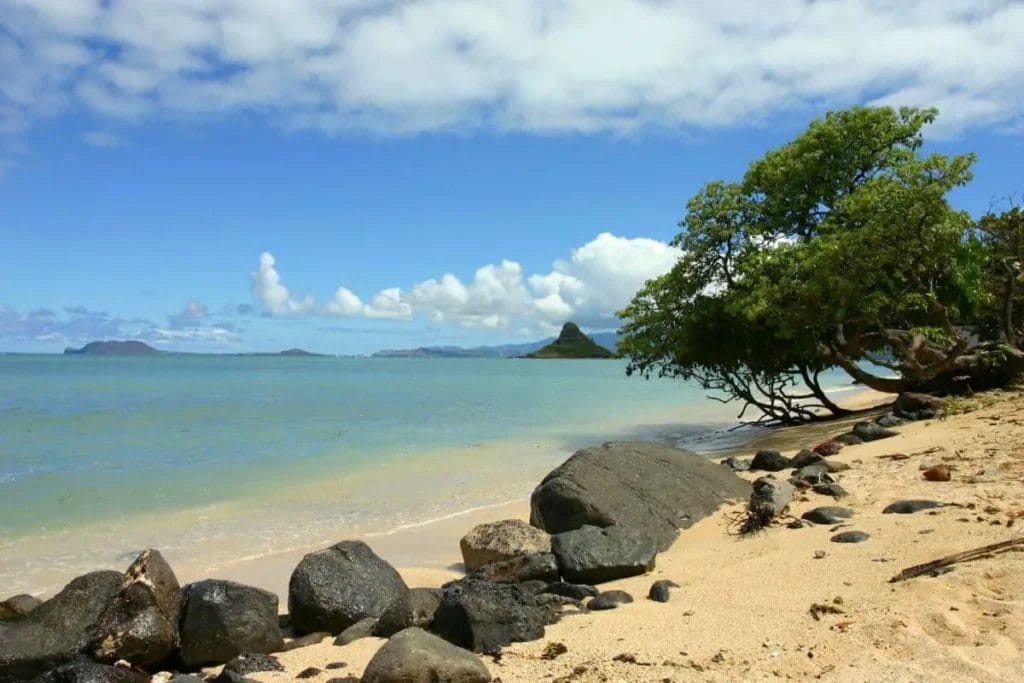 1. Rent a Vehicle
One of the easiest ways to get from Waikiki to the North Shore of Oahu is by car. However, if you happen to be visiting the island, there is an excellent chance you don't have a vehicle with you. Luckily there are several rental car services in the area.
You can easily acquire a rental car at the airport or from nearby car rental services. Some rental car companies even offer shuttle services to and from the airport. Just make sure to book your car reservation well in advance – rentals on the islands can go quickly, especially during peak tourist season.
With a vehicle, you can jump straight onto the H-1 (west), which eventually becomes the H-2 (north) if you stay right at the fork. After getting onto the H-2 (north), the beach is a straight shot down the highway. This highway is the most straightforward way of getting to the North Shore beach. However, you can take a more scenic route if you desire.
To get to North Shore from Waikiki, you should expect at least a 45-minute drive, given the fact that the journey is over 29.4 miles (47.3 km). However, it's important to note that drive time can increase if traffic conditions are poor or if there is any construction. So, make sure to plan accordingly.
2. Book a Shuttle
Another fantastic travel option is taking a shuttle. There are a lot of tour companies that offer shuttle services to and from North Shore. One of the main benefits of taking a shuttle is that the driver knows the roads and can get you to the beach quicker. Additionally, many shuttle services will stick around and drive you back to your accommodations after you explore the beach.
Typically you can find shuttles willing to stick around for about 4-6 hours.
Shuttling isn't ideal if you want more time on the North Shore. However, it is perfect for those just wanting a short adventure and a safe way to explore more of Oahu.
Another great thing about shuttling instead of driving is that your driver will be familiar with the island. If you get the right guide, shuttling is a great way to learn more about Oahu and its history.
Additionally, there are different types of shuttle services you can book. For example, you can get one that's sole purpose is to drive you or one that makes stops and shows you much of the island before reaching North Shore.
Both are fantastic options; which one you choose depends on your vacation goals.
3. Ride the Bus
No bus travels directly from Waikiki to the North Shore beach. However, if you can get to Honolulu, there is a bus that can easily take you there. Luckily, the distance between Honolulu and Waikiki is only about 15 minutes.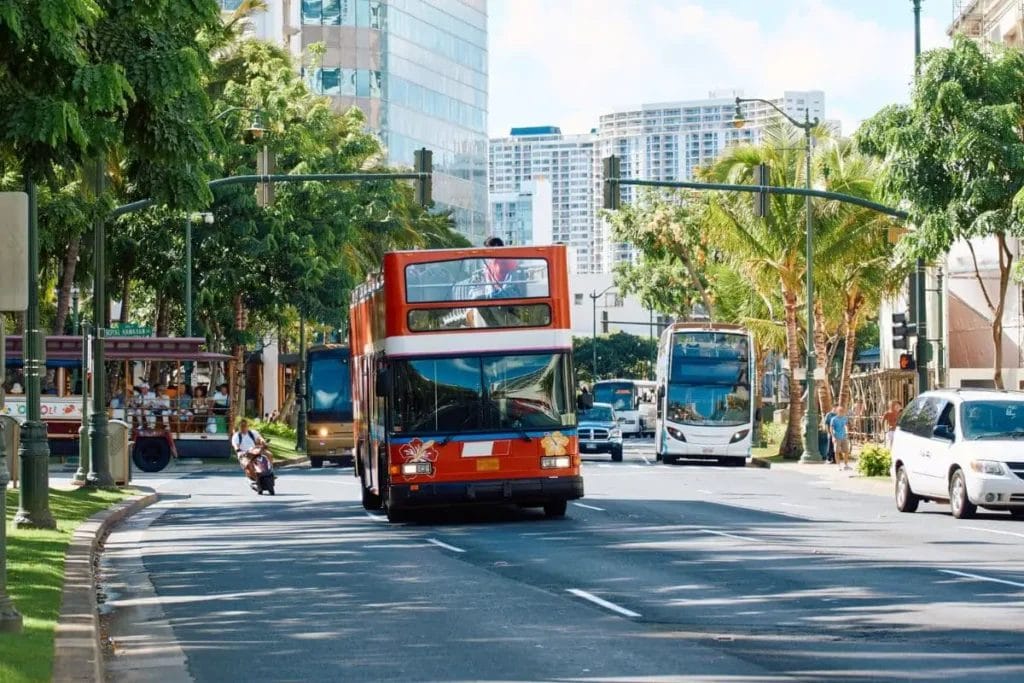 You can also catch a bus from the Kalihi Transit Center in Waikiki to Honolulu. This bus has limited stops but can easily get you near the bus that heads to North Shore. The location you're looking for is N Beretania St + N King St to North Shore.
Once at the Honolulu bus station, you can purchase a ride to North Shore for about $3.00. You should prepare for about 1½ – 2 ½ hours of transit and possibly a bus transfer. The added travel time is due to all the stops the bus makes and how long it takes to shuffle guests.
However, riding the bus can still be an excellent way to get around, especially if you're not familiar with/comfortable driving in Oahu. The only real drawback is you will need to research the times you wish to depart and return. The bus is on a schedule, and you will have to adhere to that schedule.
4. Call a Taxi
Another fantastic option is to utilize a taxi service. There are undoubtedly traditional taxi services on the island, but you can always get an Uber or Lyft. Because of North Shore's distance, taking a taxi can be a little expensive. However, it's also a fanatic way to get to the beach quickly and easily.
Additionally, most locals are familiar with the roads and know how to get you to the beach via the fastest route. Also, you might be able to have some great conversations with your driver and learn about some of the island's hidden gems.
As I previously stated, the biggest drawback to this method of transportation is the cost. You should expect to pay about $300-$360 round trip for your excursion to North Shore. The drive will take approximately 90 minutes for the there and back trip.
However, for some people, the peace of mind that comes with a taxi and not having to worry about driving can be worth the cost of being driven around. Additionally, Ubering or taking a Lyft is a great way to support the locals during your visit.
5. Ride a Bicycle
Finally, you can also ride a bike to get to North Shore.
This option requires that you be physically fit and have done long-distance biking. However, for those that like to ride, it's a fun way to see the island.
On a bicycle, the excursion to North Shore will take about 3 hours and 20 minutes. However, that time will be less if you're a fast biker. When biking to the North Shore, if you set your navigation system to biking, Google will do a great job keeping you off the main roads.
The main drawback to this method is the physical exertion and the travel time. If you decide to bike, ensure you take into account the time it will take to bike back to your resort or hotel.