Waikiki vs. Maui: Which Is the Better Place To Visit?
So, you've finally set your heart on a visit to Hawaii, but you still cannot decide whether Maui or Waikiki will be the better place to stay. Choosing between these locations can be challenging, especially if you've never even been to the Hawaiian state. However, these destinations have quite a few differences, and knowing them might help you find the vacation you're seeking.
Waikiki vs. Maui: Waikiki is the better place to visit if you want to spend time in an urban area with many museums, famous and popular beaches, historical sites, and conveniences. Maui is better if you want to visit more secluded beaches, hike, whale watch, or do other outdoor activities away from tourist areas.
In this article, I'll tell you why you might want to choose Maui or Waikiki, highlighting the most significant differences between these places. I'll talk about the atmosphere, transportation, culture, beaches, and attractions to give you the whole picture and help you plan the best vacation.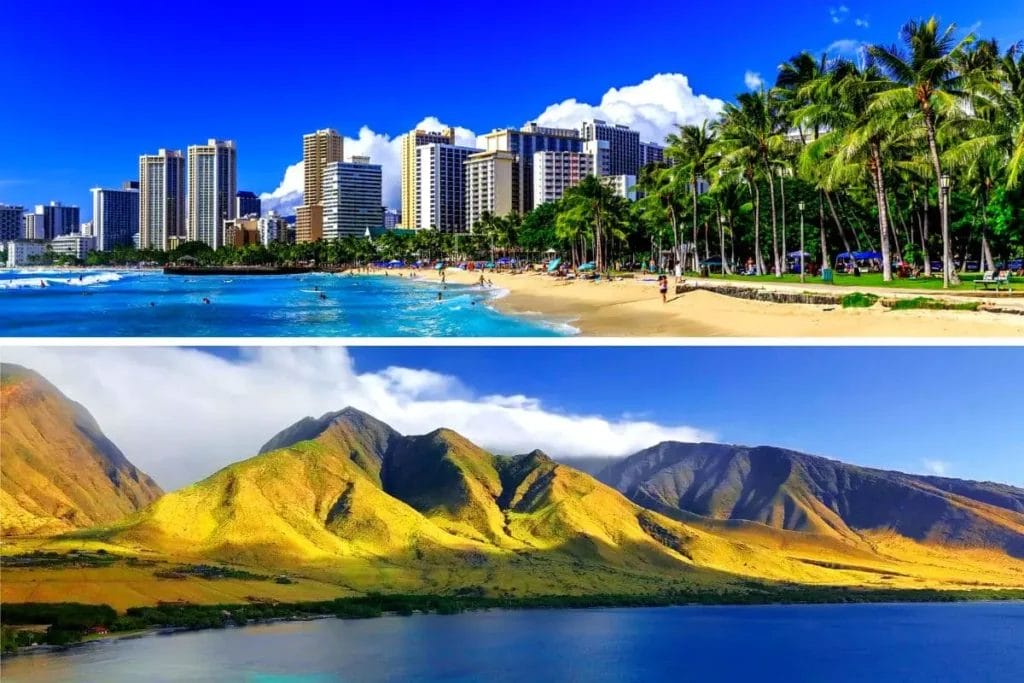 Why You Should Visit Maui
Maui is very different from Waikiki. For starters, it's much less crowded, and much of the Eastern coast is remote and rural, which gives way to plenty of outdoor activities, wildlife sightseeing, and privacy.
To help you understand what makes Maui unique, let's discuss why you might choose to visit this island instead of any other Hawaiian destination.
You Are on Your Honeymoon or Want a Romantic Vacation
Visitors often regard Maui as the most romantic place to vacation in Hawaii due to its less-crowded beaches, small towns, many hiking trails, and scenic, unspoiled views.
Maui doesn't have many high-rise beachside hotels, but it features some of the best-loved Hawaiian honeymoon resorts, such as the Four Seasons Resort in Wailea, Grand Wailea Resort, and the Honua Kai Resort & Spa.
Maui is much more laid-back than Oahu, giving you the relaxing vacation anyone would want for their romantic retreat.
Without the distractions of city life, you'll get to spend your holiday taking in the scenery, hiking, visiting scenic lookouts, driving the road to Hana, or walking the beach at sunset without onlooking crowds—all of which are perfect for spending quality time with your partner.
You Prefer Outdoor Activities to Urban Touring
Maui is the island for you if you're an outdoorsy person. While Maui might not have booming nightclubs or restaurants on every corner, it does have some of the most unspoiled, scenic, and breathtaking natural landscapes—and seascapes!
Hiking in Maui
The hiking on Maui is almost indisputably some of the best in the Hawaiian state. You can enjoy waterfalls, hiking and backpacking in the crater of a dormant volcano, and over 30 miles of forested trails in Haleakala National Park.
If you seek shorter and historic hikes, visit 'Iao Valley State Park, La Perouse Archaeological Site, Twin Falls, or Nakalele Blowhole, which make up some of the best places to visit in Maui.
Maui's Beaches
While you can easily find a secluded beach to set up camp for the day in Maui, you'll also find some of the best snorkeling, surfing, and wildlife viewing on this island.
Head to Olowalu beach for gentle waves to learn surfing or boogie board. If you want to snorkel and catch sight of some green sea turtles, coral reefs, stingrays, and baby sharks, head to Honolua Bay, a marine wildlife reserve.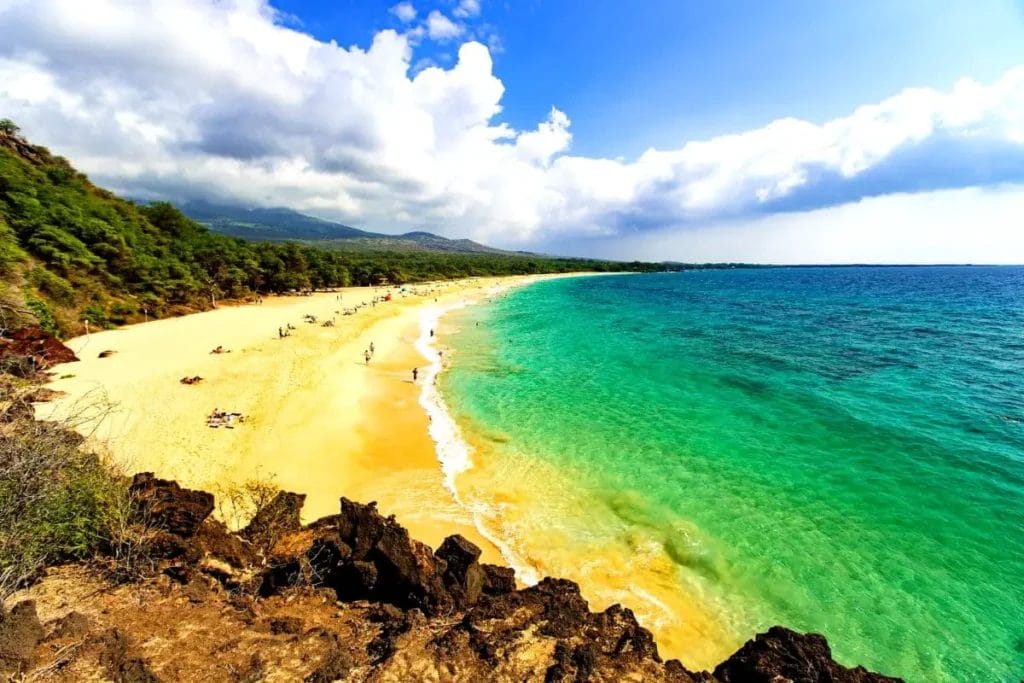 Sailing and Cruises in Maui
Maui is one of the best spots for cruises and day sailing since Molokai, Lanai, Kahoolawe, and Molokini are all within minutes of Maui by sea. You have the opportunity to explore new islands while enjoying the bright ocean surrounding Maui is a fantastic way to enjoy a day of your visit.
There are many opportunities to charter boats here for a private sail. Still, you can also attend one of Maui's snorkeling tours, sunset cruises, whale-watching tours, or live music sailing trips for a memorable time on the serene ocean.
If you want to learn more about some of the cruises Maui offers, you might want to read my other article, The Best Maui Dinner Cruises.
You Dislike Crowds
Don't get me wrong—Maui has all the conveniences of a popular vacation spot, with hip downtown areas and all the restaurants and businesses you could want while on vacation.
However, Maui offers more space, and its businesses are staggered between grassy lawns, forested areas, and the rocky coastline. Without the benefit of having everything within walking distance, Maui attracts fewer tourists, cutting down on the crowds.
So, if you want to avoid standstill traffic, enjoy wide, open spaces with stunning views, and find some privacy on the beaches, Maui is your best bet.
The only downside to this extra space is that transportation can be more difficult. For that reason, most people rent a car when they visit Maui.
You Want a More Authentic Cultural Experience
Without the many high-rises, busy city atmosphere, and tourist destinations that Waikiki offers, Honolulu offers a more authentic Hawaiian experience.
Maui offers more local businesses, rural farming areas, and wildlife reserves, where you can get in touch with the island's mana. You'll get an exceptionally authentic experience on the island's West side, while you'll find more of Hawaii's surf culture on the East side.
Either way, with Maui's naturalistic vibe, you'll get more of the true aloha spirit here than in Waikiki.
If you want to eat like a local during your stay, you might want to read my other article, Best Places To Get Authentic Hawaiian Food in Maui.
Why You Should Visit Waikiki
Waikiki is one of Hawaii's most famous beaches. It's where surf culture first took off as a movement, which brought international acclaim to this coastal city on Oahu.
It's become the poster child for Hawaii with its dreamy, white, sandy beaches, gentle blue waves, diverse population, historic sites and museums, and many activities catered to visitors.
You Appreciate the Convenience of an Urban Landscape
Arguably—the city atmosphere is one of the best reasons to visit Waikiki. When you visit this city, everything's just a short walk away. Getting around in Waikiki is easy for people who don't want to drive during their stay.
In addition, hundreds of restaurants, bars, clubs, and coffee shops are on the urban southwest side of the island surrounding Waikiki and Honolulu. Waikiki will spoil you for choice, and you can find cuisine from practically any culture here—just minutes away from your hotel or resort.
You Want To Visit a City With Great Nightlife
Since Waikiki is a large urban area, there's no cutoff for bedtime. You'll find tons of unique bars and clubs in Waikiki, and you'll also find plenty of late-night eateries.
If you are looking for some fun at night, walk down Kalakaua Avenue, and you're sure to hear jazz, EDM, rock, acoustic, club, and Hispanic music spilling out onto the street—and probably even more than that! There are also tons of karaoke joints in Waikiki, so they have everything you could want for a memorable night out.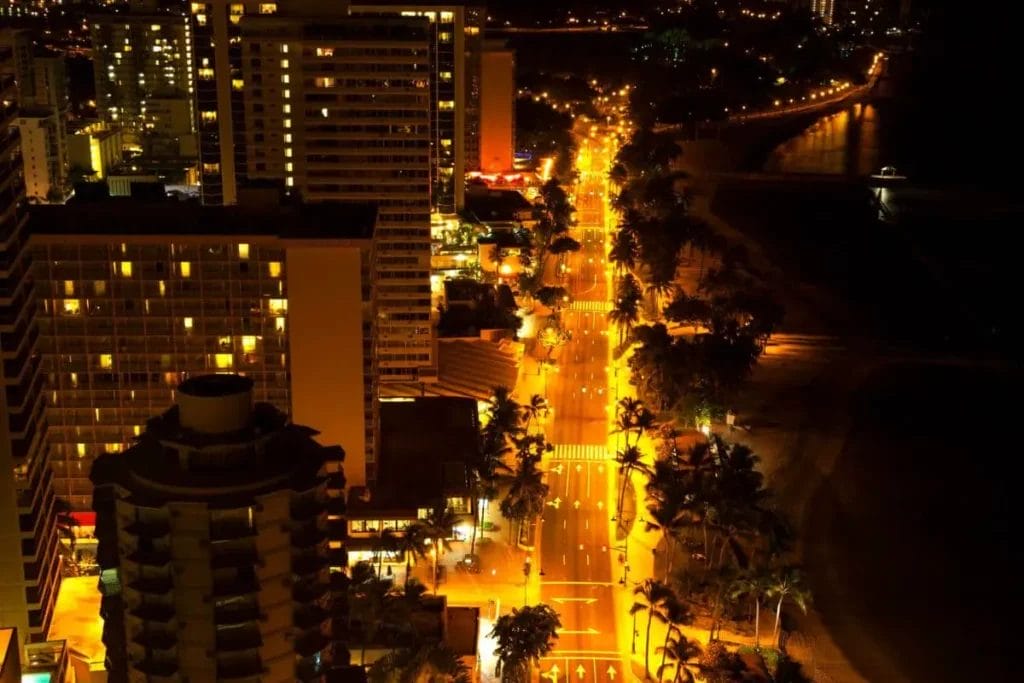 You Want To Visit the Attractions in Waikiki
If you like to stay busy and love an action-packed itinerary of things to see and do, Waikiki might be the best spot for you.
Waikiki offers many of Hawaii's best attractions, and more keep popping up since people come to the area for sightseeing and touring. Some of the attractions that draw people to Waikiki most include the following:
Waikiki Beach
Pearl Harbor National Memorial
The Waikiki Aquarium
The Honolulu Zoo
Iolani Palace
The Honolulu Museum of Art and Hawaii State Art Museum
The Bishop Museum
The Foster Botanical Garden
Now, these are just some of the most popular choices for visitors in general. There is so much more to do in and around Waikiki, and you're sure to find something that fits your idea of a good vacation here!
You Want Variety From Your Visit or Are a First-Time Visitor
Although Waikiki is a city, it still has gorgeous beaches for canoeing, kayaking, snorkeling, surfing, and sailing. It's also beside Diamond Head Crater and Puu Ualakaa State Park, where you can find some fantastic hiking.
So, even though you'll likely be staying in a beachside hotel in urban Waikiki, you'll still find some great outdoor activities if you venture out a bit. Since you get a little bit of everything here, Waikiki is one of the best choices for first-time visitors to Hawaii who cannot decide on one location.
Maui vs. Waikiki Vacation: Which Is Better?
Neither Waikiki nor Maui are better, but one might be a better choice for you, depending on what you expect from your ideal vacation.
Waikiki is better for city-loving people who seek an action-packed stay within walking distance of the best restaurants, attractions, and beaches in the area. Maui is better for people who love the outdoors or want a laid-back or romantic vacation without crowds.
Here is a direct comparison of what these two fantastic Hawaiian destinations offer:
| Features | Waikiki | Maui |
| --- | --- | --- |
| Atmosphere | High-paced city | Small-town surf culture in the West with more rural areas and local business in the East |
| Activities and Attractions | Famous beaches and urban attractions for tourists. Some hiking outside of the city | Outdoor activities with scenic beaches and hikes |
| Transportation | Easily walkable with plenty of transportation available | Harder to get around since the attractions cover a larger area of travel |
| Beaches | Incredible but often crowded | More options with fewer crowds |
Final Thoughts: Waikiki vs. Maui
Whether you visit Maui or Waikiki, you'll still enjoy the stunning oceans, incredible wildlife, and unique activities that Hawaii offers. So, there's no wrong choice.
However, if you are a city person or cannot decide, Waikiki is a safe choice since it offers a little bit of everything in a convenient location. If you are an ardent outdoors person, are on a honeymoon, or want peace and quiet during your visit, Maui will likely be a better fit.