Turks And Caicos Vs. Mauritius
Turks and Caicos versus Mauritius – two tropical paradises with distinct offerings. Turks and Caicos entices with its rich history, showcasing charming colonial architecture and landmarks that reflect its cultural heritage.
The main difference between Turks and Caicos and Mauritius lies in their geographical location and cultural ambiance. Turks and Caicos, located in the Caribbean, offers stunning white-sand beaches and crystal-clear waters, attracting water sports enthusiasts.
Mauritius is situated in the Indian Ocean and boasts diverse landscapes, lush greenery, and a rich blend of African, Indian, and European cultures. Travelers seeking a laid-back beach destination with vibrant marine life would prefer Turks and Caicos, while those desiring a mix of natural beauty and cultural experiences may opt for Mauritius.
| Category | Turks and Caicos Islands | Mauritius Islands |
| --- | --- | --- |
| Cost Range for 1 Week | $992 – $4,556 (source) | $542 – $4,800 (source) |
| Location | Caribbean | Indian Ocean |
| Geography | Consists of 40 islands and cays | Mainly comprised of two large islands, Mauritius and Rodrigues, and several smaller islands |
| Language | English | English and French (official), Creole widely spoken |
| Government | British Overseas Territory | Parliamentary republic |
| Currency | United States Dollar (USD) | Mauritian Rupee (MUR) |
| Tourism | Major tourist destination known for its beaches and diving opportunities | Popular tourist destination renowned for its beaches, lagoons, and cultural diversity |
Whether you're seeking relaxation or adventure, both destinations promise unforgettable experiences.
Rich Histories and Breathtaking Landscapes
Prepare to plunge headfirst into a mind-blowing tornado of history and nature. The dream locations you've been waiting for are Turks & Caicos and Mauritius; each has a special charm that will leave you speechless. So, whether you're a family on the hunt for unforgettable bonding experiences, a couple seeking romance, an adventure junkie craving heart-pumping thrills, or a luxury traveler in search of pure relaxation, these paradises have got you covered!
Turks and Caicos transport you back in time to the era of swashbuckling pirates and ancient civilizations, almost like stepping into a time machine. You'll be walking in the footsteps of Lucayan Indians and explorers while discovering hidden tales of shipwrecks and salty adventures.
Families, get ready for a splash-tastic time snorkeling in vibrant coral reefs and building sandcastles on those mesmerizing white sand beaches. Prepare for the adrenaline rush you've been yearning for and go kitesurfing and paddleboarding in the clear waters! And luxury travelers, oh boy, the resorts and spas here will make you feel like royalty, surrounded by pure natural beauty.
Let's now discuss Mauritius, a country where history and culture mingle together like the ideal cocktail. Explore the island's vibrant heritage through its historic sites and immerse yourselves in the heartwarming hospitality of the locals. Families and couples, you'll be captivated by the enchanting markets and the stories of indentured laborers at Aapravasi Ghat.
For adventure seekers, the lush rainforests and jaw-dropping waterfalls are your playgrounds for hiking and zip-lining, bringing out the wild child within you. The beachfront resorts in Mauritius will envelop you in luxury when it's time to treat yourself, to private villas just steps away from those azure lagoons.
Alright, let's talk about nature's masterpieces! In Turks and Caicos, picture-perfect beaches with powdery white sand and limestone cliffs will have you reaching for your camera every minute. The Grace Bay, Chalk Sound, and the Conch Bar Caves National Park are nature's playgrounds, calling out to the adventurer in you.
On the other side, Mauritius is a tropical paradise decorated with craters, beautiful mountains, and emerald-green sugar cane fields. Couples, you'll fall head over heels for Trou aux Biches and Le Morne, where romance blooms under the sun. And for the thrill-seekers, get ready for some serious hiking and jaw-dropping views from Le Pouce Mountain and Black River Gorges National Park.
You're in for the journey of a lifetime whether you choose Turks & Caicos or Mauritius, to put it briefly. These magical places cater to every kind of traveler, promising memories that'll stick with you forever. So pack your bags, bring that adventurous spirit, and brace yourselves for an epic adventure in the embrace of these enchanting destinations!
Planning Your Dream Beach Getaway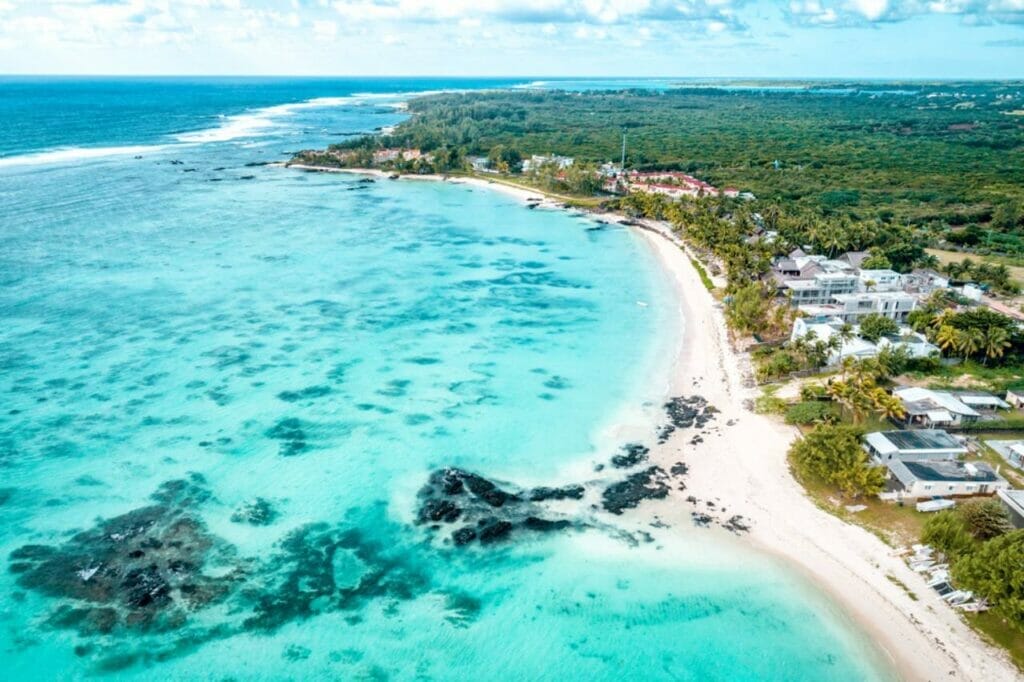 Are you daydreaming about a vacation where unspoiled beauty meets crystal-clear waters? Look no further than the captivating beaches of Turks and Caicos and the picturesque gems of Mauritius.
Whether you're a family in search of cherished bonding moments, a couple yearning for a romantic escape, an adventure junkie craving some thrills, a budget traveler trying to make the most of your hard-earned cash, or a luxury traveler in pursuit of pure indulgence, these destinations have something special to offer each and every one of you.
For families, Turks and Caicos is like a slice of paradise tailor-made just for you. Picture strolling along Grace Bay Beach, feeling the soft, powdery sand between your toes and the gentle waves lapping at your feet.
The kids will be in awe of the crystal-clear waters, and Long Bay Beach provides the perfect spot for some quality family time in a peaceful and private setting. Plus, there's an abundance of water sports to keep everyone entertained, from kayaking to snorkeling. Adventure awaits, and the whole family will have a blast!
Calling all lovebirds! If you're looking for a romantic escape, Mauritius has got you covered! Imagine yourselves on the charming Flic en Flac beach, hand in hand, as the sun dips below the horizon, painting the sky with hues of orange and pink. The calm waters are perfect for a leisurely swim or some blissful sunbathing.
And for adventurous couples, head to Belle Mare Beach, where the turquoise waters call out to water sports enthusiasts. And don't miss out on Grand Baie Beach, with its vibrant atmosphere and charming cafes and boutique shops to explore hand in hand.
Attention all thrill-seekers! Both Turks and Caicos and Mauritius have some heart-pounding adventures waiting for you. In Turks and Caicos, paddle your way through exhilarating kayaking expeditions and dive into mesmerizing snorkeling encounters in crystal-clear waters.
Meanwhile, Mauritius has its own adventure haven at Belle Mare Beach, where you can try out thrilling water skiing or captivating windsurfing. Get ready for an adrenaline rush like never before!
For savvy travelers on a budget, Mauritius has something special in store for you. Flic en Flac offers a budget-friendly haven where you can soak up the sun without draining your wallet. And for you water sports enthusiasts, Belle Mare Beach has the goods without breaking the bank. Grand Baie Beach combines affordability with the joy of exploration, ensuring you have an unforgettable experience without splurging. Budget-conscious travelers, rejoice!
For luxury seekers, Turks and Caicos is the ultimate destination for indulgence. Grace Bay Beach is a living dream, where you'll be pampered like royalty with impeccable services and all the lavish amenities you could wish for. Long Bay Beach offers a secluded retreat where you can escape from the world and enjoy personalized attention. Trust me, you'll feel like a VIP every step of the way! So, if you're ready for a truly luxurious getaway, Turks and Caicos will exceed your expectations.
Embarking on Your Accommodation Quest
Setting off on your quest to find the perfect beach getaway, you'll be delighted to discover the array of accommodation options in both Turks and Caicos and Mauritius, mirroring the diversity of their stunning coastlines. Let's delve into tailored suggestions based on your preferences and travel style:
For families yearning for a memorable stay in Turks and Caicos, two excellent choices are Beaches Turks & Caicos and The Palms Turks & Caicos. These family-friendly resorts offer spacious suites and villas, perfect for accommodating the whole family. Kids' clubs and supervised activities are available to keep the little ones entertained, while beachfront pools, water parks, and a variety of exciting water sports cater to everyone's enjoyment.
Seeking a romantic and intimate setting? Mauritius boasts enchanting boutique hotels like The Oberoi Beach Resort, Turtle Bay, and LUX* Belle Mare Resort. These charming accommodations feature private terraces with breathtaking ocean views and offer special packages that include romantic dinners, couples' spa treatments, and excursions to explore the island's most romantic hideaways.
For the adventure seekers out there, Turks and Caicos' eco-lodges like East Bay Resort and Sailrock Resort are the perfect fit. These eco-conscious lodgings immerse you in nature and provide easy access to nearby hiking trails and nature reserves. Mauritius also offers eco-resorts like Bubble Lodge and Otentic Eco Tent Experience, where eco-friendly practices meet thrilling experiences amidst lush surroundings.
Traveling on a budget? Fear not, as Mauritius offers wallet-friendly options such as guesthouses like La Margarita Guesthouse and Villa Anakao. These charming establishments provide comfortable stays with a local touch, giving you the chance to interact with friendly locals and receive insider tips on budget-friendly activities and dining options.
Finally, for the luxury enthusiasts seeking an indulgent experience, Turks and Caicos presents exquisite beachfront villas and high-end resorts like Amanyara and COMO Parrot Cay. These luxurious accommodations offer the utmost privacy and personalized services, including private butlers and exclusive excursions, ensuring an unforgettable and pampering stay.
Accessibility Made Easy
When it comes to accessibility, both Turks and Caicos and Mauritius offer well-connected options to reach these idyllic destinations. So, get ready to pack your bags and embark on your dream beach getaway without any hassle!
For Turks and Caicos, Providenciales International Airport serves as the primary entry point. Direct flights from major international hubs in the United States, Canada, and Europe make it relatively easy to reach the islands. Upon arrival, you'll find a range of transportation options to suit your needs.
Taxis are readily available, offering a convenient way to get around the island. For those who prefer to explore independently, rental cars are an excellent choice, giving you the freedom to visit popular attractions and hidden gems at your own pace. Grace Bay Car Rentals, Scott's Car Rental & Sales, and TCI Car Rental are reliable options to consider for your rental vehicle needs.
Similarly, Mauritius is well-connected, with Sir Seewoosagur Ramgoolam International Airport serving as the main gateway. Direct flights from major cities worldwide make it convenient to access the island. Upon arrival, you'll have various transportation options to choose from. Taxis are readily available at the airport, offering a hassle-free transfer to your accommodation.
For those who prefer to explore the island at their own pace, rental cars are an excellent choice. Consider Pingouin Car Rental, Crystal Car Rental Mauritius, or MAUHIRE Mauritius Car Rental for a smooth and reliable rental experience. If you're looking for a more budget-friendly option, public buses are available, connecting various regions of the island and allowing you to experience the local way of life.
Both destinations offer a relatively compact layout, making it easy to explore the highlights within a short distance. So, whether you're strolling along the world-renowned Grace Bay Beach in Turks and Caicos or venturing into the lush landscapes of Mauritius, convenient transportation options will ensure you make the most of your time and create unforgettable memories at every turn.
Embrace the accessibility of these paradise destinations and get ready for an extraordinary beach vacation filled with awe-inspiring beauty and cherished experiences.
Tale of Two Island Dining Experiences
If you're a foodie like me, then you're in for a treat with two incredible dining destinations – Turks and Caicos and Mauritius. Picture yourself in a tropical paradise, surrounded by breathtaking landscapes, and indulging in mouthwatering dishes that will leave you craving for more.
Turks and Caicos is all about laid-back vibes and Caribbean charm. I mean, who wouldn't want to savor delicious seafood while feeling the gentle sea breeze on their face?
And if you're in the mood for a romantic dinner, you can't miss Grace's Cottage Restaurant – tucked away in a cute Caribbean-style cottage, it's like dining in a fairytale. Oh, and for the adventurous foodies out there, Baci Restaurant is a must-visit, offering a tantalizing fusion of Mediterranean and Caribbean flavors that will take your taste buds on a wild ride.
Now, let's jet off to Mauritius, the gem of the Indian Ocean. Get ready to embark on a gastronomic adventure like no other. Families, get together at Château Mon Desir and treat yourselves to a delightful mix of French and Creole cuisine served in a gorgeous colonial-style mansion. You'll feel like royalty!
And for all the lovebirds out there, Le Pescatore is your go-to spot – imagine dining on the beachfront, savoring freshly caught seafood while the waves serenade you. It's pure romance, my friends! Oh, and calling all adventure seekers – Le Château de Bel Ombre is waiting to blow your mind with its plantation-style setting and mouthwatering culinary journey.
So, what's your flavor? Turks and Caicos will charm you with its Caribbean and Mediterranean influences, giving you those laid-back island vibes that make you want to kick back and relax. Meanwhile, Mauritius will spoil you with a mix of French, Creole, and Indian flavors, all while you soak in the stunning natural beauty around you.
Whichever destination you choose, one thing's for sure – you're in for a food lover's dream come true! So pack your appetite, leave room for dessert, and get ready to embark on a journey of flavors in these tropical paradises. Bon appétit, my fellow travelers!
Turks And Caicos Vs. Mauritius FAQ
How much time is required to travel to Mauritius?
Travel time to Mauritius depends on the departure location. Direct flights from major international hubs typically take around 9 to 12 hours. Indirect flights may have longer travel times, depending on layovers and connections.
How expensive is Mauritius?
A trip to Mauritius can cost more or less depending on the season, the type of lodging, and the activities that are selected. On average, travelers should budget around $150 to $300 per day for mid-range accommodations, dining, and local transportation. Prices for luxury resorts and high-end dining can be significantly higher, while budget options are available for those seeking more affordable choices.
Which airlines fly to Mauritius?
Several major airlines operate flights to Mauritius. Among them are Air Mauritius, Qatar Airways, Emirates, Air France, British Airways, and South African Airways. There are other places across the world that offer direct flights, including London, Paris, Johannesburg, Dubai, and Mumbai. Indirect flights with layovers are also offered by several airlines, providing additional options for travelers.