Turks and Caicos vs Hawaii: Which Vacation Is Better?
Turks and Caicos and Hawaii are fantastic vacation destinations for people who want to stay in a tropical paradise surrounded by bright blue oceans. Still, if you've found yourself looking for a dealbreaker between these two incredible spots, you'll be happy to know that there are some critical differences between them.
The main difference between Turks and Caicos and Hawaii is that Turks and Caicos offers a better vacation for people who plan to spend their stay swimming, diving, sunbathing, and eating by the sea. However, Hawaii has more attractions than just its oceans, so it makes for a better vacation if you want an action-packed visit.
So, let's look at the most significant differences and a couple of similarities between Hawaii and Turks and Caicos. I'll give you the details on how much it costs to stay on either island and tell you about each spot's main attractions, transportation opportunities, food and drinks, and customs. Hopefully, after reading, you'll better understand which vacation will be best for you!
Turks and Caicos vs Hawaii: An Overview
| | | |
| --- | --- | --- |
| Category | Turks and Caicos | Hawaii |
| Cost Range for 1 Week | $1,835 per person | $1,919 per person |
| Transportation | Rental cars, taxis, free hotel or resort shuttles, ferry | Uber, Lyft, HoloHolo, city buses and shuttles, taxis, rental car, sailing, walking |
| Main Attractions | Snorkeling, scuba diving, swimming, fishing, and sunbathing | Hiking, surfing, swimming, snorkeling, and scuba diving, Honolulu and Waikiki, Pearl Harbor Memorial |
| Food and Drinks | Conch ceviche, fresh lobster, snapper, grouper, Caribbean cuisine, local beer, rum punch | Asian and traditional Hawaiian dishes like poke, Huli Huli chicken, mac salad, macadamia nut, and fruits. Lava flow is the most famous beverage. |
| Customs | Must have a passport | No passport is necessary for DACA recipients and US citizens |
Cost of Stay
Regarding cost, Turks and Caicos and Hawaii are both a bit pricier.
These islands have higher accommodation, travel, and food prices due to their location and popularity as tourist destinations. Getting enough food and building materials to feed and accommodate everyone visiting either of the island clusters costs a lot!
However, since both islands cost just about as much as each other to visit, you can't use money as a dealbreaker between them.
Transportation
Hawaii generally has more opportunities for transportation than Turks and Caicos, but this may vary depending on which Hawaiian island you choose to stay on.
Getting Around in Turks and Caicos
Turks and Caicos has no public transportation, and you cannot use ridesharing apps like Uber or Lyft here. Instead, you can:
Rent a car.
Stay at a resort or hotel with a shuttle.
Take the ferry from Providenciales to other islands.
Most locals recommend renting a car during your stay here since most resorts and restaurants are spread out and not easy to walk to.
However, be forewarned: you must drive on the left-hand side here. In addition, there aren't any traffic lights on Provo, so you need to be a courteous and attentive driver. If you feel comfortable with the driving rules, renting a car will allow you to explore more and access restaurants, businesses, and beaches.
Still, if you can book your stay at a hotel with a beach shuttle, you might get by without a car. These free shuttles will take you to the resort or hotel's private beach, where you may be able to get free towel services, drinks billed straight to your tab, and free Wi-Fi.
Getting Around in Hawaii
Hawaii is a mixed bag when it comes to transportation. Cities like Honolulu and Waikiki are easy to walk in and offer inexpensive ridesharing opportunities. In addition, they often have affordable public shuttles and buses that can get you almost anywhere on the island.
However, when staying on less-populated islands like Maui or Kauai, you might be unable to find a driver or cheap transportation. To learn more about getting around in Hawaii, you might want to read about it in my other article, Is There Uber or Lyft in Kauai?
So, when you are in Hawaii, you'll have to think about where you want to stay and the transportation opportunities in that specific town or island.
Main Attractions
The beach on Turks and Caicos is the main attraction, and there's little else to see and do other than eat, sleep, and enjoy the ocean here. However, you'll find many more attractions in Hawaii, depending on where you stay.
Turks and Caicos's Main Attractions
The beach in Turks and Caicos, covered in soft, clean powdery white sand, is a true paradise. Unlike the beaches in Hawaii, Turks and Caicos' coastlines have few stones and cliffs, giving you a panoramic view of the horizon, no matter where you are sitting.
The water here is also very gentle, which makes it easy to swim in. Plus, if you go snorkeling or diving and stick your eyes under the water, you'll see vibrant coral reefs, lionfish, stingrays, small sharks, sea turtles, barracuda, and many fish.
Although Turks and Caicos may have the best beaches, it doesn't have much else. Most of Turks and Caicos is flat, and there aren't too many attractions outside of conch diving tours and the excellent food you'll find here.
Hawaii's Main Attractions
However, in Hawaii, the fun isn't limited to the beach on most islands. Hawaii has some incredible jungles and mountains to hike, but it also has cities where you can visit museums, zoos, aquariums, and take tours.
Restaurants, shopping centers, and excursions are much easier to get to in Hawaii, allowing you to plan an action-packed stay.
Food and Drinks
Turks and Caicos is a seafood lover's paradise with Caribbean cuisine. Hawaii offers a bit more variety, predominantly serving Asian and Hawaiian dishes.
Food and Drinks in Turks and Caicos
Turks and Caicos has your standard fare of steaks, burgers, and Caribbean staples like jerk chicken, but they have a particular proclivity for conch and lobster.
So, if you like seafood, you'll get your fill of it here with ample opportunities to try the conch ceviche, fresh lobster, and fresh fish like snapper and grouper.
Turks and Caicos' favorite cocktail is the rum punch, a Caribbean signature, but you'll also find your fair share of Mai Tais and Pina Coladas. The local beer from Turk's Head Brewery in Provo is also stellar.
Food and Drinks in Hawaii
On the other hand, Hawaii specializes in Asian food and traditional Hawaiian dishes that you won't find anywhere else. In Hawaii, you'll find some of the best sushi and Japanese food in the US, superb Korean and Chinese cuisine, and authentic Hawaiian dishes like:
Poke
Poi
Kalua Pork
Loco moco
Huli Huli Chicken and other Hawaiian BBQ
Macadamia Nut Pancakes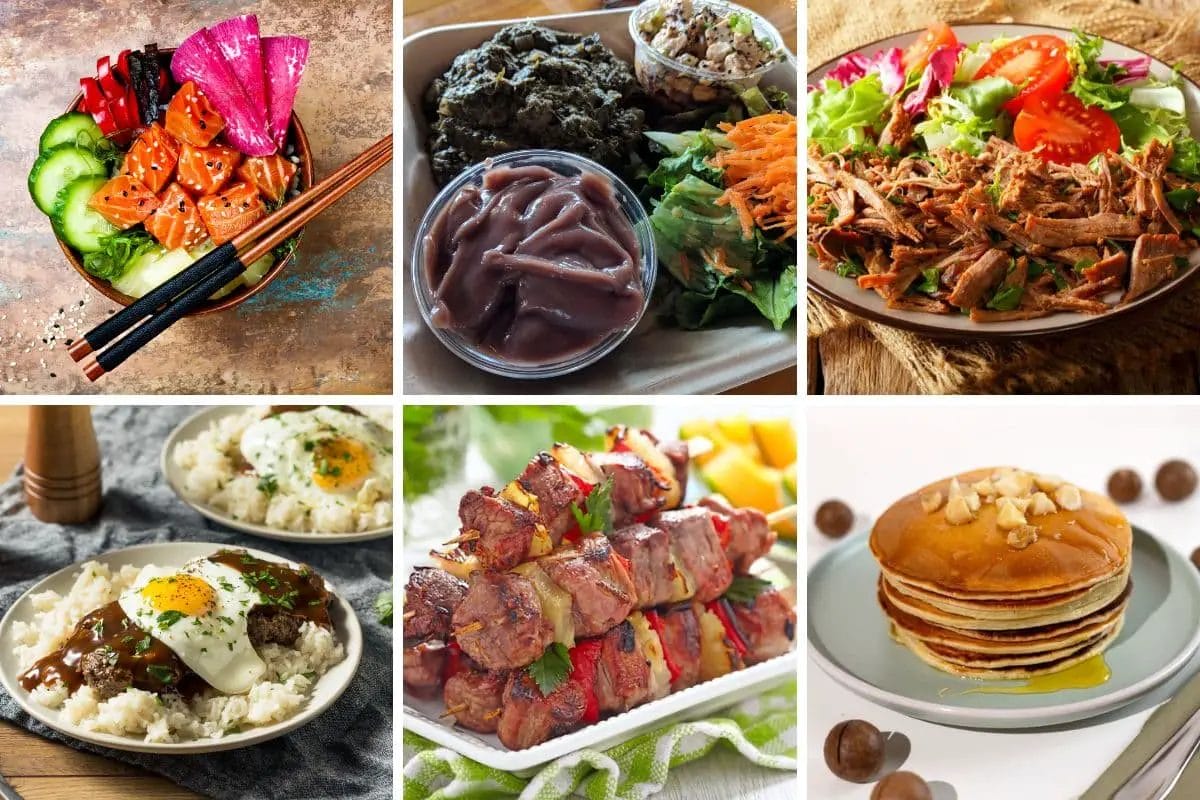 The fresh tropical fruit is also incredibly sweet and flavorful in Hawaii, so try some POG (passion-orange-guava) juice if you select Hawaii.
The tropical cocktails are also incredible in Hawaii, with Lava Flow, a strawberry, rum, and coconut milk beverage, taking the lead as Hawaii's best alcoholic beverage.
Customs
Turks and Caicos is not a US territory, so you will need a passport to travel here.
However, since Hawaii is a US state, you only need a plane ticket and an ID to visit. As I discussed in my other article, Can DACA Recipients Travel to Hawaii?, that means that any resident of the USA, deferred action or not, can plan a trip to Hawaii.
Final Thoughts: Hawaii Vs. Turks and Caicos
Turks and Caicos is the best place to go on a vacation if you want to soak up some sun, swim in gentle waves, and enjoy the serenity of the seaside.
While Hawaii offers similar marine opportunities to Turks and Caicos, it is busier and has more attractions, hiking spots, and surfable beaches.