Turks and Caicos vs. Grand Cayman: Which Vacation Is Better?
Both of these Caribbean vacation hotspots are amazing in their own right, and honestly, they are pretty similar. However, if you're trying to decide between the two, you should know a few things. So which one is better, Turks and Caicos or Grand Cayman?
Grand Cayman is the better vacation because it's slightly less crowded, cheaper, and has better snorkeling. However, you really can't go wrong with visiting either. Turks and Caicos are more laid back and nature-heavy. Grand Cayman has a prominent nightlife and plenty of watersports.
In the rest of this article, I will discuss the differences between the two places and what they have to offer tourists. So if you want to learn more about which islands will best meet your vacation expectations, read on.
About Turks and Caicos
Turks and Caicos is an island in the Atlantic Ocean near the Bahamas. It's also considered British territory and home to one of the largest barrier reefs. Turks and Caicos is home to the world's 3rd largest reef, running over 14 miles (22 km).
Along with great snorkeling opportunities, Turks and Caicos offer stunning views and white sand beaches with turquoise water. Words can barely describe how beautiful the islands are.
Turks and Caicos is a series of islands, 40 islands to be exact. However, of those 40 islands, many of them are currently uninhabited.
The different islands of Turks and Caicos include:
West Caicos
Providenciales (also known as Provo)
Little Water Cay
Pine Cay
Parrot Cay
North Caicos
Middle Caicos
East Caicos
South Caicos
Ambergris Cay
Grand Turk
Salt Cay
Any of these islands are great options during your trip. However, the most popular tourist islands are Providenciales, Grand Turk, and Middle Caicos. Though, many other islands have plenty to offer for a fun-filled vacation.
Pros of Vacationing in Turks and Caicos
It's no secret that Turks and Caicos is one of the most stunning places in the Caribbean. With some of the most beautiful islands in the Atlantic, Turks and Caicos have other benefits to vacationing there.
The pros of selecting Turks and Caicos for your vacation:
The islands are heavily geared toward tourism. Many locals make a living working for the resorts or other tourist-heavy activities. So most of the islands are well equipped for vacationers looking to explore.
Home to one of the most extensive great barrier reefs. Since this place has the world's 3rd largest barrier reef, it's an excellent spot to scuba dive or snorkel. There are plenty of guided tours of the reefs you can book on each island.
Has several popular islands to choose from. Many of these islands aren't inhabited, but the ones that are are fantastic getaways for vacationers.
Stunning white sand beaches. The sand is warm and white. Plus, the ocean color is electric against the pale sand.
Unique plants and animals to view, like iguanas and birds. There are plenty of tropical fauna and animals to meet during your explorations of the islands.
Plenty of great dining experiences. Great restaurants are located at the resorts and occasionally peppered throughout the islands.
Warm temperatures. The weather is usually warm, making it perfect for swimming and sunbathing.
One of the best things about any island dotting the Caribbean is the warm temperatures, perfect for enjoying the ocean. Turks and Caicos are perfect for those who wish to enjoy a more secluded vacation full of relaxation. Plus, it's perfect for a romantic getaway.
Cons of Staying in Turks and Caicos
As with any vacation hot spot, there are bound to be a few drawbacks. Though Turks and Caicos are pretty stunning, there are some cons you should be aware of before booking this location for your getaway.
The cons of staying in Turks and Caicos:
Not a great nightlife. The most exciting evening activity is strolling down the beach at sunset, which can be perfect for some.
Very few shopping opportunities. This is not your destination if you like to shop while on vacation. Very few shops are outside the resorts, so ensure you pack well.
Vacationing in Turks and Caicos is more expensive than in the Caymans. Since the islands are geared toward tourism, they are more expensive. However, you can find decent accommodations for a fair rate with good preparation.
As you can see, there are a few downsides to choosing this tropical getaway for your vacation. However, it all comes down to what you value on a trip. Turks and Caicos are perfect if you greatly enjoy nature and relaxation.
About Vacationing in the Grand Caymans
Grand Cayman is another stunning tropical paradise you should consider escaping to for your vacation. Grand Cayman is the largest of the Cayman islands and is known for its rich history, beautiful reefs, and stunning white sand beaches. The climate is quite similar to Turks and Caicos though the two are pretty different.
Another cool feature about Grand Cayman is the extensive stretches of beaches and Stingray City. The unique swimming spot offers an adventurous experience swimming with stingrays off the beach. You might also spot some starfish or sea turtles if you're lucky.
Grand Cayman has brilliant white beaches and vibrantly blue water like most islands in this region. Some of the island's most popular beaches and natural attractions include:
Seven Mile Beach
East End
West Bay
Crystal Caves
Queen Elizabeth's Botanical Park
Starfish point
Additionally, Grand Cayman is home to the capital city known as George Town. Many cruise ships dock at ports, and the city has plenty of fun shopping and dining experience. Additionally, George town has a relatively vibrant nightlife.
Pros of Visiting the Grand Cayman
Now that you know a little more about what you should expect from Grand Cayman, it's time to discuss in more detail its many pros.
The pros of vacationing at Grand Cayman:
Stunning sand beaches. Grand Cayman is home to some of the most stunning white sand beaches. Additionally, you can find many exotic creatures, shells, and fish in the clear blue water.
Plenty of wildlife encounters. There are a plethora of wildlife encounters for you to enjoy, from Stingray City to Starfish Point. Everywhere you go, you will be surrounded by unique creatures. Plus, you can book guided tours to see other animals living on the island.
Unique crystal caves to explore. The cave tour is one of the most fun excursions on the island, especially if you aren't very familiar with caves. The crystal cave has some fantastic formations and is undoubtedly worth seeing.
Fun historic city. The capital city of George Town has a lot of fun history to learn through museums and other historical sites littering the town.
A vibrant nightlife. There are plenty of great dining experiences, great drinks, and live music in the city of George Town for you to enjoy after a long day of exploring.
More developed. Because Grand Cayman is the largest island and houses the old city of George Town, it's more developed and has more tourist shopping experiences.
As you can see, there are several remarkable things about the Grand Caymans, especially if you love water sports, animals, and beaches. Of course, you can't go wrong exploring old George Town and its historical treasures.
Cons of Staying in the Grand Cayman
Though there are many amazing things about Grand Cayman, there are also some drawbacks you should be aware of. So what are the biggest cons to staying in Grand Cayman?
The cons of vacationing in Grand Cayman:
More crowded. Because Grand Cayman is so popular and how it's been built up, there can be a lot of congestion during busy seasons. This crowdedness can be frustrating for some, though it's less busy on the island's outskirts.
Not picturesque except for the beaches. If you're too inland, the island is very flat, and without the sand beaches and striking water, the view is rather plain.
Very Americanized. Many tourists report feeling no different than if they had vacationed in Florida. Grand Cayman has been colonized as a tourist hotspot. So some of the magic of a faraway destination is shattered by just how similar it is to the US.
As you can see, there are a few drawbacks to selecting Grand Cayman to vacation on. However, the island is an enjoyable and magical experience for the most part. However, if you don't like crowds, you should consider visiting during the off-season or simply choosing another island.
Turks and Caicos vs. Grand Cayman: Which Is Better?
Both islands are stunning and have a lot of good qualities about them. But ultimately, which island is best depends on your vacation priorities and budget. You will also want to consider where you will feel the most comfortable.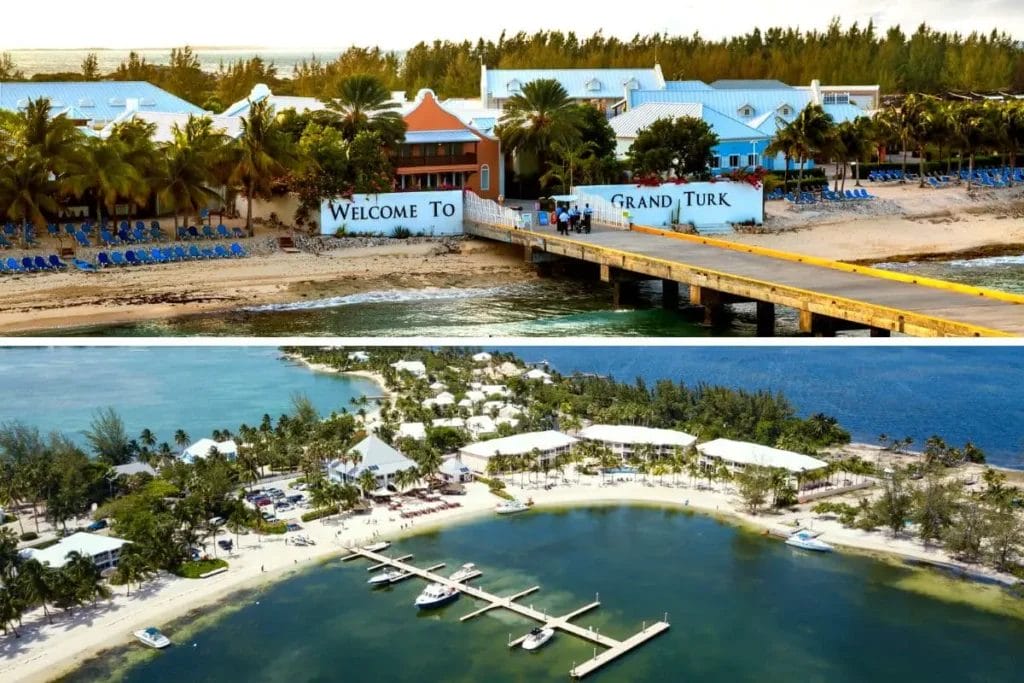 For example, Grand Cayman's primary language is English which can take a lot of stress from traveling somewhere foreign. Additionally, Grand Cayman has better nightlife, dining selection, and shopping experience. Plus, there is some fun history to learn in its capital city.
As for Turks and Caicos, there are many stunning islands to choose from. All of which have beautiful white sand beaches and different activities. Typically, Turks and Caicos is considered more peaceful and laid back than Grand Cayman. As a result, there are fewer shopping and dining options. However, these islands are home to one of the world's most extensive barrier reefs.
Ultimately, Grand Cayman seems to be the better choice as it offers many of the same experiences as Turks and Caicos, plus more. Additionally, the island's primary language is English. Plus there are plenty of nature activities as well as city ones.
Conclusion
Though both islands are stunning and worth the visit if you have to choose one, Grand Cayman is the best. This island offers many similar experiences to Turks and Caicos, though it's a little busier. However, both are worth visiting if you get the chance, especially if you can't get enough of white sand beaches.