Turks and Caicos vs. Bahamas: Which Vacation Is Better?
Turks and Caicos and the Bahamas are some of the most popular Caribbean destinations, even though both island clusters are in the Atlantic Ocean. With serene, gentle blue seas, soft sandy beaches, incredible seafood, and tropical fruits abounding, these places may seem very similar to a hopeful vacationer. However, they have some striking differences that make for a unique vacation.
Turks and Caicos is a better vacation if you want a laid-back stay at one of the world's best beaches. The Bahamas is a better destination for people who want to enjoy the nightlife, shopping, and more attractions by the ocean.
So, let's look at the most significant differences between Turks and Caicos vs. Bahamas to determine which vacation might be better for you. I'll walk you through the costs, available transportation, best attractions, cuisine, and atmosphere of each place, helping you set the stage for the best stay possible.
Bahamas vs. Turks and Caicos: An Overview
| Category | Turks and Caicos | The Bahamas |
| --- | --- | --- |
| Cost Range for 1 Week | $1,835 per person | $1,388 per person |
| Transportation | Rental cars, taxis, free hotel or resort shuttles, ferry | Walking, jitney, taxi, rental cars, water taxi |
| Main Attractions | Snorkeling, scuba diving, swimming, fishing, and sunbathing | Atlantis Paradise Island, Nassau, |
| Food and Drinks | Conch ceviche, fresh lobster and fish, Caribbean cuisine, local beer, rum punch | Conch, crab, rock lobster, Caribbean cuisine, The Yellow Bird rum cocktail |
| Atmosphere | Low-key, beach-centric, modern resorts with plenty of wide, open spaces | Action-packed resort areas and a historic downtown spread among sandy beaches |
Cost of Stay: Weekly (USD)
Turks and Caicos is a slightly more expensive destination than the Bahamas when calculating the average costs of accommodation, food, drinks, and transportation.
The Bahamas islands generally have cheaper food and accommodation prices due to higher competition. There are many options for hotels and resorts, especially in popular spots like Paradise Island, so you'll likely find a bargain there.
However, with its spread-out resorts and uncluttered landscape, Turks and Caicos has fewer hotels, which means slightly higher prices.
Still, the financial differences between these two destinations won't break the bank, so you probably won't want to use prices as the dealbreaker.
Transportation
Transportation is more accessible and affordable in the Bahamas than in Turks and Caicos.
Getting Around in the Bahamas
The best ways to get around in the Bahamas are by rental car and taxi, as they do not offer ridesharing services like Uber and Lyft.
In the Bahamas, you can also take inexpensive jitneys–vans that provide public transportation. However, these shuttles can be problematic for travelers since finding route maps for each line is challenging, and the jitneys stop running at 6:30 p.m.
Still, traveling by jitney can be fun and cheap if you collect route maps while planning your trip and aren't in a time crunch.
Other than these travel options, walking is another excellent way to get around here as long as you are staying near the main attractions.
Most resorts and hotels will either be on Paradise Island or close to downtown Nassau, and you should book your stay in either of these locations if you want to save money on transportation.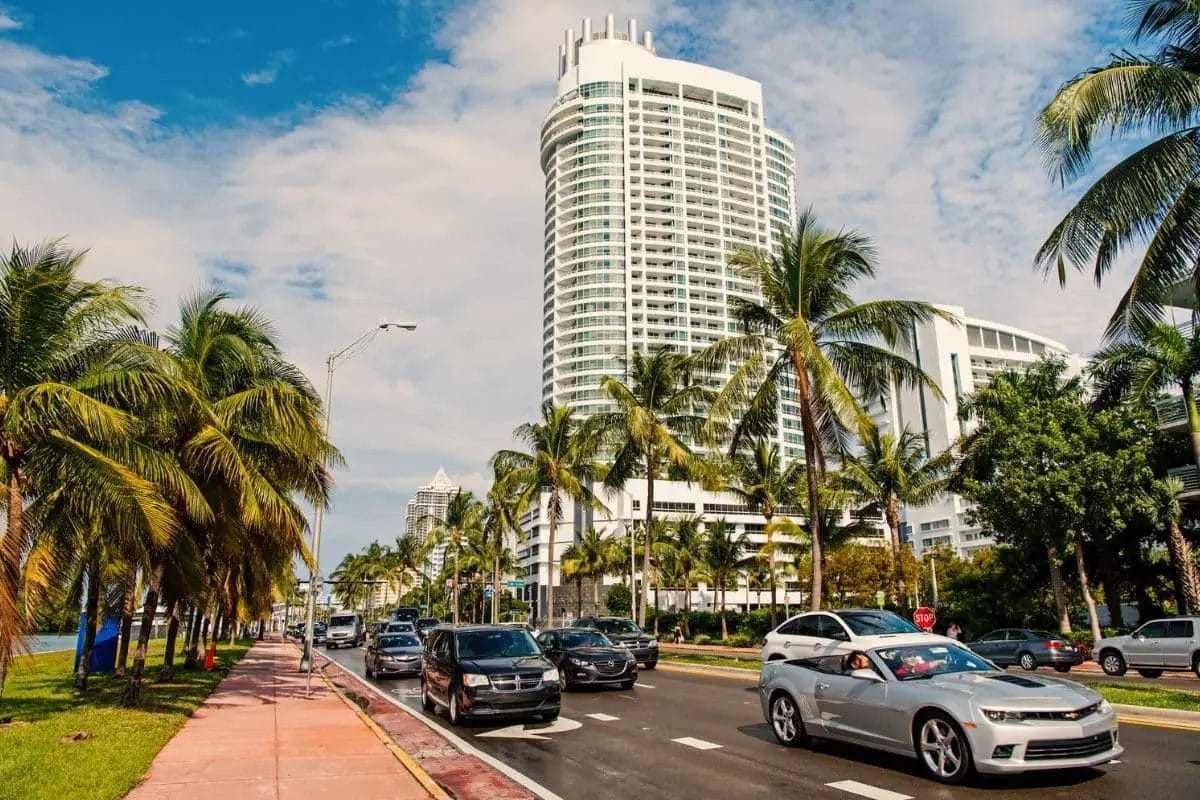 Getting Around in Turks and Caicos
Transportation can be tricky in Turks and Caicos. Most resorts and restaurants are spread out along the beach, so walking isn't often the best way to get to a particular restaurant or attraction.
There are also no ridesharing services available here.
So, to get from point A to point B in Turks and Caicos, you'll need to rent a car, take taxis, book your stay at a resort that offers shuttle services, or take a ferry.
If you are interested in exploring Turks and Caicos, renting a vehicle is likely your best option. However, as I discussed in my other article comparing Turks and Caicos vs Hawaii, you'll have to be comfortable driving on the left side of the road in this island cluster.
Understandably, not everyone is ready to dive into new traffic laws while on vacation, so I usually recommend relying on free hotel-provided shuttle services to get around here. These shuttles usually only go to the beach and back, which can be limiting.
However, if you want to spend most of your vacation at the beach, you can enjoy long, sandy strolls to get around the coastline and visit restaurants and bars, then return to your hotel room by free shuttle.
Of course, if there's a specific spot you want to visit, taxis are always available.
Ferries are another option, but you'll still be limited by your feet once you get to your destination.
Main Attractions
The Bahamas has many more attractions than Turks and Caicos.
Main Attractions in Turks and Caicos
You should only go to Turks and Caicos if you want to spend most of your vacation doing outdoor activities on the beach or in the ocean.
Grace Bay Beach on Providenciales in Turks and Caicos has gained the name of the best beach in the world, and it's the biggest draw here.
Accordingly, instead of cluttering the beach with museums, chain restaurants, and other businesses, the people of Turks and Caicos keep the sand clean and clear, which means fewer attractions.
The best activities to do in Turks and Caicos are all water-centric. Since the sea here is calm, gentle, and clear, snorkeling is one of the most popular things to do. You can catch sight of small sharks, sea turtles, coral, lionfish, starfish, rays, and much more.
Kayaking and canoeing are also a lot of fun, and plenty of tours will provide you with all the equipment you need to get out on the water.
Scuba diving is also a popular pastime here, with diving and conch-collecting tours going on at all hours of the day.
Other than that, expect to spend your time dining seaside, soaking up the sun, swimming, and resting.
Main Attractions in the Bahamas
Unlike Turks and Caicos, there's always something to do in the Bahamas.
You can still spend your visit resting, swimming, scuba diving, snorkeling, or boating on the impressive 2,200.9 miles (3,542 km) of coastlines here, but that's not the only thing to do.
If you stay on Paradise Island, stop by the Atlantis Resort, complete with a 141-acre water park and the world's largest open-air marine wildlife habitat.
Also, if you come here, be sure to spend at least one day in downtown Nassau. Here, you can enjoy great shopping and sightseeing while surrounded by historic colonial buildings that have stood there for hundreds of years.
The downtown area is the best place to shop, dine, and stroll in the Bahamas, and you'll find tons of galleries, luxury shops, monuments, museums, and the Straw Market, an open-air marketplace full of vendors with handcrafted goods.
One of my favorite things in the Bahamas is pig beach in the Exuma Cays, where you can swim with the wild–but very friendly–native pigs on the island. It's not swimming with dolphins, but it is a truly memorable experience!
These are just a few highlights, and there are plenty of other activities and attractions to suit anyone's interests here in the Bahamas.
Food and Drinks
The Bahamas and Turks and Caicos serve similar Caribbean cuisine, emphasizing the freshly caught conch, lobster, and crab from the sea. Both islands are also well-known for rum production, the quintessential Caribbean beverage.
So, you can expect very similar food in either place. However, the one culinary difference between these destinations is the availability of food and drinks.
With a thriving nightlife and consolidated tourist and downtown areas, finding refreshments in the Bahamas is easy. You can usually find anything you want by taking a quick walk down the street.
However, getting to food is more of an ordeal in Turks and Caicos. While staying here, most people either take one trip to a grocery store and cook during their stay or eat at the few hotel and resort restaurants nearby.
You'll still find some local vendors, beachside bars, and smaller eateries, but after a week or more of your vacation, you might end up coming back to the same places to avoid taking a taxi somewhere new.
Atmosphere
One of the most noticeable differences between the Bahamas and Turks and Caicos is the atmosphere in each place.
The Bahamas is lively, with plenty of people in areas like Nassau and most tourist spots. You'll find live music late at night, bars and clubs, many attractions for the whole family, and historic sites beside the beach.
On the other hand, Turks and Caicos is much more serene, quiet, and peaceful. The islands are wide and flat, and all of the businesses are spread out, allowing you a panoramic view of the uncluttered horizon.
It's the right place for you if you want to get away from all the noise and bustle of the city to kick back and enjoy one of the best beaches in the world.
Final Thoughts: Turks and Caicos Vs. Bahamas
When deciding on Turks and Caicos vs. the Bahamas, consider whether you want a quiet, peaceful seaside vacation or an action-packed tour of a historic coastal area.
If you want a long oceanside rest from your vacation, Turks and Caicos will be the better destination for you. However, the Bahamas will make a better vacation if you want to get involved in activities, tour exciting areas, visit museums, and go out for a night on the town.