Turks and Caicos Street Food (2023 Guide)
Turks and Caicos is a vibrant hub for street food, offering a sensory experience that immerses you in the local culture. From tantalizing conch fritters to island-style fish and chips, each dish tells a unique story of the islands.
Food trucks and stalls scattered across the islands serve up a diverse range of flavors, while local street food markets like the famous fish fry event in Providenciales showcase the culinary tapestry of Turks and Caicos. These markets also offer live music and a chance to explore the local craft scene.
For a more structured exploration, food tours and street food crawls provide a curated journey through the islands' culinary scene, allowing you to savor the best dishes and engage with the local food community. 
Turks and Caicos' street food scene is a delightful immersion into the heart of the island's life and flavors.
The Vibrant World of Turks and Caicos Street Food
In the Turks and Caicos islands, street food is far more than just a quick, affordable meal—it's a full sensory experience. It provides a unique glimpse into the islands' cultural melting pot, served up on a platter. The rhythmic sizzle of grilling meats, the aromatic allure of tropical spices wafting through the air, and the vibrant chatter of locals sharing stories over their favorite meals—these are the sights, smells, and sounds that define the Turks and Caicos street food scene.
Must-Try Street Food Delights
When it comes to Turks and Caicos' street food scene, the island offers a culinary adventure brimming with delectable choices. Each dish tells a unique story, transporting you closer to the vibrant local culture with every bite. Key highlights include:
Conch fritters: These are a must-try in the islands. Local conch shellfish is diced with bell peppers and onions, seasoned with secret spices, and deep-fried to golden perfection, delivering a delightful crunch and a tender, flavorful interior.
Island-style fish and chips: A Caribbean twist on a British classic, this dish features freshly caught grouper, coated in a light batter and deep-fried. Served with hand-cut fries, this dish is a satisfying staple of the street food scene.
In the Turks and Caicos, the jerk chicken is not to be missed. The chicken is marinated in a mouthwatering blend of local spices, including fiery scotch bonnet peppers and aromatic allspice, then slow-grilled over a wood fire. The result is a symphony of flavors in every bite.
Finally, the adventurous should try the spicy lobster tail. Sourced locally, the tail is seasoned with a spicy blend and grilled to perfection, delivering a unique, flavor-packed culinary experience. Navigating the street food scene here is like embarking on a treasure hunt, an experience not to be missed.
Food Trucks and Stalls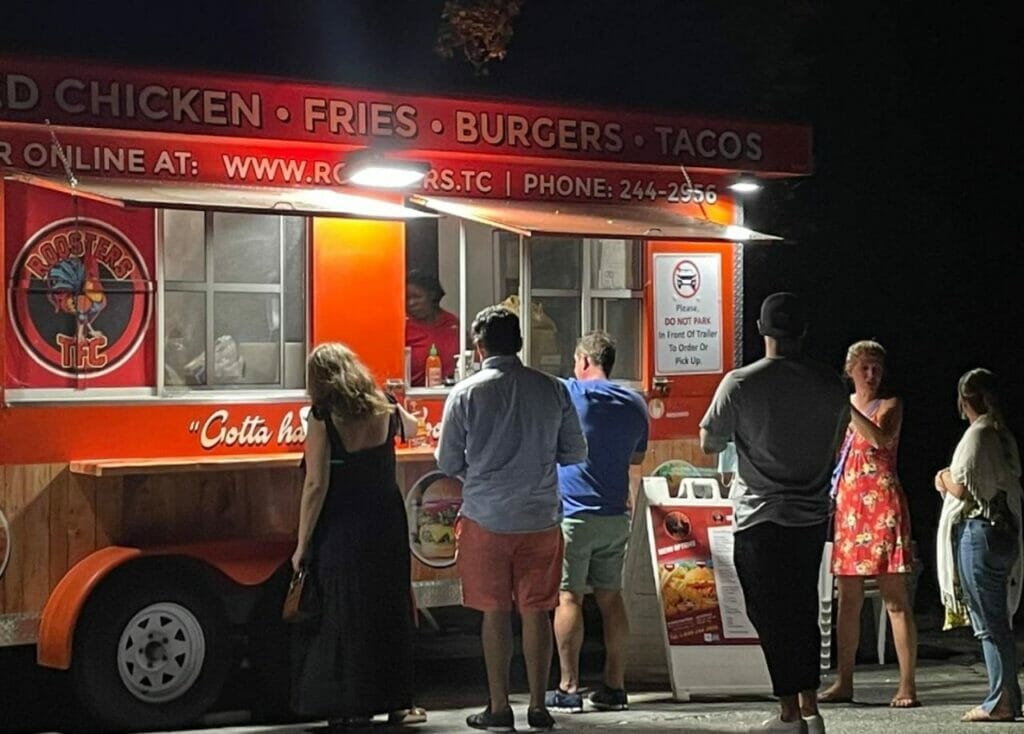 Now, where does one find these culinary gems?
Everywhere, really!
Turks and Caicos abound with food trucks and stalls scattered across the islands. In Providenciales, the most populated island, you can find food trucks serving up everything from traditional island fare to more international flavors.
An iconic spot is 'Da Conch Shack' at Blue Hills, where they serve up all things conch in a lively beachfront setting.
Local Street Food Markets
A visit to Turks and Caicos isn't complete without experiencing the lively local street food markets. These bustling hubs are where the community comes together, and the essence of the islands' cuisine truly shines. A consolidated buffet of diverse flavors and dishes awaits, offering a delightful way to explore and taste the islands' culinary tapestry.
At the top of the list is the famed fish fry event that happens every Thursday in Bight Park, Providenciales. Here, a gathering of local vendors come together to serve their gastronomic creations, featuring:
Freshly grilled seafood, like fish, lobster, and the ever-popular conch.
Traditional island dishes, such as peas 'n' rice and island-style macaroni.
A range of local desserts that will satisfy any sweet tooth, like the guava duff and rum cake.
Immersive Culinary Experience at the Markets
The experience at these markets extends beyond just food. As you enjoy your meal, you'll be treated to the vibrant rhythms of live local music, transforming your meal into a party. From the pulsating beats of the local ripsaw music to the catchy tunes of reggae and soca, these melodies set the tone for an immersive cultural and culinary experience.
The markets also offer an opportunity to explore the local craft scene. Browse through stalls selling handmade jewelry, artisanal soaps, handcrafted wood carvings, and more, each piece telling a story of the islands' rich heritage. Whether you're in search of a unique souvenir or simply wish to enjoy the vibrant atmosphere, the local street food markets of Turks and Caicos offer a delightful immersion into the heart of island life.
Food Tours and Street Food Crawls
Immersing yourself in the Turks and Caicos street food scene can be an overwhelming endeavor due to the wide array of delightful options. For a more structured exploration, consider joining a food tour or a street food crawl. These tours are expertly curated, providing an in-depth journey through the islands' vibrant culinary scene. They come with a host of benefits:
They guide you to the best food spots, including hidden gems often overlooked by tourists.
They offer a variety of tastings, allowing you to sample a diverse range of dishes and flavors.
They provide insight into the history and cultural significance of the dishes, enhancing your understanding and appreciation of the local cuisine.
They often include interactions with local chefs, where you might pick up cooking tips and secrets of the local cuisine.
Taste of TCI Food Tours and More
Among the options available, 'Taste of TCI Food Tours' stands out as a crowd favorite.
This 3-hour tour takes you on a culinary adventure across Providenciales, with multiple stops at local eateries, food trucks, and market stalls. Each tasting is paired with a captivating narration of the dish's history, ingredients, and cooking methods, offering an engaging way to connect with the local culture and cuisine.
In addition to Taste of TCI, there are other exciting options to explore. 'Island Food Tours' is another excellent choice that takes you through an array of local food and drink establishments, promising an unforgettable gastronomic journey.
FAQ
What Is Turks And Caicos Known For Food?
Turks and Caicos is renowned for its seafood, especially conch, a marine mollusk that is a staple in many dishes such as conch fritters and conch salad. The islands also offer a unique island-style fish and chips, where locally caught grouper is battered and fried. Additionally, the influence of Caribbean cuisine is evident with popular dishes like jerk chicken and peas 'n' rice.
What Is Turks And Caicos Known For?
Turks and Caicos is known for its stunning white sandy beaches, clear turquoise waters, and exceptional diving spots. The islands house one of the world's largest coral reef systems, making it a prime destination for snorkeling and scuba diving. In addition, its rich cultural heritage, vibrant street food scene, and luxury resorts attract visitors from around the globe.
What Food Is Grown In Turks And Caicos?
In Turks and Caicos, locally grown food primarily consists of a variety of fruits and vegetables. This includes okra, corn, peppers, citrus fruits, and papayas. Limited livestock farming also occurs, with poultry and goat being the most common. Additionally, sea salt has been traditionally harvested in the islands, a practice that's being revitalized today.