10 Best Turks and Caicos Luxury Resorts
Discover the allure of Turks and Caicos, a captivating destination known for its breathtaking beauty and luxurious experiences. Immerse yourself in the essence of indulgence and tranquility as you explore 10 fine Turks and Caicos luxury resorts.
From pristine beaches to world-class resorts, Turks and Caicos offers an escape like no other. Get ready to be enchanted by the splendor that awaits you in this tropical haven.
1. The Palms Turks and Caicos: Unparalleled Luxury by Grace Bay 
Imagine waking up to the gentle sound of waves caressing the shore and being greeted by impeccable service and lavish accommodations.
The Palms Turks and Caicos delivers just that.
Nestled along the pristine shores of Grace Bay Beach, this resort seamlessly combines opulence with natural beauty. Indulge in spacious suites adorned with elegant furnishings, relish exquisite dining experiences, and unwind at the award-winning spa.
At The Palms, luxury becomes a way of life.
2. Amanyara: Tranquility and Exclusivity in Nature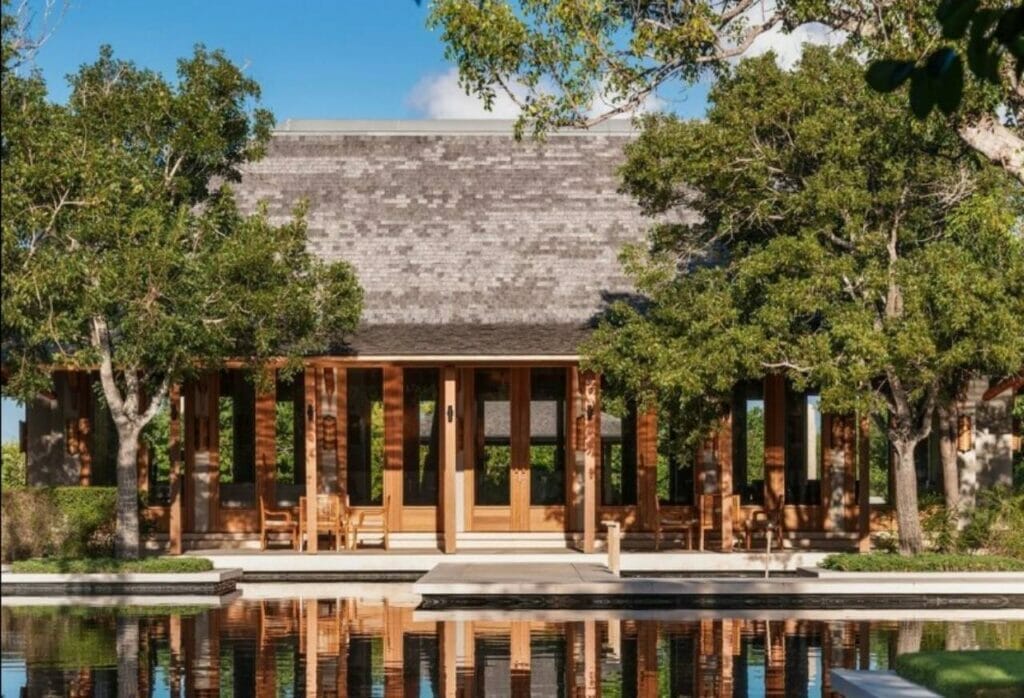 For those seeking seclusion and tranquility, Amanyara is a sanctuary like no other. Tucked away on the secluded western shore of Providenciales, this oasis of serenity boasts breathtaking views of turquoise waters and lush landscapes. The resort's pavilion-style villas offer utmost privacy and are complemented by world-class amenities. Immerse yourself in the mesmerizing beauty of the underwater world with Amanyara's exceptional diving experiences or rejuvenate your body and mind at the luxurious spa. Amanyara is where nature and luxury intertwine seamlessly.
3. Grace Bay Club: Sophistication and Beachfront Bliss 
As one of the pioneers of luxury resorts in Turks and Caicos, Grace Bay Club sets the standard for refined sophistication. Located on the renowned Grace Bay Beach, this resort is a haven for beach lovers and discerning travelers alike. From elegantly appointed suites and beachfront villas to delectable culinary creations and attentive service, every aspect of Grace Bay Club exudes pure indulgence. Unwind by the adults-only pool, stroll along the powdery sands, or embark on thrilling water sports adventures. Grace Bay Club is the epitome of beachfront bliss.
4. COMO Parrot Cay: Wellness Retreat in Paradise Escape to COMO
Parrot Cay, a true wellness retreat nestled on a private island. With its serene atmosphere and breathtaking surroundings, this resort offers a holistic experience for the mind, body, and soul. Discover tranquility through yoga sessions, indulge in rejuvenating spa treatments, and savor nourishing cuisine at their world-class restaurants. Whether you seek relaxation or adventure, COMO Parrot Cay provides an unparalleled sanctuary to restore your well-being.
5. The Shore Club: Elegance and Natural Beauty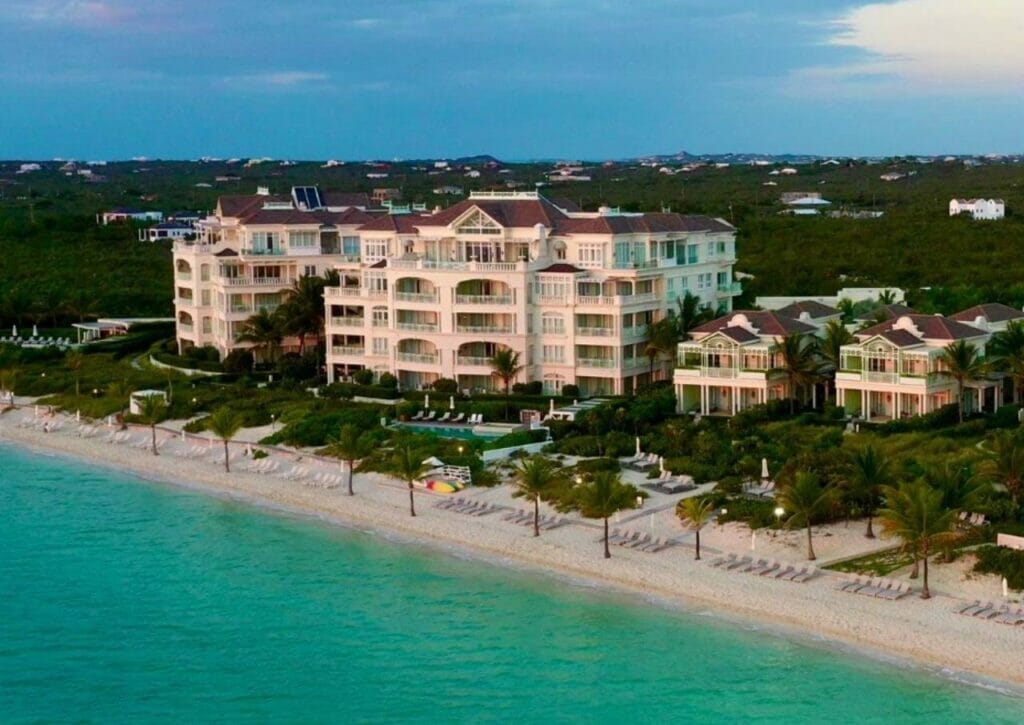 Combining contemporary design with the unspoiled beauty of Long Bay Beach, The Shore Club creates a captivating ambiance that will leave you in awe. This luxury resort offers a range of meticulously designed suites, villas, and penthouses, each exuding elegance and comfort. Immerse yourself in the three stunning pools, indulge in delectable cuisine crafted by renowned chefs, and pamper yourself at the full-service spa. The Shore Club seamlessly blends luxury and natural beauty.
6. Seven Stars Resort & Spa: Luxury and Comfort on Grace Bay Beach
Situated on the iconic Grace Bay Beach, Seven Stars Resort & Spa delivers a harmonious blend of luxury and comfort. Offering spacious suites with breathtaking ocean views, the resort ensures that every guest feels pampered and rejuvenated. Take a dip in the stunning infinity pool, savor gourmet cuisine at their world-class restaurants, or embark on a romantic sunset sail. At Seven Stars Resort & Spa, every moment is infused with indulgence and tranquility.
7. The Regent Grand: European-Inspired Elegance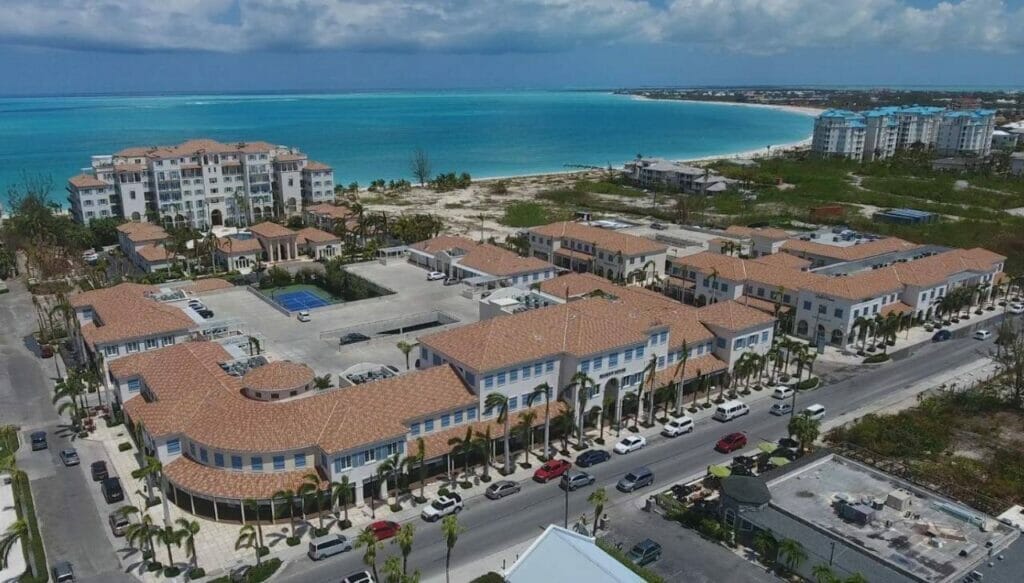 Embrace the allure of European-inspired elegance at The Regent Grand. Located in the heart of Grace Bay, this boutique resort exudes sophistication and charm. Adorned with stylish furnishings and offering spacious suites, The Regent Grand sets the stage for a memorable luxury retreat. Lounge by the poolside oasis, stroll along the pristine beach, or explore the vibrant local scene. The Regent Grand combines timeless elegance with warm Caribbean hospitality.
8. Wymara Resort and Villas: Contemporary Luxury and Stunning Views
With its sleek design and breathtaking ocean vistas, Wymara Resort and Villas offers a contemporary sanctuary for the modern traveler. Discover spacious rooms and suites adorned with stylish furnishings and private terraces. Indulge in culinary delights at their renowned restaurants, unwind at the poolside cabanas, or venture into the vibrant nightlife of Grace Bay. Wymara Resort and Villas is where contemporary luxury meets awe-inspiring views.
9. The Somerset on Grace Bay: Serene Luxury and Personalized Service
Escape to The Somerset on Grace Bay, a hidden gem that exudes serene luxury and personalized service. This intimate resort features elegantly appointed suites and villas, creating an atmosphere of refined tranquility. Enjoy a range of amenities, including a stunning infinity pool, gourmet dining experiences, and a world-class spa. The attentive staff will ensure that your every desire is met, making your stay truly exceptional.
10. West Bay Club: Boutique Charm and Beachfront Serenity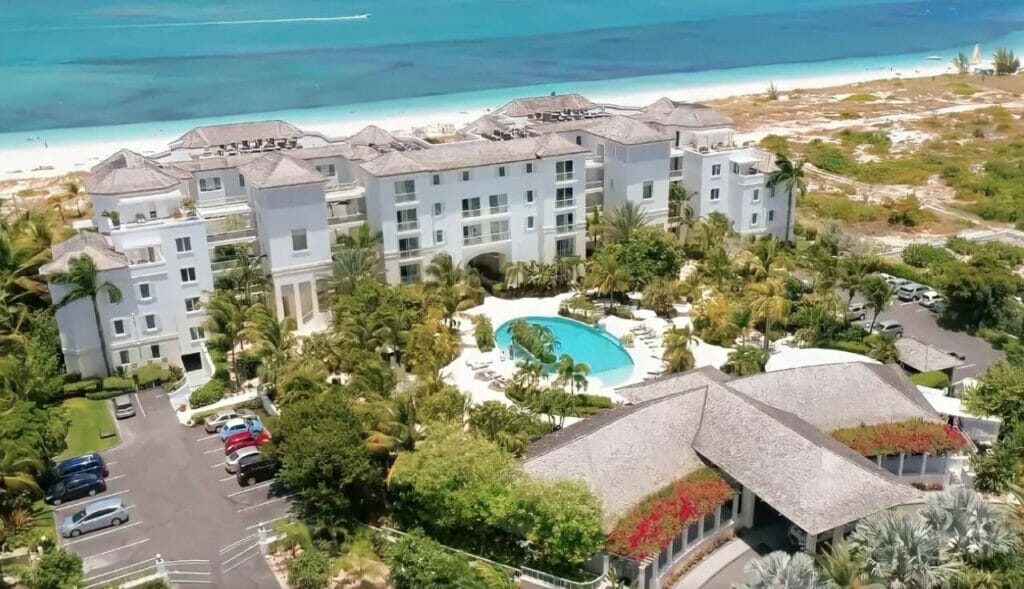 Nestled on the quiet shores of Grace Bay, West Bay Club offers boutique charm and beachfront serenity. The resort's luxurious suites and penthouses provide a haven of comfort and style, with stunning ocean views. Unwind by the pool, indulge in delectable cuisine at the beachfront restaurant, or simply bask in the serenity of the white sandy beach. West Bay Club combines intimate luxury with the allure of a secluded paradise.
Indulge in Exclusive Amenities and Services
In addition to their lavish accommodations, the top luxury resorts in Turks and Caicos offer an array of exclusive amenities and services that elevate the guest experience to new heights. Let's explore the exceptional offerings that make these resorts truly extraordinary:
Personalized Butler Service: Prepare to be pampered with personalized butler service available at select luxury resorts. Your dedicated butler will cater to your every need, ensuring that your stay is nothing short of perfection. From unpacking your luggage and arranging dinner reservations to arranging personalized excursions or surprise celebrations, your butler is there to make your dreams a reality.
Private Beach Cabanas: Indulge in the ultimate relaxation and privacy with exclusive access to private beach cabanas. These secluded retreats provide a serene sanctuary where you can unwind while enjoying panoramic views of the turquoise waters. Relax on plush loungers, sip refreshing cocktails, and relish in personalized beachside service, creating unforgettable moments in a tranquil and exclusive setting.
Gourmet Dining Experiences: Luxury resorts in Turks and Caicos are renowned for their exceptional dining experiences. Prepare your taste buds for an extraordinary culinary journey. Delight in Michelin-starred chefs crafting innovative menus inspired by local flavors and international cuisines. Whether you're enjoying a romantic candlelit dinner on the beach, savoring exquisite tasting menus, or indulging in private in-room dining experiences, the gourmet options are sure to tantalize your senses.
Private Spa and Wellness Retreats: Escape to a private spa and wellness retreat within the resort, where you can immerse yourself in tranquility and rejuvenation. Enjoy exclusive access to luxurious spa facilities, including private treatment rooms, steam rooms, and plunge pools. Indulge in a wide range of personalized treatments, from therapeutic massages to invigorating facials, all tailored to your specific needs. Experience pure bliss and emerge feeling refreshed and revitalized.
Exclusive Water Sports and Yacht Charters: Luxury resorts in Turks and Caicos offer a wealth of water sports activities to satisfy adventure-seekers. Take advantage of exclusive access to a variety of non-motorized water sports equipment, such as paddleboards, kayaks, and snorkeling gear, allowing you to explore the vibrant marine life just beyond the resort's shores. For a truly opulent experience, consider chartering a private yacht, complete with a skilled crew, to cruise the stunning turquoise waters in style.
VIP Airport Transfers: From the moment you arrive in Turks and Caicos, luxury begins with VIP airport transfers. Experience seamless and stress-free arrivals and departures as you are whisked away in private luxury vehicles. Enjoy personalized assistance with your luggage, a refreshing welcome drink, and a comfortable journey to your resort, setting the tone for a truly exceptional stay.
Turks and Caicos Luxury Resorts FAQ
Where Do The Celebs Stay In Turks And Caicos?
Celebrities often choose to stay at luxury resorts in Turks and Caicos, with the island of Providenciales being a popular hotspot. Resorts like Amanyara, COMO Parrot Cay, and The Palms Turks and Caicos have attracted A-listers seeking privacy, exclusivity, and impeccable service. These resorts offer luxurious accommodations, breathtaking settings, and exceptional amenities that cater to the discerning tastes of celebrities.
Where Do The Kardashians Stay In Turks And Caicos?
While specific information on the Kardashians' accommodations in Turks and Caicos may not be publicly disclosed, it is known that they have stayed at private villas and luxury resorts during their visits. Properties like Amanyara and COMO Parrot Cay have been mentioned as potential choices, offering the privacy and opulence that align with the Kardashian family's preferences.
Is Turks And Caicos A Luxury Destination?
Turks and Caicos is renowned as a luxury destination, attracting travelers seeking upscale experiences and breathtaking beauty. With its pristine beaches, crystal-clear waters, and world-class resorts, the islands offer a range of luxurious amenities and services. From exclusive resorts and private villas to gourmet dining, spa retreats, and personalized experiences, Turks and Caicos provides the ideal setting for indulging in a high-end vacation.
What Is The Prettiest Island In Turks And Caicos?
While beauty is subjective, the island of Providenciales, commonly known as Provo, is often regarded as the prettiest island in Turks and Caicos. Provo boasts stunning stretches of powdery white sand beaches, such as Grace Bay Beach, consistently ranked among the world's best. The island's turquoise waters, vibrant coral reefs, and lush landscapes create a picturesque backdrop that captivates visitors with its natural splendor.