9 Most Romantic Turks and Caicos Honeymoon Resorts
Turks and Caicos honeymoon resorts are a haven for newlyweds, offering a range of luxury resorts that combine romance, seclusion, and natural beauty.
From Amanyara's secluded sanctuary to COMO Parrot Cay's wellness retreat, and The Palms' elegance on Grace Bay, there is an option for every couple. Beach House Turks and Caicos and Gansevoort Turks and Caicos provide unique experiences, while The Shore Club and Windsong Resort offer sophisticated and serene escapes.
With endless choices, Turks and Caicos is the perfect destination for a romantic honeymoon.
1. Amanyara: Romantic Seclusion and Natural Beauty
Just a stone's throw from the world's second-largest coral reef, Amanyara is a sanctuary for honeymooners craving a rendezvous with nature without compromising on luxury.
The resort is synonymous with seclusion, allowing couples to enjoy romantic dinners on secluded parts of the beach or private boat trips to isolated cays. Amanyara's pavilions and villas are designed with an emphasis on indoor-outdoor living, and their tranquil infinity pool is the epitome of relaxation.
2. COMO Parrot Cay: Luxury Wellness Retreat for Couples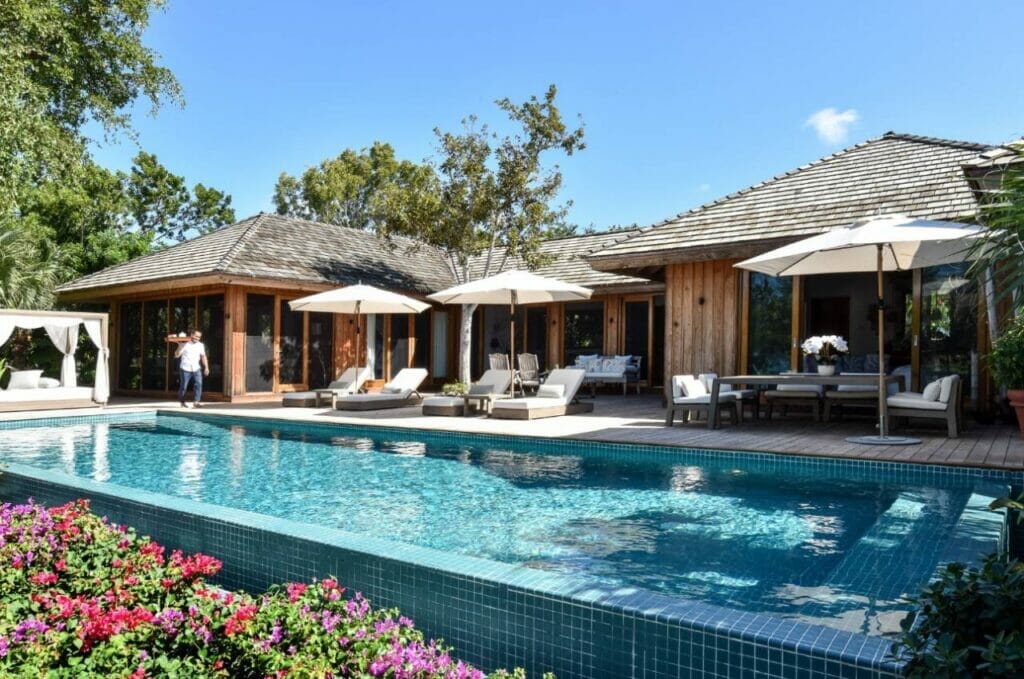 COMO Parrot Cay is not just a resort; it's a private island paradise where couples can unwind, rejuvenate, and reconnect. This award-winning wellness resort offers a world-class spa, yoga retreats, and personalized wellness programs.
The privacy offered by its sun-kissed beaches and the elegance of its villas provide an idyllic setting for romance. Its farm-to-table dining experiences with organic Caribbean-inspired dishes only add to the allure.
3. The Palms Turks and Caicos: Elegance and Intimacy on Grace Bay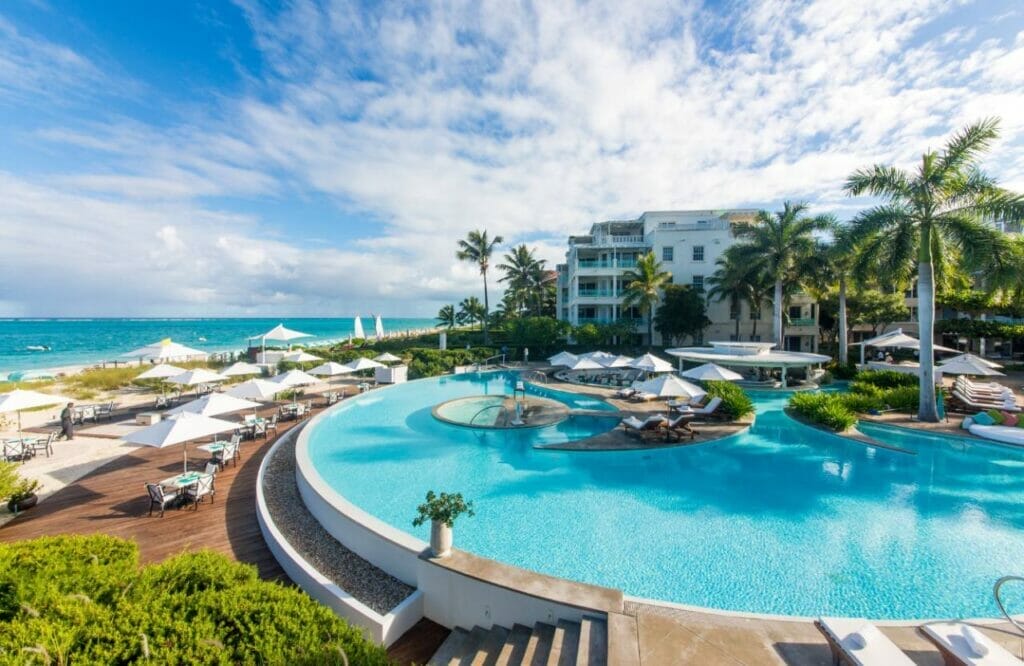 Located on the award-winning Grace Bay Beach, The Palms is where sophistication meets intimacy. Its 72-suite resort ensures an exclusive experience for honeymooners with world-class amenities like their infinity pool and on-site spa. With a number of romantic activities available such as beachfront dining, couples massages, and private island tours, The Palms is a sanctuary of love and luxury.
4. Beach House Turks and Caicos: Romantic Boutique Resort on Grace Bay
The Beach House Turks and Caicos offers a unique boutique experience. Their 21-suite resort means the staff can lavish attention on each couple, creating personalized experiences. This adults-only resort offers peace and tranquillity, while its prime location on Grace Bay offers breathtaking views and a range of water activities. Their gourmet dining experience is unparalleled, with a focus on fresh, local ingredients.
5. Gansevoort Turks and Caicos: Stylish Luxury for a Romantic Getaway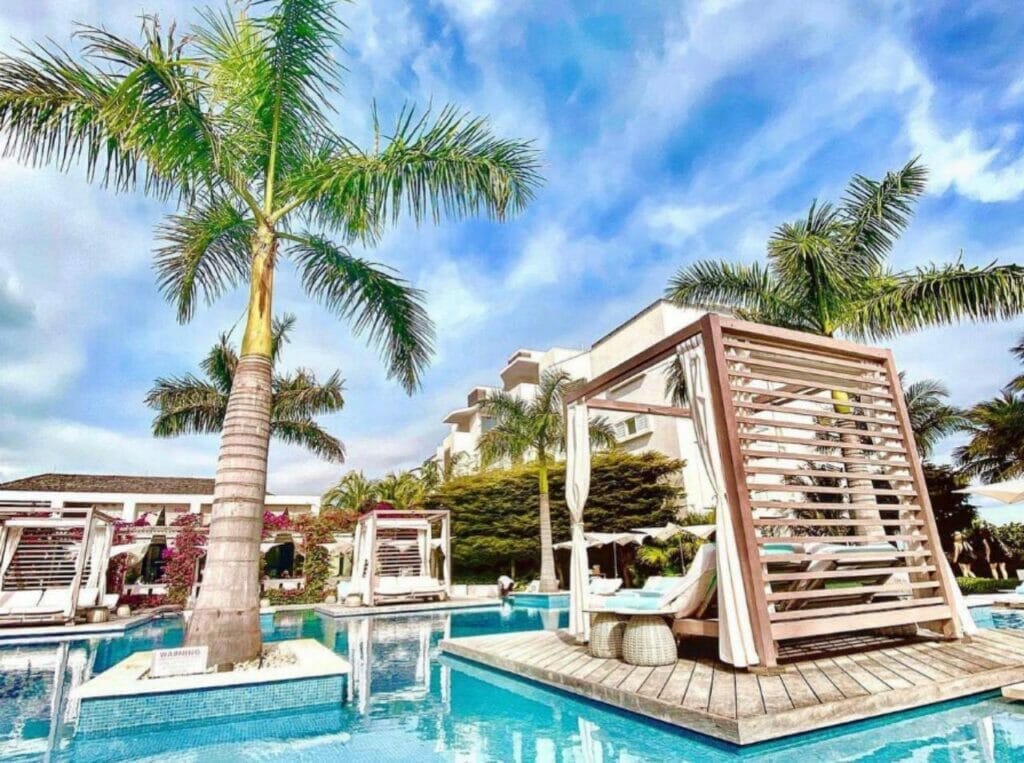 Gansevoort Turks and Caicos marries Caribbean cool with urban chic, providing a modern and stylish destination for honeymooners. Every room offers ocean views, and the 7,000 sq. ft. infinity pool is a signature attraction. From private dining under the stars to couple's spa treatments, Gansevoort offers countless intimate moments for couples.
6. The Shore Club: Luxury and Privacy for Couples
The Shore Club redefines luxury with its sophisticated design and attention to detail. The resort offers a unique combination of privacy and socialization. Whether it's a private cabana at the Dune Spa or a cozy nook in one of their four pools, couples can always find a peaceful retreat. At night, the resort comes alive with various dining options and live music.
7. Windsong Resort: Serene Beachfront Escape for Honeymooners
Perfectly situated on a 435 ft. stretch of the pristine Grace Bay Beach, the Windsong Resort is an intimate, four-star boutique hotel that pays homage to the island's natural beauty. The coral reef off the beach provides a perfect snorkeling site, while their luxurious oceanfront rooms offer unrivaled views. The resort's relaxed environment helps couples disconnect from the world and connect with each other.
8. The Venetian on Grace Bay: Spacious Romance and Ocean Views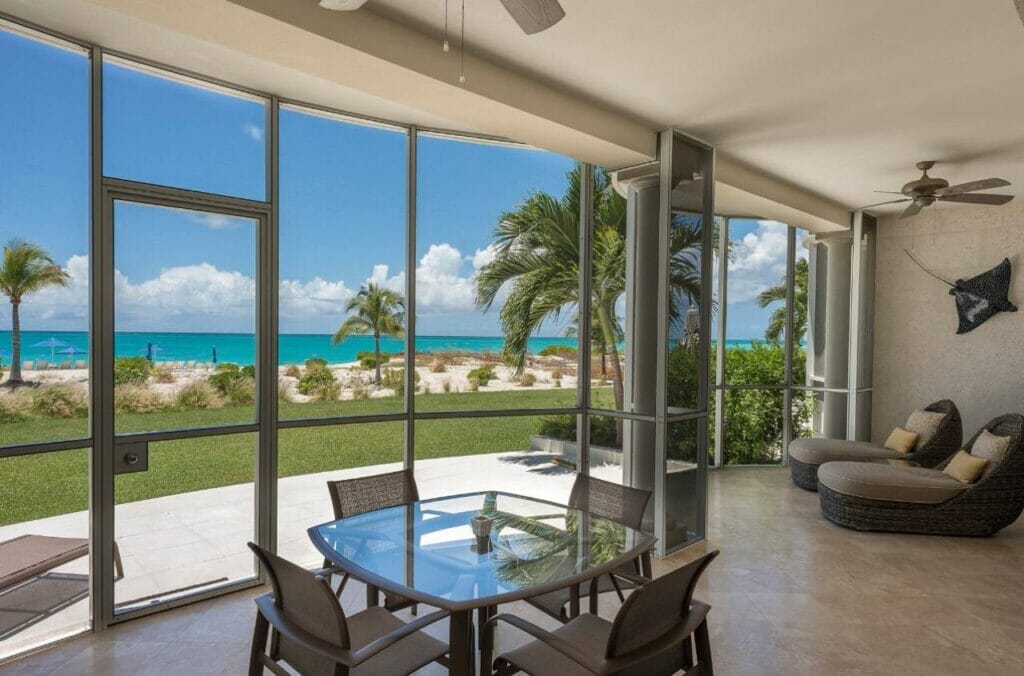 The Venetian on Grace Bay offers spacious luxury suites with mesmerizing ocean views. Every suite has a fully-equipped kitchen, making it perfect for couples who enjoy cooking together. It's also known for its privacy, making it an idyllic spot for honeymooners looking for a secluded getaway. The three-bedroom suites are perfect for couples traveling with other couples or family members.
9. Grace Bay Club: Sophisticated Retreat for Couples
Grace Bay Club blends handcrafted Caribbean architecture with modern elegance. It offers a wide range of accommodation options, all of which are oceanfront. The resort's adults-only section ensures peace and tranquility for honeymooners. With a variety of restaurants and bars, the resort offers a culinary journey around the globe. The Anani Spa and Fitness Center offer a holistic wellness experience, making it a favorite among couples.
10. The Somerset on Grace Bay: Luxury Living and Exquisite Dining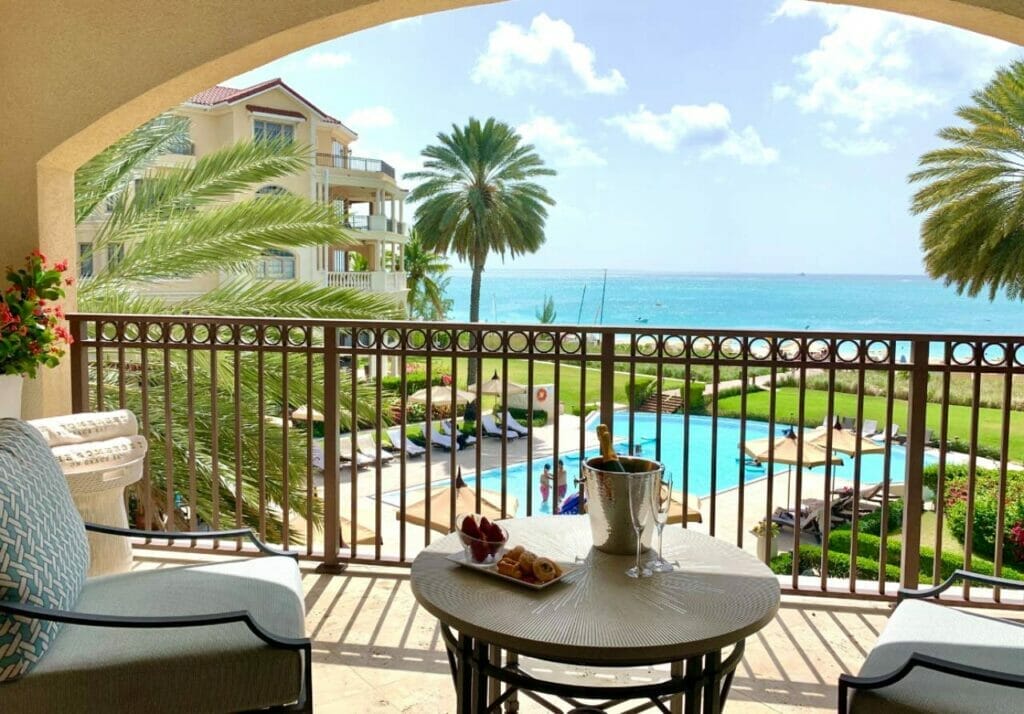 The Somerset on Grace Bay is a luxurious resort that offers couples a taste of refined living and exceptional dining experiences. The resort's spacious suites and villas provide a comfortable and elegant retreat, while the pristine beachfront location sets the stage for romantic walks and stunning sunsets.
Indulge in culinary delights at the resort's gourmet restaurant, where world-class chefs create exquisite dishes using locally sourced ingredients. With its attention to detail and commitment to providing an unforgettable experience, The Somerset is the epitome of luxury for honeymooners.
5 Practical Tips for Turks and Caicos Honeymooners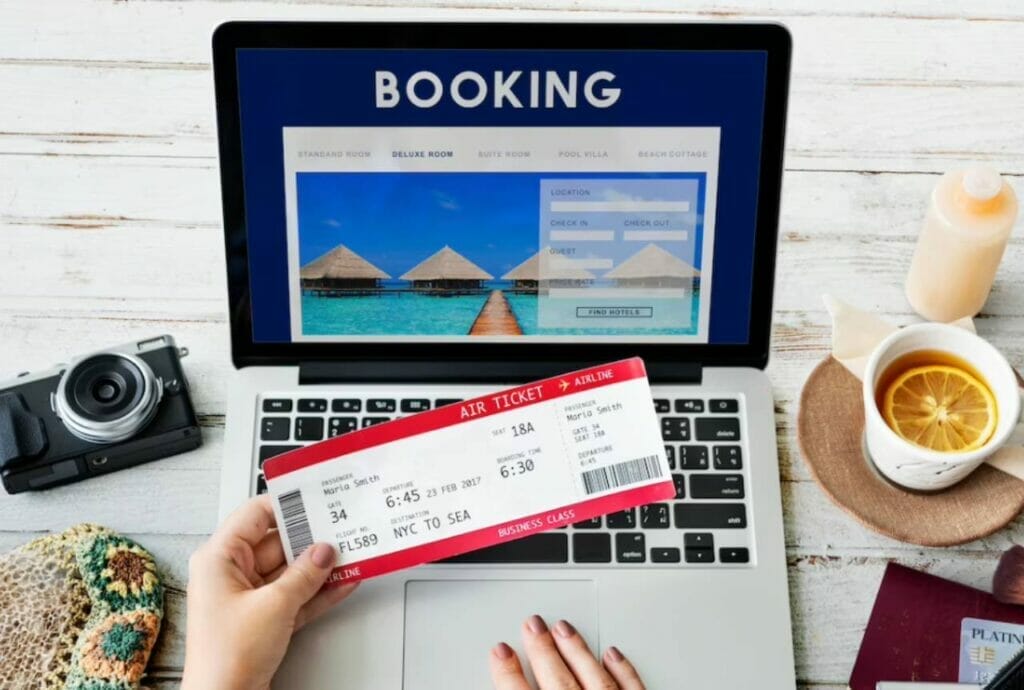 To make the most of your honeymoon in Turks and Caicos, here are some practical tips to consider:
Travel Logistics: Check passport requirements and ensure that your travel documents are up to date. Research flight options and book in advance to secure the best deals. Consider renting a car or arranging airport transfers for convenient transportation on the islands.
Ideal Time to Visit: Turks and Caicos enjoys a warm and tropical climate year-round. The peak tourist season is from December to April when the weather is pleasant and dry. However, visiting during the shoulder seasons (May to November) can offer fewer crowds and more affordable rates.
Pack Essentials: Don't forget to pack essentials such as sunscreen, beachwear, comfortable footwear, hats, and insect repellent. Consider bringing snorkeling gear if you plan to explore the vibrant underwater world.
Respect Local Customs: Familiarize yourselves with local customs and traditions. Turks and Caicos residents are known for their warm hospitality, so be sure to greet and interact with locals respectfully. Remember to dress modestly when visiting religious sites or local communities.
Safety Precautions: While Turks and Caicos is generally safe, it's always wise to take precautions. Keep valuables secure, be aware of your surroundings, and follow any safety guidelines provided by your resort or local authorities.
Turks and Caicos Honeymoon Resorts FAQ
Is Turks And Caicos A Couples Destination?
Turks and Caicos is a renowned couples destination, offering a perfect setting for romantic getaways. With its pristine beaches, luxurious resorts, and breathtaking natural beauty, the islands provide an idyllic backdrop for couples seeking intimacy and relaxation. Whether strolling hand in hand on the soft sand or indulging in secluded dining experiences, Turks and Caicos offers an enchanting atmosphere that caters to the desires of couples in search of romance.
Where Should You Stay In Turks And Caicos?
When visiting Turks and Caicos, there are numerous exceptional accommodations to consider. Grace Bay, known for its stunning beach, is a popular area to stay with a range of luxury resorts offering world-class amenities and breathtaking views. Alternatively, the secluded Amanyara resort near the coral reef provides a sanctuary for couples seeking privacy and natural beauty. Whether you choose a beachfront villa or an elegant suite, Turks and Caicos offers a variety of options to suit different preferences and budgets.
Does Turks And Caicos Have Adults-Only Resorts?
Yes, Turks and Caicos is home to several adults-only resorts, providing an exclusive and serene atmosphere for couples. These resorts cater specifically to adult guests, ensuring a peaceful and romantic ambiance throughout the property. From intimate boutique hotels to larger luxury resorts, couples can enjoy amenities tailored to their preferences without the presence of younger guests. These adults-only resorts in Turks and Caicos offer an ideal setting for couples seeking a tranquil and sophisticated retreat.